The GQ Approach – Laurel July 28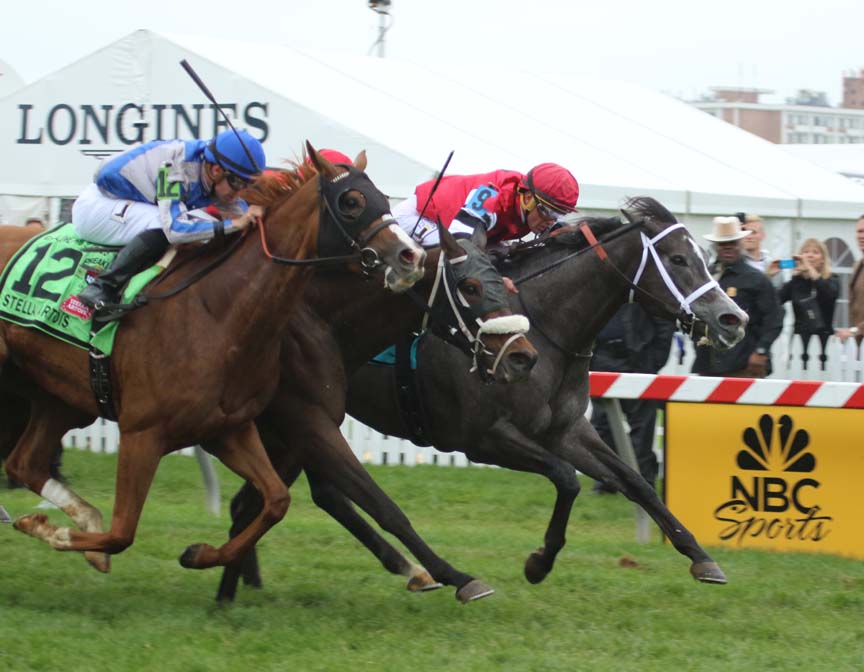 Mizz Money (#9) held off Vielsalm (in between) and Heath (#12) to win the Grade 3 Gallorette. Photo by Laurie Asseo.
The GQ Approach features full-card selections from Laurel Park for the live summer racing meet, Post Time 1:10pm EDT including a daily Best Bet, Longshot Play, and multi-race wagers — including the 20 cent Rainbow Pick-6, 50 cent Early and Late Pick-5s, as well as Pick-4s and rolling Doubles, Pick-3s and the Super High-5.

[su_box title="
Today's Carryovers
" style="glass" box_color="#66ADCC"]
Rainbow Pick 6: 

no carryover

Super High 5: 

no carryover

Late Pick 5: no carryover[/su_box]
[su_box title="GQ's Handicapping Tip of the Day" style="glass" box_color="#66ADCC"][stray-random][/su_box]
[su_box title="Best Bet of the Day" style="glass" box_color="#66ADCC"]Race 1 / #6 – Disqualified (3-1)[/su_box]
[su_box title="Longshot Play of the Day" style="glass" box_color="#66ADCC"] Race 5 / #7 – More Now Than Ever (10-1)[/su_box]
[su_box title="
Multi-race Wagers
" style="glass" box_color="#66ADCC"]
Race 2: $2 DOUBLE   1, 6  w/ 4, 6 ($8)
Race 3: $0.50 cent Pick-3  1, 3, 5  w/ 4, 8, 9  w/ 1, 6, 7  ($13.50)
Race 6: $0.50 Pick-5   1, 3, 4  w/ 1, 2  w/ 2, 6, 8  w/ 3, 5  w/ 3, 6  ($36)
Race 9: $2 DOUBLE   3, 5  w/ 2, 3, 6, 7 ($16)
[/su_box]
[su_heading size="21″ align="left"]Analysis[/su_heading]
Weather: Mostly Cloudy w/ thunderstorms; highs in the low-80s
Scheduled turf races: 1st, 3rd, 5th, 7th, 9th and 10th
Projected track conditions… Main: FAST to SLOPPY; Turf: FIRM to GOOD
Post Time for 1st race is 1:10pm EDT
Race 1 is ON THE TURF
#6 – Disqualified (3-1): *** BEST BET *** The name doesn't give backers a warm and fuzzy feeling but has been consistent this year (8:2-3-2) with both victories coming on turf in last two of three starts a level higher
#1 – Enigma (5-1): Trainer W. Campbell at current meet has Second-it is (10:0-5-0) but this mare can get him off the schneid if S. Russell elects to use rail to his advantage and take this field gate to wire
#5 – Dance With Gio (8-1): 8 y.o. mare makes '17 debut and will need every bit of the 1 1/6 mile to get up for the win; might just be preparing for her annual run on MD Million Day but new trainer D. Capuano does well in this scenario (22%) and will give V. Carrasco a leg up (duo is 2 for 5 at meet)
Race 2
#4 – Horseshoe Harbour (7-2): Where's the early speed? It's here IF K. Davis can hustle this gelding out of the gate; had tardy starts in last two versus better no wanted no parts of being behind his peers
#6 – Regal Expectations (12-1): Will need the rain to arrive earlier than expect to be a threat as he was third in mud then broke maiden in slop, both at Pim; have to toss the last two on turf
#3 – Alarming (4-1): A rare C. Gonzalez ($10k) claim that hasn't panned out; took eight races later to get to Winners' Circle but had to travel to Pen to get it; previously beaten by #4 and #7
Race 3 is ON THE TURF
#1 – Cara's Nay Nay (5-2): Going with the hot hand… er uh hoof as she's on a 6-race win streak; beat 4 of her 7 foes in here in her last outing which happened to be her '17 debut; look for a stronger run today
#3 – Desert Princess (6-1): Third race after layoff, cuts back from 9 furlong event when she hung in deep stretch finishing fifth but just one-and-one-half-lengths behind #1 and less than a length in back of #6 and #2
#5 – Lucy's Revenge (8-1): Hasn't raced on grass in over a year (6:1-0-1) but got the SHOW purse in $16k Claimer at Ind in latest turf try, showing late foot; form has improved since… on dirt though; ships in from Del
Race 4
#8 – Rarified Air (6-5): Could the twelfth time be the charm?! This gray has found different ways to lose while failing as Post Time favorite in past three starts; jock switch to bug girl A. Castrenze may reverse fortunes of nose defeat in latest
#4 – Cowboy Chrome (4-1): Connections take advantage of Waiver Claiming rule to protect this recently gelded 3 y.o. making first start since last Sept. at GP when runner-up for second time in three career races; expect J. Miller to get early lead and hope to hold on late
#9 – Distorted Windfall (5-1): 5 y.o. makes just fourth career start; debut was here in Oct. '14 then a year later made second start on turf at Mth then 23 months later resurfaced at CT for trainer O. Figgins (4th by 7); BRIS#s are good enough to graduate v. this group
Race 5 is ON THE TURF
#7 – More Now Than Ever (10-1): $$$ LONGSHOT $$$ KY-bred FTS by super turf sire More Than Ready out of a Proud Citizen mare who went 2 for 9 in her career earning both wins over the all-weather surface at WO; trainer P. Schoenthal 2 for 11 with turf firsters +4.51 ROI
#6 – Stillsexyatsixty (3-1): Being just 9-months away from The Big "60" one can only hope! But I digress… MD-bred FTS by Girolamo out of an Aldebaran mare doesn't scream turf but love the work pattern
#1 – Lady of the Empire (9-2): Tough rail assignment for debut as this MD-bred FTS by Pioneerof the Nile by a Thunder Gulch mare should enjoy the grass under her; though trainer M. Trombetta just 13% w/ turf firsters, he's 3 for 4 when giving A. Cintron a leg up
Race 6
#2 – Blow the Whistle (4-1): Banking on a speed duel between #3 and #7 with #6 not far behind; this will provide golden opportunity to make amends for most recent head loss at this level at Pen to catch leg-weary foes late; first time stretching out to one mile; 1 for 1 on off track just in case is it by Post Time
#1 – Ten Hut (9-2): Third consecutive start from the rail; an amazing effort to win at 11-1 when stopped along the rail in mid-stretch, jock was willing to pack it in but this gelding rebroke on his own and jock responded; has been ITM 8 of 9 starts since trainer G. Rosenthal ($5k) claim
#3 – Harlington Night (5-1): Have to respect this T. Kreiser Pen shipper who won in only previous trip to Lrl and earned a career best 98 BRIS#; jock E. Gonzalez has gotten 31% of Kreiser's runners to Winners Circle over the past year; never OTB on an off track (6:3-1-2)
Race 7 is ON THE TURF
#2 – Moonshine Lullaby (8-1): Claimed for $25k by trainer K. Magee out of her impressive debut showing nice late foot after exiting the Starting Gate quite tardy; rail isn't ideal but can handle step up versus these gals
#1/1A – Great Craic/Chobee Girl (6-1): "Craic" is MTO so if we're still on the turf "Chobee" is the pick… even if it's off as she's been the bridesmaid in both her starts on the dirt, not getting good breaks in either
#7 – Sarah's Treasure (12-1): She's just one of two 4 y.o. in here (the other is #1A) with 11 starts to her credit; can do turf or off track even though getting to the wire first is still a foreign concept; X-Man gets the mount as K. Davis (#5), H. Karamanos (#9) and L. Lynch (#10) take first calls
Race 8
#8 – Jumping Michelle (8-1): In debut wasn't asked for much, only got hand urging and shown the stick, green and was sharply angled out in stretch showing some late interest, this was strictly for the education, might have more speed in second outing with blinkers on
#2 – Greasedlightning (6-1): MD-bred FTS by Flat Out out of a Quiet American mare has a nice work tab going same distance in A.M. as first test
#6 – Pikachu Princess (10-1): Trainer G. Rosenthal might be 0 for 14 with FTS but this MD-bred by Redeemed out of a City Zip (R.I.P.) mare appears to have some zip and w/ K. Davis aboard at least expect her to be prominent early
Race 9 is ON THE TURF
#5 – Lady Keswick (9-2): Took to the Pid synthetic to get maiden win when dropped in for $25k tag; might be the speed of the speed whether it be on turf or off track
#3 – Standard Deal (8-5): Well guys and girls, can you trust a 1 for 24 runner especially coming off a race where she had no excuses for not notching win #2? Lone win came on a fast track
#6 – La Murette (5-1): Plenty of early speed in here to set it up for a Closer; this one fits the bill if it stays on the turf
Race 10 is ON THE TURF
#3 – Onemoregreattime (3-1): After runner-up in debut faced a trio of future stars IMHO while settling for fourth; should handle turf but if it comes off due to expected rain it will be all the better
#6 – Kingdom Minded (12-1): Failed miserably at CT as odds on Post Time one race after doing the same at Del; gelded since last start might help chances in first turf try or in slop as he was runner-up at Pim in the mud
#2 – Street Copper (7-5): Would like to see this one eventually go two turns but this baby needs to crawl first… figuratively by sprinting; nice SHOW effort in first on turf
YESTERDAY'S NEWS  
A tip of the cap to cousin QG who last Saturday and Sunday provided analysis and selections in my absence, doing quite well on Saturday with eight winners on the 10-race card, including 2 top selections and then on Sunday six winners on the 10-race card, including 3 top selections. Both BEST BET selections got the runner-up spot… Saturday Via Frattina ($2.80 to PLACE and $2.40 to SHOW) and on Sunday Dorothyfromdublin ($4.20 to PLACE and $3.40 to SHOW). QG's Longshot Play on Sunday, Lemon Drop Kitty also ran second to return $6.40 to PLACE and $4.20 to SHOW. Not too shabby QG!