The GQ Approach – Laurel July 23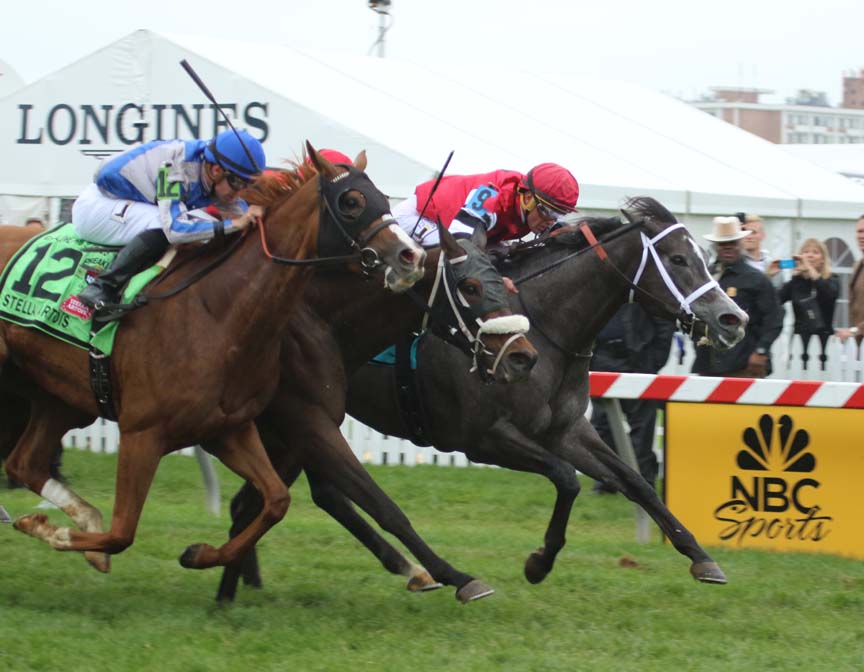 Mizz Money (#9) held off Vielsalm (in between) and Heath (#12) to win the Grade 3 Gallorette. Photo by Laurie Asseo.
The GQ Approach features full-card selections from Laurel Park for the live summer racing meet, Post Time 1:10pm EDT including a daily Best Bet, Longshot Play, and multi-race wagers — including the 20 cent Rainbow Pick-6, 50 cent Early and Late Pick-5s, as well as Pick-4s and rolling Doubles, Pick-3s and the Super High-5. GQ is on assignment July 22-23; blame these picks on his ne'er-do-well cousin QG.

[su_box title="
Today's Carryovers
" style="glass" box_color="#66ADCC"]
Rainbow Pick 6: 

$6,154.41

Super High 5: 

$911.97

Late Pick 5: no carryover[/su_box]
[su_box title="GQ's Handicapping Tip of the Day" style="glass" box_color="#66ADCC"][stray-random][/su_box]
[su_box title="Best Bet of the Day" style="glass" box_color="#66ADCC"]Race 8 / #8 – Dorothyfromdublin (4-1)[/su_box]
[su_box title="Longshot Play of the Day" style="glass" box_color="#66ADCC"] Race 6 / #4 – Lemon Drop Kitty (12-1)[/su_box]
[su_box title="
Multi-race Wagers
" style="glass" box_color="#66ADCC"]
Race 2: $2 DOUBLE   1, 3, 5  w/ 5, 6, 11 ($18)
Race 3: $0.50 cent Pick-3  5, 6, 11  w/ 1, 6, 11  w/ 4, 6, 9  ($13.50)
Race 6: $0.50 Pick-4   1, 4  w/ 4, 7, 8  w/ 3, 6, 8  w/ 1, 3, 4  ($27)
[/su_box]
[su_heading size="21″ align="left"]Analysis[/su_heading]
Weather: Afternoon thunderstorms, high of 89
Scheduled Turf races: Races 3, 5-8
Projected track conditions… Main: FAST; Turf: FIRM
Post Time for 1st race is 1:10pm EDT
RACE 1
#4 Goiaba (2-1) – Never like short odds on a firster, but this pricey Delacour trainee has been training forwardly for a solid first-out barn and is half to graded winner Sacristy
#3 Resolana (3-1) – Nothing wrong with debut when she won pace duel but couldn't hold off a closer while keeping second; gaps between races a concern but note sharp last work
#2 Eskimo Princess (4-1) – Trainer Lynch hits with 22 percent of debut runners; mare was a multiple graded winner, though sibs haven't done much
RACE 2
#3 Sippy Cup (6-1) – Keeping better company than these of late; needs to get gate issues sorted out, but was willing in last after breaking in air; like to see Russell remain in the irons
#1 Venezuelan Beauty (7-5) – Two tries on off tracks – and yesterday was muddy by card's end – haven't been much to look at. May be controlling speed in a race without much of it.
#5 Northern Prancer (3-1) – Eppler trainee likes the distance but will need some help from others to press the pace in here; winner from last repeated yesterday on turf
RACE 3 is on the turf
#11 Nizzi (10-1) – Bold middle move before flattening out late to be fourth in acceptable debut, owns right to move forward; one from that race won on return
#5 Jakesoutcaster (7-2) – Just missed in only route try vs. similar, and last two sprinting are good enough; winless ledger in 12 starts makes short odds tough to take in wide open event
#6 Justifiable Junior (8-1) – Only turf route try vs. better wasn't bad; three straight times trainer Albert has tried to get her in turf races only to have them taken off
RACE 4
#6 Big Bella Brown (5-1) – Couple decent works in preparation for debut for Lynch barn, which hits at 20 percent with debut maiden claimers
#11 Zeke the Streak (8-1) – Winner of last repeated against winners in follow-up; runner takes drop out of special weight company to meet maiden claimers in first try for Milosevic barn, which is 4-for-6 at the meeting
#1 Done Acting (9-2) – First runner for sire Done Talking; decent work tab for Smith trainee, and note rider Cintron – a regular rider for Smith – lands here rather than trainer's other entrant
RACE 5 is on the turf
#4 Golden Story (3-1) – Stidham trainee figures to sit the right trip off speed types, and return to grass a plus, as is Carrasco in the irons
#6 Silent Tale (8-1) – Looks to be speed of the speed and will take them as far as he can; two back effort would win here
#9 Mr. Stream (7-2) – Moves up a notch off victory last out; runner-up won his follow-up; can sit a good trip
RACE 6 is on the turf
#4 Lemon Drop Kitty (12-1) – Outfooted sprinting on debut, but winner Smiling Causeway showed ridiculous early zip that day and ran a good second in stakes follow-up; Egan trainee bred for a route of ground, and eight of sibs' 10 wins have come around two turns
#1 Fuerza (8-5) – Tough luck runner has been in the money four of five, but expected short odds tough to take on five-race maiden
#7 Saratoga Belle (3-1) – Not easy to win at first asking going two turns, but this Delacour trainee is a half to G3 winner Ballagh Rocks
RACE 7 is on the turf
#8 Puturseatbelton (3-1) – Formful Magee trainee has finished in the exact four straight against similar and owns back-to-back wins
#7 Argot (9-2) – Two-back victory produced three next-out winners; rider Acosta likely to put this one in the mix early
#4 Came Back (9-2) – Only negative in recent efforts is inability to beat #8 in here; otherwise, all systems go
RACE 8 is on the turf
#8 Dorothyfromdublin (4-1) – Smith trainee's company lines in turf routes exceptional, including two-time fourth place finisher in G3 races Chubby Star and two-time G3-placed Compelled – those types aren't here
#6 Raining Lemons (5-2) – Runner-up from last graduated Saturday; drop from special weight company a plus
#3 Blondie Girl (12-1) – Breeding suggests this might be Midshipman filly's best game
RACE 9
#3 Greek Prince (9-2) – Not sure distance suits, but this Tapizar gelding has kept much better company than this and passed on yesterday's Concern Stakes to be here
#1 Victory Chimes (2-1) – Can't fault anything this Eppler trainee's done to date, including four exacta finishes in four tries at the trip
#4 In Arrears (5-2) – Lynch trainee rallied nicely to win last out off two-month break; trainer and rider Russell clicking at 30 percent clip
RACE 10 
#10 Fletched (8-1) – First try in Capuano barn for a runner who's been gelded, had blinks removed, and gets Carrasco up
#1 Squashville Road (7-2) – Big drop from $16k makes this one kind of an all-or-nothing proposition; your call
#8 Aim Straight (8-1) – Ran well in last versus a decent group
YESTERDAY'S NEWS  
Yesterday QG had eight winners on the 10-race card, including 2 top selections.
On Sunday July 16th at Laurel had 4 winners from the 10-race card (2 Top Selections; payoff in BOLD) having $2 WIN pay-offs of $5.00 (3rd race), $16.20 (4th), $6.00 (4th), $3.80 (7th), and $5.20 (8th). Top Selections in 2017 are 212 for 783 (27.08%). In 2016, Top Selections were 304 for 1,213 (25.02%).
BEST BET of the Day (84: 29-19-14; in 2016 127: 31-29-19) Catching Fireflies (8th race: 9-2 M/L; 8-5 PT) relaxed off the pace while three wide, shifted out when revving up leaving the quarter pole, and prevailed by 1 1/2 lengths to return $5.20 to WIN, $3.00 to PLACE and $2.60 to SHOW.
LONGSHOT PLAY of the Day (74: 10-9-12; in 2016 124: 13-13-16) Ticticboomdynamite (1st race: 10-1 M/L; 9-1 PT) saved ground on the turn, eased out at the head of the lane, but could make no late impact, finishing fourth, beaten by five lengths.