The GQ Approach – Laurel July 22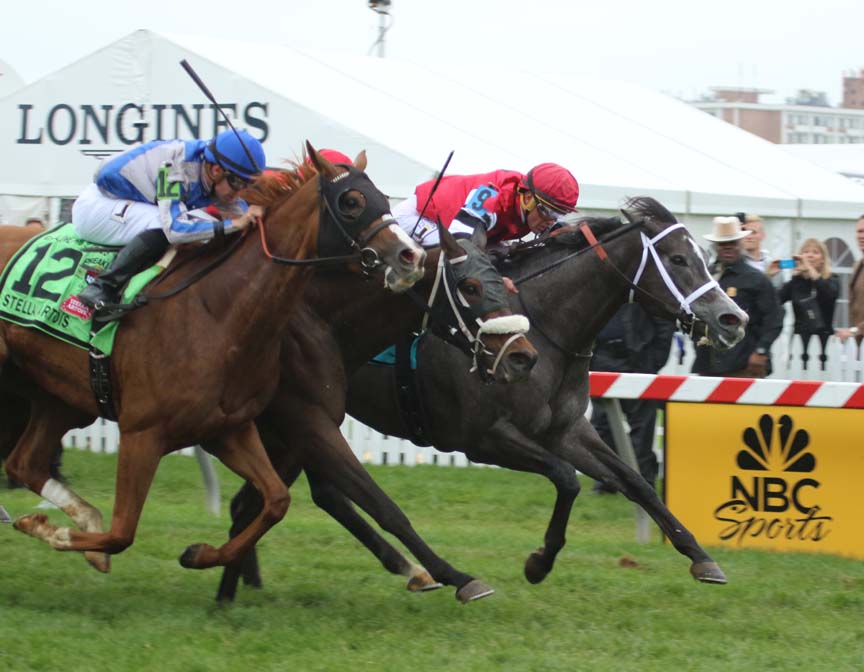 Mizz Money (#9) held off Vielsalm (in between) and Heath (#12) to win the Grade 3 Gallorette. Photo by Laurie Asseo.
The GQ Approach features full-card selections from Laurel Park for the live summer racing meet, Post Time 1:10pm EDT including a daily Best Bet, Longshot Play, and multi-race wagers — including the 20 cent Rainbow Pick-6, 50 cent Early and Late Pick-5s, as well as Pick-4s and rolling Doubles, Pick-3s and the Super High-5. GQ is on assignment July 22-23; blame these picks on his ne'er-do-well cousin QG.

[su_box title="
Today's Carryovers
" style="glass" box_color="#66ADCC"]
Rainbow Pick 6: 

$5,015.44

Super High 5: 

$576.02

Late Pick 5: no carryover[/su_box]
[su_box title="GQ's Handicapping Tip of the Day" style="glass" box_color="#66ADCC"][stray-random][/su_box]
[su_box title="Best Bet of the Day" style="glass" box_color="#66ADCC"]Race 10 / #8 – Via Frattina (5-2)[/su_box]
[su_box title="Longshot Play of the Day" style="glass" box_color="#66ADCC"] Race 7 / #7 – Cause of the Royal (12-1)[/su_box]
[su_box title="
Multi-race Wagers
" style="glass" box_color="#66ADCC"]
Race 1: $2 DOUBLE   1, 2, 3  w/ 5, 9, 10 ($18)
Race 3: $0.50 cent Pick-3  2, 6  w/ 3, 9, 10  w/ 3, 5, 7  ($9.00)
Race 7: $0.50 Pick-4   1, 7, 9  w/ 1, 3, 5  w/ 1, 3  w/ 7,8  ($18)
[/su_box]
[su_heading size="21″ align="left"]Analysis[/su_heading]
Weather: Afternoon thunderstorms, high of 92
Scheduled Turf races: Races 2-8, race 10
Projected track conditions… Main: FAST; Turf: FIRM
Post Time for 1st race is 1:10pm EDT
RACE 1
#3 Mini Donation (6-1) – Like the way this Robb trainee closed ground last out – a new dimension for her; demand value, though, as winless record on fast main track gives pause
#2 She Is Special (5-2) – Major class relief for this Leatherbury trainee and return to dirt won't hurt; trainer and rider Toledo have stellar record together
#1 Bring Me Answers (3-1) – Magee trainee ticking through his conditions with two wins from seven starts
RACE 2 is on the turf
#10 Mathildestrevenue (9-2) – Delacour trainee gets back to better surface, owns two wins from four starts; outer post a concern
#5 La Nina (8-1) – Not sure what happened in last, but she's kept right company – including stake winner Daylight Ahead three back – and a return to better form puts her in the mix; blinks go on
#9 Zippity Gal (7-2) – Talent is there to compete with this bunch; curious to see whether cutback in distance helps – City Zip filly's never run less than 7 ½ furlongs
RACE 3 is on the turf
#6 Somekindofmagician (5-2) – Ran big in prior turf sprint try, training well enough for return; trainer Trombetta solid off layoffs
#2 Colonel Crawford (5-1) – Debut solid enough; dam was stakes-placed sprinting on turf; like that Karamanos remains aboard and chooses this one over trainer's other entrant
#4 Chocomount (9-2) – Show horse from last won the Caveat S. at Laurel last weekend; gets blinks, and time away perhaps to get him more settled
RACE 4 is on the turf
#3 Seaside Schiller (4-1) – Artie Schiller filly figures dead fit on the cutback in distance, should get a lively pace to run at; rider Cintron doing well everywhere
#9 Greeley's Bustnout (9-2) – Set zippy fractions and stayed on well enough for second in turf bow two back; likely the speediest of all here, but how much will she be pushed?
#10 Six Tonsafun (5-1) – Return to turf and plenty of pace to run at make this one live; Carrasco in the irons a plus
RACE 5 is on the turf
#3 Quick Thinking (5-1) – Great Notion filly overcame troubled trip last out to graduate; continued improvement required
#5 Holiday Blues (2-1) – Nothing wrong with recent efforts, including respectable try in Jameela; class relief a positive
#7 Sazerac Girl (3-1) – Runs lots of good races without winning much, just twice (versus 11 seconds) in 26 tries; will be running late
RACE 6 is on the turf
#4 Jarvis Steel (4-1) – Won pace battle but lost the war last out; may be by his lonesome on the lead here
#6 My Enigma (5-2) – Nothing wrong with recent turf form, and cutback in distance no concern
#2 Vittorioso (4-1) – Working forwardly for return to action, and trainer Jones thrives off similar layoffs; best efforts more than fit here
RACE 7 is on the turf
***#7 Cause of the Royal (12-1)*** Longshot Play – Last out better than it looks on yielding ground vs. runaway winner; trainer Hendriks does well enough on layoffs, and turf ace Karamanos gets the call
#9 McPherson (5-2) – First start in the Geralis barn for Stroll gelding making turf bow; bred to do exactly this
#1 Enasoit (3-1) – Turf tries aren't bad and on the drop in class, a repeat of similar would likely be good enough
RACE 8 is on the turf
#5 Marengo Road (4-1) – Keeping sneakily good company; two from last won stakes next out, including G3 win for Ghost Hunter, and three back winner won G1 next out
#3 Talk Show Man (3-1) – Has run better than results of late; terrific late rally just missed in last, and stretch out should help; finished behind #5 here three back
#1 Furyofthenorsemen (5-1) – 2016 turf form fit with these, and like to see trainer Ness running this one in this tough spot despite middling recent tries
RACE 9
#1 No Dozing (6-5) – Deserving chalk sure has kept the right company, with three graded stakes placings on the ledger; easier company and cut back in distance should help; blinks go on, and trainer Delacour a win machine on layoffs
#3 Honor the Fleet (9-2) – Cutback, return to track where he's won twice, and addition of Lasix ought to make a major difference, giving him best chance at an upset here; last out winner is undefeated
#4 Proforma (5-2) – Two-time stake winner profited from right trip to earn second stake win last out
RACE 10 is on the turf
***#8 Via Frattina (5-2)*** BEST BET – Led and failed last out but wheels back against similar here; winner repeated Friday afternoon
#7 Giving (6-1) – Trainer Jenkins' patience has expired here; debut was acceptable and competes here; Jenkins and rider Hamilton have been thriving together.
#11 Keep Your Distance (2–1) – Note three back winner I'm Betty G won Md-bred Pearl Necklace S. last week; outside post not optimal
YESTERDAY'S NEWS  
On Sunday July 16th at Laurel had 4 winners from the 10-race card (2 Top Selections; payoff in BOLD) having $2 WIN pay-offs of $5.00 (3rd race), $16.20 (4th), $6.00 (4th), $3.80 (7th), and $5.20 (8th). Top Selections in 2017 are 212 for 783 (27.08%). In 2016, Top Selections were 304 for 1,213 (25.02%).
BEST BET of the Day (84: 29-19-14; in 2016 127: 31-29-19) Catching Fireflies (8th race: 9-2 M/L; 8-5 PT) relaxed off the pace while three wide, shifted out when revving up leaving the quarter pole, and prevailed by 1 1/2 lengths to return $5.20 to WIN, $3.00 to PLACE and $2.60 to SHOW.
LONGSHOT PLAY of the Day (74: 10-9-12; in 2016 124: 13-13-16) Ticticboomdynamite (1st race: 10-1 M/L; 9-1 PT) saved ground on the turn, eased out at the head of the lane, but could make no late impact, finishing fourth, beaten by five lengths.