The GQ Approach – Laurel July 21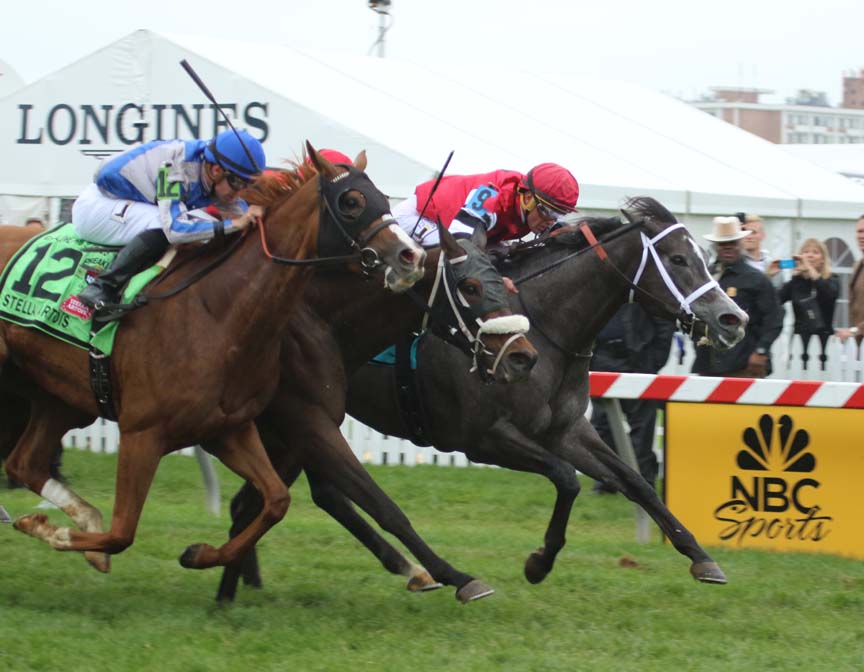 Mizz Money (#9) held off Vielsalm (in between) and Heath (#12) to win the Grade 3 Gallorette. Photo by Laurie Asseo.
The GQ Approach features full-card selections from Laurel Park for the live summer racing meet, Post Time 1:10pm EDT including a daily Best Bet, Longshot Play, and multi-race wagers — including the 20 cent Rainbow Pick-6, 50 cent Early and Late Pick-5s, as well as Pick-4s and rolling Doubles, Pick-3s and the Super High-5.

[su_box title="
Today's Carryovers
" style="glass" box_color="#66ADCC"]
Rainbow Pick 6: $4,247.13
Super High 5: $1,307.31
Late Pick 5: no carryover[/su_box]
[su_box title="GQ's Handicapping Tip of the Day" style="glass" box_color="#66ADCC"][stray-random][/su_box]
[su_box title="Best Bet of the Day" style="glass" box_color="#66ADCC"]Race 8 / #7 – Catching Fireflies (9-2)[/su_box]
[su_box title="Longshot Play of the Day" style="glass" box_color="#66ADCC"] Race 1 / #2 – Ticticboomdynamite (10-1)[/su_box]
[su_box title="
Multi-race Wagers
" style="glass" box_color="#66ADCC"]
Race 1: $2 DOUBLE   2, 3, 4  w/ 1, 7, 9 ($18)
Race 3: $0.50 cent Pick-3  2, 5, 6  w/ 4, 6, 7  w/ 1, 5, 7  ($13.50)
Race 6: $0.50 Pick-5   6, 8  w/ 1, 2, 6  w/ 2, 5, 7  w/ 5, 7, 9  w/ 6, 7 ($54)
Race 8: $2 DOUBLE   5, 7, 9  w/ 6, 7 ($12)
[/su_box]
[su_heading size="21″ align="left"]Analysis[/su_heading]
Weather: Mostly Sunny; highs in the mid-90s
Scheduled Turf races: 2nd, 4th, 6th, 8th, 9th and 10th
Projected track conditions… Main: FAST; Turf: FIRM
Post Time for 1st race is 1:10pm EDT
Race 1
#2 – Ticticboomdynamite (10-1): $$$ LONGSHOT $$$ Had a very eventful debut sprinting on the grass here in MSW; was eager early steadied slightly on the turn losing momentum along the rail, gathered herself to make another run entering the stretch but hit the rail, was thrown off stride so the jock saved her for another day… today?
#3 – Local Thriller (7-2): Adds blinkers coming off MSW debut at Pim in the mud when losing any chance as she was steadied at the start but got an education making up 10¼-lengths in the stretch; best work yet came just 7 days ago w/ blinks on no doubt
#4 – Princess A'go Go (5-1): SC home-bred FTS by Hugo out of a Suave Prospect mare displays steady work pattern, nothing brilliant but that's not trainer "Ham" Smith's style; like that J. Toledo takes the mount
Race 2 is ON THE TURF
#7 – Great Captain (7-2): Has failed in past two of three career starts as Post Time favorite in utrf sprints which is sire (Lonhro) made a nice living on in Australia; trainer M. Stidham turns to D. Centeno for just the second time in the past year; won with only previous mount
#9 – My Pal Jerry (12-1): In latest, his 2nd career start at same level as today on turf had the #1 post and soundly bumped exiting the starting gate, closed the gap nicely in the stretch to be a non-threatening 4th; should get away cleaning having far outside post and be more forwardly placed early
#1 – Bigboldbok (5-1): Just 6 days ago made first start since being gelded and w/ Lasix showing brief speed then abruptly stopped but that was first dirt try; back on turf where all other (four in total) starts took place; has a good gate rider today to neutralize rail post
Race 3
 #5 – Saint Mistress (3-1): Appears to be lone speed; after three straight OTB turf starts returns to dirt where she can boast career best BRIS# among this field of seven
#2 – Catch (6-1): Might be the type that is always running late but unable to get up in time regardless of the distance; ironically lone win in 17 starts came at 5½ furlongs with same rider as today getting back on after a three races absence
#6 – Chamberlin Road (5-2): only runner in here fresh off maiden score but that was on turf; back to dirt where two back going one mile showed willingness to run on late
Race 4 is ON THE TURF
#7 – Shortlist (8-5): Logical favorite been runner-up in both turf starts; was ahead of Just Howard who won minor stakes here last weekend; should get honest pace to run down late
#4 – Tennessee Wildcat (6-1): Switch to turf and stretching out was smart move, hitting the board in both of those starts but were for a tag; steps up to MSW after 2-months off
#6 – Intent to Strike (5-2): Fourth career start at fourth different venue after improving BRIS# in each after adding blinkers; trainer G. Motion and jock F. Lynch have won at 32% clip in the past year  
Race 5
#7 – Important (4-1): Second start after trainer M. Eppler claim showed improvement in first start on multiple class jump now drops down one and can finally graduate in twelfth start
#1 – Beyond Forever (9-5): Has gotten the better of top pick twice but t short distance and then off track; three-time beaten favorite has refused to get by winner in last three; turf-to-dirt angle
#5 – Brahms Sweets (2-1): Trainer J. Ness takes over conditioning duties of this Del-based runner most likely just for this start; lone fast track start results in being second best, 13-lengths in front of SHOW runner    
Race 6 is ON THE TURF
#6 – Flyingtobechilders (6-1): Field of eleven only has a couple who have the need to lead; this one seems likely to grab it and take advantage of setting reasonable splits to be a gate-to-wire threat
#8 – Barney Rebel (5-2): 9-year-old had trouble winning until finally got Lasix three races back and hasn't lost since; needs some pace her the Lrl lawn to be less speed favoring than last week
#7 – Racetrack Romance (3-1): No stranger to the Winners Circle (13 of 45) but not so much on turf (3 of 23); was poised to win at this level but got bottled up behind rivals in mid-stretch  
Race 7
#1 – Love You Back (2-1): Would be a suspect drop for most other trainers but this K. Magee runner who romped v. $10kN2L two back in first race off $5k claim is simply in where he can win, get claimed and provide connections a healthy ROI in 2 months time
#2 – Next Street (8-1): In search of form that saw this 3-year-old rattle off three-in-a-row but got reality check against elders; an appropriate drop and should relish added distance
#6 – Ghetto Fabulous (6-1): Interesting scenario here as J. Miller takes off trainer W. Potts uncoupled entry (#4 who gets 10 lb. bug seeking first pro win) to ride filly whose been ITM last four starts for a nickel
Race 8 is ON THE TURF
#7 – Catching Fireflies (9-2): *** BEST BET *** Hard to imagine getting these odds come Post Time as she likes the Lrl lawn (3:2-1-0); makes third start after 6-month layoff and just missed in latest at this level after being 5-wide on the turn; there's back class here to expect this turf specialist to take another step forward today
#5 – Awake the Day (12-1): Could be a gate-to-wire threat if the Lrl turf course continues to be kind to early speed; nearly pulled upset in first start off the bench in restricted stakes here in June
#2 – Danessa Again (15-1): Lone turf try BRIS# (73) doesn't stack up against this group but have to wonder why trainer J. Navarro (29%) picks this one to ship in from Mth for his first starter of the current meet; first time saddling this one (31%) and attracts top local turf rider Karamanos
Race 9 is ON THE TURF
#9 – Willie B Mine (5-1): Winless on the turf in his career (7:0-2-0) but faced tough competitive in all of those starts; jock F. Lynch has options on this versatile runner as can try to wire them or if challenged early, take back and get first run on the early leaders in the stretch
#5 – Dundalk (3-1): Graduated in latest which was fifth career outing but has never been OTB; runner-up two back to next out future turf star; if he repeats maiden breaking performance he'll be back in Winners Circle
#7 – Buddy Anthony (12-1): Bel shipper for trainer Ja. Servis will test the turf for the first time though not necessarily bred to run on it; should be the speed of the speed so if he's not on top at any point in this sprint, don't be looking for him to rally; speed figs have been climbing in latest five races since debut
Race 10 is ON THE TURF
#7 – Hurricane Harold (5-1): Gotta love the fact this turf bred colt by Lemon Drop Kid out of an Empire Maker mare stretches out to two turns after a quartet of sprints to start career; turf debut in latest when stepped up into MSW could have been worst, but sprinting is not how he'll earn his keep throughout his career
#6 – Chant David Chant (5-2): Tough customer made debut going 9 furlongs on turf for $25k tag and was a clear runner-up coming off the pace; showed early showed in next/latest effort but didn't go well; could be a vulnerable lukewarm PT favorite but trust that "Cowboy" will give a smart ride   
#5 – Barin (10-1): Could be lucky #13 start to earn diploma? This deep closer will need pace help and the turf to be less kind to early speed, which by this race we should know how it's playing; jock switch alone could help
YESTERDAY'S NEWS  
On Sunday July 16th at Laurel had 7 winners from the 9-race card (3 Top Selections; payoff in BOLD) having $2 WIN pay-offs of $5.00 (1st race), $3.40 (2nd), $6.00 (4th), $17.60 (5th), $9.40 (6th), $3.40 (7th) and $6.60 (9th). Of the suggested multi-race wagers hit the R1-R2 $2 DOUBLE paid $10.80 (cost: $12). Top Selections in 2017 are 210 for 773 (27.17%). In 2016, Top Selections were 304 for 1,213 (25.02%).
BEST BET of the Day (83: 28-19-14; in 2016 127: 31-29-19) Royal Brown (6th race: 6-1 M/L; 7-2 PT) vied outside a rival before going clear in hand, set a rated pace around the turn, opened up a long lead after being roused three sixteenths from home, kept on under right handed encouragement to prevail by two-lengths to return $9.40 to WIN, $4.00 to PLACE and $2.80 to SHOW.
LONGSHOT PLAY of the Day (73: 10-9-12; in 2016 124: 13-13-16) Crimson Secret (5th race: 10-1 M/L; 7-1 PT) disputed the pace two wide around the turn, sprinted clear in mid-stretch, drifted out and lasted to win by a nose to return $17.60 to WIN, $10.60 to PLACE and $5.60 to SHOW.