The GQ Approach – Laurel July 16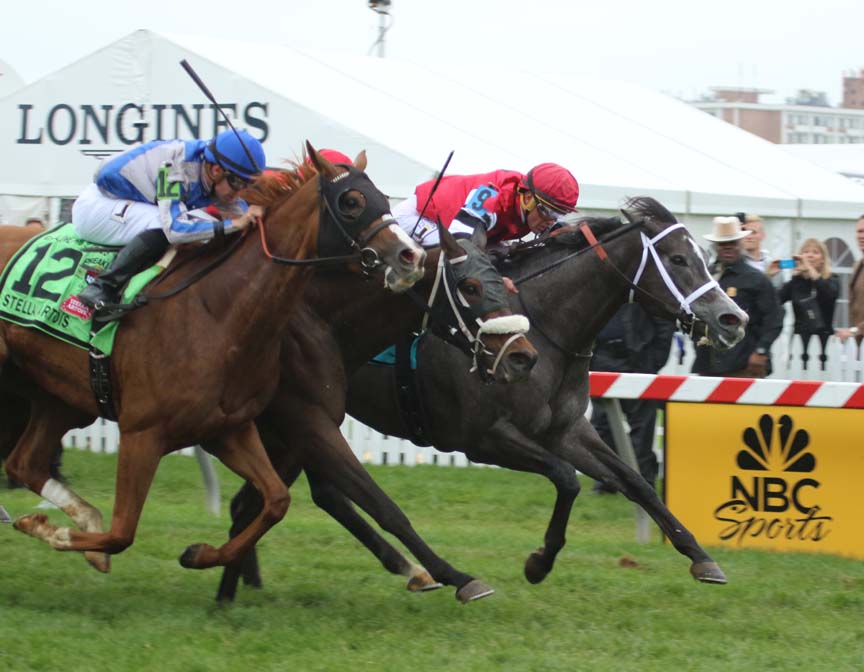 Mizz Money (#9) held off Vielsalm (in between) and Heath (#12) to win the Grade 3 Gallorette. Photo by Laurie Asseo.
The GQ Approach features full-card selections from Laurel Park for the live summer racing meet, Post Time 1:10pm EDT including a daily Best Bet, Longshot Play, and multi-race wagers — including the 20 cent Rainbow Pick-6, 50 cent Early and Late Pick-5s, as well as Pick-4s and rolling Doubles, Pick-3s and the Super High-5.

[su_box title="
Today's Carryovers
" style="glass" box_color="#66ADCC"]
Rainbow Pick 6: $3,284.12
Super High 5: $920.71
Late Pick 5: no carryover[/su_box]
[su_box title="GQ's Handicapping Tip of the Day" style="glass" box_color="#66ADCC"][stray-random][/su_box]
[su_box title="Best Bet of the Day" style="glass" box_color="#66ADCC"]Race 6 / #3 – Royal Brown (6-1)[/su_box]
[su_box title="Longshot Play of the Day" style="glass" box_color="#66ADCC"] Race 5 / #6 – Crimson Secret (10-1)[/su_box]
[su_box title="
Multi-race Wagers
" style="glass" box_color="#66ADCC"]
Race 1: $2 DOUBLE   1, 4, 6  w/ 4, 6 ($12)
Race 3: $0.50 cent Pick-3  1, 3, 9  w/ 2, 5, 7  w/ 3, 6, 11 ($13.50)
Race 5: $0.50 Pick-5  3, 6, 11  w/ 3, 9  w/ 7, 8  w/ 1, 3, 5  w/ 1, 6, 9 ($54)
Race 8: $2 DOUBLE   1, 3  w/ 6, 9 ($8)
[/su_box]
[su_heading size="21″ align="left"]Analysis[/su_heading]
Weather: Mostly Sunny; highs in the mid-80s
Scheduled Turf races: 1st, 3rd, 5th, 6th, 8th and 9th
Projected track conditions… Main: FAST; Turf: FIRM
Post Time for 1st race is 1:10pm EDT
Race 1 is ON THE TURF
#4 – Silver Romeo (9-5): Card or at least this Capper's view of it appears pretty chalky which can guarantee it will be Bombs Away! This favorite was beaten favorite in latest when after stalking quick fractions didn't have enough in the tank to fend off the Closers
#1 – Baltic Art (2-1): Lrl lawn yielded some quick times and was kind to early speed yesterday so sticking to that theory until proven otherwise expect to see this ones number at the top of the toteboard early and possibly at the wire
#6 – On Tenterhooks (10-1): Nice effort in first start in over 16-months picking up the SHOW purse at Del; quick turn around for a runner who has needed more than 17 days between start in entire 12 race career but this may be a good sign
Race 2
#4 – Carolina Dreams (9-2): Taking a leap of faith by tossing latest as past efforts at Pen have not gone well; always ITM on the Lrl dirt (4:1-2-1) with S. Hamilton in the irons, which he is today; drop back to open nickel is logical move
#6 – Include Gold (9-5): Was finally asked for too much when put in state-bred Alw company or might that she finally dropped from her career best form after a nice run following $5k claim 7 races back; regardless the steep drop back to $5k could be a yellow flag
#7 – Better Way (7-2): Very temperamental mare is always "excused from the Post Parade" but has been competitive lately when the gates open, being part of Exacta in 5 of 6 starts; won latest outing at this one mile distance
Race 3 is ON THE TURF
#1 – Holiday Prayer (4-1): Yesterday F. Boyce realized how speed favoring the turf course has become when taking a 5-1 shot gate-to wire in what looked like unsustainable quick, early fractions; she may try the same from the rail on this filly
#9 – So Innocent (8-5): Compromised in latest, her first on turf when she hopped at the start; count on A. Cintron to save ground from outside post by either clearing field early or being in the second flight; second start with blinkers
#3 – Annie Boo Boo (9-2): Half-sister to turf stakes winning Talk Show Man didn't show much in debut going long after an awkward break; adds blinkers and now has valuable education to improve
Race 4
#2 – King's House (5-2): This event will be interesting to watch in that all 7 runners have early speed, so who is going to blink first? Banking on this one to be the speed of the speed and like that V. Carrasco had ridden him and two others in last outings but stayed here
#7 – Ring Collector (5-2): For a runner who was "rank" in latest and "erratic" two back to still win both while earning best two BRIS#s of career speaks volumes about trainer D. Dilodovico about the job done on this west coast export
#5 – D N A Approved (12-1): Won for this condition three back and now drops back to it after a pair of fourth place efforts v. better; one thing he has done that the other six haven't is pass foes
Race 5 is ON THE TURF
#6 – Crimson Secret (10-1): $$$ LONGSHOT $$$ Makes third career start on turf, has a gate-to-wire maiden breaking win and a fourth after leading into the stretch v. a level higher; both at Lrl and the latest also came when the turf was not holding early speed very well
#3 – Oyster Soup (5-1): Makes second start of '17 and sprinting after exclusively racing at two turns in all 14 previous starts; missed by a neck sprinting so why not stick to what nearly worked
#11 – Chilly Magician (6-1): Third start since layoff and cuts back from two turns for first time on turf; trainer/jock are 2 for 2 at current meet
Race 6
#3 – Royal Brown (6-1): *** BEST BET *** Turf BRIS#s have been consistently in the 70's in last four turf starts which will beat these rivals; look for K. Gomez to get the first call and never look back
#9 – Saturday's Rein (7-2): Heavily bet (6-5) in first start since last Nov. but came up half-length short due to traffic at the half the 6-wide entering stretch; will need turf course to be not so kind to early speed as it was yesterday
#4 – Petticoatsnpistols (8-1): Seems to be maturing with every start but needs to get that killer instinct to want to pass all foes; has never been sent off less than 13-1 in six career starts, she will today
Race 7
#7 – Demon Buster (1-1): House horse takes a multi-class drop after a very discouraging run as PT favorite; not all in on this one as there's too many caution flags out but the others don't do much for me at this middle distance
#8 – Flatter's Secret (15-1): Third race after layoff/claim by trainer J. Hess returns to level where this mare has had past success; 2 for 2 at distance; 5 for 9 at Lrl
#3 – Bay Bridge (15-1): Has run on dirt since first two career starts two years ago in MSW sprinting; should be able to handle dirt especially at this bottom level
Race 8 is ON THE TURF
#3 – Forever in Love (9-5): What's wrong w/ trainer L. Rice?! Only 3 for 14 (21%) at current meet after nearly 50% this winter; this colt will relish the added distance (9f) in third start at Lrl after stalking trips earned win and runner-up at this same level
#1/1A – Motivational/Biedermeier (9-2): Different barns, same owner; #1 exits a couple steeplechase events; is only runner to have won at this distance; #1A will need plenty of pace help to be heard from in deep stretch
#5 – Whitman's Poetry (6-1): Lightly raced 6 y.o. can boast a career best 102 turf BRIS# which was earned in lone start at Lrl in $100k Turf Cup last Sept.; makes '17 debut and has won in first race after layoff
Race 9 is ON THE TURF
#6 – Jax (9-5): HOF rider E. Prado has one mount today, on this cheap maiden in final race on the Sunday card; showed versatility by not going to early lead in latest and got PLACE purse v. a level higher
#9 – Crags (8-1): Flashed talent in first few starts going long at NYRA tracks last Summer even though never hitting the board; takes typical K. Magee drop in 2nd race after claim (29%)
#1 – Twelve Tricks (2-1): Tough post for this turf sprint but after the troubles in last two outings, overcoming the rail should be a piece of cake; add blinkers
YESTERDAY'S NEWS  
On Saturday July 15th at Laurel had 6 winners from the 11-race card (5 Top Selections; payoff in BOLD) having $2 WIN pay-offs of $4.00 (2nd race), $4.00 (3rd), $4.60 (4th), $3.20 (6th), $3.80 (10th) and $5.00 (11th). Of the suggested multi-race wagers hit the R10-R11 $2 DOUBLE paid $10.80 (cost: $12). Top Selections in 2017 are 207 for 764 (27.09%). In 2016, Top Selections were 304 for 1,213 (25.02%).
BEST BET of the Day (82: 27-19-14; in 2016 127: 31-29-19) Super Buddy (2nd race: 2-1 M/L; 1-1 PT) broke inward, corrected and moved up between rivals, stalked four wide under early rating, bid three wide after a half mile, went clear under left handed rousing in mid-stretch, widened a sixteenth out then held firm under a drive to win by two-lengths to return $4.00 to WIN, $2.80 to PLACE and $2.20 to SHOW.
LONGSHOT PLAY of the Day (72: 9-9-12; in 2016 124: 13-13-16) Dothat Dance (8th race: 6-1 M/L; 3-1 PT) lacked speed, raced outside horses on the far turn, swung to the four path turning for home and rallied to return $5.60 to PLACE and $3.00 to SHOW.