The GQ Approach – Laurel July 15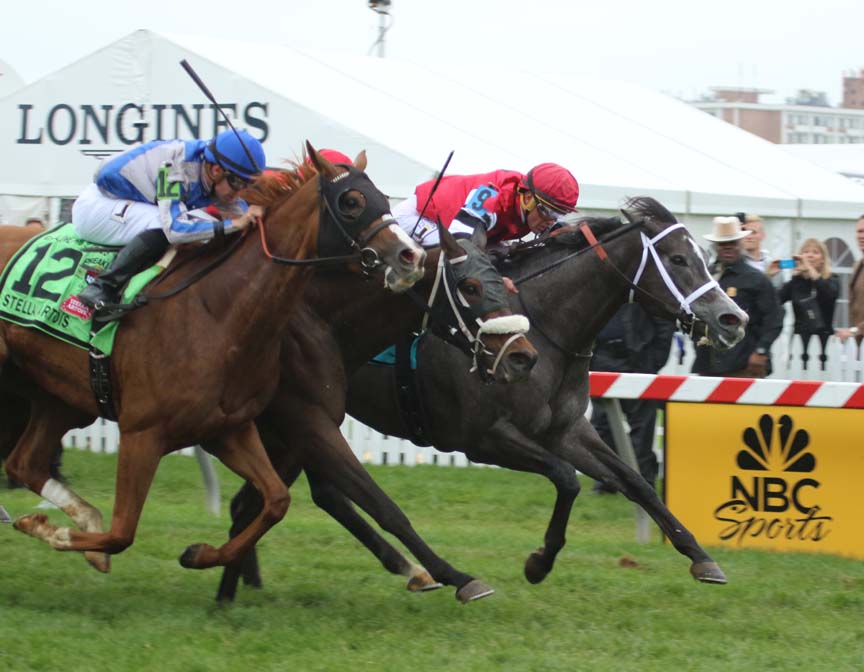 Mizz Money (#9) held off Vielsalm (in between) and Heath (#12) to win the Grade 3 Gallorette. Photo by Laurie Asseo.
The GQ Approach features full-card selections from Laurel Park for the live summer racing meet, Post Time 1:10pm EDT including a daily Best Bet, Longshot Play, and multi-race wagers — including the 20 cent Rainbow Pick-6, 50 cent Early and Late Pick-5s, as well as Pick-4s and rolling Doubles, Pick-3s and the Super High-5.

[su_box title="
Today's Carryovers
" style="glass" box_color="#66ADCC"]
Rainbow Pick 6: $1,656.45
Super High 5: no carryover
Late Pick 5: no carryover[/su_box]
[su_box title="GQ's Handicapping Tip of the Day" style="glass" box_color="#66ADCC"][stray-random][/su_box]
[su_box title="Best Bet of the Day" style="glass" box_color="#66ADCC"]Race 2 / #4 – Super Buddy (2-1)[/su_box]
[su_box title="Longshot Play of the Day" style="glass" box_color="#66ADCC"] Race 8 / #7 – Dothat Dance (6-1)[/su_box]
[su_box title="
Multi-race Wagers
" style="glass" box_color="#66ADCC"]
Race 1: $2 DOUBLE   6, 7  w/ 4 ($4)
Race 3: $0.50 cent Pick-3  1, 2, 3  w/ 1, 5, 6  w/ 1, 2, 6 ($13.50)
Race 7: $0.50 Pick-5  4, 6, 9  w/ 2, 5, 7  w/ 1, 2  w/ 2, 7  w/ 1, 3, 7 ($54)
Race 10: $2 DOUBLE   2, 7  w/ 1, 3, 7 ($12)
[/su_box]
[su_heading size="21″ align="left"]Analysis[/su_heading]
Weather: Partly Cloudy; highs in the mid-80s
Scheduled Turf races: 1st, 3rd, 5th, 7th, 8th, 10th and 11th
Projected track conditions… Main: FAST; Turf: FIRM
Post Time for 1st race is 1:10pm EDT
Race 1 is ON THE TURF
#7 – Holiday Hopes (9-5): Couldn't get to winner in Lrl lawn sprint against the boys after all (4) previous starts were going two turns; back in with the gals today but needs to be closer early
#6 – Scene of the Crime (8-1): Roughed up a bit in debut going 5½ furlongs on turf but was game to show late interest; education and stretching out to 6f should help chances to graduate
#4 – Brainchild (6-1): Second start with blinkers; failed to get near the front after bearing in at the start at Bel; returns to Lrl lawn where the competition should be a tad lighter
Race 2
#4 – Super Buddy (2-1): *** BEST BET *** Coming off a short layoff was bet heavily early in most recent outing but was off slow, squeezed back between rivals, rocketed thereafter just behind early leader but didn't have anything left late to chase down winner; in Jan. debut was 3rd behind Triple Crown contenders Impressive Edge and Patch; looking for gate-to-wire score today
#6 – On a Positive Note (3-1): MD-bred FTS by quality sire Redeemed out of an Editor's Note mare has an extended work tab at Bel with a couple breaks in between; ships in from NY for trainer M. Nevin's only entry on the card
#2 – Bigboldbok (8-1): After four unsuccessful turf starts at NYRA tracks showing early speed, transferred from G. Weaver to C. Lynch barn, will add Lasix and got the ultimate equipment change (gelded); has fired three bullets in the four works since  
Race 3 is $75,000 Caveat Stakes ON THE TURF
#1 – Just Howard (5-2): Fresh off maiden win in sixth career start as adding blinkers seemed to do the trick; both Place and Show runners were next out winners; turf BRIS#s are better than ML favorite (#3)
#3 – Bonus Points (2-1): Won Parx Derby tow back but that was on dirt; tried turf for only third time in G2 Penn Mile and ran to his 35-1 odds (8th); got Show purse in $100k turf stakes at Bel last Fall
#2 – Good Reasoning (6-1): Uncoupled entry for trainer G. Motion (also has #1); lone win came in an off the turf event two back; seventh in first start v. winners but just 3-lengths behind winner earning a BRIS# equal to #3 best     
Race 4
#5 – Enduring Warrior (4-1): Confidently drawing a line through latest overmatched; gets back to level he can compete as after two runner-up finishes, that fourth place effort was hampered by traffic
#6 – Saint Ignatius (9-5): This patron saint of soldiers fought his way to maiden victory at Pen in latest, his tenth career start; connections most have pick a very modest spot considering hopes
#1/1A – Awesome Type/Fear Or Be Feared (8-5): "Awesome" will carry the bettors hopes for this entry but has failed when PT favorite, which has been his past 4 of 6 starts; "Fear" is not to be feared but trainer J. Ness is 24% w/ turf-to-dirt runners
Race 5 is $75,000 Pearl Necklace Stakes ON THE TURF
#2 – My Sistersledge (5-2): Brings back bad "We Are Family" memories from '79 WS when Pirates beat O's… but I digress; adds Lasix in eighth career outing after nice showing in minor stakes at GP in spite off big time traffic issues in the stretch
#1 – Hailey's Flip (6-1): A couple firsts… on turf and two turns but this three time winner can handle it based on bloodlines; got the best of six-time winner (#7 in here) in latest; trainer G. Capuano is 29% w/ 1st on grass runners
#6 – Riley's Choice (3-1): It's about time this Distorted Humor filly out of a Pleasantly Perfect mare gets two turns; makes '17 debut and appears ready after two quick 5f works; trainer H. DePaz 30% w/ first routers but 0 for 7 first on grass
Race 6
#10 – Wazzala (8-5): Been burning a lot of bettors' money as she's failed four times as odds on favorite; been a great underneath play (9:0-4-3) but it's time to graduate as there isn't even cheap speed to run with her early
#9 – Little Miss Jojo (5-1): It's a miracle this home bred is alive as I met connections prior to debut at Pim; glad to see she is game on the track; stretch out didn't pan out so back to sprint
#2 – Star Too (3-1): Caution flag should be waving as connections claimed her for $30k last Nov. and immediately turned her out until May; nice work pattern but offered for $10k today
Race 7 is ON THE TURF
#4 – Inchargeofme (7-2): Been facing much better as last three starts have been only ones where she hasn't hit the board; gets class relief today and E. Prado back in irons who was aboard for maiden victory at Del 11-months ago
#9 – Conscription (15-1): Strange extended comment from previous start "Wore a hood"?! Do recall that race day grass was holding early speed quite well… something this gal does not have and it showed (6th by 10); plenty of early pace here to give Closers a shot
#6 – Good Roll (15-1): Owns best turf BRIS# (93) which was earned on this Lrl lawn last Aug.; F. Boyce opts to ride her for first time v. #10 who she guided to a win at Pim in May, Hmmm
Race 8 is ON THE TURF
#7 – Dothat Dance (6-1): $$$ LONGSHOT $$$ Had success on the MD lawns last Summer but after an 8-month layoff resurfaced in KY facing a level higher, getting buried in all three; returns to the Free State under the care of new trainer N. Abramson (2 for 3)
#2 – Enough Is Enough (7-2): This gelded son of Paddy O'Prado should certainly make his living on turf and didn't disappoint trainer M. Eppler against state-bred/sire foes in first turf chance since claiming him out of a turf win for $16kN2L last Oct.
#5 – Crypto's Holiday (12-1): Game gelding's only win came in an allowance race albeit at Great Meadows (VA); got SHOW purse v. similar at Del going 7 1/2f earning career best BRIS# (86); anticipate a stalking trip to get first run on leg-weary leaders entering the stretch
Race 9
#2 – Thurman Merman (3-1): Second best when trying to go 3 for 3 to start promising career; this field of seven is loaded with early speed so though this colt has passed a few runners unlike the majority of his foes
#1 – Stay Home (4-1): If any in this bunch can rate, it's this Stay Thirsty gelding; the talking heads will poo-poo his rail assignment but he broke maiden in debut out of the #1 slot, coming way off the pace
#3 – First Goal (5-2): Nine career starts but this one will be first on natural dirt but don't let that worry you; he spent winter at GP, staying fit with 3 works, one a bullet going 4f in 46 4/5
Race 10 is $100,000 Stormy Blues Stakes ON THE TURF
#2 – Morticia (2-1): Would be appropriate for K. Gomez to ride but thankfully regular rider J. Lezcano makes trip down from NY for this mount (yeah, he's also in R3 but that's a pickup mount); can boast best turf BRIS# (98) by a wide margin
#7 – Smiling Causeway (9-2): Speed of the speed should have company early or they'll foolishly think she'll back up on her own… not so sure about that
#6 – Deer Valley (4-1): Exits a minor turf stakes victory at Mth but will need help to soften up early speed; makes eighth career start at sixth different venue; seems to be maturing nicely
Race 11 is ON THE TURF
#1 – How's Your Sugar (9-5): Might be a single on horizontal exotics but the lack of early speed in here might be an issue to this deep Closer; Karamanos has been riding well of late so have faith he'll figure it out
#3 – Clubman (12-1): Nice effort in latest when asked to go long and take to the turf; was part of the early pace which should be easier to stay on today; he'll greatly benefit from that experience
#7 – Apolodorodedamasco (12-1): This 2nd century Greek architect namesake looks to engineer his own legacy by successfully stretching out to two turns while being more forwardly placed as this field lacks early foot
YESTERDAY'S NEWS  
On Friday July 14th at Laurel had just 3 winners from the 10-race card (1 Top Selection; payoff in BOLD) having $2 WIN pay-offs of $12.00 (3rd race), $4.20 (6th) and $7.40 (7th). Top Selections in 2017 are 202 for 753 (26.83%). In 2016, Top Selections were 304 for 1,213 (25.02%).
BEST BET of the Day (81: 26-19-14; in 2016 127: 31-29-19) Sister Says (3rd race: 5-2 M/L; 3-5 PT) settled off the pace, was under pressure three wide in upper stretch, swung out, made up ground under left handed rousing past the eighth pole then flattened out to finish fourth.
LONGSHOT PLAY of the Day (71: 9-8-12; in 2016 124: 13-13-16) Ruth Less Blue (10th race: 12-1 M/L; 10-1 PT) wide throughout was not a factor and finished 6th.