The GQ Approach – Laurel July 14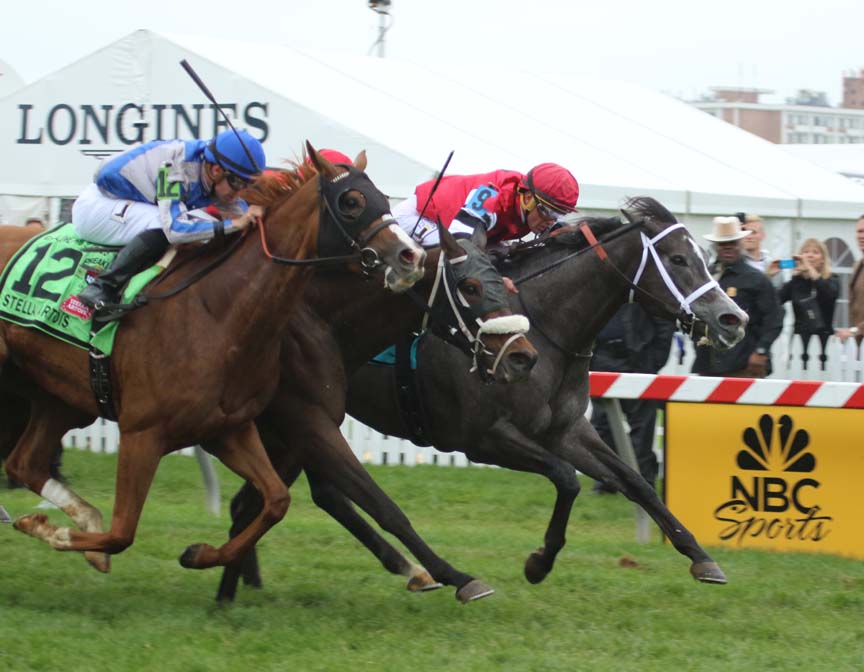 Mizz Money (#9) held off Vielsalm (in between) and Heath (#12) to win the Grade 3 Gallorette. Photo by Laurie Asseo.
The GQ Approach features full-card selections from Laurel Park for the live summer racing meet, Post Time 1:10pm EDT including a daily Best Bet, Longshot Play, and multi-race wagers — including the 20 cent Rainbow Pick-6, 50 cent Early and Late Pick-5s, as well as Pick-4s and rolling Doubles, Pick-3s and the Super High-5.

[su_box title="
Today's Carryovers
" style="glass" box_color="#66ADCC"]
Rainbow Pick 6: $773.49
Super High 5: $8,205.83
Late Pick 5: no carryover[/su_box]
[su_box title="GQ's Handicapping Tip of the Day" style="glass" box_color="#66ADCC"][stray-random][/su_box]
[su_box title="Best Bet of the Day" style="glass" box_color="#66ADCC"]Race 3 / #1 – Sister Says (5-2)[/su_box]
[su_box title="Longshot Play of the Day" style="glass" box_color="#66ADCC"] Race 10 / #9 – Ruth Less Blue (12-1)[/su_box]
[su_box title="
Multi-race Wagers
" style="glass" box_color="#66ADCC"]
Race 1: $2 DOUBLE   4, 6, 102  w/ 2, 6, 7 ($18)
Race 3: $0.50 cent Pick-3  1, 9, 10  w/ 1, 2, 7  w/ 3, 5, 7 ($13.50)
Race 6: $0.50 Pick-5  1, 2, 9, 10  w/ 3  w/ 2, 7, 9  w/ 5  w/ 3, 7, 9 ($18)
Race 9: $2 DOUBLE   3, 5  w/ 3, 7, 9 ($12)
[/su_box]
[su_heading size="21″ align="left"]Analysis[/su_heading]
Weather: Mostly Sunny; highs in the low-90s
Scheduled Turf races: 1st, 3rd, 5th, 7th, 8th and 10th
Projected track conditions… Main: FAST; Turf: FIRM
Post Time for 1st race is 1:10pm EDT
Race 1 is ON THE TURF
#6 – Our Emerald Forest (4-1): Though trainer H. McMahon is just 14% 1st after claim, this beaten favorite has the back class to pay immediate dividends; adding a HOF rider won't hurt either
#10 – Prime Time Man (3-1): Goes for the natural Hat Trick and has best last race turf BRIS# (86); loves this one mile distance (6:4-0-1) and should be able to handle local open company
#4 – Matador (5-1): Draw a line through his latest based on his dislike for dirt when it came off the turf; look for an effort more like the runner-up one at Prx when taking the overland route two back
Race 2
#7 – Irish Handcuffs (4-1): There's plenty of early pace in here to give this late running gelding a legit shot at win #2 stretching out to 7f albeit at the bottom claiming level
#2 – Champions Dinner (5-1): Hard gauge exactly where he bellows and this cappers' thoughts are it's not for this cheap; broke maiden at SA in $20kMCL; connections were asking too much in tough OC$25k then sprinting on turf v. $16kN2L in latest isn't what he's bred to do
#6 – Hail the General (7-2): Note K. Davis bailed on top pick (#7) in here to reunite with this program 2nd choice; 3 y.o. hasn't fared too well against better elders in past 3
Race 3 is ON THE TURF
#1 – Sister Says (5-2): *** BEST BET *** Runner-up at 35-1 in restricted turf sprint stakes when coming off maiden win v. $40kMCL; even if she regresses a bit off that effort she should still be able to catch the plethora of speedy foes in deep stretch
#9 – La Murette (5-1): Third start after layoff for trainer KTL after missing by a head in first start v. winners in this same condition, surface and track; needs to continue to improve to turn the tables on top pick </em
#10 – Misty On Pointe (7-2): Will surely draw interest simply based on connections (Sagamore Farm) whose trainer wins w/ 24% off the bench; Karamanos takes off Eppler's #4 (12-1)
Race 4
#1 – Honor Commitment (5-2): Part of the Exacta in all 8 starts at this distance (5 wins, 3 seconds) and now must deal with open company; goes for third win in a row 
#7 – Pomeroy's Package (3-1): Speedy sort will have a number of foes breathing down his neck early which could easily compromise his chances for the "W" and continue the disappoint as he's been beaten favorite in last 4 outings
#2 – Slews Love (6-1): IN spite of his 0 for 11 at this distance, he drops to the bottom and gets Karamanos back in the irons while making third start for trainer C. Hadry
 Race 5 is ON THE TURF
#5 – I Shod the Sheriff (3-1): Trainer D. Kobiskie sneaks back into town with a speedster who can go gate-to-wire against these half dozen foes; 3 y.o. is the only 3 time winner in here and brings along jock D. Sarvis who 's teamed up with Kobiskie to win at 44% clip the past year
#3 – Mr. October (4-1): Took to the turf like a fish to water in latest with a nice off the pace victory v. OC$25k N2L; the smallest step forward gets him right back into the Winners' Circle 
#7 – The Great Ronaldo (12-1): Had a nice 2 y.o. campaign when not getting buried by the best local talent; 3 y.o. debut at CT did not go well; gives turf a shot and might like it based on off track form 
Race 6
#2 – Barry Lee (5-2): Sagamore Farm shelled out $380k in March for this 2 y.o. KY-bred son of Violence who was tied for the second fastest drill at the OBS sale; rail post should not hurt based on the bullets, one from the gate in most recent works leading up to debut   
#9 – Dirtyfoot (4-1): Beaten 3-5 favorite in second start after being runner-up in debut behind a colt who won stakes at Bel in next outing; rare pre-race comment "Unruly paddock" from latest could explain lack of stamina after spurting out to a 4-length lead early; could rebound at a much better price    
#9 – Onemoregreattime (4-1): A nice, game yet unexpected debut when runner-up at 11-1; trainer J. Robb is one of the best local conditions with babies and overall wins with 26% of his runners in their second career start   
Race 7 is ON THE TURF
#3 – Choice Prospect (5-2): Did all the dirt work in latest only to get worn down late by runner who came back last weekend to beat N3L convincingly; don't she her facing same type of pressure today 
#5 – Fly and Flutter (5-1): Ran on behind top pick in latest while altering course in the stretch; not sure if that cost her but should improve in second start off trainer D. Capuano claim (20%)
#6 – Sasana (2-1): Third start after layoff and earned best, last race turf BRIS# of this bunch; pinched at the start caused her to have to make up too much ground late; expect her to be in a more forwardly placed stalking position
Race 8 is ON THE TURF
#9 – Mr. Benz (7-2): Has turned in a pair of fourth place efforts since being transferred from R. Jenkins to P. Schoenthal barn; rough trip cost him when sprinting two back as favorite at this level and was "very wide" v. better last out; a clean trip gets the job done  
#7 – Leroy Brown (6-1): House Horse refused to switch leads when making up ground in deep stretch, falling short by just over a length as 5-2 Post Time favorite; honest runner will be in the mix late     
#2 – My Magician (12-1): Third start after layoff; in spite of 2 for 22 record can boast best turf BRIS# (87) in this group at the one mile distance; stretching back out from a pair of sprints should have him sitting on a top effort   
Race 9
#5 – Hill Shadow (9-5): ML oddsmaker says it's a two-horse race; if so this one gets the nod after runner-up effort to  a talented Parade of Nations who came back to be a game second at the next level; two turns is a first on dirt but missed by a nose going 1 1/16 on grass
#7 – Legend's Hope (15-1): Got SHOW purse when 43-1 and behind a couple nice runners in first start going two turns; should improve off that effort and could catch leg-weary foes late  
#3 – American Road (8-5): Trainer L. Rice has been on fire not only with shippers to Lrl but everywhere; encouraging that she keeps this one in allowance company in spite of not having it when sent off as even money favorite going 7f; look for a rebound here getting back to two turns  
Race 10 is ON THE TURF
#9 – Ruth Less Blue (12-1): $$$ LONGSHOT $$$ First start after H. Walters claim for $11k; like how he steps up when already out of jail; has back class to improve especially getting E. Prado in irons who has won on 2 of 4 Walters' runners in the past year; should get a great setup to come on the scene late
#3 – Billy the Bull (4-5): Every time ya think he'll fold in the stretch due to facing foes who also after early speed, the foes never challenge him early; one day that will happen and there's enough of them in here "Billy" will need to go sub-22 & sub-44 to have the lead; depending on how the Lrl turf is playing will determine his fate  
#7 – Bluegrass Ball (10-1): Pen-based runner has two turf sprints in '17 going 5f at Pen; this 7 y.o. needs the extra 1/16th to be a threat; has hit the board in all 3 previous turf tries at Lrl             
YESTERDAY'S NEWS  
On Sunday July 9th at Laurel had 6 winners from the 10-race card (5 Top Selections; payoff in BOLD) having $2 WIN pay-offs of $6.00 (3rd race), $6.80 (4th), $10.20 (6th), $4.00 (7th), $18.60 (8th) and $8.60 (10th). Of the suggested multi-race wagers hit the R6-R10 50 cent Pick-4 which paid 4 out of 5 a sum of $30.75 (cost: $542). Top Selections in 2017 are 201 for 743 (27.05%). In 2016, Top Selections were 304 for 1,213 (25.02%).
BEST BET of the Day (80: 26-19-14; in 2016 127: 31-29-19) Lost Story(3rd race: 3-1 M/L; 2-1 PT) three wide into the first turn, was four deep around the far turn, drifted in when taking the lead near the eighth pole and was kept under urging late to win by one-and-one-half lengths to return $6.00 to WIN, $3.80 to PLACE and $2.60 to SHOW.
LONGSHOT PLAY of the Day (70: 9-8-12; in 2016 124: 13-13-16) Turbin(2nd race: 10-1 M/L; 13-1 PT) settled off the early pace and removed from the rail, commenced a run mid-turn, circled five wide into the lane, was guided further out through the final furlong, gained but could not match strides with the top three to finish fourth, just 2 lengths behind the winner.