The GQ Approach – Laurel July 9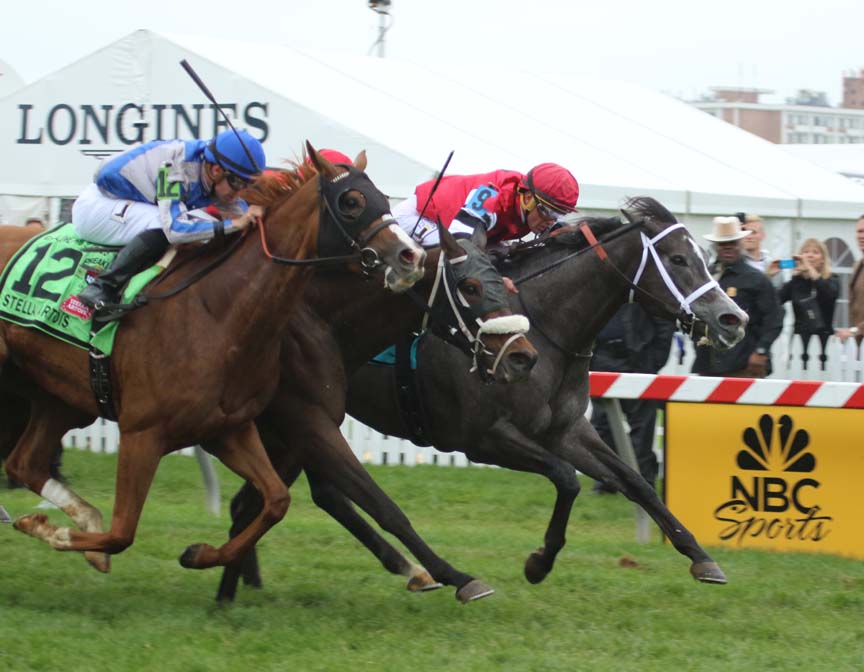 Mizz Money (#9) held off Vielsalm (in between) and Heath (#12) to win the Grade 3 Gallorette. Photo by Laurie Asseo.
The GQ Approach features full-card selections from Laurel Park for the live summer racing meet, Post Time 1:10pm EDT including a daily Best Bet, Longshot Play, and multi-race wagers — including the 20 cent Rainbow Pick-6, 50 cent Early and Late Pick-5s, as well as Pick-4s and rolling Doubles, Pick-3s and the Super High-5.

[su_box title="
Today's Carryovers
" style="glass" box_color="#66ADCC"]
Rainbow Pick 6: no carryover
Super High 5: no carryover
Late Pick 5: no carryover[/su_box]
[su_box title="GQ's Handicapping Tip of the Day" style="glass" box_color="#66ADCC"][stray-random][/su_box]
[su_box title="Best Bet of the Day" style="glass" box_color="#66ADCC"]Race 3 / #15 – Lost Story (3-1)[/su_box]
[su_box title="Longshot Play of the Day" style="glass" box_color="#66ADCC"] Race 2 / #4 – Turbin (10-1)[/su_box]
[su_box title="
Multi-race Wagers
" style="glass" box_color="#66ADCC"]
Race 1: $2 DOUBLE   2, 4, 12  w/ 4, 5 ($12)
Race 3: $0.50 cent Pick-3  8, 14, 15  w/ 5, 7, 8  w/ 2, 5, 8 ($13.50)
Race 6: $0.50 Pick-5  2, 8  w/ 4, 6, 7  w/ 3, 5, 7  w/ 2, 6  w/ 3, 8, 9 ($54)
Race 9: $2 DOUBLE   2, 6  w/ 3, 8, 9 ($12)
[/su_box]
[su_heading size="21″ align="left"]Analysis[/su_heading]
Weather: Mostly Sunny; highs in the low-80s
Scheduled Turf races: 1st, 3rd, 5th, 7th and 9th
Projected track conditions… Main: FAST; Turf: FIRM
Post Time for 1st race is 1:10pm EDT
Race 1 is ON THE TURF
#4 – Sunrise Sunset (8-1): Staged a nice late rally in last outing at this level but ran into traffic issues and settled for sixth just two-lengths behind winner
#2 – Tightly Bridled (3-1): Honest as the day is long especially on turf as he's never been OTB in eight career efforts sprinting; beat N2L in first start after long layoff and can repeat v. these
#12 – Spoiled by God (15-1): Plenty of early speed in here but w/ H. Karamanos back in the irons, don't expect to see this one mixing it up early; will have clear run from the outside to stalk
Race 2
#4 – Turbin (10-1): $$$ LONGSHOT $$$ If you look up in the dictionary the word "miler" you just might find a picture of 7-year-old gelding; stretches out from 6f and should get a perfect step-up to unleash his typical late rally
#5 – J R Jellybean (6-1): Prx based trainer J. Guerraro has two on today's card but only this one will be ridden by L. Ocasio who has scored w/ 22% of Guerraro's runners over the past year including this one in 3 of last 4 starts
#8 – Greek God (3-1): Exits 8½f turf v. better in first start for trainer M. Trombetta after he reclaimed this gelding who has beat foes twice at this open $5k level; loves Lrl (10:4-2-1) and distance (9:3-2-1)
Race 3 is ON THE TURF
#15 – Lost Story (3-1): *** BEST BET *** Unlucky in last two outings, beaten favorite in latest on Lrl lawn and today makes third start after layoff; catches a field of N2L where many are coming off maiden claiming victories and need to vastly improve to match this ones strides
#8 – Clubman (4-1): Finally graduated in seventh start when dropped to $25k level after failing as PT favorite in five of those starts; got a work out over the turf for new trainer (22% 1st after claim) J. Maldonado; should handle the grass just fine
#14 – Unwarrie Sky (12-1): Trainer K. Rubley must have found the issue w/ this ridgling because her two start this year are leaps and bounds better than first two in '16; looking for more improvement in first start v. winners
Race 4
#5 – Negrito (9-2): ReClaimed by trainer C. Gonzalez after struggling with previous connections; look for this gelding to return to prior form on the mandatory step up while "in jail" but still at a lower level than when with barn before they lost him
#7 – Classic Salsa (4-1): Second time blinkers and A. Cruz gets aboard who seems to be go to rider for trainer L. Gaudet in certain situations; turf to dirt angle
#8 – Grande Shores (5-1): Been facing much better and picking up minor shares; should find this group a bit easier to compete against and F. Boyce returning to ride is a positive sign
Race 5 is ON THE TURF
#5 – Tracy Island (8-1): There's enough early speed in this route to provide a Closer the opportunity to catch the leg-weary foes late; she fits the bill and gives best effort on a firm turf which will be the case today
#8 – Beaches N Bourbon (2-1): Seems to fit this $16k tag as she's won twice and runner-up by a neck in all starts on turf going two turns; definitely the one to beat
#2 – Kadie'shorseplay (15-1): Willing to give her a pass for most recent start when in v. better and fact that H. Karamanos bails to ride ML favorite (#8); runner-up just two back at this level
Race 6
#8 – Proportionality (3-1): Home/MD-bred for Sagamore Farm who sends out firsters ready to win (26%); this Feb. foal by Discreet Cat out of a Touch Gold mare has been working well in A.M.
#2 – Hip Hop (10-1): Recently purchased Drosselmeyer filly for $37k at F-T Tim May sale didn't waste anytime preparing for debut; like the 5f bullet followed by gate drill just 4 days ago
#5 – Carson City Coin (5-1): Only filly with a race already under her belt which could prove to be huge; trainer K. Decker his 0-fer with 2-year-olds and when adding blinkers, but might hold education edge; lone work on July 5 after debut was a bullet… obviously with blinkers on
Race 7 is ON THE TURF
#7 – Kabang (5-2): This 5-year-old who fetched $425k as a yearling owns best career turf BRIS# of this bunch whle just 1 for 15 lifetime; don't get a warm and fuzzy feeling that he's being offered for $16k after missing by 1½ in AlwN1x in latest but that was 3-months ago; if you can trust the work tab from Fai, then back him with confidence
#4 – Storm Candy (20-1): In spite of this geldings 6 of 7 starts being 5½f sprints on turf, if any runner in here is capable of getting 9f it's this son of Candy Ride out of a A.P. Indy mare; it's a tall task asking to stretch out nearly twice the distance but at these odds it's worth the risk
#6 – Slippery Slope (12-1): An ugly 1 for 19 but showed a different (stalking v. speed) running style in first start after 7-month layoff and off with the blinkers; A. Cintron subs for injured J. Pimentel
Race 8
#3 – Victory Rally (1-1): Don't see too many even money ML for second start where they were "no threat" in debut back in Feb. but she faced multiple next out winners including KY Oaks 5th place finisher Salty; trainer M. Matz has been shipping "live" runners to Lrl (4:2-0-2) so far this meet
#7 – No Love Lost (10-1): Runner-up in latest in spite of a rough trip on Lrl lawn; second time blinkers back on dirt where she showed early speed, something only one other in here possesses
#5 – No Picnic (9-2): It certainly wasn't when she faced local star filly Shimmering Aspen in her debut then was 3+ behind another next out winner and multiple graded stakes placed Compelled; makes first start since late Oct. after working steadily since late May
Race 9 is ON THE TURF
#6 – City Traveler (8-5): Shocker… trainer L. Rice has a likely winner; appears to be lone speed in this Alwn1x turf sprint; been on the bench since romping by 8-lengths here in Apr. for maiden breaker earning a 92 BRIS#
#2 – Supersecret (6-1): Pen shipper gets jock C. Burg come along for the ride as she did when they won on Pim turf Memorial Day weekend; unfortunately will be a victim of a paceless race and will need a career best to get the win
#5 – Wildcatpleasures (9-2): Missed by a nose in only previous Lrl lawn start when in against open $15k; DQ'd from second in latest at Pen going 5f; trainer is 1 for 21 in '17; 1 for 2 w/ this jock  
Race 10
#8 – Turbo Booster (7-2): Tried grass in two of three career starts unsuccessfully; ran evenly on dirt in a $40kMCL that proved to be filled with talented runners; trainer H. McMahon is 26% with 2+ level class droppers
#9 – Vegas Appeal (10-1): Like how he showed early speed going longer and now cuts back ¼ mile; gets reunited w/ A. Cintron who was aboard when runner-up at this level 3 races back
#3 – Seven Knots (8-1): This NY-bred might be heading to FL to take on state breds if he cannot conquer Lrl bottom of the barrel maidens; S. Hamilton back in irons after an encouraging late run to get SHOW purse in last outing         
YESTERDAY'S NEWS  
On Saturday July 8th at Laurel had 6 winners from the 10-race card (1 Top Selection; payoff in BOLD) having $2 WIN pay-offs of $3.40 (3rd race), $4.20 (5th), $6.00 (6th), $13.60 (8th), $3.20 (9th) and $6.40 (10th). Of the suggested multi-race wagers hit the R9-R10 $2 DOUBLE for $13.20 (cost: $12). Top Selections in 2017 are 196 for 733 (26.74%). In 2016, Top Selections were 304 for 1,213 (25.02%).
BEST BET of the Day (79: 25-19-14; in 2016 127: 31-29-19) Fed Up Fired Up (7th race: 4-1 M/L; 2-1 PT) swung to the four path leaving the far turn, angled in in mid-stretch, staged a furious rally along the rail in the final furlong to finish just three-quarters of a length behind the winner but only good enough for third to return $2.80 to SHOW.
LONGSHOT PLAY of the Day (69: 9-8-12; in 2016 124: 13-13-16) Backseat Driver (2nd race: 10-1 M/L; 11-1 PT) saved ground off the early pace, gained along the fence entering the lane, eased out, chased between rivals leaving the furlong grounds an kept on with some interest to finish a distant third and returned $4.20 to SHOW.