The GQ Approach – Laurel July 8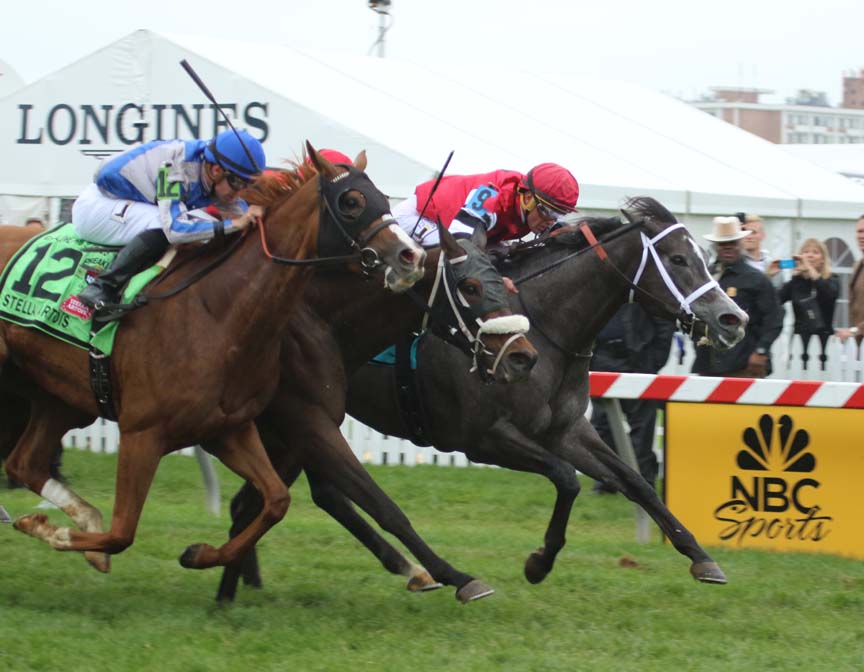 Mizz Money (#9) held off Vielsalm (in between) and Heath (#12) to win the Grade 3 Gallorette. Photo by Laurie Asseo.
The GQ Approach features full-card selections from Laurel Park for the live summer racing meet, Post Time 1:10pm EDT including a daily Best Bet, Longshot Play, and multi-race wagers — including the 20 cent Rainbow Pick-6, 50 cent Early and Late Pick-5s, as well as Pick-4s and rolling Doubles, Pick-3s and the Super High-5.

[su_box title="
Today's Carryovers
" style="glass" box_color="#66ADCC"]
Rainbow Pick 6: $5,207.50
Super High 5: no carryover
Late Pick 5: no carryover[/su_box]
[su_box title="GQ's Handicapping Tip of the Day" style="glass" box_color="#66ADCC"][stray-random][/su_box]
[su_box title="Best Bet of the Day" style="glass" box_color="#66ADCC"]Race 7 / #7 – Fed Up Fired Up (4-1)[/su_box]
[su_box title="Longshot Play of the Day" style="glass" box_color="#66ADCC"] Race 2 / #4 – Backseat Driver (10-1)[/su_box]
[su_box title="
Multi-race Wagers
" style="glass" box_color="#66ADCC"]
Race 1: $2 DOUBLE   4, 7, 8  w/ 4, 5 ($12)
Race 3: $0.50 cent Pick-3  3, 4, 5  w/ 1, 3, 7  w/ 2, 8, 10 ($13.50)
Race 6: $0.50 Pick-5  7, 8  w/ 1, 2, 7  w/ 2, 3, 7  w/ 1, 2, 9  w/ 1, 7 ($54)
Race 9: $2 DOUBLE   1, 9  w/ 1, 2, 7 ($12)
[/su_box]
[su_heading size="21″ align="left"]Analysis[/su_heading]
Weather: Mostly Cloudy; highs in the low-80s
Scheduled Turf races: 1st, 3rd, 5th, 7th and 9th
Projected track conditions… Main: FAST; Turf: FIRM
Post Time for 1st race is 1:10pm EDT
Race 1 is ON THE TURF
#7 – Papa Vinny (7-2): Best of a poor lot of maidens giving grass a go and based on a small sampling this gelding has earned best turf BRIS# which occurred in latest when shedding blinkers
#8 – Not a Coupon (3-1): Trainer E. Allard (25% in '17) makes Lrl Summer meet debut w/ second time starter from another barn who showed late foot in debut on the AP grass sprinting 5f when 22-1
#4 – Miss My People (6-1): Gets fourth different jock in the irons in as many career starts, all which have been "Fugly" (twice 9th and twice 10th); glimmer of hope is in turf debut finished ONLY 9 back in MSW  
Race 2
#4 – Backseat Driver (10-1): $$$ LONGSHOT $$$ 3-year-old takes on her elders for first time in twelfth career start; has shown signs of promise in a few past races, particularly two SHOW finishes in as many starts going today's distance; positive jock switch
#5 – Cheryl's Way (5-2): This 6-year-old mare has a tough time getting to the races having been just 3 times in her career, with a two-year layoff prior to latest which was two months ago; seems as if owner/trainer R. Vukelic will only run her when she's got a shot
#2 – Star Touch (7-2): Takes second consecutive class drop since coming off a short layoff; adding blinkers in past two haven't helped but the stay on as H. Karamanos takes over for L. Gaudet… the two are 2 for 6 over the past year
Race 3 is ON THE TURF
#3 – Black Prong (8-1): Home/VA-bred FTS by Wiseman's Ferry out of a Horse Chestnut mare makes it a family affair for trainer Reid Nagle (23%) who obviously has been working this one on the farm… don't believe only two official works to date and most recent one was May 27
#5 – Major Anthem (5-2): 33rd time will be the charm, right?! This winless 5-year-old gelding has been a Cash Cow for owner/trainer Jackie Savoye; he dances every dance but arrives on the scene late; thoughts to self are "do you need your head examined?!" thinking today is graduation day
#4 – Icelake (3-1): Continues to drop in class seeking maiden win; typical move for trainer R. Jenkins when runners aren't successful on dirt, try them on turf; regardless of the fact this gelding isn't bred for the grass, he managed to earn SHOW money in turf debut in latest outing    
Race 4
#7 – Bungalow (9-2): A case of those in here have proven they cannot win so why not go with a FTS, like this Home/FL-bred by Shackleford out of a Smarty Jones mare who hails from the high profile Glen Hill Farm barn; love the evenly spaced work pattern, most recent from the gate just 5 days ago
#1 – Godlovesasinner (6-1): BRIS#s have been climbing since dropped in for a $40k tag three races back; another drop today might earn a diploma as he SHOWed at this level, just 2-lengths behind winner back in Dec.
#3 – Shine Bright (2-1): Everyone gravitates to trainer G. Motion runners but truth be told he's 0 for 9 at the current meet; beaten favorite at Pid in latest but SHOW runner, who was 5+ back returned to get maiden win; cut back to 6f gives best chance to visit Winners' Circle
Race 5 is ON THE TURF
#8 – Doukas (5-2): Beat $15k open claimers in last start when dropped in class first start for trainer P. Schoenthal; this outfit is all about winning, at any cost so another drop does not set off any warning signals
#10 – Fortutious (12-1): Though the result (6th) doesn't indicate so but this mare earned the best last race BRIS# of this group primarily because she was in v. tougher; same type of effort today will light up the tote and kill plenty P6 tickets from the start
#2 – More Stormyweather (6-1): At first glance looks like a step up but this is actually a step down in class based on last turf start v. dirt; love More Than Ready runners on the turf; stalking trip under jock S. Hamilton can get it done
Race 6
#7 – Gimme Kimmy (5-1): Need to draw a line through the shot in the dark try on the turf when in v. winners for the first time; trainer W. Komlo reclaimed this gal out of her maiden win so he knows her well and should return to good form on dirt
#8 – Bring Me Answers (5-2): Loser by double-digits in her past three outings takes appropriate class drop trying to regain form she lost shortly after trainer K. Magee claimed her from Sagamore Farm
#3 – Crazy Bernice (12-1): Might be insane like "Crazy Eddie" thinking Bernice has a shot but trainer J. Reynolds puts blinkers on (14%) and switch from turf to dirt minus H. Karamanos (bailed to ride #8) but K. Davis will get this one engaged early
Race 7 is ON THE TURF
#7 – Fed Up Fired Up (4-1): *** BEST BET *** Certainly describes my attitude based on some personal struggles of late, but enough about me… this gal won her lone try at this 9 furlong distance on the grass when breaking her maiden over a year ago; last four turf efforts, all at 8½ furlongs while willing late in each; beaten favorite in latest and jock switch
#1 – Faire Mi (6-1): Has the pedigree to go 9 furlongs on the grass though BRIS figure doesn't think so; given no chance (66-1) in turf debut three back running evenly; two best efforts have come in only two at two turns
#2 – Vaughn (8-1): Well look who finally shipped a runner from NY (trainer D. Jacobson) for the current meet; past turf tries indicate two turns is where he'll find success; been steadily training at Bel since she last raced in mid-March
Race 8
#3 – Ice Tea (6-1): This group lacks early speed so landed here as jock upgrade to K. Davis gets aboard and usually can get those w/ natural speed to the front; never OTB (3:1-1-1) at this one mile distance
#2 – Mischievous Dan (10-1): Runner he beat by 5-lengths in N2L win came back yesterday win for that same condition so all of a sudden this guy is looking like a good value; trainer/jock combo is 5 for 10 over the past year
#7 – Brother Slick Nick (12-1): Amazingly in 17 career starts has only run on a fast, main dirt track twice and won both; today will be #3 as he exits a turf effort better than previous ones which came prior to a brief layoff  
Race 9 is ON THE TURF
#9 – Sazerac Girl (7-2): Prudent claim for trainer P. Schoenthal back in Feb. (6:1-3-0 since) in spite of this guy only being 2 for 25 lifetime, those 10 runner-up efforts pay the barn bills and then some; have faith win #3 can come v. these foes breaking a string of 3 consecutive seconds
#1 – Northern Eclipse (9-5): Speed of the speed from the rail gets good gate rider J.D. Acosta; might be vulnerable as #4 won't give her any breathers in the early stages
#2 – Clare's Dowery (12-1): Classy filly has a late running style that will take advantage of leg-weary rivals in deep stretch; comes off short layoff; two back she was second best to superstar filly Shimmering Aspen
Race 10
#1 – Souper Colors (5-2): Extended work tab for this 4-year-old NY-bred FTS by Super Saver out of a Giant Causeway mare who cost $180k as a two-year-old; the caution flag should be out being offered for $25k but there's not much else in here to be afraid of
#7 – Voo Dude (6-1): Seems to have been learning his craft in each of his three starts; fits at this $25kMCL level and just needs a clean trip in this sprint to prove he belongs
#2 – True Cat (5-1): Third career start but first on a fast main track; didn't care for mud in debut v. MSW then earned runner-up spot in $25kMCL turf sprint with a late charge under today's rider A. Castrenze; third time could be the charm       
YESTERDAY'S NEWS  
On Friday July 7th at Laurel had 8 winners from the 10-race card (5 Top Selection; payoff in BOLD) having $2 WIN pay-offs of $9.00 (1st race), $15.20 (3rd), $3.20 (3rd), $6.80 (4th), $11.40 (5th), $4.20 (6th), $4.00 (7th), $6.60 (9th) and $7.00 (10th). Of the suggested multi-race wagers hit the R1-R2 $2 DOUBLE for $82.00 (cost: $12), R3-R5 $.50 Pick-3 for $27.95 (cost: $13.50) and R9-R10 $2 DOUBLE for $32.80 (cost: $6). Top Selections in 2017 are 195 for 723 (26.97%). In 2016, Top Selections were 304 for 1,213 (25.02%).
BEST BET of the Day (78: 25-19-13; in 2016 127: 31-29-19) Malibu Sunset (9th race: 3-1 M/L; 9-2 PT) hustled to the early lead, took pressure into the turn, couldn't sustain speed into the stretch and faded in the final furlong to finish 6th.
LONGSHOT PLAY of the Day (68: 9-8-11; in 2016 124: 13-13-16) Stroll Smokin (2nd race: 6-1 M/L; 6-1 PT) took over between rivals nearing the half mile marker, dropped in and set a rated pace while handling some outside pressure, moved clear past the three-eighths, responded when roused right handed nearing the furlong marker and held firm to win by two-half lengths to return $15.20 to WIN, $6.00 to PLACE and $4.60 to SHOW.