The GQ Approach – Laurel July 7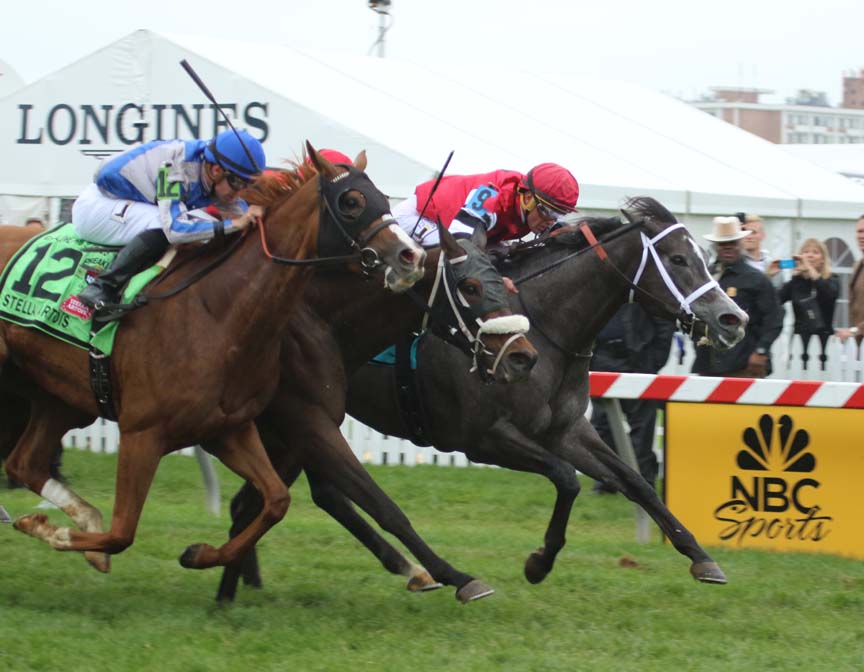 Mizz Money (#9) held off Vielsalm (in between) and Heath (#12) to win the Grade 3 Gallorette. Photo by Laurie Asseo.
The GQ Approach features full-card selections from Laurel Park for the live summer racing meet, Post Time 1:10pm EDT including a daily Best Bet, Longshot Play, and multi-race wagers — including the 20 cent Rainbow Pick-6, 50 cent Early and Late Pick-5s, as well as Pick-4s and rolling Doubles, Pick-3s and the Super High-5.

[su_box title="
Today's Carryovers
" style="glass" box_color="#66ADCC"]
Rainbow Pick 6: $3,679.21
Super High 5: $1,891.68
Late Pick 5: no carryover[/su_box]
[su_box title="GQ's Handicapping Tip of the Day" style="glass" box_color="#66ADCC"][stray-random][/su_box]
[su_box title="Best Bet of the Day" style="glass" box_color="#66ADCC"]Race 9 / #6 – Malibu Sunset (3-1)[/su_box]
[su_box title="Longshot Play of the Day" style="glass" box_color="#66ADCC"] Race 2 / #8 – Stroll Smokin (6-1)[/su_box]
[su_box title="
Multi-race Wagers
" style="glass" box_color="#66ADCC"]
Race 1: $2 DOUBLE   5, 6, 7  w/ 1, 8 ($12)
Race 3: $0.50 cent Pick-3  3, 8, 9  w/ 3, 4, 8  w/ 1, 5, 7 ($13.50)
Race 6: $0.50 Pick-5  4, 5, 12  w/ 3, 4, 6  w/ 1  w/ 3, 6, 7  w/ 5, 12 ($27)
Race 9: $2 DOUBLE   3, 6, 7  w/ 5, 12 ($12)
[/su_box]
[su_heading size="21″ align="left"]Analysis[/su_heading]
Weather: Mostly Cloudy w/ chance of showers; highs in the mid-80s
Scheduled Turf races: 1st, 3rd, 4th, 6th, 8th and 9th
Projected track conditions… Main: SLOPPY to GOOD; Turf: OFF
Post Time for 1st race is 1:10pm EDT
Race 1 is OFF THE TURF
#6 – E Lizzy (3-1): MTO entry just missed by a head two back at this same condition and distance which was an off the turf event as well but this time will travel a 1/16th of a mile less
#7 – Riverwalk Weekend (8-5): Another MTO runner sent out by trainer K. Magee who goes for natural Hat Trick but makes first start at Lrl; steps up in addition will find these a bit tougher than CT and Prx foes
#5 – Enigma (2-1): Romped by 6-lengths on Pen grass after being switched to trainer W. Campbell's barn; not sure how tough those foes were but 3 back missed by just a neck here v. better; best finish on an off track in 3 outings was a distant third
Race 2
#8 – Stroll Smokin (6-1): $$$ LONGSHOT $$$ Home/MD-bred FTS by Stroll out of a Smoke Glacken mare should have natural speed from the gate and jock J. Miller typically gets her mounts on the early lead if they possess it
#1/1A – Nico Bree N Teej/Fenton's Four (4-1): FTS duo for trainer C. Gonzalez who hasn't had many 2-yr-olds (1 win from 16 starters); "Nico" shows a jet-rocket propelled 5f work in :10 1/5 Bg which we're assuming was actually a 1:02 1/5 as Equibase shows :10.22; "Fenton" cost half as much ($4.5k) as his entrymate but shows twice as many works and nicely spaced works
#7 – Free to Trump (9-2): FTS by Freedom Child out of a Real Quiet mare should be an overlay as all the Liberal horseplayers won't touch this one; like the work pattern which has a couple bullets and ending prep work with a gate
Race 3 is OFF THE TURF
#3 – Bayshore Drive (4-1): Will try to repeat after beating N2L for the same tag; owns the best last turf race BRIS# in here but switch to dirt shouldn't matter; F. Lynch has options since she can either be on or just off the lead
#8 – Scarlett's Ransom (10-1): Wanted to try in ninth career outing though not bred to make her living on the green, trainer J. Robb must have had more than a hunch as he keeps J. Toledo on, those two have won with 2 of 5 runners at current meet; should take more action at the windows now that is event is on the main track
#9 – Greeley's Bustnout (7-2): 3-year-old filly has held her own v. elders, hitting the board in past three outings (3:1-1-1); all of a sudden has been quick from the gate and could find it tough sledding in the slop
Race 4 is OFF THE TURF
#3 – Anissa (9-2): Could surprise in fourteenth career start but only third off the turf; finally drops in for a tag and adds blinkers which could be the difference; hopefully main track is not be listed as "fast"
#8 – Dorothyfromdublin (2-1): Has improved in placing and/or BRIS# speed figure-wise in every start; gets sixth different jockey in as many outings which is third after a layoff could be the charm; stretch out to two turns should help this gray daughter of Paddy O'Prado break her maiden
#4 – Natural Notion (5-2): Makes third start since last Oct. and failed as PT even money favorite in what must have been a very weak field based on her '17 debut effort (4th by 4¼ lengths)
Race 5
#5 – Absolute Pinnacle (3-1): There's enough runners in here to cause the early pace to be honest if not quick; this 4-year-old makes fourth start for trainer M. Eppler after missing victories by a neck in each of her last two, one at this level here and the other one level higher at Del but v. a weaker field than today
#7 – Horseshoe Harbour (5-1): Draw a line through that last race turf start when not given much of a chance by bettors and when entering first turn; earned an 80 BRIS# in maiden win on Pim main track at this distance… won't find another in here with lofty number
#1 – Impressive Way (6-1): Stretches out for fourth consecutive race and seems to relish the added distance every time being a grandson of Tiznow; surprise runner-up in first start v. winners at this level    
Race 6 is OFF THE TURF
#4 – Earned It (8-1): Runner-up in off the turf event 3 back when leading the way with pressure; don't see where the early pressure will come from based on anticipated scratches
#5 – Wild Dynaformer (9-2): Steeplechase runner who is 1 for 21 is 0 for 3 on the flats, hence is eligible for maiden races; work tab shows he holds his own on dirt
#12 – Valley Cat (30-1): Why not?! All kind of trouble on turf in latest and salvaged SHOW purse in off the turf event at this level showing early speed; trainer B. Plummer seeks first win of '17
Race 7
#3 – Concordia's Way (5-1): Traveling 7 furlongs in latest was a bit too far especially in when against plenty of others wanting to be on or near the lead; pace scenario in here will be much more relaxed early on
#6 – It's a Journey (7-5): Deserving favorite after crushing similar restricted to MD-bred/sired runners in latest as runner-up won next outing; only knock is he hasn't put together two consecutive solid efforts
#4 – Hickory Hill (6-1): Gets HOF rider E. Prado as F. Lynch hops off for the T. Morley NY shipper (not a fan); ITM in 8 of 10 Lrl outings with a chance to score on the step up       
Race 8 is OFF THE TURF
#1/1A – Claravoyant/Tiz a Diamond (6-5): Trainer M. Eppler is living a charmed life as both parts of entry were MTO; a 1-2 finish is likely so PLACE could pay more than WIN… just sayin'
#4 – Fleet Flame (12-1): Broke maiden v. $25kMCL in latest on dirt after being runner-up in first turf try; both after blinkers were added; switch to main track helped chances immensely
#2 – Durango Girl (15-1): Totally ignored (45-1) in debut when in against $10kMCL, winning like she was shot out of a cannon entering the stretch going 6f; stretch out to (now) one mile on dirt should benefit her
Race 9
#6 – Malibu Sunset (3-1): *** BEST BET *** Appears to be lone "need the lead" speed type who comes off three consecutive 7 panel efforts; won only 6f start, which was his career debut by 10 in gate-to-wire fashion
#3 – Two Charley's (5-2): Cuts back to 6f after only managing SHOW purse v. 4 others at Mth in Alw; beat "Parade" (#7) in here two back; today will be third race after layoff
#7 – Parade of Nations (3-1): Goes natural Hat Trick with third different jock (wishing J. Pimentel the best on his long road to recovery); A. Cintron gets the mount but concerned this gelding might bounce off that big BRIS# (98)
Race 10 is OFF THE TURF
#5 – Red Clay Road (5-1): Field was decimated by scratches when washed off the turf; lone speed gets it done
#12 – Leather Goods (8-1): Gets the nod on the third straight drop in fourth lifetime start; second start with blinkers often yields dividends
#13 – Noontime Stroll (6-1): Sneaks in off Also-Eligible in spite of being off the turf; makes first main track start in fourth of career; breeding indicates he should handle it as well as turf      
YESTERDAY'S NEWS  
On Sunday July 2nd at Laurel had 6 winners from the 9-race card (5 Top Selection; payoff in BOLD) having $2 WIN pay-offs of $2.40 (2nd race), $6.00 (3rd), $4.60 (5th), $7.20 (7th) $11.40 (8th) and $8.20 (9th). Of the suggested multi-race wagers hit the R8-R9 $2 DOUBLE for $51.20 (cost: $12). Top Selections in 2017 are 190 for 713 (26.65%). In 2016, Top Selections were 304 for 1,213 (25.02%).
BEST BET of the Day (77: 25-19-13; in 2016 127: 31-29-19) Notable Game (7th race: 4-1 M/L; 5-2 PT) chased the pace three wide, pulled herself to the lead midway on the turn, drew clear towards the quarter pole, opened up under a vigorous hand ride in the upper stretch but raced in hand the final sixteenth to win by nine and one-half lengths to return $7.20 to WIN, $2.80 to PLACE and $2.10 to SHOW.
LONGSHOT PLAY of the Day (67: 8-8-11; in 2016 124: 13-13-16) Silent Tale (7th race: 6-1 M/L; 6-1 PT) rated a short lead inside, drifted a bit leaving the turn then dropped back toward the sixteenth pole and weakened to finish 7th.