The GQ Approach – Laurel July 2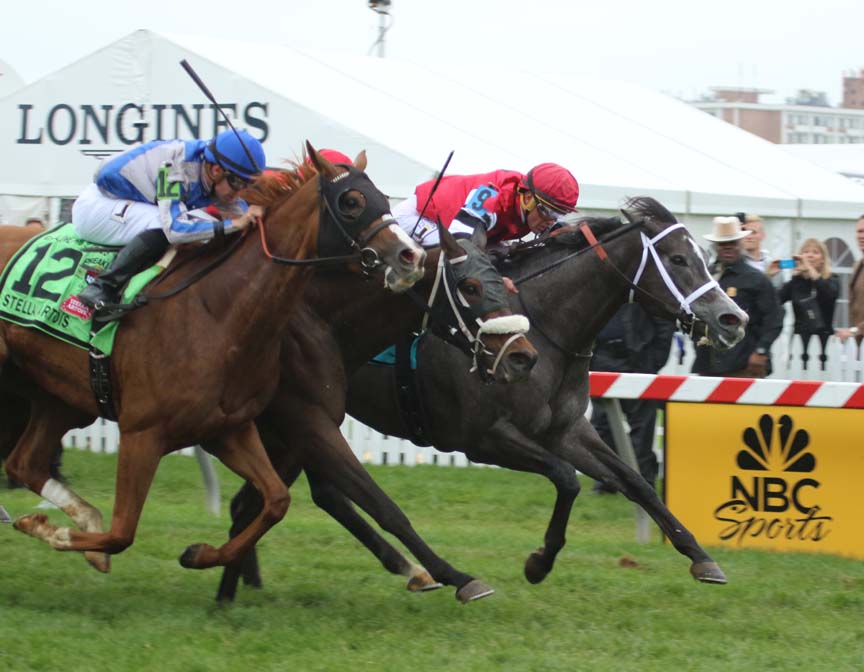 Mizz Money (#9) held off Vielsalm (in between) and Heath (#12) to win the Grade 3 Gallorette. Photo by Laurie Asseo.
The GQ Approach features full-card selections from Laurel Park for the live summer racing meet, Post Time 1:10pm EDT including a daily Best Bet, Longshot Play, and multi-race wagers — including the 20 cent Rainbow Pick-6, 50 cent Early and Late Pick-5s, as well as Pick-4s and rolling Doubles, Pick-3s and the Super High-5.

[su_box title="
Today's Carryovers
" style="glass" box_color="#66ADCC"]
Rainbow Pick 6: $2,518.54
Super High 5: $323.87
Late Pick 5: $18,807.14[/su_box]
[su_box title="GQ's Handicapping Tip of the Day" style="glass" box_color="#66ADCC"][stray-random][/su_box]
[su_box title="Best Bet of the Day" style="glass" box_color="#66ADCC"]Race 7 / #5 – Notable Game (4-1)[/su_box]
[su_box title="Longshot Play of the Day" style="glass" box_color="#66ADCC"] Race 4 / #2 – Silent Tale (6-1)[/su_box]
[su_box title="
Multi-race Wagers
" style="glass" box_color="#66ADCC"]
Race 1: $2 DOUBLE   3, 4, 7  w/ 2, 5, 8 ($18)
Race 5: $0.50 Pick-5  3, 5, 6  w/ 1, 5, 6, 7  w/ 1, 5  w/ 1, 2, 3, 5  w/ 1, 2, 8 ($144)
Race 8: $2 DOUBLE   1, 5  w/ 1, 2, 8 ($12)
[/su_box]
[su_heading size="21″ align="left"]Analysis[/su_heading]
Weather: Mostly Sunny; highs in the upper-80s
Scheduled Turf races: 1st, 3rd, 4th, 6th, 8th and 9th
Projected track conditions… Main: FAST; Turf: FIRM
Post Time for 1st race is 1:10pm EDT
Race 1 is ON THE TURF
#3 – Encinitas (2-1): Glen Hill Farm home/IRE-bred via freshman sire Declaration of War out of an A.P. Indy mare is bred top & bottom to love the lawn; very nice work tab leading up to debut
#4 – Vibrant Spirit (7-2): KY-bred FTS by Kitten's Joy out of an Indian Charlie mare will certainly take to the turf; ships in from Mth for trainer B. Perkins, Jr. only entry on card and first at Lrl meet
#7 – Hard Rockin Blues (9-2): Though trainer "Ham" Smith only has 1 turf debut winner from 26 starters over the past yea; this MD-bred daughter of Great Notion out of a Hay Halo mare could surprise w/ 7 lb. bug A. Castrenze at the helm; like the two most recent works
Race 2
#4 – Tradfest (4-5): Huge class drop from being protect in an OC$25k to a nickel today is very suspect after having a "shoe fixed" just prior to that fifth place effort when he easily won two back for that same condition; trainer L. Rice shippers typically run well… will be interesting to see how many line up in the MJC racing office to drop a slip for him
#5 – Gavin Streetsense (7-2): Hard one to figure out as he's run very good yet very bad at times; maybe trainer L. Gaudet is frustrated as well, drops him to bottom hoping to get his confidence back or wash her hands clean of him
#7 – Montana Storm (12-1): Behaved badly prior to first start in 16-months then shuffled back early when he showed early speed in the past; w/ A. Cortex back in the irons expect to see him vying for lead early
Race 3 is ON THE TURF
#5 – Mr. Stream (5-2): Took plenty of action at the betting windows early in latest outing but lost rider at the start; jock S. Hamilton signs on to ride today in an easier spot
#8 – Political Farce (7-2): His fate depends on an honest early pace and a clean trip; didn't get the latter in latest that followed a victory… both at this same level
#2 – Troubled Waters (6-1): Trainer switch so this gelding could test synthetic surface at Pid worked well getting a victory and second in two starts v. softer; returns home to tackle Lrl turf where he earned top BRIS# of those in here for the distance
Race 4 is ON THE TURF
#2 – Silent Tale (6-1): $$$ LONGSHOT $$$ This 9-year-old gelding nearly stole his '17 debut a few weeks back when 17-1, missing by a neck in a blanket finish to two foes back in here today (#1A & #7); gets similar setup today so why not a repeat performance but instead holds off the rest
#6 – Merry's Honor (6-1): Fourth to three others in here two back but encountered traffic late when making his typical late rally; could pull the upset with same effort today with a clean trip
#1A – Indian Bucks (2-1): Entrymate is MTO so he'll be scratched; jock J. Toledo has been a perfect fit getting this gelding to the Winners' Circle the last 5 out of 7 times he's been in the irons; narrowly got the best of a trio of foes back in here seeking a rematch
Race 5
#3 – Proud Maid Marian (7-2): Trainer M. Milosevic got first win of '17 on Friday, looks for #2 with this gal, dropping her back to level and distance where she previous was a winner
#6 – Came Up Rosie (5-2): Jock S. Hamilton gets the call on this mare making her third start after a short layoff; extra distance might help even though she's 0 for 4 at distance and 3 for 33 lifetime
#5 – Issheit (5-1): At first glance of her PPs she's a turf specialists but her fast, main track record isn't too shabby (15:4-1-3) with a personal best BRIS# that's second best among this group
Race 6 is ON THE TURF
#5 – Da Da Da Dude (3-1): Got an education in debut while stumbling at the start then roared to the lead entering the stretch but raced greenly in final furlong to finish 4-back of the winner; that was on dirt, moves to turf on which his sire (Artie Shiller) and damsire (Stormy Atlantic) earned their living
#6 – Untamed Domain (4-1): Debut for KY-bred son of freshman sire Animal Kingdom who got his first stakes winner (Sunny Skies) last night at CD may have another good one here; no Lasix in debut for this West Point Thoroughbred $90k Kee Sept. '16 purchase
#1 – Pitching (7-2): Tough draw on the rail for this FL-bred son of Scat Daddy out of an A.P. Indy mare; this sires progeny dominated the recently concluded Royal Ascot 5-day meet; nice work tab shows bullets on dirt and turf
Race 7
#5 – Notable Game (4-1): *** BEST BET *** Scratched out of a $16kMCL turf yesterday to go here; from top MD stallion Great Notion who has hit the board in last two v. $25k MCL; continued improvement could make today graduation day
#1 – Holiday Ink (7-2): KY-bred FTS by Harlan's Holiday out of a Crafty Prospector mare was purchased as a yearling for $65k but offered today for $25k, hmmm not the most positive sign but the work tab is attractive
#6 – Get Up She's Gone (7-2): MD-bred filly by Stephen Got Even out of a Seeking Daylight mare has a nice work pattern leading up to today's career debut for trainer M. Trombetta who also saddles the ML favorite #3 – Whenallelsefails    
Race 8 is ON THE TURF
#1 – Here's to Mike (9-5): Team of J. Cibelli/E. Prado are 0 for 5 at Lrl meet enough though thee trainer is an impressive (8:1-4-2); time for these two to finally meet in the Winners' Circle
#5 – Ghost Bay (5-2): Caught a field in latest without much pace and lone speed went gate-to-wire setting a course record to boot; should get some help today and/or will lay closer to pace
#3 – Conquest See Ya (5-1): Chased a lone leader in latest and willingly closed the gap late but had too much ground to make up and settled for the runner-up spot at this level
Race 9 is ON THE TURF
#2 – Chamberlin Road (9-2): Expect to see this gal more forwardly placed in her first turf try for trainer C. Gonzalez; five previous turf efforts have yielded just one ITM finish, that was two back when sent off as favorite at this level
#8 – Via Frattina (5-2): This Bel shipper for trainer T. Morley weakened late as 8-5 Post Time favorite locally when facing $40kMCL; steep drop makes this 3-year-old a vulnerable favorite against her elders
#1/1A – Tarheel Raven/Running Tale (8-1): Prefer "Tide" as her best turf BRIS# (82) matches that of the ML favorite (#8) even though she's never hit the board but all were v. much better; "Raven" has to improve leaps and bounds to have any chance
YESTERDAY'S NEWS  
On Saturday July 1st at Laurel had 5 winners from the 9-race card (2 Top Selection; payoff in BOLD) having $2 WIN pay-offs of $4.00 (2nd race), $3.60 (3rd), $6.00 (4th), $5.20 (5th) and $7.40 (8th). Of the suggested multi-race wagers hit the R3-R5 50 cent Pick-3 for $12.75 (cost: $13.50). Top Selections in 2017 are 185 for 704 (26.28%). In 2016, Top Selections were 304 for 1,213 (25.02%).
BEST BET of the Day (76: 24-19-13; in 2016 127: 31-29-19) Intrepid Citizen (9th race: 7-2 M/L; 5-2 PT) five deep turning for home, rallied to finish 4th less than one-length behind the winner.
LONGSHOT PLAY of the Day (66: 8-8-11; in 2016 124: 13-13-16) Perfect Party Girl (7th race: 10-1 M/L; 6-1 PT) prompted the pace outside PERFECT HUE and weakened late to finish 4th.