The GQ Approach – Laurel July 1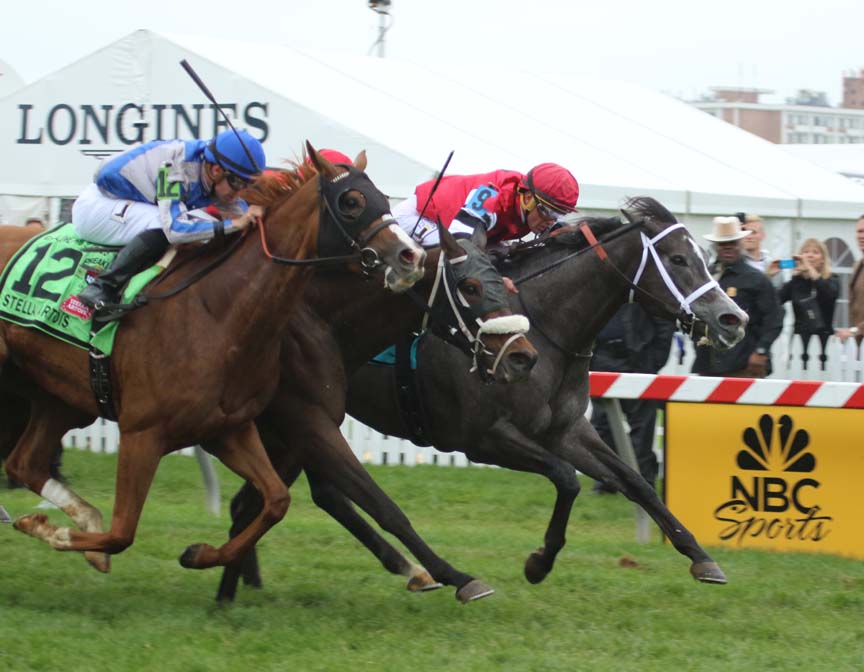 Mizz Money (#9) held off Vielsalm (in between) and Heath (#12) to win the Grade 3 Gallorette. Photo by Laurie Asseo.
The GQ Approach features full-card selections from Laurel Park for the live summer racing meet, Post Time 1:10pm EDT including a daily Best Bet, Longshot Play, and multi-race wagers — including the 20 cent Rainbow Pick-6, 50 cent Early and Late Pick-5s, as well as Pick-4s and rolling Doubles, Pick-3s and the Super High-5.

[su_box title="
Today's Carryovers
" style="glass" box_color="#66ADCC"]
Rainbow Pick 6: $1,670.77
Super High 5: $1,086.92
Late Pick 5: $4,131.30[/su_box]
[su_box title="GQ's Handicapping Tip of the Day" style="glass" box_color="#66ADCC"][stray-random][/su_box]
[su_box title="Best Bet of the Day" style="glass" box_color="#66ADCC"]Race 9 / #5 – Intrepid Citizen (7-2)[/su_box]
[su_box title="Longshot Play of the Day" style="glass" box_color="#66ADCC"] Race 7 / #7 – Perfect Party Girl (10-1)[/su_box]
[su_box title="
Multi-race Wagers
" style="glass" box_color="#66ADCC"]
Race 1: $2 DOUBLE   2, 3, 4  w/ 2, 5 ($12)
Race 3: $0.50 Pick-3  2, 6, 7  w/ 1, 6, 7  w/ 1, 4, 8 ($13.50)
Race 5: $0.50 Pick-5  1, 4, 8  w/ 4, 6, 7  w/ 5, 7, 12  w/ 1, 6  w/ 5, 10 ($54)
Race 8: $2 DOUBLE   1, 6  w/ 5, 7, 10 ($12)
[/su_box]
[su_heading size="21″ align="left"]Analysis[/su_heading]
Weather: Mostly Sunny w/ chance of showers; highs in the upper-80s
Scheduled Turf races: 1st, 3rd, 5th, 7th and 9th
Projected track conditions… Main: FAST; Turf: FIRM
Post Time for 1st race is 1:10pm EDT
Race 1 is ON THE TURF
#3 – Venezuelan Beauty (7-2): Had a bit of a detour in nice runner-up effort behind the #6 in here when stepped up into Starter Alw first off the claim of B. Tessore; can reverse fortunes today
#4 – Sarah's Whisper (8-1): Enjoys sprinting on the turf (6:3-0-0) and seems as though trainer D. Houghton targeted this spot to protect this 7-year-old mare as she scratched her from a $12,500 claimer at Del two weeks back
#2 – Summer Frock (7-2): Beaten Post Time favorite when making first start since last Nov., finishing less than two-lengths behind a trio who all come back for a rematch; expecting better  
Race 2
#2 – Goodbyeseeulater (5-2): Short field of six and could be lone speed; certainly will be first number to be called exiting the gate; if the #1 doesn't want to engage with him early, look for a gate-to-wire score
#5 – Blame Me (3-1): Has done his best work over the Lrl main track (9:4-0-1) and trainer M. Eppler has tapped into his back class since claiming this gelded son of Blame for a nickel at CT
#6 – Theyallcomehome (9-2): Cautious pick here as trainer C. Hadry waited out the "jail" period to bring this gelding back at a lower level, yet ran well to get SHOW purse behind next out winner
Race 3 is ON THE TURF
#2 – Flyingtobechilders (5-1): Did all the dirty work on the front end when stretched out around two turns, losing by a head when ignored at the windows (50-1); a carbon copy effort gets him to Winners Circle in a field that lacks another to run with him early
#6 – Barney Rebel (8-5): This 9-year-old is a 48-race veteran and victories eluded him until switched to M. Eppler barn who added Lasix and viola, he's 2 for 2 and expected to make it a natural Hat Trick
#7 – Frasero (12-1): Last year connections finally figured out this gelding will earn his keep running on the turf; one look at his PPs show that he competes at this level and V. Carrasco should have him forwardly placed early  
Race 4
#1 – Radiant Beam (8-5): Speed of the speed from the rail gets a break having to sprint just 5½f; her BRIS Prime Power# is 6-14 pts. Better than her 7 rivals, which is HUUUUGE
#6 – Sommer Something (3-1): Very suspect drop just two races after winning a $40kN3L at Del; yes she backed up in latest but connections could be trying to get her eligible for MD Million Starter for F&M who've run at $11k or less… which this race fits the bill
#7 – Next Street (15-1): Did well this past winter but ever since her turf debacle hasn't been the same; look for her to have some late run in this speed heavy contest
Race 5 is ON THE TURF
#8 – Dundalk (5-2): Hey Hon, this colt has already outrun his modest breeding (4:0-2-2) while chasing a couple next out winners… bless his heart; just wonder if he'll continue to settle for minor awards or put it all together to graduate
#4 – The Hardest Way (6-1): Makes second career start as debut came in Jan. at GP when sent off 2-1 favorite, got roughed at the start but darted to engage early speed then backed up like a city trash truck; probably bled as he adds Lasix; trainer J. Kirk's first Lrl starter of the meet nearly scored at 15-1 yesterday
#1 – Clever Triad (5-1): Breaks from rough rail post but got an education in debut sprinting on this Lrl lawn when he walked out of the gate then came flying at the end to capture SHOW purse  
Race 6
#6 – Dukin' With Dale (5-2): Loves this distance (7:3-3-0) and drops back in for a $7,500 tag after running well in two Starter events; there's enough early speed that they'll likely be softened up to help him arrive on the scene just in time
#4 – Hunger (2-1): After a 3+ year absence from racing, this classy 7-year-old ridgling returned for a $5k tag and trainer B. Tessore had the "stones" to claim him as he romped that day; couldn't get 6f trip in next outing but has never failed to hit the board (4:3-0-1) going today's distance
#7 – Great Smoke (5-1): Has faced better throughout his 27-race career and was no match for winner but best of the rest in latest outing at this level; BRIS speed figures have been ascending
Race 7 is ON THE TURF
#7 – Perfect Party Girl (10-1): $$$ LONGSHOT $$$ Full field of maidens wanting to test their skills sprinting on the turf; oddly enough this group lacks early speed so this girl gets the nod on the class drop and fact jock K. Davis should get her to the lead and hope to hold off others late
#5 – Rill in the Hills (6-1): Nearly earned diploma in first turf start when 16-1 in spite of dropping down to this level from MSW in latest with 7 lb. bug; gets more experienced journeyman today
#12 – Neverbreakthechain (10-1): VA-bred FTS out of Aussie turf champ Lonhro whose progeny love running on the grass just as their Daddy did; in spite of trainer S. Dempsey's 0 for 11 with firsters; this filly doesn't know that  
Race 8
#1 – Ascertain (1-1): Trainer B. Mott ships in this MD-bred from NY who looked sharp in disposing of state bred AlwN1x at Pim in latest, form and speed figures tower over her five rivals in here
#6 – Faze the Nation (5-2): Connections who reclaimed this gal at a $25k premium sadly discovered she wants nothing to do with turf; has a current 7-race, main track of being part of Exacta (5 wins, twice PLACEd) all at Lrl
#5 – Discreet Deceit (6-1): Need to believe that getting destroyed in G3 Ms. Preakness stakes did something to her psyche as she packed it in early in next/last outing at Del; bullet work since might indicate she's got that confidence back
Race 9 is ON THE TURF
#5 – Intrepid Citizen (7-2): *** BEST BET *** Connections take advantage of the Waiver Claiming Rule to protect this 7-year-old gelding as he last raced in late Nov.; like the quintet of A.M. drills, was J. Toledo lured off #4 plus he and trainer G. Capuano have won at 23% clip over the past year
#10 – Therestishistory (8-1): Like how first start in nearly a year was just a sprint while he's at his best going two turns; made up 7-lengths in the lane in spite of getting the dreaded "Outrun" comment by the chart caller
#7 – Bay Bridge (12-1): Don't sleep on this outsider who is 3 for 4 at this distance and will be on or near the lead with Panamian HOF rider Al Cortez back in the irons; could sweeten your exotics
YESTERDAY'S NEWS  
On Friday June 30th at Laurel had 7 winners from the 10-race card (4 Top Selection; payoff in BOLD) having $2 WIN pay-offs of $4.80 (1st race), $10.60 (2nd), $7.00 (3rd), $3.60 (4th), $3.60 (6th), $8.20 (8th) and $9.20 (10th). Of the suggested multi-race wagers hit the R1-R2 $2 DOUBLE for $29.00 (cost: $12). Top Selections in 2017 are 183 for 695 (26.33%). In 2016, Top Selections were 304 for 1,213 (25.02%).
BEST BET of the Day (75: 24-19-13; in 2016 127: 31-29-19) Amnicalola (8th race: 7-2 M/L; 3-1 PT) saved ground on the turns, was taken to the three path in upper stretch, closed on her left lead and was up in time to prevailed by a neck to return $8.20 to WIN, $4.00 to PLACE and $3.00 to SHOW.
LONGSHOT PLAY of the Day (65: 8-8-11; in 2016 124: 13-13-16) Irish Handcuffs (5th race: 15-1 M/L; 20-1 PT) outrun early and passed tired rivals late to finish 7th.