The GQ Approach – Laurel June 30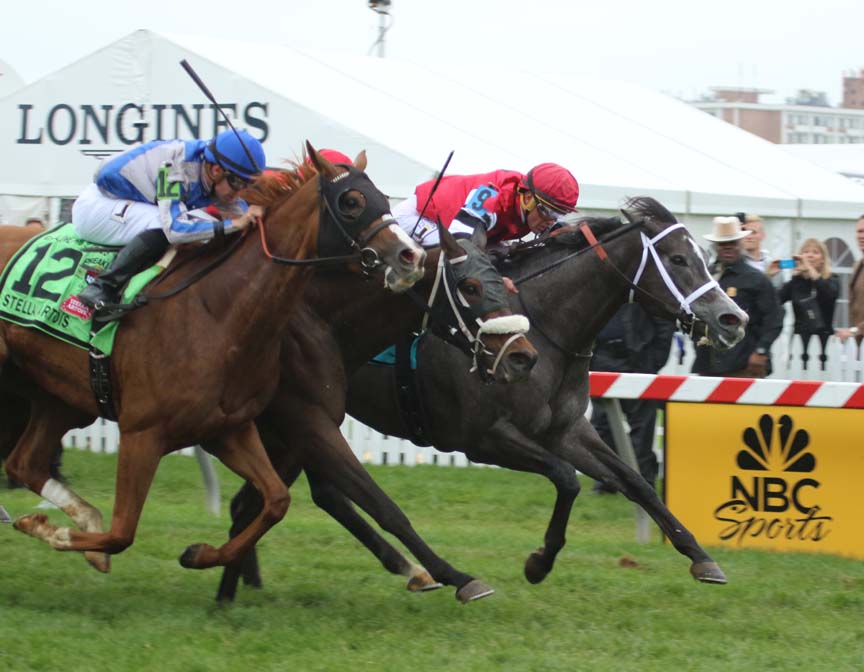 Mizz Money (#9) held off Vielsalm (in between) and Heath (#12) to win the Grade 3 Gallorette. Photo by Laurie Asseo.
The GQ Approach features full-card selections from Laurel Park for the live summer racing meet, Post Time 1:10pm EDT including a daily Best Bet, Longshot Play, and multi-race wagers — including the 20 cent Rainbow Pick-6, 50 cent Early and Late Pick-5s, as well as Pick-4s and rolling Doubles, Pick-3s and the Super High-5.

[su_box title="
Today's Carryovers
" style="glass" box_color="#66ADCC"]
Rainbow Pick 6: $747
Super High 5: $5,884
Late Pick 5: no carryover[/su_box]
[su_box title="GQ's Handicapping Tip of the Day" style="glass" box_color="#66ADCC"][stray-random][/su_box]
[su_box title="Best Bet of the Day" style="glass" box_color="#66ADCC"]Race 8 / #4 – Amnicalola (7-2)[/su_box]
[su_box title="Longshot Play of the Day" style="glass" box_color="#66ADCC"] Race 5 / #10 – Irish Handcuffs (15-1)[/su_box]
[su_box title="
Multi-race Wagers
" style="glass" box_color="#66ADCC"]
Race 1: $2 DOUBLE   4, 5, 6  w/ 4, 8 ($12)
Race 3: $0.50 Pick-3  3, 8, 9  w/ 3, 4, 6  w/ 3, 5, 10 ($13.50)
Race 6: $0.50 Pick-5  1, 3, 8  w/ 5, 9, 11  w/ 4, 5, 6  w/ 7, 10  w/ 2, 7 ($54)
Race 9: $2 DOUBLE   7, 10  w/ 2, 7, 9 ($12)
[/su_box]
[su_heading size="21″ align="left"]Analysis[/su_heading]
Weather: Mostly Sunny; highs in the mid-80s
Scheduled Turf races: 3rd, 5th, 7th, 8th and 9th
Projected track conditions… Main: FAST; Turf: FIRM
Post Time for 1st race is 1:10pm EDT
Race 1
#4 – Deep Red (8-5): Prior to her debut she cried and whinnied the entire time in the paddock, balked going into gate but broke OK, did not handle turn well yet showed heart rallying in the stretch but lost focus after passing 3rd horse and got beat for SHOW late; with that education and adding blinkers, she is on track to graduate
#5 – Little Stormin (9-2): Well backed at 7-2 in debut but got a bad break hesitating and hopped at the start; must respect trainer J. Maldonado who previously saddled a $26.20 two-year-old winner
#6 – Menorah Lora (10-1): Though trainer L. Albert is just 1 for 41 with two-year-olds, she has a sick +10.04 ROI with FTS in MCL; like the pattern of the two most recent works of this MD-bred daughter of Cherokee's Boy out of a Broken Vow mare  
Race 2
#8 – It's a Bang (6-1): This Closer finds himself in with a bunch of early speed types; BRIS#s have been on the rise and K. Francois retains the mount in hopes of not repeating a 6-wide move on the turn
#4 – Twisted Earl (4-1): Connections take advantage of the Waiver Claiming Rule to protect this four-year-old gelding; like the quartet of of A.M. drills especially the simulated race going 6f in 1:13 3/5
#1 – Fairy Cat (3-1): Hard to endorse on top (0 for 17 at Lrl) yet has been 2-1 or less in past four losing efforts; has won two races this year ($4k at Pen) but fits this non-winner since Dec. 30th condition due to those being for less than today's $5k tag         
Race 3 is ON THE TURF
#3 – Surprise Twist (3-1): Owners buy and breed turf runners and this colt was third in debut yet was chilly on the board (10-1); runner-up came back to break maiden in next start, expecting the same from this one
#8 – Shortlist (7-2): Unlucky as 2 of the 3 turf races entered were washed off; game runner-up in only turf start while 2+ ahead of runner who came back to beat top pick; add blinkers
#9 – Dalarna (8-1): Switch to HOF rider E. Prado should help this K. Rubley trainee settle as he did two back in debut at Kee when runner-up to a next out winner while SHOW runner broke maiden in next start  
Race 4
#6 – Dear Charlotte (12-1): Need to go 6 races back to find last main, fast track start which happened to be at this level and distance, was prevalent throughout finishing three-quarters behind winner
#4 – Fergie's Lady (3-1): Turf sprinter tries to do dirt and stretches out to one mile; bred to go long and should have the early lead all to herself; makes seventh career start but first on fast track
#3 – Page Too (9-2): Has the best late pace numbers and stretches out to two turns for first time in fourth lifetime start; second start with blinkers often yields dividends
Race 5 is ON THE TURF
#10 – Irish Handcuffs (15-1): $$$ LONGSHOT $$$ Even though this gelded son of Archarcharch has yet to hit the board in three turf start, those were at the beginning of her career; she has since caught onto what her job is and if she can close ground like has on the main track, she'll catch this field overloaded with early speed
#5 – Sir Ray (10-1): Need to draw a line through that last outing, his only one on dirt and bled from the mouth; has tactical speed to draft in behind a plethora of early speed; trainer/jock combo is 2 for 3 over the past year
#3 – Tigers Bop (6-1): Is the speed of the speed and will have plenty of company, but if the Lrl lawn continues to yield fast times, this one the most likely one to survive on the front end
Race 6
#1 – Strike 'n Spare (3-1): Tried turf, unsuccessfully for the 9th time coming off short layoff in latest; returns to dirt and fits condition well as this gray has been facing tough in open claiming and starters
#8 – Vision of Green (7-5): Yes he towers over his competition, his speed figures are much the best, runner-up in last two versus similar BUT hasn't visited the Winners' Circle since Nov. 2015, that's 17 races ago; do you really want to put him on top at these odds?
#3 – Royal Mile (4-1): Prx shipper brings along trainer/jock combo that has scored at a 25% clip over the past year; BRIS#s have been climbing; runner-up in only other Lrl appearance
Race 7 is ON THE TURF
#5 – West Coast Bias (3-1): Will find it tough sledding against this group but should improvement second time going two turns on the grass; unlucky in both turf sprints to start career will need to bring "A Game" to graduate today
#11 – Swizzle (4-1): Nearly pulled off upset when 14-1 in Bel debut in eighth career outing going 10 furlongs as that BRIS# beats this crew; cut back to 8½ and attracts E. Prado
#9 – Kitten Smitten (6-1): Beaten by a neck as Post Time favorite in official debut as previous outing at Mth was declared no contest, but at least she got an education that day; will need to improve to earn diploma in here       
Race 8 is ON THE TURF
#4 – Amnicalola (7-2): *** BEST BET *** Exits three steeplechase events going 2+ miles and was runner-up in two so stamina should not be an issue; prior to those recorded a few lofty BRIS#s at 5 different turf courses; F. Boyce was aboard at KD when second v. AlwN1x
#6 – Tarkia (10-1): Turf specialist looks cheap on paper but gives 110% in every outing; seeks the natural Hat Trick on step up and first time v. conditional allowance company; deep Closer will have a perfect setup as her foes all like to be on or close to the early lead
#5 – O. K. Kay (5-2): Mth shipper for trainer J. Cibelli (5: 1-3-0 at current Lrl meet) has been part of Exacta in three of her four lifetime starts; will need staying power and clean, stalking trip
Race 9 is ON THE TURF
#7 – Oyster Soup (5-1): Has been going long entire 14 race career with just one win so trainer O. Figgins tries to shake things up coming off 7-month layoff giving sprints a try; like the approach with the 3-4f A.M. drills, one being a bullet
#10 – Split (4-1): Nice turf efforts especially runner-up when 13-1 in latest at this level at Pim; getting back to Lrl and 5½f is scene of lone win
#1 – Big Air (9-2): Just 1 for 14 lifetime and that one was going 5f on Belterra Park (OH) turf as he hasn't been able to carry his early speed an extra 1/16th; might catch a break and be on the lead without much early pressure which could help in outlasting rivals for second career victory
Race 10
#2 – Pranzare (6-1): First race since last Sept. when running on the grass of northern NJ; back on dirt and sprinting after a half dozen nice morning works
#7 – Madam Alex (8-1): Surprising and rather impatient class drop from $25k MCL debut as this MD-bred Not For Love filly was fourth just three-lengths behind winner; slight improvement here and she can graduate
#9 – Wazzala (5-2): Too many chances already (8:0-3-3) failing as odds-on favorite three times; when trainer C. Gonzalez cannot get them to Winners' Circle 6 races after a claim you might be looking at a career maiden as she's been on the bottom in these last three       
YESTERDAY'S NEWS  
On Sunday June 25th at Laurel had 6 winners from the 10-race card (2 Top Selection; payoff in BOLD) having $2 WIN pay-offs of $8.80 (1st race), $4.80 (4th), $8.00 (5th), $9.00 (6th), $7.20 (7th) and $9.80 (9th). Top Selections in 2017 are 179 for 685 (26.13%). In 2016, Top Selections were 304 for 1,213 (25.02%).
BEST BET of the Day (74: 23-19-13; in 2016 127: 31-29-19) Brook's On Fire (3rd race: 4-1 M/L; 5-2 PT) chased the pace, was four wide turning for home and gained the place spot and returned $5.40 to PLACE and $3.80 to SHOW.
LONGSHOT PLAY of the Day (64: 8-8-11; in 2016 124: 13-13-16) Rescue Cat (10th race: 6-1 M/L; 9-2 PT) rated in the clear nearing the half mile marker, angled out and circled four wide into the lane, loomed briefly then came up empty in the final furlong to finish 5th.