The GQ Approach – Laurel June 25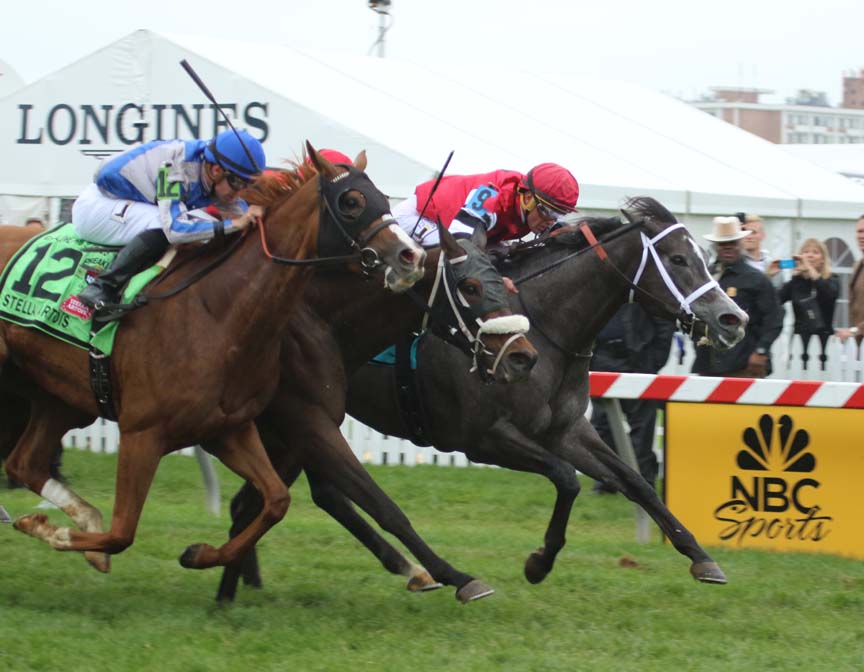 Mizz Money (#9) held off Vielsalm (in between) and Heath (#12) to win the Grade 3 Gallorette. Photo by Laurie Asseo.
The GQ Approach features full-card selections from Laurel Park for the live summer racing meet, Post Time 1:10pm EDT including a daily Best Bet, Longshot Play, and multi-race wagers — including the 20 cent Rainbow Pick-6, 50 cent Early and Late Pick-5s, as well as Pick-4s and rolling Doubles, Pick-3s and the Super High-5.

[su_box title="
Today's Carryovers
" style="glass" box_color="#66ADCC"]
Rainbow Pick 6: no carryover
Super High 5: $2,998.96
Late Pick 5: $10,598.65[/su_box]
[su_box title="GQ's Handicapping Tip of the Day" style="glass" box_color="#66ADCC"][stray-random][/su_box]
[su_box title="Best Bet of the Day" style="glass" box_color="#66ADCC"]Race 3 / #7 – Brook's On Fire (4-1)[/su_box]
[su_box title="Longshot Play of the Day" style="glass" box_color="#66ADCC"] Race 10 / #7 – Rescue Cat (6-1)[/su_box]
[su_box title="
Multi-race Wagers
" style="glass" box_color="#66ADCC"]
Race 1: $2 DOUBLE   3, 4, 6  w/ 4, 5, 9 ($18)
Race 3: $0.50 Pick-3  6, 7  w/ 5, 6, 8  w/ 1, 2, 5 ($9)
Race 6: $0.50 Pick-5  4, 6  w/ 1, 6, 7  w/ 1, 3, 8  w/ 2, 9  w/ 1, 7, 9 ($54)
Race 9: $2 DOUBLE   2, 9  w/ 1, 7, 9 ($12)
[/su_box]
[su_heading size="21″ align="left"]Analysis[/su_heading]
Weather: Mostly Sunny; highs in the low-80s
Scheduled Turf races: 2nd, 4th, 6th, 8th and 10th
Projected track conditions… Main: FAST; Turf: FIRM
Post Time for 1st race is 1:10pm EDT
Race 1
#4 – Perennial (6-1): Third start after layoff; drops in first time for the tag; ran evenly when 23-1 behind two powerhouse fillies; stretch out to 7 panels should help
#6 – Earned It (7-2): Makes eighth career start, first with Lasix and for trainer P. Schoenthal; cuts back to one turn and gets S. Hamilton in irons who is 7 for 16 in the past year when teamed w/ P.S.
#3 – Spot On Fark (9-2): Showed lightning fast speed in debut before giving way to a trio who have all come back to win since then; willing to forgive MSW outing at Old Hilltop in the mud
Race 2 is ON THE TURF
#9 – Twelve Tricks (7-2): Drops from a pair of decent turf efforts for $40k MCL where all three non-winners who finished in front of her came back to break maiden, and winner from two back was runner-up yesterday in restricted turf sprint stakes
#4 – Ghost Affair (6-1): Second start w/ blinkers after taking off early to lead by 11-lengths only to get beat going 6½f at CT; returns to turf sprint where she reared at the break but got an education running on late to finish just 4-lengths behind top pick in here
#5 – Christmas Dinner (4-1): This dinner has been quite expensive to those backer her as she's failed to earn her diploma as the Post Time favorite in 4 of her last 5 outings; last two were washed off the turf  
Race 3
#7 – Brook's On Fire (4-1): *** BEST BET *** Exits a pair of $11k Claimers for 3-year-olds for barn who claimed her out of her N2L victory for this same $5k tag; will get a perfect setup as there's plenty of early speed giving her an edge to rally in deep stretch
#6 – Weatherurnot (3-1): Very quick from the gate but that's when going one mile; concerned as to how this mare will react if/when she doesn't get lead; earned career best BRIS# going 6f even she's winless at the distance (3:0-0-1)
#5 – Da'blues Dancer (8-1): Tough to back with a WIN bet (2 for 31) and trainer L. Nechamkin still seeking first win of '17 (0 for 14) but mare has been getting minor shares since jock L. Luzzi got the mount six races back (6:0-1-4)
Race 4 is ON THE TURF
#6 – Persnickity (9-5): Was out of her element going 7f on dirt in latest; back on turf and at distance she can handle; there's enough early pace in here allow E. Gonzalez to make a late run  
#5 – So Royal (5-1): Just like the ownership stables name, 'Taking Risk" backing her as she last raced 3-months ago at GP and switches trainers for unknown reasons
#8 – Doukas (5-2): Typical move after claim for owner B. Hopkins as she simply wants her horses to win… or have a chance to every race they run; hence, the drop from $20k to $15k but must say last two runners with similar class moves did not win but still must respect
Race 5
#1 – Miss Swisher (9-2): This filly has been in four different after just 13 starts; takes the necessary step up while "in jail" after impressive win v. $10kN3L; 2 for 2 at Lrl but makes first start going two turn… should handle it  
#2 – Borino (5-2): Want to gouge your eyes out after miserable effort on Black-Eyed Susan Day undercard; pair of works since gives hope that clunker was an aberration; trainer C. Lyncch is 20% w/ runners in second race after layoff
#5 – Miss Nosy (8-5): Was a MTO in last race which worked out just fine, having it all her own way on the front end; this one seems to set up the same but often races aren't run the way one thinks
Race 6 is ON THE TURF
#6 – Cara's Nay Nay (5-2): Pen-based runner and trainer ships in along with jock just for this race; she's just one of five in here who have raced this far (9f) and she owns the best BRIS#
#4 – Desert Princess (4-1): Denied in her '17 debut on Preakness Day when runner-up after encountering traffic at 3/8 pole; faces both the winner and SHOW runner again today along with four recent finishes behind top pick    
#5 – Shifra Magician (8-1): landed here after search for value; runner-up in latest when 38-1; only previous 9f try had trouble early but ran on later to lose by just over 2-lengths w/ F. Boyce in the irons
Race 7
#1/1A – Stay Home/Feel Proud (2-1): Nice 1-2 punch for trainer K. Magee but #1 is the one making this entry the likely PT favorite; runner-up to a nice runner in Victory Chimes; should get honest pace to run at late
#6 – Legal Princess (7-2): Just behind top pick in latest when second choice; can turn the tables either on the lead or just off it
#7 – In Arrears (4-1): Scratched from restricted stakes sprint yesterday but the caution flag is out considering he's in for the tag; regardless using as a saver since he owns top BRIS Prime Power# 
Race 8 is ON THE TURF
#1 – Mr. Benz (5-1): Love the setup race in latest which was first after claim; showed willingness with a tenacious turn of foot late sprinting; gets back to two turns which both career wins came from just 3 starts at this distance; handles step up as he won at this level last August
#8 – Silver Romeo (5-2): Has been a picture of consistency as a turf specialist, hitting the board in 8 ofr 9 outings on Lrl lawn; like that A. Cintron takes the call
#3 – Immunity (5-1): Comes off victory against non-winners of two for same purse but came up short two back as winner is in this one (#4); will need pace help to soften up early speed for a late rally
Race 9
#9 – Troublesome (5-2): A rare if not first shipper from Kee via CD for trainer B. Walsh but this one makes sense as he's a MD-bred and the 30% bonus money is hard to resist, especially in this restricted AlwN1x; comes off maiden score in second career start, while overcoming rough starts
#2 – Sazerac Girl (4-1): A prudent $16k claim back in Feb. has since won and placed twice in 5 outings and the BRIS speed figs have been steadily climbing; oddly is winless on a fast track (7:0-4-1)
#7 – Lucky in Malibu (8-1): Refuse to believe this Lookin At Lucky filly will not regain her form from late 2 y.o. season and early '17 when competing in local stakes; might go broke believing it
Race 10 is ON THE TURF
#7 – Rescue Cat (6-1): $$$ LONGSHOT $$$ Beaten favorite when runner-up after being steadied multiple times in $16k MCL; can handle step up to $25k as she was 6th but less than 4-lengths behind winner after being compromised at the start
#1 – Rosetta Red (9-2): Poor "Hammy" Smith… this filly has drawn the rail now in all three starts; tossed off the turf debut and was unlucky waiting for an opening at the 1/8 pole in second start which easily could have been graduation day; third time is a charm? 
#9 – Conjecture (6-1): Trainer D. Capuano took a chance claiming this Great Notion gal when off at 4-1 having a troubled trip just one race after she debuted at 98-1; gets jock upgrade to boot   
YESTERDAY'S NEWS  
On Saturday June 24th at Laurel had 6 winners from the 11-race card (2 Top Selection; payoff in BOLD) having $2 WIN pay-offs of $6.80 (1st race), $5.80 (3rd), $5.20 (4th), $3.60 (5th), $27.00 (9th) and $7.00 (10th). Top Selections in 2017 are 177 for 675 (26.22%). In 2016, Top Selections were 304 for 1,213 (25.02%).
BEST BET of the Day (73: 23-18-13; in 2016 127: 31-29-19) Phlash Phelps (10th race: 3-1 M/L; x-1 PT) bobbled in a bit tight at the break, settled off the rail, swung six wide making progress into the lane, leveled soon after, drifted in a bit advancing toward the furlongs grounds, was corrected and responded to some left handed stick work, forged to command in deep stretch, prevailed by a neck to return $7.00 to WIN, $4.60 to PLACE and $3.40 to SHOW.
LONGSHOT PLAY of the Day (63: 8-8-11; in 2016 124: 13-13-16) Kadie'shorseplay (2nd race: 8-1 M/L; 10-1 PT) broke alertly, settled well behind the eager leaders down the backstretch, advanced to the far turn but had nothing when asked for more and faded to finish 8th.