The GQ Approach – Laurel June 24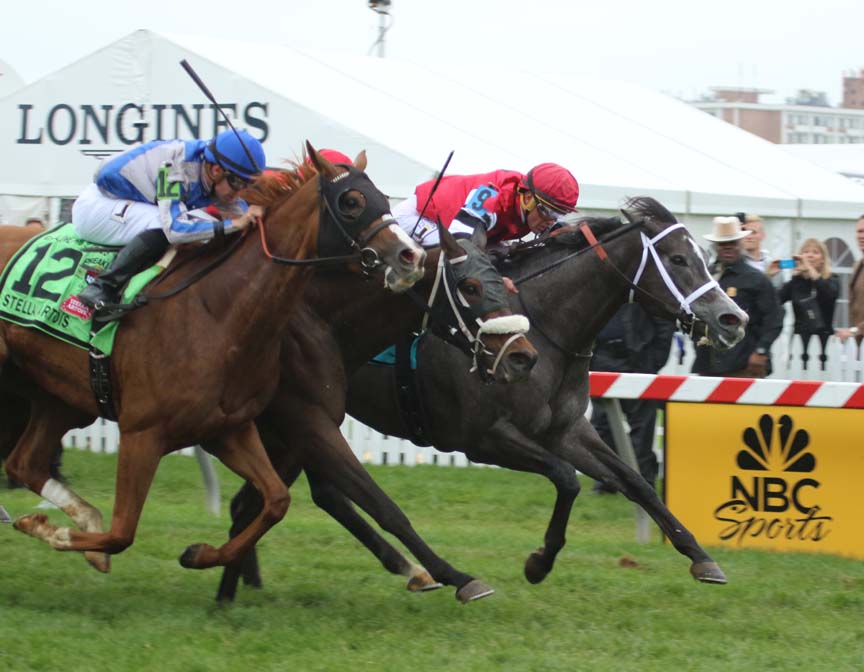 Mizz Money (#9) held off Vielsalm (in between) and Heath (#12) to win the Grade 3 Gallorette. Photo by Laurie Asseo.
The GQ Approach features full-card selections from Laurel Park for the live summer racing meet, Post Time 1:10pm EDT including a daily Best Bet, Longshot Play, and multi-race wagers — including the 20 cent Rainbow Pick-6, 50 cent Early and Late Pick-5s, as well as Pick-4s and rolling Doubles, Pick-3s and the Super High-5.

[su_box title="
Today's Carryovers
" style="glass" box_color="#66ADCC"]
Rainbow Pick 6: $11,634.14
Super High 5: $720.74
Late Pick 5: $1,775.43[/su_box]
[su_box title="GQ's Handicapping Tip of the Day" style="glass" box_color="#66ADCC"][stray-random][/su_box]
[su_box title="Best Bet of the Day" style="glass" box_color="#66ADCC"]Race 10 / #9 – Phlash Phelps (3-1)[/su_box]
[su_box title="Longshot Play of the Day" style="glass" box_color="#66ADCC"] Race 2 / #4 – Kadie'shorseplay (8-1)[/su_box]
[su_box title="
Multi-race Wagers
" style="glass" box_color="#66ADCC"]
Race 1: $2 DOUBLE   3, 5, 6  w/ 4, 5, 7 ($18)
Race 3: $0.50 Pick-3  3, 4  w/ 2, 4  w/ 1, 5, 8  ($6)
Race 7: $0.50 Pick-5  1, 2, 3  w/ 4, 7  w/ 7  w/ 9  w/ 2, 4, 5, 6, 8, 9 ($18)
Race 10: $2 DOUBLE   9  w/ 2, 4, 5 ($6)
[/su_box]
[su_heading size="21″ align="left"]Analysis[/su_heading]
Weather: Mostly Sunny after A.M. showers; highs in the mid-80s
Scheduled Turf races: 2nd, 3rd, 5th, 6th, 8th, 9th, 10th and 11th
Projected track conditions… Main: FAST; Turf: FIRM
Post Time for 1st race is 1:10pm EDT
Race 1
#6 – To Dare (6-1): Just spun his wheels along a dead, muddy rail in latest when stepped up against toughest foes of his career; hopefully H. Karamanos learned lesson and reads PPs to see mount likes to rally on the outside; drops down a level to where he's made an impact going 7f
#5 – Willie B Mine (2-1): Class of the race safely drops down into OC$16k; speed of the speed but going 7f is stretching it a bit (3:0-1-1); was game in last to hold for the PLACE spot as those early fractions were very quick       
#3 – Demon Buster (3-1): Third race after layoff at same level and rider as previous two for this "house horse" that has back class to put it together here
Race 2
#4 – Kadie'shorseplay (8-1): $$$ LONGSHOT $$$ Stretches out to furthest distance of career (by 1/16th mile) which based on running style, this mare will relish; draw a line the two dirt starts since J. Reynolds claim 6 races back and you have a live longshot
#5 – Winner's Dream (5-2): Late blooming 4 y.o. made career debut in January and now makes first turf start in 5th outing; held his own in past two against OC25k/N2x foes and bloodlines indicate he should like turf a bit better
#7 – Follow the Petals (6-1): First start after trainer H. McMahon claim, adds Lasix and takes confident step up; best efforts have come in lone turf start and only two synthetic surface tries     
Race 3 is the Edward Evans Stakes ON THE TURF
#3 – Rose Brier (2-5): Mth shipper is defending champ who is a perfect 4 for 4 in these stakes races at Lrl restricted to VA bred/sired runners; has placed in multiple graded stakes but this 8-year-old is winless after three starts in '17 albeit while facing much better than he will today; based on trainer J. Cibelli admission this guy doesn't care for soft ground, he could be vulnerable with the expected rain in the A.M.
#4 – Special Envoy (2-1): Appears to be one in here with the best chance to upset the top pick but has finished 1-3 lengths behind that one in all four previous meetings; will need to be more forwardly placed with anticipated slow early fractions
#1 – Speed Gracer (15-1): Lightly raced 3-year-old hasn't finished better than sixth since maiden victory that came 5 races back sprinting on Lrl lawn last Oct.; in most recent two outings stretched out to longer distances for which he was bred and showed improvement
Race 4
#4 – Gin Makes Ya Sin (5-2): Runner-up twice at Prx for this condition since layoff; only runner in this field with early sprinter speed which should allow J. Pimentel to dictate modest early fractions to conserve enough energy to hold off the late comers
#2 – Struth (7-5): Ran a monster race in latest earning a career best 102 BRIS# and got claimed by leading trainer K. Magee; will need to be more forwardly placed if #3 can't keep #4 company early
#6 – Never Gone South (2-1): Was in over his head on Preakness day in MD Sprint Stakes; didn't belong on turf at Bel two back, so looking beyond those it's logical that he's 2-1 ML; add Blinkers  
Race 5 is the Nellie Mae Cox Stakes ON THE TURF
#8 – Queen Caroline (7-5): Won this event last year following her maiden win then reeled off two more victories but has failed to hit the board since while facing much better than she will in here
#1 – Amoire (9-5): Made MD racing debut a winning one on Blacked-Eyed Susan Day v. a salty group of optional claimers; 3 wins from 6 career starts and a trainer who does best work with turf runners (22%)
#5 – Secret Or Not (12-1): Makes third start after a 7-month layoff as speed figures continue to climb; runner-up in this event last year when 13-1 going 1 1/16 miles at Pim; 1 for 1 at this one mile distance; prefers a little "give" in the turf grass and gets HOF rider E. Prado back in the irons who may put this gal on the early lead without much pressure and make every pole a winning one                
Race 6 is the Jameela Stakes ON THE TURF
#1 – Everything Lovely (9-5): Bridesmaid in this event last year behind #8 Lovable Lady but can turn the tables as this field came up light on early speed so jock D. Centeno should have her on early lead with enough in the tank to hold off late comers
#5 – If I Was a Boy (20-1): Making turf debut when she's flourished so far on dirt (15: 2-7-2) though needs to overcome "Second-itis"; past grass works indicate this is not a "shot in the dark" try as trainer is 2 for 6 with runners in turf debut; could surprise at a price
#3 – Devilish Love (6-1): Tough spot for '17 debut but trainer A. Dutrow will have her fit based on work pattern at her Bel home track; won MD Million Ladies last Oct. but that was going 3 furlongs further; was runner-up in minor stakes at Bel in lone 6 furlong turf try     
Race 7
#2 – Metallic (5-2): One of just a few runners at Lrl for high-profile owners from NY; took time off after breaking maiden in fast final fraction; can stalk behind the speed for first entering stretch
#3 – Tiz He the One (7-2): Plenty of early speed in here to help this late runner, who beat two next out winners in debut, to catch in the final strides
#1 – Thurman Merman (2-1): Unlike his namesake is not fat nor slow, winning both starts but will need to put his big boy pants on in Lrl debut; will need to "go" from the rail and will have company 
Race 8 is the White Oak Farm Stakes ON THE TURF
#4 – What a Wildcat (5-1): Appears to have drawn in with half dozen others who all will be forwardly placed and reunited w/ jock S. Hamilton who will take back early and unleash a furious rally in deep stretch trying to catch the leg-weary leaders; ran career best speed figure over this Lrl turf course
#7 – Two Notch Road (4-5): Defending champ has raced just three times since and might be asking a lot for a 10-year-old to be in top form in first race in 7-months; only OTB finish on Lrl lawn in 6 starts was on a good v. firm turf 
#1 – Available (7-2): Hard to like this gray for the WIN due to 2 for 32 career mark on turf; has a runner-up and two SHOW efforts in the three VA bred/sired turf sprint stakes on his resume'; usually keen out of the gate, jock F. Boyce may want to avoid getting caught up in suicidal pace and make late run which he's shown in the past
Race 9 is the M. Tyson Gilpin Stakes ON THE TURF
#7 – Rapid Rhythm (4-5): Winner of last year's Oakley at 1-2 odds figures to see similar action here; she's been keeping much, much better company than these; two-back winner Lady Aurelia dusted males in the Group 1 King's Stand Monday at Royal Ascot and last out winner Mississippi Delta now has four stakes wins; figures to be rolling late and tough to contain under F. Lynch
#2 – Do What I Say (15-1): A return to best form required to contend here but not out of the question on second off lengthy layoff. First two turf efforts suggested genuine talent, plus flexibility to lead or chase. Four to run back from her last all finished second or third in their follow-ups
#6 – Ring Knocker (6-1): Half-sis to Early Grey, who won but was DQ'd from a maiden score on last summers' VA/MD day, but she and her sibs are winless in 11 turf tries; one of her two turf tries wasn't bad, beaten three lengths by the stakes-placed Tizanillusion and this miss did win a stake earlier this year; on her second off a brief layoff, this G. Gullo trainee has a chance to run well here
Race 10 is the Mr. Diz Stakes ON THE TURF
#9 – Phlash Phelps (3-1): *** BEST BET *** Multiple stakes winner on the turf, though all going long – but note that he broke his maiden off an off-season layoff sprinting on the lawn, and that the runner-up that day has gone on to win a turf stake; training ledger since he returned mid-April shows three bullets, and it's likely that all systems are go
#5 – Grandiflora (10-1): Made some progress late after being pretty much out of it most of the way last out in the Jim McKay Turf Sprint, but maybe the better race for comparison purposes is two-back third place effort – beaten a head – in an allowance race which included two of today's rivals; will need a pace to materialize in front of him 
#7 – Jrock (12-1): Trainer H. McMahon does well with turf sprinters and produced a productive '16 campaign with this guy; winless so far in '17 but we're not inclined to judge the two-back effort too harshly on very soft going at Lrl; in third off a brief layoff, a return to better form easily a possibility here       
Race 11 is ON THE TURF
#2/2x – On the Wings Of/Cross Roads (5-2): 'Wings" is a FTS by Bodemeister out of a Mr. Greeley mare which means he should take to turf like a duck to water; stablemate is a filly whose debut at Pim on dirt was forgettable but blame it on being squeezed at the start
#5 – Early Grey (6-1): Won debut sprinting on turf nearly a year ago to the day but was DQ'd; connections proceeded to run him against winners in AlwN1x and a restrict stakes… he got buried in all of them; took a 7-month vacation only to run bad when back in with maidens; add blinkers
#4/4D – Holiday Hopes/Moonshine Lullaby (2-1): Pair of fillies as "Hopes" exits a couple high level maiden claimers going long on the grass at Bel and "Moonshine" is a FTS by Blame out of a Came Home mare who should love the turf and fired a couple bullets when completing her prep work for this debut  
YESTERDAY'S NEWS  
On Friday June 23rd at Laurel had 6 winners from the 9-race card (2 Top Selection; payoff in BOLD) having $2 WIN pay-offs of $7.00 (3rd race), $5.80 (4th), $5.60 (5th), $3.20 (6th), $17.00 (7th) and $5.60 (8th). Of the suggested multi-race wagers hit the R3-R5 50 cent Pick-3 for $20.90 (cost: $13.50). Top Selections in 2017 are 177 for 664 (26.65%). In 2016, Top Selections were 304 for 1,213 (25.02%).
BEST BET of the Day (72: 22-18-13; in 2016 127: 31-29-19) Victory Chimes (7th race: 5-2 M/L; 7-5 PT) brushed with the winner leaving the starting gate, saved ground chasing the pace, angled to the two-path leaving the turn, gamely closed the gap late but could not catch the gate-to-wire winner and returned $3.40 to PLACE and $2.60 to SHOW.
LONGSHOT PLAY of the Day (62: 8-8-11; in 2016 124: 13-13-16) Behzad's Pride (2nd race: 6-1 M/L; 8-1 PT) was sent up inside rivals to take command, set an honest pace, took pressure leaving the far turn ceded the lead in upper stretch, kept on willingly to mid-stretch then faded to finish 5th.