The GQ Approach – Laurel June 23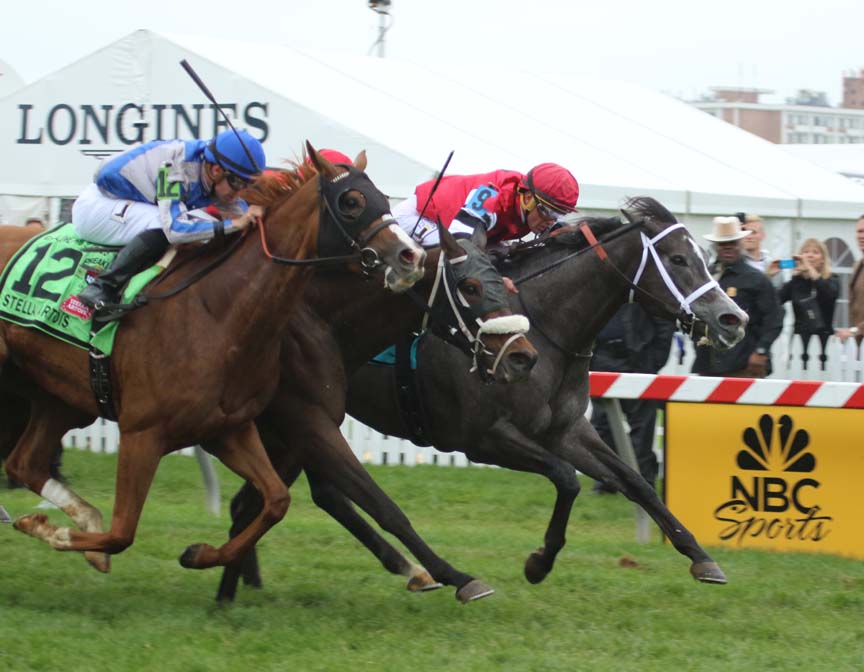 Mizz Money (#9) held off Vielsalm (in between) and Heath (#12) to win the Grade 3 Gallorette. Photo by Laurie Asseo.
The GQ Approach features full-card selections from Laurel Park for the live summer racing meet, Post Time 1:10pm EDT including a daily Best Bet, Longshot Play, and multi-race wagers — including the 20 cent Rainbow Pick-6, 50 cent Early and Late Pick-5s, as well as Pick-4s and rolling Doubles, Pick-3s and the Super High-5.

[su_box title="
Today's Carryovers
" style="glass" box_color="#66ADCC"]
Rainbow Pick 6: $10,197.47
Super High 5: $4,266.88
Late Pick 5: no carryover[/su_box]
[su_box title="GQ's Handicapping Tip of the Day" style="glass" box_color="#66ADCC"][stray-random][/su_box]
[su_box title="Best Bet of the Day" style="glass" box_color="#66ADCC"]Race 7 / #2 – Victory Chimes (5-2)[/su_box]
[su_box title="Longshot Play of the Day" style="glass" box_color="#66ADCC"] Race 2 / #1 – Behzad's Pride (6-1)[/su_box]
[su_box title="
Multi-race Wagers
" style="glass" box_color="#66ADCC"]
Race 1: $2 DOUBLE   6, 8, 12  w/ 1, 4 ($12)
Race 3: $0.50 Pick-3  1, 7, 9  w/ 2, 7, 9  w/ 2, 5, 6  ($13.50)
Race 6: $0.50 Pick-4  1, 2 11  w/ 2  w/ 4, 8, 11  w/ 2, 3, 6 ($13.50)
Race 8: $2 DOUBLE   8, 11  w/ 2, 3, 6 ($12)
[/su_box]
[su_heading size="21″ align="left"]Analysis[/su_heading]
Weather: Mostly Cloudy w/ chance of showers; highs in the mid-80s
Scheduled Turf races: 1st, 3rd, 4th, 6th, 8th, and 9th
Projected track conditions… Main: FAST; Turf: GOOD
1st race Post Time is 1:10pm EDT
Race 1 is ON THE TURF
#12 – Jakesoutcaster (7-2): Nice late rally to get runner-up spot in first start since last Nov. going 5f on Pim turf; getting the extra 1/16th at Lrl should prove to be HUUUUGE
  #8 – Little Tricks (8-1): Cuts back to a sprint after first try on turf going long saw him lead the pace through the 2nd call and weaken late
  #6 – Slick Man (3-1): Though trainer R. Jenkins only wins at 14% with runners after an extended layoff, his Blinkers On and MSW to MCL movers get to Winners' Circle at a 25% and 27% clip, respectively  
Race 2
#1 – Behzad's Pride (6-1): $$$ LONGSHOT $$$ Looking for a H. Karamanos Double after barn showed confidence in first after claim at GP while out of jail jumping a few levels; drops back in here to face a group of struggling class
#4 – I Stand Alone (8-1): Forgiving latest outing when he was rank; willing to take a chance that K. Davis can make a good first impression riding for trainer L. Gaudet
#9 – Slews Love (8-1): Exits two turf outings and has shown enough to trainer C. Hadry (2 for 5 w/ 2nd after claim) to test this level; expect to see this one threatening in deep stretch
Race 3 is ON THE TURF
#7 – Saint Mistress (4-1): Appears this gal is better suited to sprint after seeing her just off the lead going long on this turf course in Apr.; a pair of 4 furlong works indicate she's fit
#9 – Linda Nin (7-2): Trainer G. Capuano often says how he hates the turf yet his runners seem to OK on it (13%) as this filly did, breaking maiden when equipped with Blinkers then got SHOW purse versus similar last outing
#1 – Bayshore Drive (3-1): Visit 7th different track in 15th career start tries turf after being runner-up at this distance and level on Pim dirt; vulnerable went 0 for 7 on synthetic at TP  
Race 4 is ON THE TURF
#9 – Puturseatbelton (4-1): Hoping third time w/ A. Cruz in the irons is the charm as he came up a nose and a neck short of victory in last two efforts while speed figs have been gradually climbing
#7 – Political Farce (5-1): Trainer W. Potts wheels this 7 y.o. gelding right back at this same level he won last outing at Pim with furious late charge; gets an extra 1/16th to play with today
#2 – It's a Plane (12-1): Breaks from the rail and has taken back early in the past with that post; looking for hot riding V. Carrasco to get first jump on the leads entering the stretch    
Race 5
#6 – I Just Wanna Win (9-5): Perfect horse for owner as this could be her mantra so no concerns on one level drop after winning by 8-lengths off claim; a little moisture on the track would help (4:3-0-1)
#2 – Lemon Lover (2-1): Ridiculously was sent off 3-2 fav. going 7f which she couldn't get if she were in a truck; beat top pick by 2-lengths three races back
#5 – More Stormyweather (7-2): Not an unusual "drop off claim" move by owner/trainer A. Farrior (1 for 2); may have figured he could steal an easy purse but didn't figure top 2 would be in here
Race 6 is ON THE TURF
 #1 – Smiling Causeway (2-1): Nice debut when caught at the wire and 7-lengths clear of SHOW runner; switches to turf which is trainer A. Delacour's wheelhouse; two bullets since at Fai
#11 – Sympathetic (10-1): Rough trip at Prx when lukewarm favorite after 5-month layoff; gets Lasix in 7th career start, cuts back to sprint and gets trainer M. Matz "go to" rider, A. Cintron
 #2 – Hurricane Sheila (7-2): Got the SHOW purse in turf debut at Pim in second career when cold on the board (9-1) for trainer L. Rice who has been winning locally at a 50% clip over the past year 
Race 7
#2 – Victory Chimes (5-2): *** BEST BET *** Seeks natural Hat Trick and has the tactical advantage to stalk a plethora of early speed and pounce on those rivals in the final furlong
#3 – Captain Alex (15-1): Love his first start in over a year just 15 days ago showing early speed going long then jock just eased him back with today being the target; S. Russell back in the irons for a nice, potential payday
#1 – Martywiththeparty (8-1): Rough trip at Prx v. better takes a step back to a level where he was runner-up four races back; will need to have an alert start from the rail   
Race 8 is ON THE TURF
#11 – Leapt (5-1): Confident move stepping up in first start for trainer J. Ness (30% 1st after claim), took time to get to know this filly putting two nice works into her for today's challenge
#8 – Tizadoozi (20-1): That's what horseplayers will be saying if she scores here at price; would hope jock J. Miller will have her more forwardly placed so she doesn't have too much to do late
#4 – Grogger (7-2): Will need a rather hot early pace to be heard from late and the additional half furlong at Lrl v. Pim 5f sprints should help her cause as well
Race 9 is ON THE TURF
#2 – Leroy Brown (7-2): Should get the perfect trip has the early pace should be quick providing this gelding no excuses to arrive on the scene in time to hit the wire first
#1 – Justcallme K L (5-2): Beaten favorite had no answer for rivals in final furlong a level higher than here; third race after layoff often yields positive results but tough to take at 5-2 or less
#6 – Gavin Streetsense (10-1): Finally put on turf in 19th career start as this Street Sense offspring out of a Bernardini mare should relish the grass and getting two turns
YESTERDAY'S NEWS  
On Sunday June 18th at Laurel had 7 winners from the 10-race card (1 Top Selection; payoff in BOLD) having $2 WIN pay-offs of $16.80 (1st race), $15.60 (2nd), $12.60 (3rd), $3.60 (6th), $13.80 (7th), $15.40 (8th) and $15.00 (9th). Top Selections in 2017 are 175 for 655 (26.72%). In 2016, Top Selections were 304 for 1,213 (25.02%).
BEST BET of the Day (71: 22-17-13; in 2016 127: 31-29-19) Expect a Kitten (8th race: 7-2 M/L; 3-1 PT) bobbled at the break, angled out early and settled, commenced a run and followed the winner four wide leaving the half mile pole, kept on to upper stretch then faded and finished 5th.
LONGSHOT PLAY of the Day (61: 8-8-11; in 2016 124: 13-13-16) Holy Scat (5th race: 8-1 M/L; 9-1 PT) was lightly steadied around the first turn, saved ground off the pace, eased out to make progress past the five-sixteenths, continued her advance past the eighth pole, altered back in and finished just head and neck behind the winner and returned $6.20 to SHOW.