The GQ Approach – Laurel June 18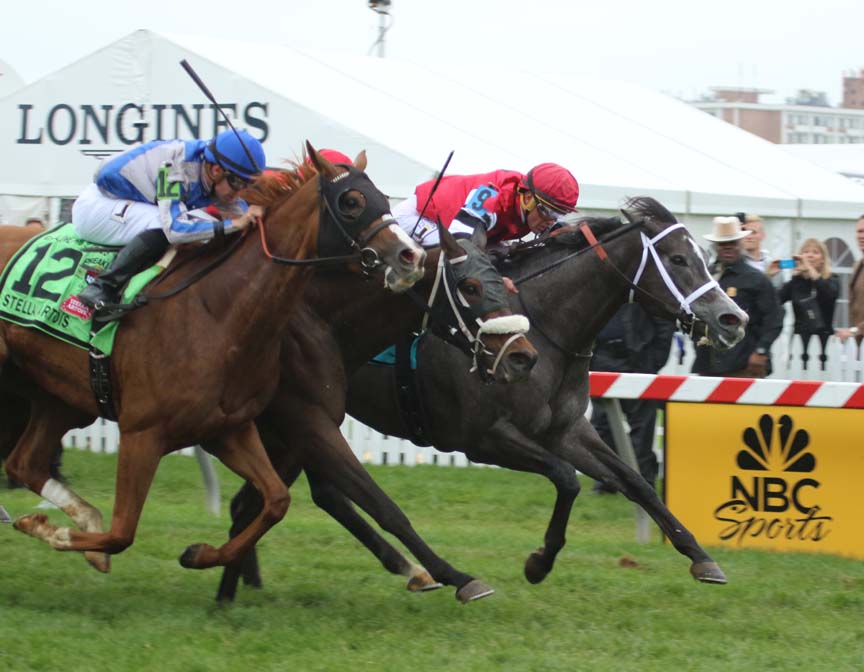 Mizz Money (#9) held off Vielsalm (in between) and Heath (#12) to win the Grade 3 Gallorette. Photo by Laurie Asseo.
The GQ Approach features full-card selections from Laurel Park for the live summer racing meet, Post Time 1:10pm EDT including a daily Best Bet, Longshot Play, and multi-race wagers — including the 20 cent Rainbow Pick-6, 50 cent Early and Late Pick-5s, as well as Pick-4s and rolling Doubles, Pick-3s and the Super High-5.

[su_box title="
Today's Carryovers
" style="glass" box_color="#66ADCC"]
Rainbow Pick 6: $9,084
Super High 5: $9,729
Late Pick 5: no carryover[/su_box]
[su_box title="GQ's Handicapping Tip of the Day" style="glass" box_color="#66ADCC"][stray-random][/su_box]
[su_box title="Best Bet of the Day" style="glass" box_color="#66ADCC"]Race 8 / #1 – Expect a Kitten (7-2)[/su_box]
[su_box title="Longshot Play of the Day" style="glass" box_color="#66ADCC"] Race 5 / #5 – Holy Scat (8-1)[/su_box]
[su_box title="
Multi-race Wagers
" style="glass" box_color="#66ADCC"]
Race 1: $2 DOUBLE   1, 2  w/ 3, 5 ($8)
Race 3: $0.50 Pick-3  1, 6, 8, 9  w/ 3, 7  w/ 4, 5, 7  ($12)
Race 6: $0.50 Pick-5  1, 2, 7  w/ 4, 9  w/ 1, 6  w/ 1, 6  w/ 1, 9, 12 ($36)
Race 9: $2 DOUBLE   1, 6  w/ 1, 9, 12 ($12)
[/su_box]
[su_heading size="21″ align="left"]Analysis[/su_heading]
Weather: Mostly Cloudy w/ chance of showers; highs in the upper-80s
Scheduled Turf races: 1st, 3rd, 5th, 7th, 9th, and 10th
Projected track conditions… Main: FAST; Turf: FIRM
HAPPY FATHER'S DAY *** Post Time is 1:10pm EDT
Race 1 is ON THE TURF
#2 – Add Four (3-1): Missed by a neck at Pid after uncharacteristically leading nearly every step of the way as Post Time favorite; returns to Lrl turf and gets F. Boyce in the irons for the first time in 10th career effort
#1 – Unwarrie Sky (8-1): Second time blinkers angle; not a bad effort in first start to trainer K. Rubley after showing no interest in running a lick at TP and Kee; looking for another step forward
#5 – Kopper Wire (2-1): Logical choice on paper but can you trust this 5 y.o. gelding making his 21st attempt to earn his diploma? Jock S. Hamilton has had the most success when aboard
Race 2
#3 – Stilburnin (9-5): Trainer J. Corrales is 20% with runners in 2nd start after claim and more telling 29% on a 2+ class level drop; this gray gelding was second versus much better so hopefully that doesn't raise the caution flag  
#5 – Fifties Music (7-2): Appears to be a need the lead type who when he doesn't get it, loses interest; don't see any others in here that will beat him to the first call, need 7 lb. bug to realize that  
#7 – R Lucifier (6-1): Ideal distance for this deep Closer is 7 furlongs but coming off the 5½f event at Pim might help him get interested earlier to get a large piece of the purse going 6f
Race 3 is ON THE TURF
#9 – Iggy Logo (5-1): Full of run in in the stretch in latest at this same level but was caught behind horses, jock had to check, nearly coming to a stop yet somehow when got clear ran on to be fourth less than 2 lengths behind the winner
#1 – Lost Story (5-2): Hails from the barn of Michael Matz who is also part-owner; lone win came on the dirt at Del but has picked up minor shares when competing on turf at GP this past winter
#8 – Liquid Aloha (9-2): Is bred to go this 9 furlongs distance which is further than any of the runners in here have travelled; interesting that H. Karamanos takes mount on this K. Breen Mth shipper while jumping off the M. Eppler trainee (#10); maybe Page McKenney will have a new rider in his next start?  
Race 4
#7 – Honor and Blessing (2-1): Three starts, three different surfaces v. MSW; maybe she doesn't care for a fast, dirt track but catches what appears to be a soft $25kMCL; if a predicted shower hits prior to Post Time… all the better
#3 – Chobee Girl (8-1): WV-bred FTS by nice MD sire Great Notion out of a Not for Love mare is only 4 y.o. v. a bunch of 3 y.o.; time for jock/trainer buddies to end their 0 for 17 streak
#2 – Socially Driven (3-1): Will likely find herself alone on the early lead, able to nurse those early fractions in hopes of outlasting the rest of these gals; away since debut last Aug. at The Big T
Race 5 is ON THE TURF
#5 – Holy Scat (8-1): $$$ LONGSHOT $$$ Might be a stretch but what the hell… trainer A. Eubanks quietly does well with newcomers to her barn in first start (3 for 6); toss that dirt start in her latest as this mare has the back class and has been part of the Exacta (4:2-2-0) in every turf start at this one mile distance
#4 – Cracking Good Pins (7-2): A likely underlay with E. Prado in the irons but runners on turf seem to greatly improve w/ the Hall of Famer taking the reins; just a slight step up is needed here
#7 – Issheit (10-1): Faced a tough Starter Alw group in latest and it showed (6th by 10); drops back into a Claimer, third race after layoff and if this 9 y.o. mare gets a decent early pace she'll make her presence known in deep stretch   
Race 6
#2 – Leather Goods (5-1): Adds blinkers, drops from $40kMCL and though finishing 5 behind ML favorite (#1) last time going 6f, stretch out to one mile fits his pedigree profile (by Dialed In out of a Skip Away mare)
#7 – Fifty West (7-2): Gate scratch in when in for $16kMCL after nice runner-up effort when walking out of the gate in debut for $10k; since there was a line in the racing office to claim him for $16k, connections wisely upped the sale price to $25k
#1 – Clubman (9-5): Been burning bettors money in 4 of 6 starts when sent off as Post Time favorite; continues to drop in search of that elusive maiden win which today may come in gate-to-wire effort; purchased last year for $75k, this 3 y.o. appears to be Claim-bait     
Race 7 is ON THE TURF
#9 – No Knock Raid (6-1): Traffic troubles on Pim turf in first race after F. Allen $16k claim when facing better; drops back to claiming level seeking third career win while back on Lrl lawn, scene of both career victories
#4 – Mr. Benz (2-1): Beaten favorite in latest when claimed by trainer P. Schoenthal (26% in first race after claim); shortens up to sprint, another positive angle (30%) for this conditioner
#10 – Crowd Funding (9-2): NY shipper taking steep class drop after losing both '17 starts by a combined 59 lengths but on dirt; his turf and off track efforts are more pleasing to the eye
Race 8
#1 – Expect a Kitten (7-2): *** BEST BET *** First start after KTL claim (31%) and will give a leg up to J. Toledo (duo is 31% over past year); breeding is turf top and bottom but was runner-up by a nose and SHOWed in only two main track outings, both in MSW; will need foes to provide honest early fractions
#6 – High Tolerance (8-1): Got a horrible start when 35-1 in '17 debut following 5-month layoff but showed late interest to complete the Super High-5; a shower prior to Post Time would help her chances
#7 – Bring Me Answers (7-2): Has failed in all four starts when sent off the Post Time favorite yet only other start was her maiden breaker when 10-1… go figure! Willing to believe she's not fond of a wet track; needs to be more forwardly placed early to threaten late  
Race 9 is ON THE TURF
#6 – Jockamo's Song (7-2): This LA-bred showed he can compete in open company in runner-up effort in local bow; SHOW runner (Lanier) came back last week to set Lrl turf course record
#1 – Esposito (6-1): Ownership group are no doubt Bruin hockey fans; makes turf debut but proved to be turf-worthy in nice synthetic surface win at WO; needs to be quick from the gate due to rail post
#3 – Light the Night (4-1): Recorded career best BRIS# (94) in latest at this level but in an off the turf event at Pim, first start in 4-months; turf record isn't too shabby (10:2-3-1) which came v. better in NY and FL    
Race 10 is ON THE TURF
#12 – Great Captain (6-1): Couldn't carry his speed another 100 yards when betting favorite in latest over a yielding Lrl lawn; a trio of works since that start and firmer ground add up to a winning effort v. this group
#1 – Sensational Notion (4-1): Just missed in the slop at Pim going 6f in last outing; returns to turf course where he was third behind two next out winners
#9 – True Cat (8-1): Took action (4-1) in debut but was no match in a MSW field of decent runners where the winner came back to be runner-up in a tough Alw event yesterday and runner-up duplicated that effort in next MSW outing; trainer "Ham" Smith is 28% w/ MSW to MCL move     
YESTERDAY'S NEWS  
On Saturday June 17th at Laurel had just 4 winners from the 10-race card (3 Top Selections; payoff in BOLD) having $2 WIN pay-offs of $31.80 (6th race), $15.60 (7th), $11.20 (8th) and $5.40 (10th). Top Selections in 2017 are 174 for 645 (26.98%). In 2016, Top Selections were 304 for 1,213 (25.02%).
BEST BET of the Day (70: 22-17-13; in 2016 127: 31-29-19) Catching Fireflies (6th race: 4-1 M/L; 5-2 PT) five-wide between horse on the turn, rallied outside of the winner coming up a neck short and returned $4.20 to PLACE and $3.40 to SHOW.
LONGSHOT PLAY of the Day (60: 8-8-10; in 2016 124: 13-13-16) Soup d'Coupe (10th race: 5-1 M/L; 5-1 PT) saved ground on the first turn, raced in the two path between horses on the far turn, swung to the three path in upper stretch, advanced in mid-stretch but flattened out finishing 4th, just 1½ lengths behind the winner.