The GQ Approach – Laurel June 17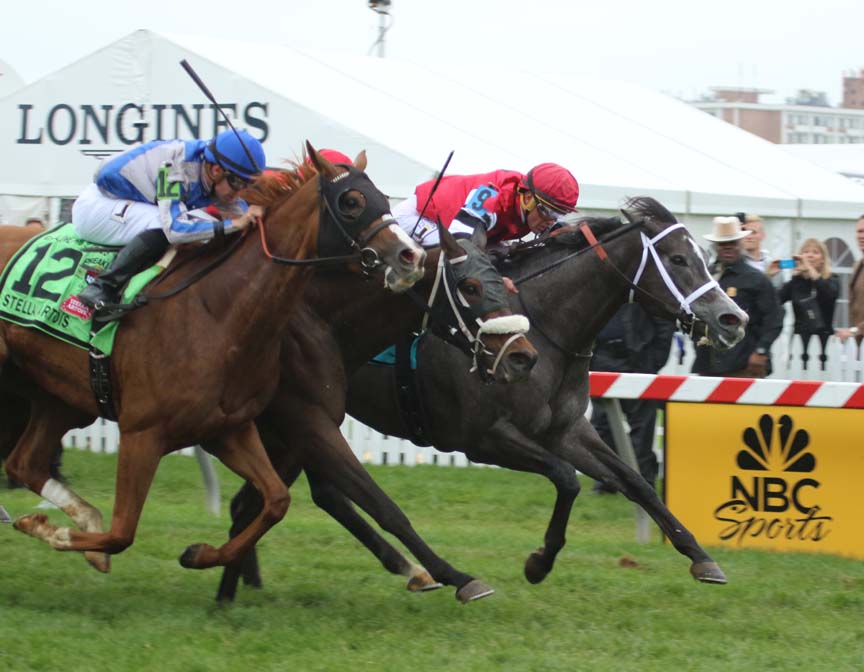 Mizz Money (#9) held off Vielsalm (in between) and Heath (#12) to win the Grade 3 Gallorette. Photo by Laurie Asseo.
The GQ Approach features full-card selections from Laurel Park for the live summer racing meet, Post Time 1:10pm EDT including a daily Best Bet, Longshot Play, and multi-race wagers — including the 20 cent Rainbow Pick-6, 50 cent Early and Late Pick-5s, as well as Pick-4s and rolling Doubles, Pick-3s and the Super High-5.

[su_box title="
Today's Carryovers
" style="glass" box_color="#66ADCC"]
Rainbow Pick 6: $7,272.71
Super High 5: $290.50
Late Pick 5: $3,476.79[/su_box]
[su_box title="GQ's Handicapping Tip of the Day" style="glass" box_color="#66ADCC"][stray-random][/su_box]
[su_box title="Best Bet of the Day" style="glass" box_color="#66ADCC"]Race 6 / #8 – Catching Fireflies (4-1)[/su_box]
[su_box title="Longshot Play of the Day" style="glass" box_color="#66ADCC"] Race 10 / #1 – Soup d'Coupe (5-1)[/su_box]
[su_box title="
Multi-race Wagers
" style="glass" box_color="#66ADCC"]
Race 1: $2 DOUBLE   1, 2, 8  w/ 2, 3, 8 ($18)
Race 3: $0.50 Pick-3  2, 5, 6  w/ 1, 2, 9  w/ 4, 5, 9  ($13.50)
Race 6: $0.50 Pick-5  5, 8  w/ 1, 3, 8  w/ 11, 12  w/ 2, 4, 8  w/ 1, 6 ($36)
Race 9: $2 DOUBLE   2, 4  w/ 1, 6, 7 ($12)
[/su_box]
[su_heading size="21″ align="left"]Analysis[/su_heading]
Weather: Mostly Cloudy w/ chance of showers; highs in the mid-80s
Scheduled Turf races: 2nd, 4th, 6th, 8th, and 10th
Projected track conditions… Main: FAST; Turf: FIRM
Post Time for 1st race is 1:10pm EDT
Race 1
#2 – E Lizzy (5-2): Beaten favorite in the slop "hung" late versus similar; has the back class to come back and make amends
#1 – Wisdom of Oz (6-1): Prx shipper looking for natural Hat Trick in Lrl debut; P. Farro barn seems to have figured this one out and handle step up  
#8 – Champagne Time (4-1): Goes for natural Hat Trick for trainer C. Gonzalez who appears to have this one back on the right track to regain some of her class from last year  
Race 2 is ON THE TURF
#8 – Natural Notion (9-5): Owns the top two turf BRIS# (73 & 78) in this field of maidens as a few are making turf debut; daughter of Great Notion will race second-time w/ the hood      
#2 – Not Above Love (5-1): MD-bred FTS by Not for Love out of a Dixie Union mare been working steadily since Apr.; part-owner Jerry Romans is brother of famous trainer Dale usually has interest in promising runners
#3 – No Love Lost (6-1): Adds blinkers in fourth career start; only work since last start appears to be an improvement; returns to turf, scene of debut where she had lead after 5f but seal the deal     
Race 3
#5 – Theodosia (4-1): KY-bred FTS by Exchange Rate out of a Honour and Glory mare has a nice spaced work tab; barn is supposedly high on her… might be due to having same sire as El Areeb
#6 – Prank Call (6-1): No Lasix for this FTS by Dialed In out of an El Corredor mare who hails from the A. Farrior barn; two consecutive bullet drills, the latest from the gate makes her well meant for debut
#2 – Friction Fire (10-1): Encouraging debut in that she showed late interest in mud at Pim; gets another 1/16thd and might show a bit more speed in second start
Race 4 is ON THE TURF
#9 – Aphrodite's Quest (4-1): Third start after layoff as she's been beaten favorite in past two; gets hot riding V. Carrasco in the irons trying to get this one first turf win in eighth start
#2 – Beaches N Bourbon (4-1): Beat N2L for $16k in latest coming off nearly 6-month layoff; reunited w/ H. Karamanos who is one win shy of 2,000
#1/1A – She Is Special/Zippity Gal (5-2): KTL trying to figure out just how "Special" she can be and on what surface; trainer K. Nations conditions "Gal" who got leg-weary late in first start since Sept. last month   
Race 5
#9 – Dirtyfoot (7-5): Adds blinkers for second career outing after being runner-up to He Hate Me who won Tremont Stakes in next outing at Belmont  on Belmont Stakes Day
#4 – Old Time Revival (6-1): FL-bred FTS by Brethren out of a Congaree mare shows a trio of bullet works well spaced for trainer K. Decker who conditions for high-profile Jacks Or Better Farm
#5 – Onemoregreattime (12-1): Trainer J. Robb does well w/ babies (20%) and MSW in general (28%); this MD-bred Great Notion colt should be primed to win w/ V. Carrasco getting a leg up    
Race 6 is ON THE TURF
#8 – Catching Fireflies (4-1): *** BEST BET *** 2 for 2 over the Lrl lawn; nice effort at Pim in first start of '17 going 5f coming up short as Post Time favorite while refusing to change leads; back in at same level and gets an extra 1/16th of real estate
#5 – Carolina Shag (10-1): Away from the races the past 22 months, so can this mare possibly be ready to score today?! Seemed ready after last long layoff when runner-up; never fails to hit the board on turf sprinting (5:0-3-2)
#6 – Littlefirefighter (6-1): 3 y.o. filly faces elders for first time in fourth career effort; BRIS# continue to climb as she's beaten a few next out winners in both Lrl main track victories     
Race 7
#1 – Parade of Nations (7-2): This 3 y.o. did just fine wen beating her elders facing them for first time; the runner-up and SHOW horse that day came back last week to run 1-2
#8 – Concordia's Way (9-2): Third start after layoff; returns to dirt and stretches out to 7 furlongs seems to be right move for this late running sprinter
#3 – American Road (3-1): For a horse who is only 3 for 22, the bettors certainly have been in love with her, sending her off as PT favorite in 8 of last 10 race, could be again cutting back to 7 panels
Race 8 is ON THE TURF
#12 – Bourbon Commander (4-1): From GP turf to Pim Winners Circle in slim victory in 4-horse off the turf event; back on the grass and chance to make patented late run to catch early speed
#11 – He's One Wild Dude (3-1): Likes the Lrl lawn (2:1-0-1) and salvaged SHOW purse in first start versus winners; hopefully S. Russell will take him back today instead of getting caught on lead with plenty of company
#9 – Invisible Crown (10-1): Needs to bring "A Game" today the grass is where he can get second career win as likely fast early fractions will help this runner who finds best stride late
Race 9
#2 – Shimmering Aspen (3-1): Was thrown to the wolves in G2 Black-Eyed Susan stretching out to 9 furlongs from sprints, made lead entering stretch then stopped; finds perfect spot and distance to prove she's one of the young, local shining stars
#4 – Yellow Agate (5-2): Put perfect record (2 for 2) on the line last Fall in BC Juvey Fillies and got mugged, roughed up, forced to check twice and steadied… no wonder she has been on the sidelines since; half dozen works shows she's ready
#8 – Astrollinthepark (5-1): Was 3 for 4 for trainer L. Jones who ran her in G3 Miss Preakness, losing all chance stumbling at the start yet on her own courage while 5-wide on the turn still closed ground on winner    
Race 10 is ON THE TURF
#1 – Soup d'Coupe (5-1): $$$ LONGSHOT $$$ Typical K. Magee move after claim; stepped up while in jail get a very minor piece in a paceless 9 furlong event; stays at this level and should get a more honest pace to close into late  
#6 – Jose Sea View (4-1): Call it the Prado Factor has this gelding was sent off the favorite when in against a salty group of $7500 Starter Alw, ran into traffic when full of run as rider saved him for another day… which is today         
#7 – My Giant (3-1): Has yet to cross wire first on Lrl turf (7:0-3-1) but gets best shot in here; trainer J. Egan has done well keeping this gelding fit for top turf efforts       
YESTERDAY'S NEWS  
On Friday June 16th at Laurel had 5 winners from the 10-race card (1 Top Selections; payoff in BOLD) having $2 WIN pay-offs of $27.40 (3rd race), $3.80 (4th), $7.00 (5th), $25.80 (7th) and $14.20 (10th). Of the suggested multi-race wagers hit the R3-R5 50 cent Pick-3 for $49.90 (cost: $13.50). Top Selections in 2017 are 171 for 635 (26.93%). In 2016, Top Selections were 304 for 1,213 (25.02%).
BEST BET of the Day (69: 22-16-13; in 2016 127: 31-29-19) Fed Up Fired Up (9th race: 9-2 M/L; 5-2 PT) settled for the runner-up spot and returned $4.80 to PLACE and $3.00 to SHOW.
LONGSHOT PLAY of the Day (59: 8-8-10; in 2016 124: 13-13-16) Silent Passage (1st race: 12-1 M/L; 5-1 PT) got left at the gate spotting field about 5 lengths, ducked to the rail, steadied behind rivals on the backstretch while still trailing, move up along the rail on the turn, lacked room at the eighth pole but was soon clear and unable to make up ground late to finish 5th just 3 lengths behind the winner.