The GQ Approach – Laurel June 16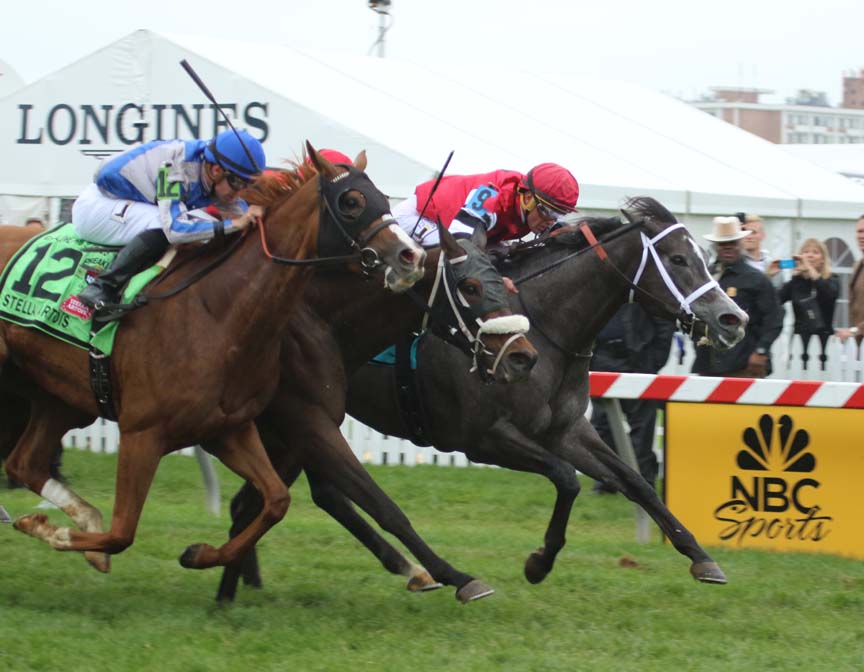 Mizz Money (#9) held off Vielsalm (in between) and Heath (#12) to win the Grade 3 Gallorette. Photo by Laurie Asseo.
The GQ Approach features full-card selections from Laurel Park for the live summer racing meet, Post Time 1:10pm EDT including a daily Best Bet, Longshot Play, and multi-race wagers — including the 20 cent Rainbow Pick-6, 50 cent Early and Late Pick-5s, as well as Pick-4s and rolling Doubles, Pick-3s and the Super High-5.

[su_box title="
Today's Carryovers
" style="glass" box_color="#66ADCC"]
Rainbow Pick 6: $6,534.40
Super High 5: $3,109.39
Late Pick 5: no carryover[/su_box]
[su_box title="GQ's Handicapping Tip of the Day" style="glass" box_color="#66ADCC"][stray-random][/su_box]
[su_box title="Best Bet of the Day" style="glass" box_color="#66ADCC"]Race 9 / #11 – Fed Up Fired Up (9-2)[/su_box]
[su_box title="Longshot Play of the Day" style="glass" box_color="#66ADCC"] Race 1 / #8 – Street Passage (12-1)[/su_box]
[su_box title="
Multi-race Wagers
" style="glass" box_color="#66ADCC"]
Race 1: $2 DOUBLE   1, 8, 12  w/ 3, 4 ($12)
Race 3: $0.50 Pick-3  1, 2, 12  w/ 1, 5, 6  w/ 6, 8, 10 ($13.50)
Race 6: $0.50 Pick-5  2, 3, 6  w/ 6, 11  w/ 5, 6  w/ 1, 6, 11  w/ 3, 5 ($36)
Race 9: $2 DOUBLE   1, 11  w/ 3, 5, 6 ($12)
[/su_box]
[su_heading size="21″ align="left"]Analysis[/su_heading]
Weather: Partly Cloudy; highs in the mid-80s
Scheduled Turf races: 1st, 3rd, 5th, 7th, and 9th
Projected track conditions… Main: FAST; Turf: FIRM
Post Time for 1st race is 1:10pm EDT
Race 1 is ON THE TURF
 #8 – Street Passage (12-1): $$$ LONGSHOT $$$ Been running steeplechase races this year but last try on the flats was 13-months ago here, a third place effort at this same level recording the best BRIS# (81) of this group; blinkers come off after being put on, which hurt v. helped
#12 – Quality Time (7-2): Beaten favorite in slop at this level when taken off the turf in first effort for P. Schoenthal barn after being passed around three others while hitting the board v. much better
#1 – Here Comes Michael (5-1): Could handle the NY-bred maiden claimers on the turf so transferred to local trainer R. Sillaman to test cheaper and adds blinkers (27%)  
Race 2
#4 – Get Rid Of (5-1): Keep gravitating to this past LSPOD gelding who faced a tough $16kN2L bunch and proved he wasn't up to the task first time in v. winners; appropriate class drop and added distance should bring better results   
#3 – Chief Tarhe (9-5): Toss initial turf try which came in latest outing and the class drop though appears to be steep is a logical one based on maiden breaker v. $10kMCL; time to get a check to pay the barn bill
#1 – Brute Force (7-2): Third start since claim off Sagamore as the first two did not go well; at least showed early speed on turf v. better but back on dirt today and second start w/ blinkers back on      
Race 3 is ON THE TURF
#1 – Donnie Baseball (8-1): Like the effort in second career start, first on turf and sprinting while being a bit bottled up along the rail but showed late interest; stretch out to two turns is the right move
#2 – Rahrahrah (4-1): Failed to hit the board as 9-5 second choice in MD debut; continues to run w/o Lasix in eighth career start for trainer M. Dini; missed by a nose two back at Tam v. similar
#12 – What Gives (12-1): Interesting spot when sprinted in turf debut, first race since last Nov. when previous tries were at one mile and further on dirt; stretch out on turf should suit this son of Spring At Last
Race 4
#1 – Publishanditerate (9-5): This seemingly fragile 4 y.o. gelded son of Tapit ($300k sire fee) makes fifth career start for Sagamore and plummets to the bottom of the maiden claiming ranks; 3-6 months between starts is not a good sign but today might muster enough energy to beat these
#5 – El Gran Noel (6-1): Claimed out of last start at GP, brought north and gelded as a welcoming gift; gets 7 lb. bug and shows just one work but that's how bad the rest look to yours truly
#6 – Apollo Eleven (9-2): 0 for 17 and was sent off as Post Time favorite in latest only to disappoint in a fourth place effort; maybe switch to V. Carrasco can breathe some life into him on cut back to on turn mile  
Race 5 is ON THE TURF
 #8 – Mongolian King (5-2): Won turf debut in 21st career start at this same open $7,500 level, so of course he can repeat with same effort
#10 – Barrel of Love (4-1): 10 y.o. makes third start after layoff but has lacked killer instinct to pass all rivals, being runner-up 12 times v. just 7 wins in 65 career outings
#6 – Top Prospect (7-2): Either didn't care for the yielding Lrl lawn or simply faced a tough group… could have been a combination of the two; drops a few levels seeking old form    
Race 6
#6 – Some Promises (3-1): Jock F. Boyce elects to ride this one over the #3 even though she's had more success with those connections; turf-to-dirt move and back at level where this gray got win #2 two back
#3 – Deal Driven (9-2): Connections like to win so multi-level drop is of no concern; hasn't run on a fast, dirt surface since winning for $25k v. 3 y.o. three races back
#2 – Brilliant Choice (10-1): Strange private purchase for owner who typically doesn't go for these cheap ones yet must have gotten a bargain on this ridgling placing him in for a nickel 
Race 7 is ON THE TURF
#11 – Via Frattina (7-5): On Also Eligible list so needs just one defection; toss the off the turf clunker and she stands out per ML odds; if scratched, consider the #2 – Sarah's Treasure (7-2)
#6 – Quick Witted (10-1): Nice work tab since last effort which was turf debut showing late interest behind a couple next out winners
#3 – Justa Scooh (9-2): Twice a bridesmaid in her five career outings, both on the turf but when in v. $25kMCL; steps back up second-time w/ blinkers   
Race 8
#5 – Bobcat (9-2): Huge disappointment when dead last as 4-5 favorite at Pen; should this multi-class drop be a yellow flag? Maybe not as trainer D. Capuano is 26% with this move
#6 – Go Bo Go (x-1): Able to dictate early pace when going gate-to-wire v. N2L in latest but will face early pressure today; BRIS#s continue to climb
#7 – Allezcome (12-1): Not a bad effort on sprinting on turf v. open $7,500 Claimers; trainer J. Secor has gotten 5 of 14 starters to Winners Circle when moving from turf to dirt  
Race 9 is ON THE TURF
#11 – Fed Up Fired Up (9-2): Been knocking at the door in past three turf outings, all at this level; will be just a matter of time and a clean trip to get second career victory
#1 – Pardontori'sfrench (4-1): With rail post jock K. Davis should hustle this filly to the early lead on what has been a hard rock turf course and presumably will be today as region hasn't had any rain in 10 days and counting
#6 – Justice for Sheena (9-2): have to think her '17 debut was just to get a race into her as she was in over her head and the toteboard indicated it as well (27-1); back where she belongs… seeking second win in 23rd career start    
Race 10
#5 – Desert Frontier (4-1): Rough rail trip sprinting on Pim lawn returns to main track at Lrl where he has been runner-up twice v. $16kMCL
#3 – Slim (3-1): Speed gelded son of Coil would have been a winner in last effort but 6 furlongs was a 1/16th too long; same effort today going 5½ earns him a diploma
#6 – Fusion Xchange (12-1): Ran evenly in debut as barn didn't know what to expect based on 17-1 Post Time odds; got an education, drops a level and gets blinkers which should attract interest at the windows       
YESTERDAY'S NEWS  
On Sunday June 11th at Laurel had 8 winners from the 10-race card (5 Top Selections; payoff in BOLD) having $2 WIN pay-offs of $9.40 (1st race), $7.40 (3rd), $4.20 (5th), $8.80 (6th), $6.40 (7th), $5.80 (8th) $7.20 (9th) and $8.20 (10th). Of the suggested multi-race wagers hit the R6-R10 50 cent Late Pick-5 for $1,849.35 (cost: $36) and the R9-R10 $2 DOUBLE for $54.40 (cost: $12). Top Selections in 2017 are 170 for 625 (27.20%). In 2016, Top Selections were 304 for 1,213 (25.02%).
BEST BET of the Day (68: 22-15-13; in 2016 127: 31-29-19) C B Bodemester (4th race: 3-1 M/L; 2-1 PT) settled off the pace, raced between foes leaving the far turn, was put to stiff drive but could only muster up a mild kick and finished 4th.
LONGSHOT PLAY of the Day (58: 8-8-10; in 2016 124: 13-13-16) Lanier (9th race: 6-1 M/L; 5-2 PT) sped to the early lead, saved ground setting the pace, was ridden out while setting a course record and returned $7.20 to WIN, $4.20 to PLACE and $3.00 to SHOW.