The GQ Approach – Laurel June 11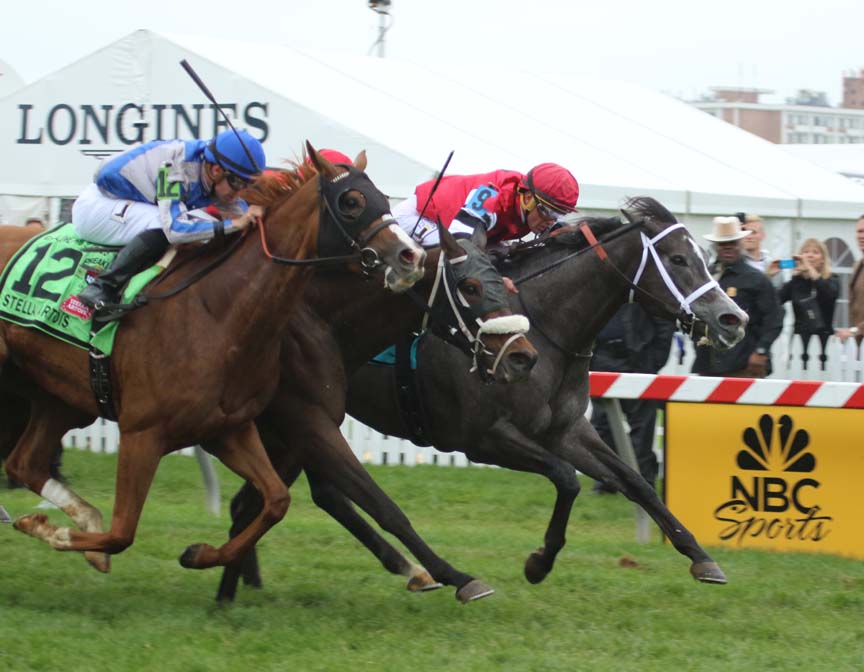 Mizz Money (#9) held off Vielsalm (in between) and Heath (#12) to win the Grade 3 Gallorette. Photo by Laurie Asseo.
The GQ Approach features full-card selections from Laurel Park for the live summer racing meet, Post Time 1:10pm EDT including a daily Best Bet, Longshot Play, and multi-race wagers — including the 20 cent Rainbow Pick-6, 50 cent Early and Late Pick-5s, as well as Pick-4s and rolling Doubles, Pick-3s and the Super High-5.

[su_box title="
Today's Carryovers
" style="glass" box_color="#66ADCC"]
Rainbow Pick 6: no carryover
Super High 5: no carryover
Late Pick 5: no carryover[/su_box]
[su_box title="GQ's Handicapping Tip of the Day" style="glass" box_color="#66ADCC"][stray-random][/su_box]
[su_box title="Best Bet of the Day" style="glass" box_color="#66ADCC"]Race 4 / #6 – C B Bodemester (3-1)[/su_box]
[su_box title="Longshot Play of the Day" style="glass" box_color="#66ADCC"] Race 9 / #6 – Lanier (6-1)[/su_box]
[su_box title="
Multi-race Wagers
" style="glass" box_color="#66ADCC"]
Race 1: $2 DOUBLE   1, 3, 6  w/ 3, 7 ($12)
Race 3: $0.50 Pick-3  1, 2, 5  w/ 4, 6, 7  w/ 2, 5, 10 ($13.50)
Race 6: $0.50 Pick-5  2, 4, 7  w/ 2, 8  w/ 1, 3  w/ 6, 7  w/ 5, 7, 8 ($36)
Race 10: $2 DOUBLE   6, 7  w/ 5, 7, 8 ($12)
[/su_box]
[su_heading size="21″ align="left"]Analysis[/su_heading]
Weather: Mostly Sunny; highs in the mid-90s
Scheduled Turf races: 3rd, 5th, 7th and 9th
Projected track conditions… Main: FAST; Turf: FIRM
Post Time for 1st race is 1:10pm EDT
Race 1
#3 – Brook's On Fire (6-1): Could turn out to be a nice $5k claim for trainer W. Campbell; showed late interest just 9 days after claim when in versus similar in here; same type of effort can get her to Winners Circle
#1 – Next Street (4-1): Looking to gain back that form from when this filly won three straightat this level and better; a stalking trip behind the early speed gets the job done
#6 – Scarlett Ransom (6-1): Appears to be the speed of the speed and jock switch to J. Toledo indicates trainer J. Robb (21% when teamed up) thinks this one is sitting on a big effort
Race 2
#3 – Cast a Doubt (9-2): Trainer E. McClellan been dominating Pen circuit (28% in '17) ships in this 8 y.o. speedster along w/ regular rider T. Conner (20%); if he clears this field early there may be no catching him
#7 – Great Smoke (9-2): Class of the field is off that form lately, hence takes multiple class drop in hopes of getting confidence back
#1 – Dr Bolt (12-1): Melted down pre-start in latest so tossing it along with it being v. much better; K. Gomez starting to get mounts for 17% trainer M. Salazar
Race 3 is ON THE TURF
#1 – Theda's Soul (9-2): All runners in this event will be ridden by the lady jocks of the 2017 Fegentri tour; second time blinkers for this turf bred filly who has been a handful but had all kind of issues in last start on big drop; can make amends today
#2 – Photo Gallery (4-1): Takes appropriate class drop as she's hit the board a few times when at this level
#5 – Beyond Forever (2-1): Runner-up in the Pim mud in latest didn't take to turf in lone grass try but if put on the lead early the others may not be interested in catching her
Race 4
#6 – C B Bodemester (3-1): *** BEST BET *** Beaten by #3 in near last start when sent off 9-5 favorite over muddy Pim surface; back on fast track at Lrl where he blew the shoes off rivals by 8+ lengths two back
#4 – Printer (4-1): Ships in from Prx as trainer/jock duo as team up in 8th race; runner is 1 for 1 at Lrl when going gate-to-wire at $25k Claiming level
#7 – Three Beans (8-1): Last two look ugly losing by 26 then by 18 but those were against elders at higher class levels; this race is restricted to 3 y.o. so if fit, he could score at a price 
Race 5 is ON THE TURF
#5 – Indian Bucks (2-1): Scratched out of a bit tougher event on yesterday's card when part of an entry; 5 for 10 at this turf distance
#10 – Puturseatbelton (6-1): Third start after layoff; gets firm turf which may be more to his liking; needs foes to provide quick, early fractions for a chance to arrive on the scene late
#2 – Merry's Honor (10-1): Can boast a career best turf BRIS# among those entered; trainer S. Lake and jock F. Boyce have teamed up for a win with just 5 runners over the past year                
Race 6
#7 – Beltany (5-1): KY-bred FTS by Elusive Quality by a Unbridled's Song mare was purchased as a yearling for $320k by high profile Donegal Racing; love the work tab leading up to debut
#4 – Self Start (6-1): Experiment on turf was a bust after hitting the board in both sprints on dirt starting off career; blinkers go on and bullet since last start are positive signs
#2 – Satisfying (3-1): Horse racing royalty (Phipps) home/KY-bred FTS by Smart Strike out of a Forestry mare has been firing bullets at Fai in 4 of last 5 works BUT trainer "Shug" McGaughey typically doesn't send them out to win at first asking (7 for 104 the past year)  
Race 7 is ON THE TURF
#2 – Crystal Pier (3-1): This gray gal has been a rare disappointment for trainer L. Rice who wrapped up last Lrl meet winning at 50%; drop to a level that will attract a few to drop clips in the racing office
#8 – Porte Cochere (9-2): Away since last Oct. but trainer K. Magee can get them ready off the bench (21%); has never run a bad race but this is a pretty salty group
#7 – La Nina (9-5): Big effort at Big Sandy (aka Bel) going 6 furlongs on the grass; cut back to 5 ½ will make her popular claim target as well
Race 8
#3 – It's a Journey (2-1): Lost all chance at the start in latest when sent off even money favorite yet rallied to lose by just one length; will make amends today
#1 – Willie B Mine (9-2): Tough rail assignment but will shot to the lead with just the #2 and #8 to possibly content with early
#8 – Grecian Prince (5-1): Ultra-consistent runner gets favorite distance (10:2-4-1) but has been the beaten choice in last two; K. Davis will try what the injured T. McCarthy couldn't… win  
Race 9 is ON THE TURF
#6 – Lanier (6-1): $$$ LONGSHOT $$$ Is the most lightly raced on turf in this field (2:1-0-1) and both were sprinting; will be able to handle stretch out to two turns AND should be on a lone lead, dictating slow early fractions on a rock, hard turf course which held speed well yesterday
#7 – Forever in Love (2-1): Hard not to like this L. Rice runner who shipped into Lrl in Apr. to win a 3-way photo at this level; SHOW horse from that photo came back to win next outing
#8 – Ghost Bay (12-1): This MD-bred 5 y.o. has taken to the turf better than dirt; his deep closing style makes him vulnerable to a slow pace, which is likely here but third race after layoff makes him ready for a top effort  
Race 10
#5 – Fleet Flame (9-2): Exits turf try in her fourth start to return to dirt where she was victim to top local filly Faze the Nation; there are none of that caliber in here
#8 – Chamberlin Road (9-2): Only one fast, main track start resulted in fifth place effort but that was against MSW; was transferred to trainer C. Gonzalez after last start who is 20% with truf to dirt move
#7 – Love in Excess (10-1): Second time blinkers, third after layoff, turf to dirt is the trifecta of angles but trainer K. L. Deiter looking to get off the schnide (0 for 28 in '17)       
YESTERDAY'S NEWS  
On Saturday June 10th at Laurel had 7 winners from the 11-race card (5 Top Selections; payoff in BOLD) having $2 WIN pay-offs of $24.20 (1st race), $2.60 (2nd), $7.00 (3rd), $9.40 (4th), $33.60 (5th), $6.40 (9th) and $3.40 (10th). Of the suggested multi-race wagers hit the R1-R2 $2 DOUBLE for $64.00 (cost: $12) and the R3-R5 50 cent Pick-3 for $91.55 (cost: $13.50). Top Selections in 2017 are 165 for 615 (26.83%). In 2016, Top Selections were 304 for 1,213 (25.02%).
BEST BET of the Day (67: 22-15-13; in 2016 127: 31-29-19) Blame Me (3rd race: 5-1 M/L; 7-2 PT) was unhurried down the backstretch, angled out leaving the turn, was six deep into the lane, rallied to get up for the runner-up spot, a length behind the winner and returned $4.40 to PLACE and $2.60 to SHOW.
LONGSHOT PLAY of the Day (57: 7-8-10; in 2016 124: 13-13-16) Reilly S (1st race: 8-1 M/L; 11-1 PT) raced five deep leaving the backstretch, circled the turn, drifted in slightly near the three sixteenths pole, gained command approaching the eighth pole then drove clear to win by one length and returned $24.20 to WIN, $7.20 to PLACE and $3.40 to SHOW.