The GQ Approach – Laurel June 10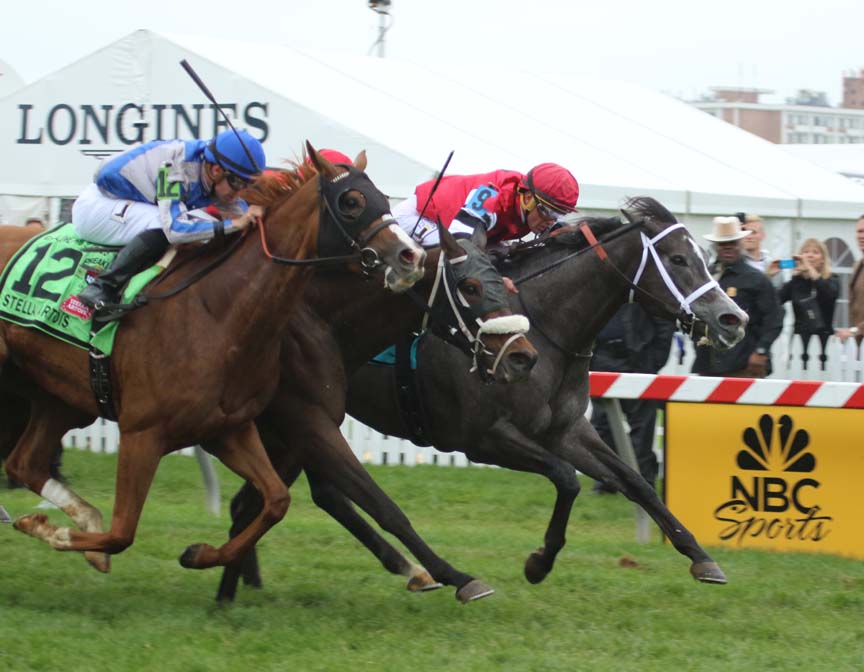 Mizz Money (#9) held off Vielsalm (in between) and Heath (#12) to win the Grade 3 Gallorette. Photo by Laurie Asseo.
The GQ Approach features full-card selections from Laurel Park for the live summer racing meet, Post Time 1:10pm EDT including a daily Best Bet, Longshot Play, and multi-race wagers — including the 20 cent Rainbow Pick-6, 50 cent Early and Late Pick-5s, as well as Pick-4s and rolling Doubles, Pick-3s and the Super High-5.

[su_box title="
Today's Carryovers
" style="glass" box_color="#66ADCC"]
Rainbow Pick 6: no carryover
Super High 5: no carryover
Late Pick 5: no carryover[/su_box]
[su_box title="GQ's Handicapping Tip of the Day" style="glass" box_color="#66ADCC"][stray-random][/su_box]
[su_box title="Best Bet of the Day" style="glass" box_color="#66ADCC"]Race 3 / #1 – Blame Me (5-1)[/su_box]
[su_box title="Longshot Play of the Day" style="glass" box_color="#66ADCC"] Race 1 / #10 – Reilly S (8-1)[/su_box]
[su_box title="
Multi-race Wagers
" style="glass" box_color="#66ADCC"]
Race 1: $2 DOUBLE   4, 5, 10  w/ 3, 5 ($12)
Race 3: $0.50 Pick-3  1, 4, 7  w/ 1, 4, 6  w/ 2, 5, 7 ($13.50)
Race 7: $0.50 Pick-5  1, 5  w/ 2, 5  w/ 2, 3, 6  w/ 2, 7  w/ 1, 12, 13 ($36)
Race 10: $2 DOUBLE   2, 5, 7  w/ 1, 12, 13 ($18)
[/su_box]
[su_heading size="21″ align="left"]Analysis[/su_heading]
Weather: Mostly Sunny; highs in the upper-80s
Scheduled Turf races: 1st, 4th, 6th, 8th and 10th
Projected track conditions… Main: FAST; Turf: FIRM
Post Time for 1st race is 12:35pm EDT
Race 1 is ON THE TURF
#10 – Reilly S (8-1): $$$ LONGSHOT $$$ This Capper had a bird's eye view of her debut when she was making a furious rally up the rail, got spooked by a drifting rival in front of her and tried to jump the rail; that was a year ago and trainer A. Merryman is a turf sprint specialist who will have this one ready for a top effort
 #4 – D.K.'s Valentine (8-1): Didn't have the cleanest of trips in turf debut last month v. $25kMCL; this daughter of Cape Blanco with a better trip v. weaker will be in the mix
 #5 – Rescue Cat (4-1): Found out in latest she's not cut out to go two turns on the turf; look for a similar effort from two back  
Race 2
#5 – Miss Swisher (8-5): This field is filled with early speed but she's not one of them; hence look for her to make amends for being beaten favorite v. $16kN3L and get up in the final strides
#3 – Friesan Flyer (2-1): Draw a line through the turf outing and she's right there with top pick who she finished just a neck behind in first shot at N3L
#6 – Gloria Patri (7-2): This gal went south in a hurry; went from winning OC$25k in Jan. to stopping on a dime while losing by double-digits in past three outings v. better; will get act together… one day, maybe today       
Race 3
#1 – Blame Me (5-1): *** BEST BET *** Third race after layoff as previous two were sprinting which is not his wheelhouse; gets a more favorable distance and a group of foes who will be trading punches early on; he's 4 for 8 at lovely Lrl
#7 – Dazzling Okie (4-1): Makes first start after trainer L. Gaudet claim (23%) who will give a leg up to her "go to" rider A. Cruz; like the confidence putting this one in at a highest level while out of jail
#4 – Tequesta Storm (6-1): Yes, this one hasn't hit the board in 3 dirt, fast track starts as he has made a living on turf but his best dirt BRIS# isn't horrible and the drop in class will make him a player here
Race 4 is ON THE TURF
#4 – Mysideofthestreet (3-1): If you are willing to forgive that 32-length loss on a sloppy Bel surface in latest which looks a lot like her debut, then she's the likely winner based on her turf try here two back
#6 – Mesmerize (7-2): Best races have been on the lawn sprinting (3:0-1-1) but at some point she needs to become a racehorse and put together a winning effort; beaten favorite gets new pilot
#1 – Jax (5-2): Vulnerable ML favorite because if trainer L. Rice cannot get this one to Winners' Circle v. cheaper, will the new barn be able to find out what makes this filly tick?     
Race 5
#2 – Littlemissperfect (5-1): At first glance at her PP's there's a lot of turf recently with just 2 bad dirt effort but they were in minor stakes; she's decent on the dirt (17:6-2-3) and attracts V. Carrasco to ride
#7 – Persnickity (7-2): Beaten favorite in turf sprint after a rough start; 7 panels may be a bit too far but she has been bridesmaid in only two tries at the distance
#5 – Scip's Sonata (12-1): 7 y.o. mare appears to have lost a few steps as she's been drubbed by much better (Shimmering Aspen) when 63-1; should find this group easier to compete against      
Race 6 is ON THE TURF
#4 – Zapata (7-2): Stamina has been an issue lately for this 1 for 22 gelding though the one win came at this distance and surface; first start for trainer who has been known to build stamina in a runner with "Cheap Speed" overnight
#8 – A True Gentleman (8-1): Got a rude welcome to life against winners at Pim while taking the overland route on the turn; comes right back at same level but cut back in distance will help chances
#6 – Storm Candy (10-1): This "Closing Sprinter" will have plenty foes in here willing to set a torrid early pace; exits a race where top 3 all came back to win next outing      
Race 7
#5 – Orbit (5-2): Been away from the races since last Nov. so connections take advantage of Waiver Claiming Rule to protect this gelding; has back class and works indicate he's ready to win
#1 – Fairy Cat (3-1): Fought the jock early in latest but still gave a top effort coming up a neck short at this same level; will need to overcome rail assignment
#4 – It's a Bang (6-1): Twice the beaten favorite so trainer W. Potts gives 7 lb. bug K. Francois a shot to make a winner out of this gelding; being back at Lrl might help as well (17:3-0-2)  
Race 8 is ON THE TURF
#5 – Best Yes (2-1): Catches a soft state bred/sired bunch who 7 of the 9 rivals are eligible for N2L but also lack early speed; look for a gate-to-wire effort from this gelding who loves the Lrl lawn (4:3-0-1)
#2 – Good Reasoning (6-1): Broke maiden easily in fourth career start, first with Lasix though in slop but also after a 7-month layoff; must respect G. Motion/E. Prado duo on grass
#4 – Tempt Me Twice (8-1): Has been more of a sprinter v. two turns on turf but third start after layoff and change in running style from early speed to stalking might help with stamina  
Race 9
#3 – Momma Doolittle (9-2): Interesting that J. Toledo elected to ride this one v. #10; broken maiden easily at bottom of barrel then stopped when trying turf first time in v. winners
#2 – Love You Back (3-1): BRIS#s have been climbing and makes first start after K. Magee claim (24%) but coming from L. Jones barn and not able to win on steep drop makes are vulnerable
#6 – Star Touch (7-2): Second time blinkers angle in play here; gets K. Gomez back in the irons who has gotten trainer L. Gaudet's runners to Winners Circle 28% of the time    
Race 10 is ON THE TURF
#2 – Gone Away (9-5): Besides boasting best turf BRIS# which continue to climb will get the needed honest pace to kick into high gear in deep stretch; after just 9 starts she's already earned black-type (SHOWed in G3 turf event Feb. '16)
#7 – Conscription (6-1): Was chilly on the board (23-1) when in v. a salty group on BES Day; reunites w/ A. Cruz who guided this gal to a win and two runner-up finishes at Tam this winter
#5 – Secret Or Not (15-1): Turf runner made successful return to races last month w/ nose victory when bet down to the PT favorite; should be able to draft in behind the #1 and #3 early to get first run entering stretch       
Race 11 is ON THE TURF
#12 – Redeeming Factor (4-1): Veteran jock S. Russell takes over for bug who did well to rally this filly in both career starts but ran out of real estate; second start w/ blinkers often yields better results
  #1 – Wedgewood Blue (15-1): Lone start came last Nov. and on the turf which didn't go well (10th by 15); went back to drawing board and now makes second debut after getting plenty of practice in the A.M.
#13 – Nancy R (9-2): Physically looks like she should be able to compete at a higher level but the education continues; first start after P. Schoenthal claim (27%) on the drop (50%) for an owner who simply wants to win; might be claimed for third race in a row
Belmont Race 11 is the BELMONT STAKES
#12 – Patch (12-1): Other than #11 (Epicharis who has been dealing with lameness issues) this colt is the only one bred to get the classic distance; his daddy (Union Rags) won this event as did his maternal grandsire (A. P. Indy); the KY Derby is a toss other than furthering his education; T. Pletcher/J. Velazquez team-up for bookend Triple Crown race wins
#7 – Irish War Cry (7-2): A Jekyll & Hyde runner if there ever was one; sitting on a "good race" if you believe in the good race, bad race pattern; should get a nice stalking trip behind #1 (Twisted Tom) and #9 (Meantime) and prove to be the best IF he brings his A Game
#2 – Tapwrit (6-1): Was one of many roughed up at the start of the KY Derby and wasn't fully cranked up in Blue Grass as he already had a spot in the Derby; hoping J. Ortiz will use home track to his advantage as this event appears to be a "riders race"; if he gets his gray colt more forwardly placed early to get a rail trip behind the leaders, he could finally justify the $1.2 million purchase price as a yearling       
YESTERDAY'S NEWS  
On Friday June 9th at Laurel had 7 winners from the 10-race card (5 Top Selections; payoff in BOLD) having $2 WIN pay-offs of $3.80 (1st race), $3.80 (2nd), $6.00 (4th), $5.60 (6th), $13.00 (7th), $4.40 (8th) and $5.60 (10th). Of the suggested multi-race wagers hit the R1-R2 $2 DOUBLE for $10.20 (cost: $12). Top Selections in 2017 are 160 for 604 (26.49%). In 2016, Top Selections were 304 for 1,213 (25.02%).
BEST BET of the Day (66: 22-14-13; in 2016 127: 31-29-19) Liberty Lane (6th race: 3-1 M/L; 9-5 PT)    was nudged to the front, angled in and secured the rail into the first turn, was nicely rated while handling some outside pressure, kicked away from CAPTAIN ALEX leaving the quarter pole, responded when put to a drive soon after, opened up in mid-stretch, maintained a comfortable advantage while kept to task and returned $5.60 to WIN, $3.40 to PLACE and $2.80 to SHOW.
LONGSHOT PLAY of the Day (56: 6-8-10; in 2016 124: 13-13-16) Head Games (9th race: 8-1 M/L; 7-2 PT) four deep turning for home, had aim on the lead in mid-stretch then flattened out settling for third and returned $5.00 to SHOW.