The GQ Approach – Laurel June 9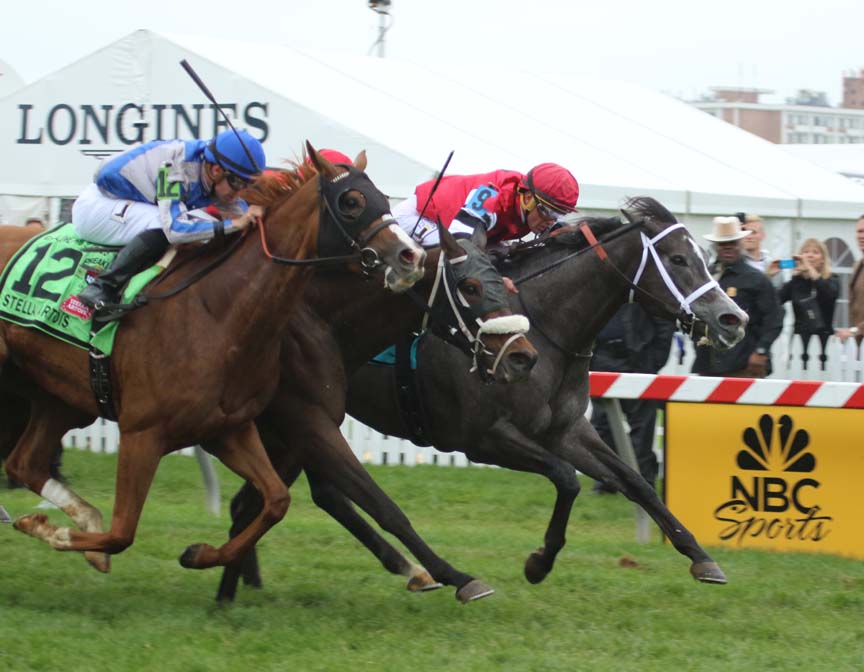 Mizz Money (#9) held off Vielsalm (in between) and Heath (#12) to win the Grade 3 Gallorette. Photo by Laurie Asseo.
The GQ Approach features full-card selections from Laurel Park for the live summer racing meet, Post Time 1:10pm EDT including a daily Best Bet, Longshot Play, and multi-race wagers — including the 20 cent Rainbow Pick-6, 50 cent Early and Late Pick-5s, as well as Pick-4s and rolling Doubles, Pick-3s and the Super High-5.

[su_box title="
Today's Carryovers
" style="glass" box_color="#66ADCC"]
Rainbow Pick 6: no carryover
Super High 5: no carryover
Late Pick 5: no carryover[/su_box]
[su_box title="GQ's Handicapping Tip of the Day" style="glass" box_color="#66ADCC"][stray-random][/su_box]
[su_box title="Best Bet of the Day" style="glass" box_color="#66ADCC"]Race 6 / #3 – Liberty Lane (3-1)[/su_box]
[su_box title="Longshot Play of the Day" style="glass" box_color="#66ADCC"] Race 9 / #7 – Head Games (8-1)[/su_box]
[su_box title="
Multi-race Wagers
" style="glass" box_color="#66ADCC"]
Race 1: $2 DOUBLE 1, 2, 8 w/ 1, 7 ($12)
Race 3: $0.50 Pick-3 1, 4, 8 w/ 2, 4, 5 w/ 1, 2, 6 ($13.50)
Race 6: $0.50 Pick-5 3 w/ 1, 4, 6 w/ 1, 3, 4 w/ 7, 8 w/ 1, 6, 9 ($27)
Race 9: $2 DOUBLE 7, 8 w/ 1, 6, 9 ($12)
[/su_box]
[su_heading size="21″ align="left"]Analysis[/su_heading]
Weather: Mostly Sunny; highs in the mid-70s
Scheduled Turf races: 1st, 3rd, 5th, 7th and 9th
Projected track conditions… Main: FAST; Turf: FIRM
Post Time for 1st race is 1:10pm EDT
Race 1 is ON THE TURF
#1 – Tightly Bridled (9-5): POE entry but mate is likely scratch being 6th on AE List; this gelding has burnt tons of bettors cash being beaten favorite 5rimes in his past 9 starts, makes first start of '17 and work tab indicates he's fit
#2 – Champions Dinner (10-1): Tough rail assignment but apprentice J. Miller usually gets them quick form the gate and should like the chance to prove this one worthy of blossoming on the turf
#8 – Credit Ready (20-1): Lost all chance in latest when A. Cortez lost irons early; prior to that had been a presence early in all previous turf sprints including maiden win over the speedy Tiger Bop (#6)
Race 2
#1/1A – Romia/Simoneta (3-1): Appears to be a tough duo in this baby race as both have more combined starts than the rest of this field in which no potential superstars seem will emerge
#7 – She Runs Hot (10-1): Lost both starts by double-digits but showed some early foot in last effort with blinkers on, so expect improvement here
#9 – Not Leaving (7-2): One of six FTS fillies in here; by Bellamy Road out of an Empire Maker mare hails from a barn who can get them ready at first asking
Race 3 is ON THE TURF
#4 – Yay You (3-1): Huge effort in debut when 15-1 but lost a 4-way photo for the win after gaining a slight advantage in mid-stretch; J. Toledo takes over for the injured T. McCarthy
#1 – Noble House (5-2): Home-bred FTS for connections who known for turf runners appear to have a quick gelded son of Malibu Moon out of a multiple-stakes winning Storm Cat mare (Sky Storm) who won debut on then synthetic Kee strip
#8 – Early Grey (6-1): Makes 6th career start, first since last Oct., won debut but was DQ'd yet still went onto face winners in allowance and restricted stakes in next five
Race 4
#2 – Vision of Green (1-2): 0 for 8 at the distance but he Morning Line indicates just how weak his foes are; a best of the rest runner-up effort in most recent and this is third start after layoff
#5 – Flatter's Secret (8-1): Claimed 6 weeks ago in first start in since last June and wasn't ready for racing; hoping new barn took time to get her right and realistically spots her; 5 for 8 at Lrl
#4 – Harbor Breeze (4-1): This 9 y.o. was reclaimed by connections who had her in better times; will need a "Magic" Magee-type reversal in form to get win here but being back at Lrl (6:3-0-2) should help
Race 5 is ON THE TURF
#1/1A – Argot/Indian Bucks (7-2): Fresh off suspension, trainer J. Ness looks to get back into the Winners Circle as either of these can get the job done; both won their most recent turf sprint v. similar
#6 – Classic Salsa (10-1): Second start after trainer L. Gaudet claim (30% on this angle) gets first start on turf in 33rd career start; won and SHOWed in only two starts on synthetic which typically indicates ability to handle turf
#2 – Against the Win (6-1): Third start since layoff ran closely behind two different foes in here while not behaving very professionally (didn't change leads and rank); should be able to close into anticipated quick fractions
Race 6
#3 – Liberty Lane (3-1): *** BEST BET *** 3 y.o. gelding became a much better runner by simply escaping FG; whatever trainer L. Jones did he'll surely keep doing it; stretch out to two turns will be no issue per bloodlines
#6 – So Quiet (4-1): Trainer R. Jenkins either discovered what makes this gelding tick during the 7-month layoff or did the off track assist those two huge efforts? We'll find out on today's fast track
#4 – Jensen (8-5): Beaten favorite at this level on turf in first start after claim; return to dirt gives better chance to make amends; bullet in lone workout since last race
Race 7 is ON THE TURF
#4 – Summer Frock (7-2): First start since Thanksgiving win as this filly prefers the turf; jock K. Gomez has quietly become one of the better turf riders on the MD circuit
#6 – Hug a Tree (3-1): Won '17 debut in an off the track sprint at this level and has always shown up in these turf Starter events; having A. Cintron in the irons is a plus
#1 – Charm City (6-1): Can boast the best career turf BRIS# at this distance; will need a quick pace to unleash typical late burst to catch leg-weary foes
Race 8
#1/1A – Hadeea/Honor Commitment (7-2): #1 has struggled to adjust to new barn while having back class yet #1A continues to get the job done at this level being part of Exacta in all 7 tries at this distance
#4 – Saturday Sunshine (5-2): Never OTB on a fast track (5:2-1-2); BRIS# continue to rise as this is where he'll likely run out of conditions; clicking on all cylinders right now
#3 – Turbin (8-1): There's enough early speed in this contest to give this Closer a chance to pick up a minor share if not get to the Winners Circle
Race 9 is ON THE TURF
#7 – Head Games (8-1): $$$ LONGSHOT $$$ Hard to imagine getting more than 4-1 on this filly considering E. Prado stays aboard for G. Motion after a sub-par off the turf performance; third start after layoff and two turns on turf should make a world of difference
#8 – Capucine (5-1): Fine runner-up effort in first start since last Oct.; if trainer M. Milosevic finds a cure for this filly's "Seconditis", this could be the day she gets to wire first for the second time
#6 – Baltimore Street (7-2): Game pair of turf sprints when bloodlines are far from turf royalty nor two turns but 'The Block" could surprise in a gate-to-wire score in this contest that lacks early speed
Race 10 is ON THE TURF
#6 – Marie From Parie (3-1): She's actually a MD-bred who is not turf bred but nobody told her that as after a poor start and then encountering traffic still managed to finish just 2½ behind the winner in her debut
#9 – Aine (5-1): Last start was one year ago to the day; couldn't handle two turns on turf but showed nice late interest sprinting in debut v. MSW company; nice work tab leading up to return
#1 – Rosetta Red (8-1): Was well backed in debut (4-1) even when event came off the turf but she just didn't fire; gets turf for second career try but again breaks from the rail
YESTERDAY'S NEWS
On Monday May 29th Closing Day at Pimlico had 6 winners from the 9-race card (2 Top Selections; payoff in BOLD) having $2 WIN pay-offs of $7.60 (2nd race), $6.00 (3rd), $5.80 (5th), $7.20 (6th), $13.20 (7th) and $3.20 (8th). Top Selections in 2017 are 155 for 594 (26.09%). In 2016, Top Selections were 304 for 1,213 (25.02%).
BEST BET of the Day (65: 21-14-13; in 2016 127: 31-29-19) Unaquoi (7th race: 4-1 M/L; 5-1 PT) saved ground around the turn setting a pressured pace, drifted out a bit turning for home, was under brisk urging in the drive, dropped his whip in deep stretch but still prevailed by a neck and returned $13.20 to WIN, $4.20 to PLACE and $3.60 to SHOW.
LONGSHOT PLAY of the Day (55: 6-8-9; in 2016 124: 13-13-16) Risky Guy (4th race: 8-1 M/L; 11-1 PT) chased the pace off the inside, moved up a bit mid turn, angled out but lacked the needed rally and finished 4th.