The GQ Approach – Pimlico May 29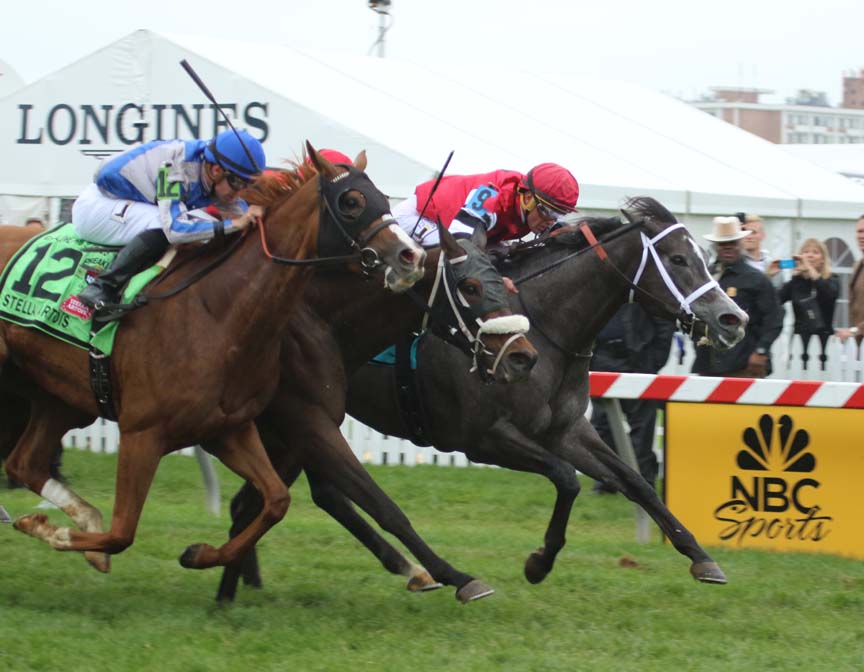 Mizz Money (#9) held off Vielsalm (in between) and Heath (#12) to win the Grade 3 Gallorette. Photo by Laurie Asseo.
The GQ Approach features full-card selections from Pimlico for the 12-day live racing meet, Post Time 1:10pm EDT including a daily Best Bet, Longshot Play, and multi-race wagers — including the 20 cent Rainbow Pick-6, 50 cent Early and Late Pick-5s, as well as Pick-4s and rolling Doubles, Pick-3s and the Super High-5.

[su_box title="
Today's Carryovers
" style="glass" box_color="#66ADCC"]
Rainbow Pick 6: $885.87 (MANDATORY PAYOUT)
Super High 5: no carryover
Late Pick 5: no carryover[/su_box]
[su_box title="GQ's Handicapping Tip of the Day" style="glass" box_color="#66ADCC"][stray-random][/su_box]
[su_box title="Best Bet of the Day" style="glass" box_color="#66ADCC"]Race 7 / #4 – Unaquoi (4-1)[/su_box]
[su_box title="Longshot Play of the Day" style="glass" box_color="#66ADCC"] Race 4 / #3 – Risky Guy (8-1)[/su_box]
[su_box title="
Multi-race Wagers
" style="glass" box_color="#66ADCC"]
Race 1: $2 DOUBLE   2, 4, 6  w/ 1, 7 ($12)
Race 3: $0.50 Pick-3  4, 5, 10  w/ 1, 3, 7  w/ 3, 9, 10 ($13.50)
Race 6: $0.50 Pick-5  1, 4  w/ 5, 6, 9  w/ 6, 5, 7  w/ 6  w/ 5, 10 ($18)
Race 9: $2 DOUBLE   6, 7  w/ 5, 10 ($8)
[/su_box]
[su_heading size="21″ align="left"]Analysis[/su_heading]
Weather: Mostly Cloudy; highs in the mid-70s
Scheduled Turf races: 3rd, 5th, 7th and 9th
Projected track conditions… Main: FAST; Turf: GOOD
Post Time for 1st race is 1:10pm EDT
Race 1
#4 – Enduring Warrior (6-1): Barr trainee has a pair of runner-up efforts against similar, might sit the winning trip off speedy types here; only runner to run back from last won against lesser
#6 – Awesome Type (2-1): Speedster figures to be in the early pace battle but likely to get plenty of pressure; has competed vs. similar but working on a five-race losing streak, twice as the favorite
#2 – Fast Talk (6-1): Most lightly raced runner here has been compromised by rough starts last two while chasing better than these; like to see Russell stay aboard
Race 2
#7 – Macroeconomics (3-1): Consistent sort found the range last out when dropped to lowest level yet; sixth-place finisher from last won next outing
#1 – Whatifiwaswilling (5-2): Foray into allowance company was a mess but I two prior starts this Wilburn filly cleaned up against low-level claimers; F. Boyce back in the irons
#2 – No More Excuses (2-1): Risky move for trainer K. Magee claiming a 4 ½ furlong specialist from CT
Race 3 is ON THE TURF
 #5 – Paper Dollie (5-2): Seasonal debut for a runner who has faced better; owns a win over the Pim lawn with today's jock, The X-Man aboard
#4 – Fortuitous (20-1): First turf try in 30thd career start for a mare whose dam was stakes-placed on the lawn… so what took so long?!
#10 – Southern Peach (9-5): K. Leatherbury trainer bested similar in last outing but is 0 for 3 on Pim grass; should get necessary quick early pace to be heard from late   
Race 4
#3 – Risky Guy (8-1): $$$ LONGSHOT $$$ Is in need of a hot pace and should get it with #2, #4 and #7 vying for the lead; a stalking trip in this open claimer will be easier than the Starter Alw events his been part of most of this year
#4 – Hey Willie (6-1): Will have company on the front end but might be the one who can shake off rivals early and still have enough left in the tank to fend off the Closers
#6 – Never Stop Looking (7-2): Consistent 8-year-old has been part of Exacta in last three outings at this $15k open claiming level; uncoupled C. Gonzalez entry (w/ #4) is a 1-2 punch that could finish 1-2     
Race 5 is ON THE TURF
#9 – Just Howard (3-1): Trainer G. Motion has chance to capture Pim meet trainers title as this colt is 1 of 2 he has on the card but this turf event is a tough MSW one with no pansies; this 3-time beaten favorite does boast a lofty 93 BRIS# which if duplicated here should be enough to graduate
#6 – Pollock (7-2): Triple Crown series nominee from Zayat Stables has yet to hit the board in three career dirt races at GP, Aqu & Bel against plenty of next out winners; switches to turf, adds blinkers and gets HOF E. Prado in the irons
#4 – Cent Comm (15-1): '17 debut was off the turf, encountered traffic yet still earned best BRIS# of 4 race career; jock switch and back on turf gives this veteran MSW runner a chance at a price      
Race 6
#7 – Smiling Causeway (5-2): KY-bred FTS by Giant's Causeway out of a Cahill Road mare cost a cool $400k as a weanling; trainer A. Delacour better known for turf runners appears to have a nice dirt runner on his hands based on scattered bullets in the A.M.
#5 – Home Again (2-1): Home/KY-bred FTS by Speightstown out of an A.P. Indy mare has an extensive, evenly spaced work pattern that indicates she is finally ready to strut her stuff in the afternoon for trainer B. Mott
#4 – She's Achance Too (7-2): Very talented filly (5:0-3-2) just hasn't mustered enough courage to pass all rivals; maybe today is the day but in with a tough group yet again     
Race 7 is ON THE TURF
#4 – Unaquoi (4-1): *** BEST BET *** Key here is getting K. Gomez back in the irons who has quietly become a nice turf rider; he took this one gate-to-wire at Lrl last Fall in her turf debut; thinking it will be Déjà vu today
#2 – Mathildestrevenue (6-1): Well backed in both Tam starts on the turf at this 5f distance did better in second start to earn diploma when dropped in for $25kMCL; speed figure was good enough to be considered in here as long as she takes another step forward
#7 – Athena's Angel (3-1): All six career efforts (6:1-1-0) have been on the grass but this is first start since trainer G. Motion took over; just second start of '17 but first w/ HOF E. Prado aboard  
Race 8
#3 – Lucky in Malibu (7-2): Third start after layoff exits turf sprint showing late interest as she has done on dirt; her future may be as a sprinter and this event could serve as her launching pad
#2 – Ascertain (7-5): This gal might be the only MD-bred that Juddmonte Farms has ever owned or in quite some time; did well starting career at GP (3:1-0-2) now comes to the Land of Pleasant Living to take advantage of 30% bonus for MD-breds; third to a couple very nice fillies in latest
#5 – Future Show (5-1): Beaten favorite takes the hood off for not only first dirt try in ninth career start but first sprint as well; a real head-scratcher move by Sagamore Farm but one worth backing based on their on track success  
Race 9 is ON THE TURF
#3 – Fifty West (5-1): Horrendous start in debut going two turns but showed a lot of heart to be second best; no necessarily breed for the grass but should be able to handle it and based on education in debut, step up should not take a giant leap to earn diploma v. this group
#11 – Huracan (15-1): NY shipper for trainer J. Lawrence who does well on multi-level class drops (3 for 6); still no Lasix for this Tizway maiden trying the turf for first time in ninth career start
#1 – Suroyant (20-1): Lost only two starts by a combined 66-lengths but those were on the dirt; this MD-bred has tons of turf in his lineage and drops from $25k to $16kMCL against a group who have struggled at this level; potential to blow-up exotics and close out the 12-day Old Hilltop meet with a bang!    
YESTERDAY'S NEWS  
On Sunday May 28th at Pimlico had 6 winners from the 10-race card (2 Top Selections; payoff in BOLD) having $2 WIN pay-offs of $6.20 (4th race), $10.40 (5th), $5.60 (7th), $10.60 (8th), $7.40 (9th) and $4.80 (10th). Of the suggested multi-race wagers hit the R9-R10 $2 DOUBLE for $32.00 (cost: $8). Top Selections in 2017 are 153 for 585 (26.15%). In 2016, Top Selections were 304 for 1,213 (25.02%).
BEST BET of the Day (64: 20-14-13; in 2016 127: 31-29-19) Immunity (3rd race: 3-1 M/L; 5-2 PT) three deep on the first turn, worked between horses turning for home, was taken to the five path for clear sailing in upper stretch, raced on his left lead, was up late to win by three-quarters of a length and returned $7.40 to WIN, $3.80 to PLACE and $3.20 to SHOW.
LONGSHOT PLAY of the Day (54: 6-8-9; in 2016 124: 13-13-16) R Lucifer (4th race: 10-1 M/L; 12-1 PT) away slow and lagged far behind then rallied in the lane to pass tiring rivals to get up for 4th.