The GQ Approach – Pimlico May 28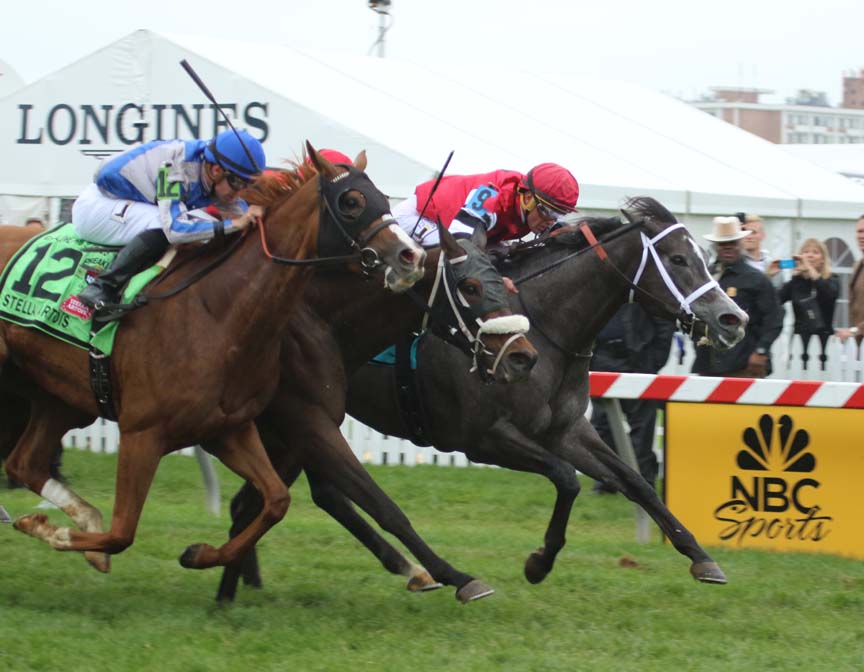 Mizz Money (#9) held off Vielsalm (in between) and Heath (#12) to win the Grade 3 Gallorette. Photo by Laurie Asseo.
The GQ Approach features full-card selections from Pimlico for the 12-day live racing meet, Post Time 1:10pm EDT including a daily Best Bet, Longshot Play, and multi-race wagers — including the 20 cent Rainbow Pick-6, 50 cent Early and Late Pick-5s, as well as Pick-4s and rolling Doubles, Pick-3s and the Super High-5.

[su_box title="
Today's Carryovers
" style="glass" box_color="#66ADCC"]
Rainbow Pick 6: no carryover
Super High 5: $3,009.53
Late Pick 5: no carryover[/su_box]
[su_box title="GQ's Handicapping Tip of the Day" style="glass" box_color="#66ADCC"][stray-random][/su_box]
[su_box title="Best Bet of the Day" style="glass" box_color="#66ADCC"]Race 9 / #6 – Immunity (3-1)[/su_box]
[su_box title="Longshot Play of the Day" style="glass" box_color="#66ADCC"] Race 4 / #7 – R Lucifer (10-1)[/su_box]
[su_box title="
Multi-race Wagers
" style="glass" box_color="#66ADCC"]
Race 1: $2 DOUBLE   1, 4, 7  w/ 2, 3 ($12)
Race 3: $0.50 Pick-3  1, 5, 10  w/ 1, 3, 7  w/ 3, 9, 10 ($13.50)
Race 6: $0.50 Pick-5  1, 4  w/ 5, 6, 9  w/ 6, 5, 7  w/ 6  w/ 5, 10 ($18)
Race 9: $2 DOUBLE   6, 7  w/ 5, 10 ($8)
[/su_box]
[su_heading size="21″ align="left"]Analysis[/su_heading]
Weather: Mostly Cloudy; highs in the mid-70s
Scheduled Turf races: 1st, 3rd, 5th, 7th, 9th and 10th
Projected track conditions… Main: FAST; Turf: FIRM
Post Time for 1st race is 1:10pm EDT
Race 1 is ON THE TURF
 #4 – Ruth Less Blue (4-1): Been scratched a couple times recently when off the turf; just last year was facing much better in a few starts on turf and synthetic at WO
 #7 – Baduke (8-1): Hard to gauge where this colt's class lies on grass as the speed figures are adequate with this bunch though has just one ITM (Show) finish on turf in 5 starts
#14 – Noble Prince (5-2): Speed of the speed is sits on AE List needing one scratch; if he doesn't draw in give a long look to CT shipper #1 – C. D. Jammin (15-1) who has enough grass through his bloodlines to handle the turf in first go on it  
Race 2
#3 – Rarified Air (5-2): Beaten favorite in latest as he finished 4-lengths behind #4 but lost any shot when stumbling, bumped and shuffled back at the start in the slop
#2 – King of Night (7-2): Lone sprint came in debut at GP for $50kMCL chasing 5 foes in vain then showed speed in both MSW two turn races prior to fading late; class relief and back to sprint should yield a better result
#6 – Voodoo Mission (10-1): NY-bred FTS by Mission Impazible out of a Closing Argument mare was a Top Hat Thoroughbred $11k purchase at TIM 2-year-olds in training sale; connections usually send them out ready to score and jock J. Miller will likely hustle this gray quickly from the gate                
Race 3 is ON THE TURF
#10 – On a Toot (7-2): KY-bred FTS by hot sire Into Mischief out of a Distorted Humor mare was a $320k yearling purchase at Kee by Lael Stables who love turf runners; a perfect worktab to win at first asking
 #1 – Photographer (3-1): NY-bred War Front filly out of a Chester House mare cost $570k at Sar yearling sale hails from Glen Hill Farm for trainer T. Proctor; 3 bullets at Fai conclude prep work for debut
 #5 – Natural Notion (15-1): Needed nearly 6-months off after five failed attempts to graduate when 2, but was bridesmaid to Shimmering Aspen after a whisker behind Dancing Rags in debut, the latter her only turf try; adds blinkers in '17 debut  
Race 4
#7 – R Lucifer (10-1): $$$ LONGSHOT $$$ Willing to chalk up the stretch out to one mile while stepping up a level to a shot in the dark that didn't work; comes back to sprint and level where he makes one big run like previous two that resulted in runner-up finishes
#1 – Go Bo Go (8-1): Has ability to gun to early lead from the rail and should as does most C. Gonzalez runners off a claim; first start for barn last time was in jail and against much better
#3 – Adversary (7-2): Spent the winter in GP to successfully graduate w/ longtime jock A. Delgado aboard; had "elective surgery" (aka gelded) prior to returning north; expect early speed and hopefully staying power for the 5½ furlongs w/ The X-Man in the irons                
Race 5 is ON THE TURF
 #9 – Rhythm Blues (4-1): Had a rough trip late after making a furious rally on yielding Lrl turf and was rewarded PLACE purse; additional 1/16thd can make him a winner v. this group
#10 – Appa (7-2): This field lacks a true "need the lead" type so this capper believes H. Karamanos will take advantage and hustle this gelding to the lead from outside post, hoping to walk the dog through soft fractions
 #3 – Crimson Hayes (4-1): Trainer K. Nations claimed this chestnut in last of 7 races during the winter at Tam; brought him north to Del and the two works should have him primed for a top effort             
Race 6
#1/1A – Go Magician Go/Isabella Rocks (7-2): Same owner, different trainers; both make third career start and are threats to go 1-2 if both run
#4 – Heaven's Door (7-2): Drops to lowest level in 11th career start while showing up for every race (10:1-3-4)may behoove jock to go for early lead
#2 – Sweethearted (3-1): Trainer G. Capuano not that strong coming off long layoff (7%) but the turf-to-dirt move is attractive (28%); like the gate move to get more speed early for this sprint  
Race 7 is ON THE TURF
#6 – Tradfest (5-2): Rice with H. Karamanos in the saddle are 31 for 62 over the past year… enough said?! Failed last time as 4-5 PT favorite when washed off turf
#7 – Argot (8-5): Could turn out to be a prudent $20k claim for Jagger, Inc. (aka Ness & Co.) if they can get the early speed back in him in first start for barn; runner-up to a very quick runner
#9 – Cooper's Marck (12-1): Pen-based runner for a 28% trainer who will give a leg up to regular rider (T. Conner) makes turf debut; ya gotta figure he uses his natural speed to get to the front and hope to hold off the late comers  
Race 8
#6 – Clubman (6-5): Runner-up to Victory Chimes who came back to win on yesterday's card; three-time loser as Post Time favorite at some point needs to put on his big boy pants and win
#7 – Happy Farm (4-1): Nice debut when third, 4-lengths behind top pick; one would think there will be improvement after the education; Sagamore Farm expects runners to be successful
#5 – Leather Goods (8-1): The barn didn't think much of this geldings chances in debut on the grass (33-1) and they were correct (8th) but did show late interest; switches to dirt and trainer "Hammy" Smith gets 29% of MSW to MCL runners to Winners Circle  
Race 9 is ON THE TURF
#6 – Immunity (3-1): *** BEST BET *** Beaten favorite in latest but was hampered by traffic at the ½ pole which was first start of '17; there should be an honest pace to give him every opportunity to redeem himself and exit this contest a two-time winner
#7 – Raise the Mast (8-1): Makes fifth career start and first on turf; with Cozzene and Stormy Atlantic on top & bottom, respectively, this T. Beattie trainee should be prominent early with a chance to go gate-to-wire
#11 – Galaxy Express (15-1): Has hit the board in 4 for 7 starts; OTB both turf outings but those were in minor stakes events… none of that caliber in here as trainer Carla Morgan looks to end 0 for 14 in '17    
Race 10 is ON THE TURF
#10 – King of the Jungle (3-1): Bred to run on the turf (by Gio Ponti out of a Polish Numbers mare) but sprinted on dirt in debut at Tam (6th by 17) showing brief early speed on Feb. 1 in $50kMCL; trainer A. Delacour regrouped and reevaluated previous expectations as home-bred drops to $16k
#5 – Rahrahrah (9-5): Appears to have found level, surface and distance in which he'll eventually get first win; should be today after losing 3-way head-bob on Tam turf in most recent try
 #4 – I Got Class (20-1): Hasn't been ITM in twelve career starts but twice 4th from four on the turf; A. Serpa returns after being aboard in '17 debut sprinting on turf while outrun but must have been the plan coming back to go two turns as in the three previous turf tries       
YESTERDAY'S NEWS  
On Saturday May 27th at Pimlico had just 4 winners from the 10-race card (2 Top Selections; payoff in BOLD) having $2 WIN pay-offs of $13.20 (1st race), $4.40 (2nd), $3.80 (4th) and $6.80 (9th). Top Selections in 2017 are 151 for 575 (26.26%). In 2016, Top Selections were 304 for 1,213 (25.02%).
BEST BET of the Day (63: 19-14-13; in 2016 127: 31-29-19) Struth (9th race: 3-1 M/L; 2-1 PT) in hand behind horses when eager to run leaving the backstretch, moved up in the three path between horses on the turn, secured command in upper stretch, eagerly pulled away under energetic urging and switched to his left lead late while drawing off to win easily and returned $6.80 to WIN, $4.00 to PLACE and $3.00 to SHOW.
LONGSHOT PLAY of the Day (54: 6-8-9; in 2016 124: 13-13-16) Rescue Cat (6th race: 6-1 M/L; 5-2 PT) dueled outside a rival, briefly moved clear after six furlongs, could not contain the onslaught soon after, faltered in the final furlong and finished 9th.