The GQ Approach – Pimlico May 27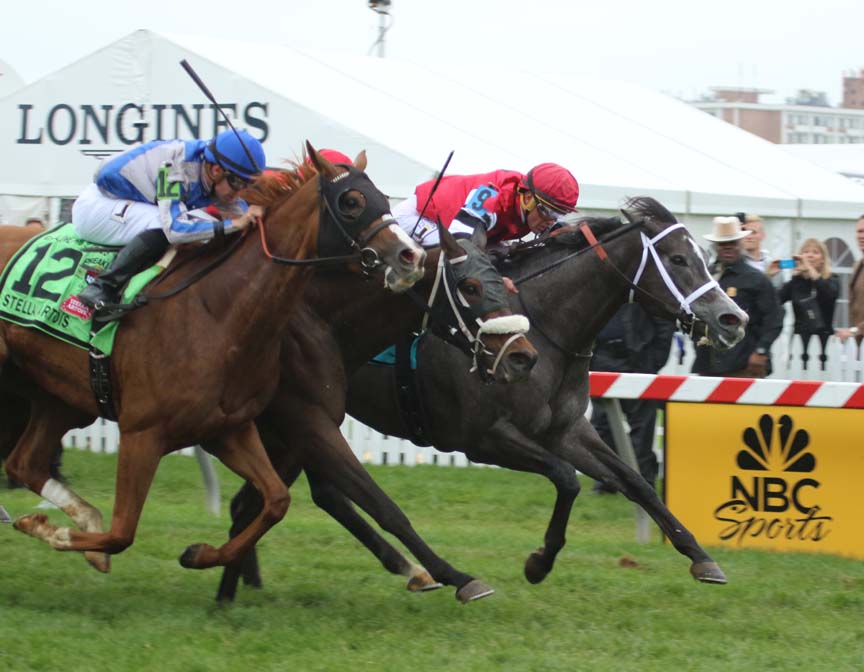 Mizz Money (#9) held off Vielsalm (in between) and Heath (#12) to win the Grade 3 Gallorette. Photo by Laurie Asseo.
The GQ Approach features full-card selections from Pimlico for the 12-day live racing meet, Post Time 1:10pm EDT including a daily Best Bet, Longshot Play, and multi-race wagers — including the 20 cent Rainbow Pick-6, 50 cent Early and Late Pick-5s, as well as Pick-4s and rolling Doubles, Pick-3s and the Super High-5.

[su_box title="
Today's Carryovers
" style="glass" box_color="#66ADCC"]
Rainbow Pick 6: $703.48
Super High 5: no carryover
Late Pick 5: no carryover[/su_box]
[su_box title="GQ's Handicapping Tip of the Day" style="glass" box_color="#66ADCC"][stray-random][/su_box]
[su_box title="Best Bet of the Day" style="glass" box_color="#66ADCC"]Race 9 / #4 – Struth (3-1)[/su_box]
[su_box title="Longshot Play of the Day" style="glass" box_color="#66ADCC"] Race 6 / #11 – Rescue Cat (6-1)[/su_box]
[su_box title="
Multi-race Wagers
" style="glass" box_color="#66ADCC"]
Race 1: $2 DOUBLE   3, 11  w/ 4, 6, 7 ($12)
Race 3: $0.50 Pick-3  1, 2, 6  w/ 1, 5, 7  w/ 1, 6, 7 ($13.50)
Race 6: $0.50 Pick-5  2, 11  w/ 4, 5  w/ 3, 6, 10  w/ 4  w/ 2, 4, 7 ($18)
Race 9: $2 DOUBLE  4, 6  w/ 2, 4, 7 ($12)
[/su_box]
[su_heading size="21″ align="left"]Analysis[/su_heading]
Weather: Mostly Cloudy w/ afternoon showers; highs in the upper-60s
Scheduled Turf races: 1st, 3rd, 4th, 6th, 8th and 10th
Projected track conditions… Main: FAST; Turf: FIRM
Post Time for 1st race is 1:10pm EDT
Race 1 is ON THE TURF
#11 – Puturseatbelton (4-1): Needs just one scratch to draw in from AE list; this contest is filled with early speed so this gelding will be able to pick up the piece late as A. Cruz won't misjudge wire this time; if scratched consider using #6 – Cue (6-1) in exotics w/ two below
#3 – Pomeroy's Package (3-1): Unplaced in lone turf try which was a few years ago at GP in $62,500 claimer but showed early speed earning a respectable 87 BRIS#; gate-to-wire threat
#7 – Political Farce (5-1): Failed to get going late in first start after grass layoff v. better; pace should come back to him in deep stretch giving a chance for an improbable win at 5f  
Race 2
#4 – Burning Mandate (9-5): Field of seven in this 5½ furlong event surprisingly lacks early speed except for this old-timer who uncharacteristically was off slow in latest but rallied to finish between two next out winners
#7 – King of Versailles (3-1): Could find himself on the lead by default as 7lb. bug J. Miller is a good "gate rider"; third start after extended layoff could land him in the Winners' Circle
#6 – Fairy Cat (2-1): Had no answer on a speed favoring Pim surface last Thursday when sent off as favorite for second straight outing in disappointing his backers… third time is a charm?  
Race 3 is ON THE TURF
#1 – Cap's Vow (9-5): Best last race turf BRIS# (83) to be much the second best at this level; given an honest pace this mare should get a call in the stretch; second start of the '17 turf season
#2 – Cheverie (10-1): Lone win came on the turf at this one mile distance in gate-to-wire fashion coming off similar layoff; could lightning strike twice?
#6 – La La Bamba (15-1): 3-year-old daughter of Paddy O'Prado didn't take to the turf in her first two career starts while sprinting but has been showing late interest in recent dirt races; maturity and second-time blinkers back on could provide shocking results
Race 4 is ON THE TURF
#7 – Bombonero (5-1): All five starts have been going two turns on the turf v. MSW w/ one exception, when in for $32kMCL and missed by a head-bob w/ late rally; gets his diploma w/ similar effort here  
#5 – Zaptuit (9-2): Can boast top turf BRIS# (86) which was earned when runner-up in most recent outing, a 9f $25kMCL affair at GP; E. Prado will get a leg up a third time looking for "W"  
#1 – Croce d'Oro (9-5): Showed early speed in first turf try going long at FG then was far back at Lrl, rallying late for a minor share, both in MSW; drops in for $40k tag and adds blinkers    
Race 5
#6 – Legal Precedent (5-2): Third start after a year off can get the victory if he can avoid getting roughed up at the start as he was in past two outings; needs a cure for Second-itis (7:1-5-0)            
#7 – Stay Home (6-1): Gelding was totally overmatched in first start v. winners on Preakness Day going long in the mud; cut back to sprint and hopefully a fast track will allow him to catch the plethora of early speed in the final strides
#1/1A – Awesome Type/Just by Chance (3-1): Ness (wink, wink) duo are 4-year-olds while the others except #6 are 3; "Awesome" is speed making first start since Feb. when beaten favorite while "Chance" was claimed for $25k out of maiden win and gets first time Lasix  
Race 6 is ON THE TURF
#11 – Rescue Cat (6-1): $$$ LONGSHOT An Also-Ran in maiden races restricted to NY-breds but showed late interest sprinting on Lrl lawn in first outing of '17; drops a level and A. Cintron becomes seven different jock in as many career races  
#2 – Theda's Soul (5-1): 3-year-old is bred top & bottom to love the turf but has been a handful in both starts before and shortly after the gates opened; takes big class drop ($40k to $16k) and blinkers go on in hopes of better behavior  
#6 – Chamberlin Road (3-1): Appeared primed to break maiden at this level on the grass but was washed off; should get another chance to be on the grass and run back to those grass numbers earned at GP last year     
Race 7
#4 – Pistol Posse (4-1): Took a few months off after rough trip in Jan. which may or may not be related but no works until beginning of May with two others to follow indicate he should be ready for a top effort; 1 for 2 at Old Hilltop
#5 – Maryland's Best (8-1): Connections got a bit too ambitious placing this in a Lion's Den of 3-year-olds after he won $16kN2L; this spot is more realistic but all 7 foes are elders
#8 – True Arch (12-1): Took time off to regroup as form quickly deteriorated after winning first off claim; trainer W. Komlo is 25% with runners right off an extended layoff    
Race 8 is ON THE TURF
#10 – Andrasta (4-1): Third start after layoff while earning career best turf BRIS# (79) has more room for another step forward; success hinges on the front runners setting honest fractions
  #6 – Miss Otis (4-1): Game try for trainer A. Simoff runner who was a cast-off from E. Kenneally barn; protected under the optional condition of this event shows confidence that the back class will come through
  #3 – Opie (10-1): Miserable effort in latest after being checked early against AlwN1x last month at Lrl; liked Pim course last year getting a 3rd and a 4th better while having traffic troubles  
Race 9
#4 – Struth (3-1): *** BEST BET *** Winner as 2-1 Post Time favorite in an open $20k claimer and trainer K. Magee took the bait; wastes no time in wheeling him back just 13 days later looking to turn a quick $5k profit along with purse money
#6 – Saratoga Jack (5-2): Prx-based runner surfaces here for first start since nearly 10-months; fives works with a couple bullets should be enough to compete here v. these six tough foes
#3 – Plenty Elusive (10-1): Faced better in Tam this winter and took his time coming north after a pair of runner-up finishes and improving speed figures in Feb. and Mar.    
Race 10 is ON THE TURF
#4 – Lapse (7-2): Yikes! This $375k Kee yearling purchase got gelded after failing in debut at GP when sent off as the 6-5 favorite for "Teflon Todd" and kicked to the curb as M. Pino took over conditioning duties; adds blinkers and switches to turf which fits his pedigree
#2 – Smash and Grab (8-1): From the category of "You can trust'em about as far as you can throw'em", trainer/jock combo is 23% over past year and the duo failed with this beaten favorite who was eased in latest; just sayin'
#7 – Unwarrie Sky (15-1): Worth a flyer on this ridgling who showed nothing late in '16 in only two career outings but was 6th three next out winners including Derby participate Fast and Accurate; extended work tab with addition of blinkers looks promising
YESTERDAY'S NEWS  
On Friday May 26th at Pimlico had just 3 winners from the 9-race card (1 Top Selections; payoff in BOLD) having $2 WIN pay-offs of $7.00 (3rd race), $13.80 (4th) and $2.80 (5th). Of the suggested multi-race wagers hit the R3-R5 50 cent PICK-3 for $54.10 (cost: $9). Top Selections in 2017 are 149 for 565 (26.37%). In 2016, Top Selections were 304 for 1,213 (25.02%).
BEST BET of the Day (62: 18-14-13; in 2016 127: 31-29-19) Value Added (6th race: 7-2 M/L; 2-1 PT) saved ground in range, failed to seriously kick while along the rail in upper stretch, steadied when in a bit close inside rivals in mid-stretch, altered out, lacked a bid and finished fourth.
LONGSHOT PLAY of the Day (54: 6-8-9; in 2016 124: 13-13-16) Meerfalken (4th race: 10-1 M/L; 10-1 PT) away alertly and flashed some foot, steadied back from between rivals in the opening furlong, dropped to the rail, lacked a response and finished 8th.