The GQ Approach – Pimlico May 26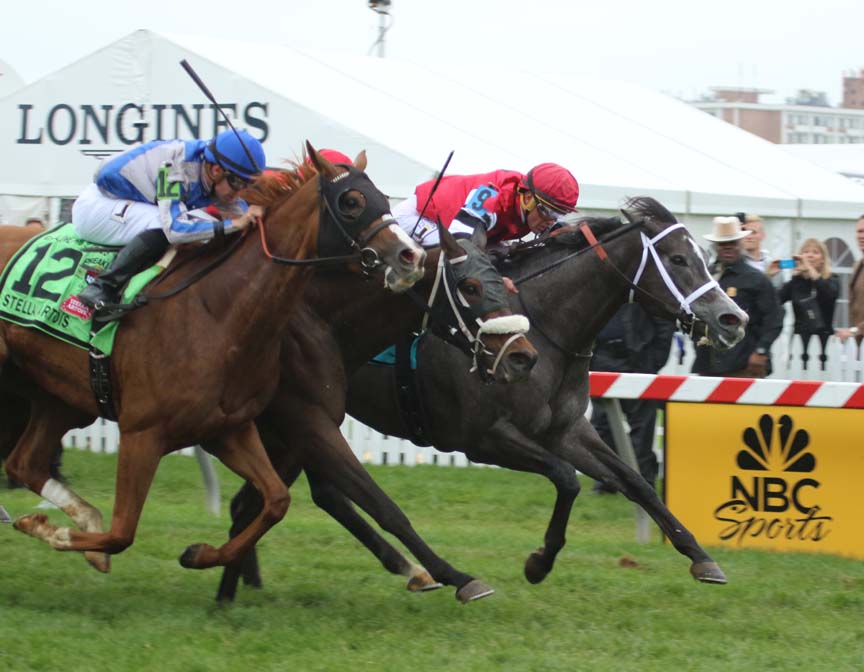 Mizz Money (#9) held off Vielsalm (in between) and Heath (#12) to win the Grade 3 Gallorette. Photo by Laurie Asseo.
The GQ Approach features full-card selections from Pimlico for the 12-day live racing meet, Post Time 1:10pm EDT including a daily Best Bet, Longshot Play, and multi-race wagers — including the 20 cent Rainbow Pick-6, 50 cent Early and Late Pick-5s, as well as Pick-4s and rolling Doubles, Pick-3s and the Super High-5.

[su_box title="
Today's Carryovers
" style="glass" box_color="#66ADCC"]
Rainbow Pick 6: no carryover
Super High 5: no carryover
Late Pick 5: $7,281.31[/su_box]
[su_box title="GQ's Handicapping Tip of the Day" style="glass" box_color="#66ADCC"][stray-random][/su_box]
[su_box title="Best Bet of the Day" style="glass" box_color="#66ADCC"]Race 6 / #1 – Value Added (7-2)[/su_box]
[su_box title="Longshot Play of the Day" style="glass" box_color="#66ADCC"] Race 4 / #3 – Meerfalken (10-1)[/su_box]
[su_box title="
Multi-race Wagers
" style="glass" box_color="#66ADCC"]
Race 1: $2 DOUBLE   5, 6, 10  w/ 2, 3, 7 ($18)
Race 3: $0.50 Pick-3  3, 6, 9  w/ 1, 3, 4  w/ 1, 3, 5 ($13.50)
Race 5: $0.50 Pick-5  1, 3, 5  w/ 1  w/ 3, 5, 6  w/ 4, 5, 7  w/ 7, 8 ($27)
Race 8: $2 DOUBLE  4, 5, 7  w/ 7, 8 ($12)
[/su_box]
[su_heading size="21″ align="left"]Analysis[/su_heading]
Weather: Partly Cloudy; highs in the mid-70s
Scheduled Turf races: 1st, 3rd, 4th, 6th and 8th
Projected track conditions… Main: FAST; Turf: GOOD
Post Time for 1st race is 1:10pm EDT
Race 1 is ON THE TURF
#10 – Piercinator (3-1): Third start after layoff for trainer H. McMahon (16%), cut back from route to sprint (20%) and drops back to level where he last hit the board
  #6 – Inspector Bill (9-2): Took the winter off to wait for turf season to roll around; drops in class back to level and distance where he was runner-up twice
  #5 – Colonel Argo (8-1): Gelded son of Colonel John wanted to try turf in latest at this level but was washed off; showed early speed going long and now in this sprint    
Race 2
#2 – Hurler (6-5): Took on open $15k claimers and was runner-up while in jail after trainer A. Farrior's claim for $7,500; has been part of the Trifecta in last seven straight races
#3 – Gaelic Man (7-2): Has spent a career racing at CT yet lone win at this distance came at Lrl tow back when claimed out of the race by trainer W. Potts
#7 – Blame Me (4-1): Tested turf sprint in AlwN1x in first start of '17; returns to dirt while still sprinting in second start for trainer M. Eppler (21%)    
Race 3 is ON THE TURF
#3 – Foxhall Drive (9-2): Beaten favorite on a yielding Lrl lawn behind a next out winner has a chance to redeem himself against a bit softer crowd; should be more forwardly placed today
#9 – Cort'n Asong (4-1): Claimed for $15k two back by trainer R. Sillaman who wheeled him back 15 days later v. AlwN1x and performed admirably after rough go into the 1st turn; retains Karamanos on drop back to level in which he can be successful
#6 – Symphony Forty One (15-1): Connections take advantage of Waiver Claiming Rule to protect this 7-year-old making '17 debut after being on the shelve since late-Oct.   
Race 4 is ON THE TURF
#3 – Meerfalken (10-1): $$$ LONGSHOT $$$ KY-bred FTS by K One King out of a GER-bred Monsun mare last month ran in the Fair Hill Point to Point, finishing 4th after getting caught in traffic down the lane; since then has continued to training for debut with a nice work pattern
#1 – My High Roller (3-1): Can boast best turf BRIS# (83) in this group of maidens; first start since Oct. '15 was dull but on dirt and sprinting; look for a better effort going long on the grass
#4 – Chilly Magician (8-1): Away since Lrl ended '16 turf season and connections decided to geld him; five works leading up to today's contest includes 5f from gate to be ready for a top effort   
Race 5
#3 – Blame It On Honey (9-2): KY-bred FTS by Blame out of an Invisible Ink mare may be best going two turns but nice work tab w/a couple bullets indicate he should be quick from the gate
#5 – He Hate Me (5-2): FL-bred FTS by Algorithms out of a Harlan's Holiday mare hails from Sagamore Farm for trainer H. DePaz who get 26% who debut right to Winners Circle; a couple breaks in work tab is a bit of a concern
#1 – Take Warning (3-1): One of two in here with racing experience; this $10k TIM Fall yearling purchase paid for himself in debut, a runner-up effort to no surprise of his connections as he went of 9-5 second choice; adds blinkers     
Race 6 is ON THE TURF
#1 – Value Added (7-2): *** BEST BET *** Father/son combo team up for just second time in the past year as the young Juarez comes down from Mth just to ride this gal replacing 4% jock; third race since the Dad claimed her for $16k; will need pace help or could be forwardly placed as she was in the past
#9 – Kanaka (15-1): Broke maiden in 10th career outing in mid-Oct. then immediately took time off; has displayed early speed going long on the turf and a pair of bullets in the AM indicate she'll be sent to the lead to try a gate-to-wire victory
#5 – Sweet Curls (3-1): Seems like no matter if she's sprinting or routing; she doesn't find her best stride until the 1/8th pole and comes up short; excuses in latest and today will be that magical third start after
Race 7
#6 – Love You Back (7-2): Trainer L. Jones has brought some "live" runners to Lrl and Pim while awaiting Del to open; this gal doesn't seem to fit that category but should be considered a threat on the steep drop after not being able to hang with better
#5 – Pledge of Love (4-1): Debut winner when offered for $10k and supported at the windows (9-2) earned a BRIS# (76) good enough to go back-to-back v. these $5kN2L
#3 – Bonnie K (3-1): Gets seventh different jock in the irons in last seven starts; 0 for last 20 after winning debut back in July '14 but today she's primed to get win #2… yeah, yeah, that's the ticket!
Race 8 is ON THE TURF
#5 – Penelopes Best (6-1): Makes turf debut in ninth career start and catches a sprint that lacks a ton of early speed… something that she's got; if D. Centeno hustles her to the lead as she's done on dirt, this 3-year-old may not care or realize she's in against her elders
#7 – Crystal Pier (3-1): Trainer L. Rice has been golden in MD this year w/ H. Karamanos at the helm (51%); this beaten favorite has run out of real estate when going 5½f so cut back to Pim 5f course will make it tougher but hard to count out this team
#4 – She Is Special (15-1): If she takes to the turf like she did to the mud when romping by 5+ lengths in maiden win three back, then she'll be a threat in deep stretch  
Race 9
#7 – Redeeming Love (8-1): Taking a leap of faith that this filly simply does not like an off track; that's this capper's only explanation as to why her best effort, first off the claim was on a fast track then two clunkers over a muddy and sloppy surface
#8 – Sarah's Treasure (7-2): Likely suspect to go from twice a bridesmaid to the bride in ninth career start even though she takes a step up; second time blinkers angle here
#3 – Shackle Me Good (6-1): Trainer/jock combo has won at a 36% clip over the past year; they team up here and in R4; first start for K. Magee who appears to have put a bit more speed into her if you can trust those work times    
YESTERDAY'S NEWS  
On Thursday May 25th at Pimlico had 6 winners from the 9-race card (2 Top Selections; payoff in BOLD) having $2 WIN pay-offs of $14.60 (1st race), $6.60 (2nd), $23.80 (3rd), $4.80 (4th), $16.20 (5th) and $7.40 (8th). Of the suggested multi-race wagers hit the R1-R2 $2 DOUBLE for $60.40 (cost: $12) and R3-R5 50 cent PICK-3 for $115.25 (cost: $9). Top Selections in 2017 are 148 for 556 (26.62%). In 2016, Top Selections were 304 for 1,213 (25.02%).
BEST BET of the Day (61: 18-14-13; in 2016 127: 31-29-19) Christmas Dinner (3rd race: 7-2 M/L; 5-2 PT) away in good order, chased the leaders down the back stretch, was steadied/stopped on the turn, regained momentum only to be checked entering the stretch, collected herself for yet another run and just missed getting up for the runner-up spot and returned $3.00 to SHOW.
LONGSHOT PLAY of the Day (53: 6-8-9; in 2016 124: 13-13-16) Deal Driven (6th race: 5-1 M/L; 7-2 PT) away quickly but beaten to the lead by two rivals who set quick fractions as he sat in a nice stalking position behind the leaders, was poised to take over the leaders entering the stretch but hit a (virtual) wall at the 1/16th pole after gaining a slight lead, quickly weakened and finished 5th.