The GQ Approach – Pimlico May 25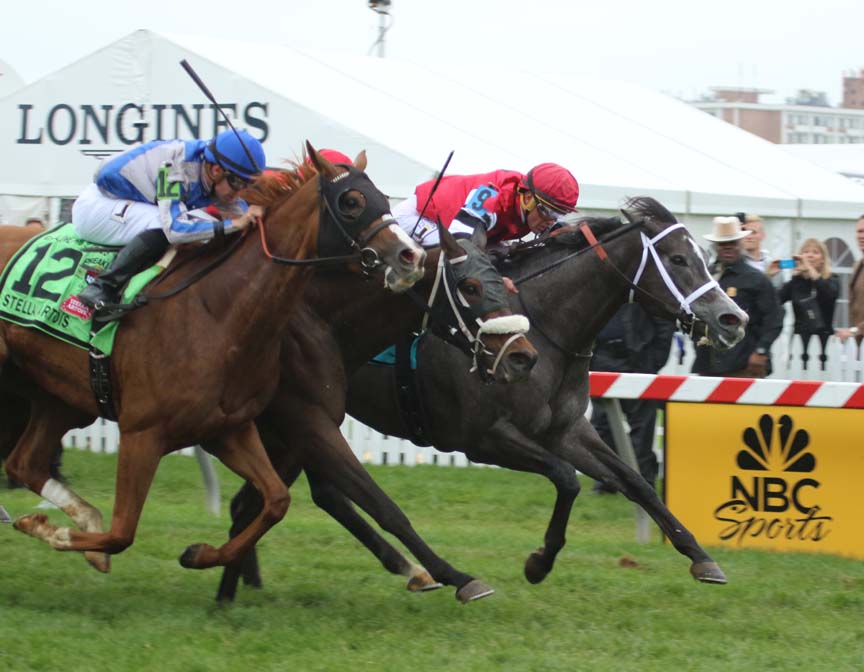 Mizz Money (#9) held off Vielsalm (in between) and Heath (#12) to win the Grade 3 Gallorette. Photo by Laurie Asseo.
The GQ Approach features full-card selections from Pimlico for the 12-day live racing meet, Post Time 1:10pm EDT including a daily Best Bet, Longshot Play, and multi-race wagers — including the 20 cent Rainbow Pick-6, 50 cent Early and Late Pick-5s, as well as Pick-4s and rolling Doubles, Pick-3s and the Super High-5.

[su_box title="
Today's Carryovers
" style="glass" box_color="#66ADCC"]
Rainbow Pick 6: $149,753.
Super High 5: no carryover
Late Pick 5: no carryover[/su_box]
[su_box title="GQ's Handicapping Tip of the Day" style="glass" box_color="#66ADCC"][stray-random][/su_box]
[su_box title="Best Bet of the Day" style="glass" box_color="#66ADCC"]Race 3 / #6 – Christmas Dinner (7-2)[/su_box]
[su_box title="Longshot Play of the Day" style="glass" box_color="#66ADCC"] Race 7 / #1 – Deal Driven (5-1)[/su_box]
[su_box title="
Multi-race Wagers
" style="glass" box_color="#66ADCC"]
Race 1: $2 DOUBLE   2, 10, 11  w/ 5, 6 ($12)
Race 3: $0.50 Pick-3  1, 6, 12  w/ 3, 8 w/ 2, 6, 8  ($9)
Race 5: $0.50 Pick-5  2, 8  w/ 2, 6, 10  w/ 1, 5, 7  w/ 5  w/ 2, 4 ($18)
Race 8: $2 DOUBLE  5  w/ 2, 4, 7 ($6)
[/su_box]
[su_heading size="21″ align="left"]Analysis[/su_heading]
Weather: Mostly Cloudy w/ periods of rain; highs in the low-70s
Scheduled Turf races: 1st, 3rd, 4th, 6th, and 8th
Projected track conditions… Main: SLOPPY; Turf: OFF
Post Time for 1st race is 1:10pm EDT
Race 1 is OFF THE TURF
#11 – Quality Time (8-5): Away since last Sept. while getting the ultimate equipment change (gelded); hard to believe work tab leading up to return… on two occasions worked at Lrl then 2 days later worked at Sar? Regardless, outfit likes to win
#2 – Broad Empire (7-2): MD-bred FTS by Include out of an Empire Maker mare has extensive work tab at Fai; like the gate work and finishing up with 6 furlong breeze in preparation for two-turns in debut
#10 – Regal Expectations (10-1): Best effort in five career outings came in latest in mud at this level when equipped first-time w/ blinkers; second-time w/ the hood often yields better results  
Race 2
#5 – All Blinged Out (8-5): Giving the edge to the 4-year-old in what appears to be a 2-horse battle; this one got the better of the #6 two back and should again today
#6 – Don't Be Scared (9-5): Beaten favorite in latest sprinting over muddy Lrl track returns to more distance and trainer K. Magee gets T. McCarthy (duo is 30% over the past year) aboard
#4 – Invisible Crown (6-1): The Snake (trainer C. Frock) hasn't seemed to care what level he puts this 5-tyear-old to run; drawing a line through the Alw5000s that he was outclassed not disliked the mud… we'll see       
Race 3 is OFF THE TURF
#6 – Christmas Dinner (7-2): *** BEST BET *** Exactly 7-months early but this time she's primed to graduate after being beaten favorite at Lrl in similar situation; M.Eppler/H. Karamanos a good duo (21%)
#12 – Royal Brown (5-1): Gets in from Also-Eligible and should take advantage of shorter (1/16th) distance to break alertly and keep jock silks clean in trying to wire this field
#1 – Dirty Laundry (12-1): CT shipper won debut but got DQ'd; two races later still a maiden while looking for a bit more distance than the 4½f; rough start in latest; positive jock switch       
Race 4 is OFF THE TURF
#8 – So Quiet (6-1): Came back from 7-month layoff to score an impressive "off the turf" maiden victory by 5+ lengths as runner-up came back to easily graduate v. $10kMCL last week
#3 – Determined (9-2): Cut back to a sprint in first start after trainer P. Magill claim proved to be too short a distance; gets back to two turns and retains services of J. Pimentel who has taken 4 of 11 mounts for trainer to Winners' Circle
#7 – City Gold (8-1): Third race after layoff; lone win came on a sloppy surface; H. Karamanos stays aboard which could indicate he didn't care for yielding turf in last outing     
Race 5
#2 – Southampton Way (4-1): MD/home-bred for Sagamore Farm (26% w/ FTS) by hot sire Into Mischief out of a Not For Love mare shows modest work tab but will be ready at first asking
#8 Sing Dixie Charge (4-1): Strong rally in debut after slow start to be bridesmaid; adds Lasix for second start and should be quicker from the gate in second career effort
#6 – Sammy Be Cool (8-1): Addition of blinkers in second start helped as she was the bridesmaid and third career start could be the charm 
Race 6 is OFF THE TURF
#2 – Indian Bucks (8-1): Turf or off track is all the same to him; this shortened field should still have a quick enough pace for him to stalk and pounce on those leaders late
#10 – Light the Night (7-2): Gelded since last start which was in January; lone off track start is not indicative of bloodlines ability to handle the sloppy going as he got "Slammed sideways start"
#6 – Jarvis Steel (10-1): Loves to jump to the early lead and never look back; first time trying it on an off track could be interesting 
Race 7
#1 – Deal Driven (5-1): $$$ LONGSHOT $$$ Won for new connections right after claim but didn't care for turf (just like in debut) and is not a sprinter; handled an off track in the past and can rebound going two turns
#5 – Can'tmakethisup (8-1): Passed faders in sprinting in slop when shipped down from NY for trainer G. Contessa; should relish the stretch out and be a threat to the leg-weary early speed late
#7 – Unassuming (9-5): This 3-year-old gelding will be far from his descriptive name in first off trainer C. Gonzalez claim (30%) as they typically show early speed and will handle the off track    
Race 8 is OFF THE TURF
#5 – American Road (8-5): MTO entry draws in for trainer L. Rice who even has Mother Nature on her side; could easily see 1-5 on this off the turf standout
#1 – Pizmo Time (8-1): Easily won debut sprinting over a muddy Lrl surface just over a year ago; based on that performance he's logical choice to complete chalky exacta
#7 – Zinger (4-1): Trainer L. Jones keeps this colt in as only non-turf try was a distant third in a field of four on sloppy FG surface; will probably go to early lead in hopes of wiring the others  
Race 9
#2 – Abolitionist (3-1): Speed of the speed will wear the hood for the second time and won't mind the off going; look for a gate-to-wire effort to graduate on class drop
#4 – Wilko's Goldeneye (10-1): Makes seventh career start, all at this level with worst outing being the most recent going 7f; cut back to 6f and sloppy track could be formula for maiden win
#7 – Kid Can Do (4-1): Should take a stand against this KY-bred FTS by Pioneerof the Nile out of a Housebuster mare who sold for $155k at Kee yearling sale; why offer this colt for $8k?! Scenario smells as bad as 3-day old fish… but this sucker will take the bait    
YESTERDAY'S NEWS  
On Saturday May 20th at Pimlico had just 7 winners from the 14-race card (2 Top Selections; payoff in BOLD) having $2 WIN pay-offs of $4.00 (1st race), $8.60 (4th), $7.40 (7th), $4.40 (9th), $11.20 (10th), $20.00 (11th) and $7.00 (12th). Top Selections in 2017 are 146 for 547 (26.69%). In 2016, Top Selections were 304 for 1,213 (25.02%).
BEST BET of the Day (60: 18-14-12; in 2016 127: 31-29-19) Ring Weekend (12th race: 4-1 M/L; 7-2 PT) well back early, raced four-wide on the far turn and never threaten as he was a victim of a slow pace and finished 10th.
LONGSHOT PLAY of the Day (52: 6-8-9; in 2016 124: 13-13-16) Undulated (8th race: 15-1 M/L; 28-1 PT) raced well off the rail throughout and gave way, finishing 10th.