The GQ Approach – Pimlico May 20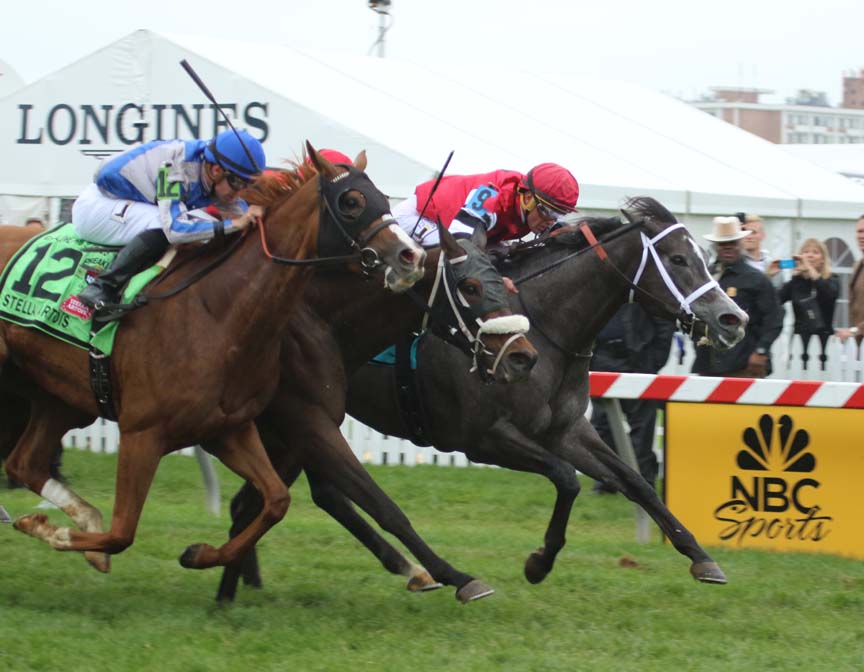 Mizz Money (#9) held off Vielsalm (in between) and Heath (#12) to win the Grade 3 Gallorette. Photo by Laurie Asseo.
The GQ Approach features full-card selections from Pimlico for the 12-day live racing meet, Post Time 1:10pm EDT including a daily Best Bet, Longshot Play, and multi-race wagers — including the 20 cent Rainbow Pick-6, 50 cent Early and Late Pick-5s, as well as Pick-4s and rolling Doubles, Pick-3s and the Super High-5.

[su_box title="
Today's Carryovers
" style="glass" box_color="#66ADCC"]
Rainbow Pick 6: $31,114.43
Super High 5: $3,092.61
Late Pick 5: no carryover[/su_box]
[su_box title="GQ's Handicapping Tip of the Day" style="glass" box_color="#66ADCC"][stray-random][/su_box]
[su_box title="Best Bet of the Day" style="glass" box_color="#66ADCC"]Race 12 / #10 – Ring Weekend (4-1)[/su_box]
[su_box title="Longshot Play of the Day" style="glass" box_color="#66ADCC"] Race 8 / #8 – Undulated (15-1)[/su_box]
[su_box title="
Multi-race Wagers
" style="glass" box_color="#66ADCC"]
Race 1: $2 DOUBLE   5  w/ 4, 6, 10 ($6)
Race 3: $0.50 Pick-3  1, 3, 5  w/ 2, 3, 6 w/ 5, 6, 11  ($13.50)
Race 6: $500k guaranteed $0.50 Pick-4  1, 3, 9  w/ 1, 5, 7 w/ 1, 4, 8 w/ 4, 5  ($27)
Race 9: $1 million guaranteed $0.50 Pick-5  4 w/ 6, 10 w/ 1, 2, 5 w/ 2, 3, 10 w/ 4, 5 ($18)
Race 13: $2 DOUBLE  1, 4, 5  w/ 4, 5, 9 ($18)
[/su_box]
[su_heading size="21″ align="left"]Analysis[/su_heading]
Weather: Mostly Cloudy; high temp near 70
Scheduled Turf races: 2nd, 3rd, 5th, 6th, 8th, 10th, 12th, and 14th
Projected track conditions… Main: FAST; Turf: FIRM
Post Time for 1st race is 10:30am EDT
Race 1
#5 – Spring Quality (9-5): Lightly raced 5-year-old was OTB in latest but no shame in being *+ lengths behind runner who ran third yesterday in the G3 Pimlico Special
#6 – Kaitain (2-1): 6-year-old needs a quick early pace to unleash his strong closing kick; gets blinkers today, assuming for better focus and not to be more forwardly placed
#1 – Connemara Coast (6-1): Uncharacteristically did not show speed in first start after trainer S. Lake; wheels right back in 2 weeks and should try a gate-to-wire journey v. this gang
Race 2 is ON THE TURF
#4 – Keep Talking (6-1): Appears to be lone speed and gets a break in the distance as Pim turf sprints are 5f v. 5½f at Kee and FG in his past three; second time blinkers angle applies here
#6 – Grey Fox (5-2): Makes '17 debut after undergoing the ultimate equipment change (i.e. gelded) during winter vacation; honest runner who has never been OTB in 7 starts at this distance
#10 – Best Yes (6-1): Never OTB in four turf starts while 2 for 2 sprinting; earned a 102 turf BRIS# going two turns in latest; could be a turf monster in the making        
Race 3 is ON THE TURF
#1 – Desert Princess (5-1): A perfect 2 for 2 on the Pim lawn makes '17 debut, gets top local turf runner in irons and should be heard from in the final furlong
#5 – Moral High Ground (6-1): Who claims an 8-year-old?! Trainer M. Gorham for $11k and sends this plodder of a mare out for her 63rd career outing as she loves the Pim grass course (9:2-4-1)
#3 – Issheit (12-1): The oldest runner in here at age 9 certainly needed the turf sprint, showing late run in first start of the season; now gets back to two turns with a shot to upset; is 2 for 5 at Pim    
Race 4
#2 – Super Dude (3-1): Trainer L. Rice has been golden w/ her NY shippers in MD; this "Dude" won at first asking in a long, tough stretch duel as the runner-up was 11+ clear of the SHOW spot; purchased as a 2-year-old at OBS March sale by owner of La Verdad, Hot City Girl, etc.
#6 – Stay Home (12-1): Head-scratcher as to why Repole Stable offered this one for $16k in debut… then won going away after a horrible start; local trainer K. Magee took the bait and tries to make a quick buck offering back for $50k
#3 – Jamminwithbrandon (7-2): Seems that adding blinkers helped immensely going from MSW win via DQ at Prx to a "much the second best" finish in OC$80kN1x at Bel; then again it may have been an "off track"?   
Race 5 is the $100k The Very One ON THE TURF
#6 – Animal Appeal (9-2): Speed of the speed even if her last start was 8 months ago; she's won coming off a long layoff in the past and gets the shortest of turf sprint distances
#5 – Pretty Perfection (4-1): Had a three-race win streak halted in last outing at Kee when 10-wide on the turn… that's right, TEN wide! Boasts best BRIS Prime Power#
#11 – Most Beautiful (12-1): Lethal team of trainer T. Proctor & jock. F. Geroux (32%) for Glen Hill Farm had this one ready to win in latest but failed as Post Time favorite; great works at Fai since so she can make amends today                
Race 6 is ON THE TURF
#1 – Jose Sea View (9-2): Appears to have been a very prudent $5k claim by trainer B. Tessore (20%) who recognized turf class v. dirt class of this gelding who immediately paid dividends winning open $7,500 turf event; can handle another step up in class w/ HOF E. Prado aboard
#9 – Racectrack Romance (10-1): Shows no turf starts in last ten outings but run against better when he did test the turf a few years back; 13x winner could surprise
#3 – My Giant (10-1): Held his own racing on main oval locally this winter; eligible for this event thanks to 10-length romp in the mud for $5k; competed against OC$16k last Fall  
Race 7 is the $200k Chick Lang
#1 – Three Rules (3-1): Won first five starts of his career, three of those sprinting but was eventually stretched out as connections tasted Derby possibilities; no shame losing to American Dreaming by 7 in G1 FL Derby after being third to Gunnevera in G2 FOY; prepping for BC Sprint starts today
#7 – Recruiting Ready (8-5): Local connections (Sagamore Farm) thought this one might take them to the Derby, but realized his distance limitations early and concentrated on sprinting; seeks natural Hat Trick
#5 – Proforma (10-1): Nice progression in speed figures as he raced three times at age 2, winning 2 of them; may have had a minor issue there's a gap in work tab from early Jan. to late Mar. but resumed firing bullets with a nice pattern for today's return to afternoon races  
Race 8 is the $100k James Murphy ON THE TURF
#8 – Undulated (15-1): $$$ LONGSHOT $$$ Local runner served notice last Summer in debut on grass that he'd be a serious threat moving forward and that was sprinting; '17 debut at Bel sprinting was against a number of stakes quality runners; this son of Curlin will relish the stretch out to a two-turn mile; T. McCarthy & C. Lynch (28%) "make nice" after brief divorce post El Areeb Derby run
#4 – Dover Cliffs (5-2): Solid turf pedigree ideal for one mile; ships north from the Sunshine State after a trio of starts including a near miss in debut followed by maiden score and win in minor stakes at GP
#1 – Mo Maverick (10-1): Has earned the top turf BRIS# (91) in this field while being 3 for 3 on the green; hand will be forced from the rail to establish forwardly placed position early 
Race 9 is the $150k G3 Maryland Sprint
#4 – A.P. Indian (8-5): One look at his BRIS past performances on thing stands out… triple-digit speed figures in last eight races; beaten favorite in first start in '17 when runner-up but was flattered when SHOW runner that day came back to win graded stakes on Derby Day at CD
#5 – Whitmore (9-5): A year ago was on the KY Derby trail looking like a horse wanting more than 9 furlongs yet 7-months after Derby has been transformed into a quality sprinter; goes for fifth straight victory
#8 – Rockinn On Bye (15-1): Poster Boy for "Second-itis" (42:6-15-7) but is 2 for 4 over the Pim main oval; gets major upgrade in the irons with a chance to complete the Tri, if not the Exacta
Race 10 is the $150k G3 Gallorette
#6 – On Leave (2-1): Had a four-race win streak halted when first time OTB in seventh career outing then was put on the shelf; owner/trainer combo has been winning races for decades
#10 – Cambodia (8-1): Takes a huge step forward into graded takes competition; beaten favorite over a yielding Lrl lawn
#7 – Elysea's World (5-2): Trainer C. Brown rarely ships into MD but this entry tells one she's sitting on a huge effort     
Race 11 is the $100k Sir Barton
#2 – Hedge Fund (9-5): Runner-up in IL Derby to Preakness starter Multiplier and prior to that earned SHOW purse in Sunland Derby; his performance here will help determine just how good Multiplier is… or not
#1 – Honor the Fleet (5-1): A neck short of being undefeated this local loves to go fast in the A.M. as worktab is riddled with bullets
#5 – No More Dough (12-1): Broke maiden in first career start which proved to be a tough race filled with talented runners as the runner-up and SHOW finishers came back t0 win their next start  
Race 12 is the $250k Longines Dixie ON THE TURF
 #10 – Ring Weekend (4-1): *** BEST BET *** Just missed victory in this event last year, unable to overtake rival in a furious stretch drive; spent the past 6-months in So. Cal but just one win, at today's distance
#3 – Top of Mind (15-1): Made the best of seasonal debut when stuck down on the rail throughout; a perfect 3 for 3 at this distance; handles every challenge re: runner-up when 29-1 first time in graded stakes
#2 – World Approval (7-2): 5-year-old gray turf specialist took the winter off as he always has; got a paid afternoon workout in minor restricted stakes '17 debut as a prep for a tough task          
Race 13 is $1.5 mil G1 Preakness
#5 – Classic Empire (3-1): Champion two-year-old had "behavioral issues" throughout his Road to the Roses, won the AR Derby when not 100% fit, then fourth in KY Derby in spite of a nightmare trip; his class will shine through because he looks better at Pim then he did two weeks ago and the progression of this being his third race after a layoff is key to being ready for a peak performance
#4 – Always Dreaming (4-5): Since arriving at Pim 10 days ago, he's maintained the same Jekyll & Hyde attitude as he displayed in Louisville… a keg of dynamite while the moment he steps onto the track but a cool, calm and collected dude around the barn; should be able to dictate the early pace (again) but trainer T. Pletcher's record with runners coming back in 14 days or less is ugly
#1 – Multiplier (30-1): Won the G3 IL Derby earning a last race best 104 BRIS# among runners in here; runner-up (Hedge Fund) from that race is the Morning Line favorite in Sir Barton Stakes (see Race 11); Hedge Fund's performance should shed some light on this longshots chance
#10 – Conquest Mo Money (15-1): Not nominated to the Triple Crown series cost his connections paid $150k to supplement him to the race; has early speed to keep the Derby winner honest on the front end and enough talent to hang around late to get a minor share       
Race 14
 #4 – Risky Guy (6-1): Has competed at this level numerous times over the past year with a great deal of success (4:2-1-1) in addition to getting V. Carrasco back in the irons
#9 – Hunger (5-1): Gutsy claim by trainer B. Tessore, taking since 7-year-old after a 3+ year absence from the track, returning with a tag of $5k when he faced much better in the past
#5 – Supervisor (15-1): Climbed the class ladder from $5k to winning at the Optional Claiming $25k level just two races back; able to forgive bad lose in last outing due to sloppy track
YESTERDAY'S NEWS  
On Friday May 19th at Pimlico had just 7 winners from the 14-race card (3 Top Selections; payoff in BOLD) having $2 WIN pay-offs of $10.40 (2nd race), $10.80 (3rd), $4.20 (5th), $2.80 (7th), $9.60 (8th), $27.60 (11th) and $4.80 (13th). Top Selections in 2017 are 144 for 533 (27.02%). In 2016, Top Selections were 304 for 1,213 (25.02%).
BEST BET of the Day (59: 18-14-12; in 2016 127: 31-29-19) West Coast Bias (14th race: 9-2 M/L; 5-2 PT) went down the backstretch to the lead early, patiently kept pace with a rival to the inside, put that one away in mid-stretch but couldn't repel bid of winner in the final strides and returned $4.80 to PLACE and $4.20 to SHOW.
LONGSHOT PLAY of the Day (51: 6-8-9; in 2016 124: 13-13-16) She's a Warrior (5th race: 12-1 M/L; 11-1 PT) raced mid-pack along the rail the entire trip, had no response when asked for more entering the stretch and flattened out to finish 5th.