The GQ Approach – Pimlico May 19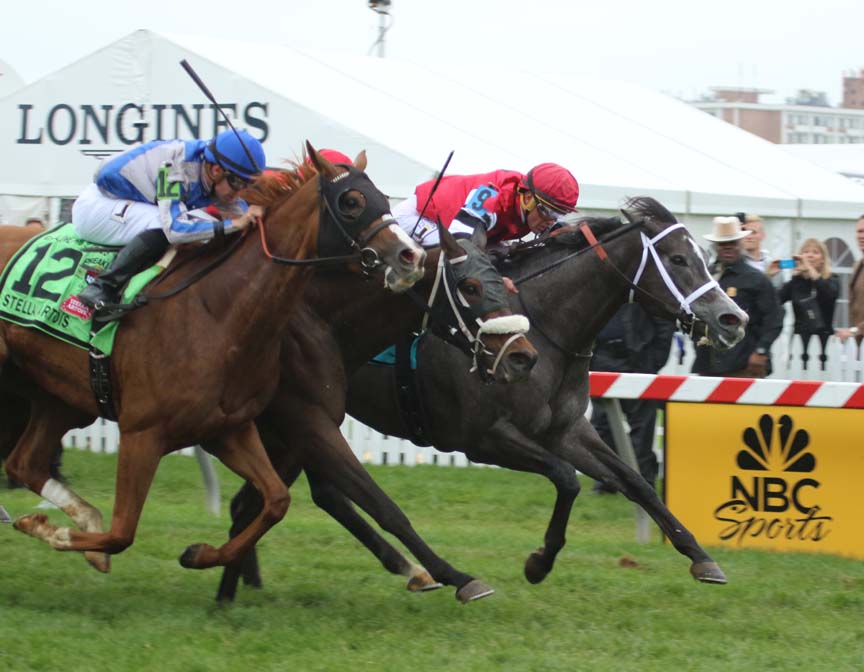 Mizz Money (#9) held off Vielsalm (in between) and Heath (#12) to win the Grade 3 Gallorette. Photo by Laurie Asseo.
The GQ Approach features full-card selections from Pimlico for the 12-day live racing meet, Post Time 1:10pm EDT including a daily Best Bet, Longshot Play, and multi-race wagers — including the 20 cent Rainbow Pick-6, 50 cent Early and Late Pick-5s, as well as Pick-4s and rolling Doubles, Pick-3s and the Super High-5.

[su_box title="
Today's Carryovers
" style="glass" box_color="#66ADCC"]
Rainbow Pick 6: $5,786.38
Super High 5: $5,581.59
Late Pick 5: no carryover[/su_box]
[su_box title="GQ's Handicapping Tip of the Day" style="glass" box_color="#66ADCC"][stray-random][/su_box]
[su_box title="Best Bet of the Day" style="glass" box_color="#66ADCC"]Race 14 / #14 – West Coast Bias (9-2)[/su_box]
[su_box title="Longshot Play of the Day" style="glass" box_color="#66ADCC"] Race 5 / #2 – She's a Warrior (12-1)[/su_box]
[su_box title="
Multi-race Wagers
" style="glass" box_color="#66ADCC"]
Race 1: $2 DOUBLE  3, 5  w/ 1, 5, 6 ($12)
Race 3: $0.50 Pick-4  3, 7, 8  w/ 2 w/ 2, 4, 6 w/ 6, 7, 10  ($13.50)
Race 7: $0.50 Pick-5  1, 3, 6 w/ 3, 5, 12 w/ 5, 7, 11 w/ 4, 7 w/ 5, 9 ($54)
Race 12: $0.50 Pick-3  1, 3, 5  w/ 1, 5, 9 w/ 11, 12, 14 ($13.50)
[/su_box]
[su_heading size="21″ align="left"]Analysis[/su_heading]
Weather: Mostly Sunny; high temp near 90
Scheduled Turf races: 2nd, 4th, 6th, 8th, 10th, 12th and 14th
Projected track conditions… Main: FAST; Turf: FIRM
Post Time for 1st race is 11:30pm EDT
Race 1
#3– Everlasting Secret (4-1): Away since last July but morning work tab indicates she's ready to win off the bench as she did twice before after 6+ month layoffs; been part of the Exacta in all three starts at today's distance
#5 – Zippity Zoom (5-2): Trainer L. Rice is fresh of tying for the Lrl Winter meet training title where she won at just over a 50% clip, though this runner failed twice as the favorite; excuses in latest while on the turf gives reason to believe "Zippity" can zoom to the wire first
#7 – Boheme de Lavi (6-1): Tough spot in first race after reclaim; connections had her returning to form when she was claimed from them; now that she's back in the barn, progress can pick-up where it left off  
Race 2 is ON THE TURF
#6 – Play Unified (10-1): Exchange Rate filly makes turf debut in eighth career outing; NY shipper makes first start outside of the Empire State but displays early speed on fast and off track to be a threat to win in gate-to-wire fashion
#5 – Catching Fireflies (2-1): Five-time turf winner from 15 starts has been away from the races since mid-Dec.; 2 for 2 at this condition while being in for the tag
#1 – Dare to Be (6-1): Will need to get going a 1/16th earlier as the Pim turf sprints are only 5f whereas she's been used to going 5½f on the Lrl turf course; quick early fraction will help too         
Race 3
#3 – Super Sharp (4-1): 5-year-old mare is a four-time winner facing a group of 3- and 4-year-olds who but two others are eligible for N2L; runner-up in lone start at Pim last year has disappointed backers winning just once while being sent off as PT favorite last 5 starts
#7 – Indian Paint (3-1): Maiden winner last outing for trainer K. Rubley who gets 29% right back to the Winners' Circle; 4-year-old daughter of Uncle Mo continues to get more distance today as she's never been OTB (4:1-2-1)
#8 – Candycoated Dame (15-1): Taking a flyer here in that she's been sprinting and should find herself on the lead, an easy one at that and could wire this field if no one wishes to press her      
Race 4 is ON THE TURF
 #2 – Private Client (8-5): Best Bet worthy but Morning Line is lower than self-imposed restriction of 8-5 or lower (aka no value); earned best turf BRIS# in '17 debut despite traffic trouble
 #4 – Lottie (7-2): Appears this four-year-old daughter of Arch relishes 9 furlongs or more; has no early speed so success depends on an honest pace
#6 – Majestic Trick (15-1): Fresh off maiden win at Lrl in ninth start in on continued class drop from MSW to $25kMCL and claimed; if she runs back to the speed fig earned two back, she could be in the mix late   
Race 5 is the $150k G3 Allure DuPont Distaff
#2 – She's a Warrior (12-1): $$$ LONGSHOT $$$ West Coast shipper for trainer P. Eurton broke maiden after two SHOW efforts in graded stakes on dirt and an unsuccessful, troubled try in '16 Black-Eyed Susan; 54-year-old G. Stevens comes in to ride indicates she has a legit shot or he just needs the $80; ran behind Songbird twice in '16
 #6 – Carrumba (3-1): Will be equipped with blinkers to try to right this sinking ship; never OTB (10:4-5-1) until '17 when disappointed in both (G3) starts, albeit sprinting when success has come going two turns; like recent work w/ the hood on; an off track would help
#4 – Terra Promessa (6-5): Young 11-race career has been a yo-yo with signs of brilliance, winning four in a row leading up to wilting in the G1 Oaks last year; multiple graded stakes winner was runner-up to one of the top mares in the country, Eclipse award winning Stellar Wind; will need to nurse the early fractions in hopes of a gate-to-wire score to get the 9 furlongs
Race 6 is ON THE TURF
 #7 – Family Meeting (5-2): Turf specialist handles FL-breds in minor stakes and got black-type in G3 FL Oaks in '16; had troubled trip in Hilltop Stakes on Pim grass last year yet only missed by a head
#10 – Sokie (20-1): That's correct… 20-1! Swinging for the fences as this one can revert to her former speedy-self; jock J. Bravo on his favorite surface will try to milk the early fractions
#6 – Outsider Art (5-1): Woeful 0 for 5 at this distance but those were in against much tough than this crew; love the turf sprint coming off the 6-month layoff as Frenchy stays aboard today   
Race 7 is the $300k G3 Pimlico Special
#6 – Shaman Ghost (4-5): Surprise entry for trainer J. Jerkens following G1 SA Hcp. victory which came after strong runner-up effort to Arrogate in G1 Pegasus World Cup; triple-digit BRIS#s in 6 of last 7 races, likely bled in lone exception as he got Lasix thereafter; towers over this field
#3 – Watershed (6-1): Got first graded stakes win in G3 Ben Ali at Kee last outing in turf-to-dirt move; three of fourteen career outings have been beyond distance of this event; seems to have rounded in top form at the right time
#1 – Dolphus (8-1): Third start after layoff should be able to gun to the lead from the rail w/ R. Maragh in the irons; something went amiss in lone graded stakes as layoff followed so lone speed could be dangerous in with a bunch of deep closers             
Race 8 is $100k Hilltop ON THE TURF
#3 – Victory to Victory (5-2): Completed 2-year-old campaign with a convincing win in G1 Natalma at WO when blinkers were added; got a nice and easy paid afternoon workout in a N1x over yielding Kee turf setting her up for a big effort here
#5 – Compelled (3-1): Never off-the-board in six lifetime starts (6: 2-1-3) this Closer gets a field filled with early speed which should make trainer T. Proctor drool; third in G3 FL Oaks in latest was flattered when runner-up came back to win G3 Edgewood on KY Oaks Day
#12 – Happy Mesa (8-1): Word from Fai is she's very happy to be back home after a pair of turf tries at GP, beaten favorite by a neck in latest; J. Castellano will be 7th different jock in 8th start 
Race 9 is the $150k G3 Miss Preakness
#5 – Our Majesty (7-2): Would be a perfect 3 for 3 but was DQ'd and placed fourth in second start; possesses tactical speed to sit behind the front-runners who should set very fast early fractions; the Pim strip hasn't been the speed favoring surface of the past… at least during the first few days of the meet, so with a clean trip this filly should take advantage and pounce on the leg-weary rivals in deep stretch
#11 – Astrollinthepark (8-1): The Larry Jones barn has been high on this filly since Day One as she's been Post Time favorite in all four starts; on a three-race win streak but naysayers may question the quality of who she has beaten but can boast top BRIS Prime Power#
#7 – Bode's Dream (12-1): Pletcher's "other" filly as J. Velazquez picks #8 to ride over this one but gets J. Castellano in the irons who is no slouch; appeared to be a top sprinter until she abruptly stopped in G2 Forward Gal in Feb.; nearly 2-months off from training indicates there was an issue which appears to have been resolved based on bullets in the A.M.
Race 10 is the $100k Jim McKay Turf Sprint
 #7 – Grand Candy (8-1): This contest is filled with early speed, coming from both sides which gives this 4-year-old son of Twirling Candy a perfect view from the rear, in hopes of getting a clean trip and unleash a furious rally to get up in the shadow of the wire
 #4 – Pay Any Price (3-1): Is the speed of the speed coming from the "speedway" at GP; the firmer the turf the better and faster he'll run; pray for clear skies and a clean break because if he's not first at the 1st Call, he won't be at the wire
#5 – Ben's Cat (6-1): Is there enough left in the tank for this 11-year-old legend to go out in a blaze of glory? KTL has pointed the defending champ to run in this event… maybe one last time; '17 debut last month wasn't as bad as it looks on paper
Race 11 is the $250k G2 Black-Eyed Susan
 #5 – Lights of Medina (8-1): Steadily improving filly earned an automatic berth to this event when she won the Weber City Miss at Lrl earning a 101 BRIS#, the only triple-digit figure found among this field; bred top and bottom to get the 9 furlongs and late pace figures indicate she'll be strong in deep stretch
#9 – Summer Luck (5-1): May have been a blessing in disguise not getting into the G1 KY Oaks field; recall she looked good in A.M. at CD and should be sitting on a top effort; success will rely on an honest pace to catch leg-weary front-runners in the final furlong
#10 – Actress (12-1): Can a maiden win this race?! Two runner-up finishes from as many starts at GP, both times with a late run; has room for continued improvement and will relish two turns; home bred for owners who have a history of racing nice ones at attractive prices
Race 12 is ON THE TURF
#5 – Lady Allegra (3-1): Boasts best turf BRIS# of this group; trainer A. Delacour gets 23% to Winners' Circle when coming off similar layoff; running lines of 5½f races indicate cut back to 5f should be perfect distance
#3 – Little Stella (10-1): Over the past year has been consistent performer at this level and most recently open claiming; three-time winner faces a plethora of gals who have never beaten winners
#1 – Advert (12-1): Tough rail assignment in turf sprint especially when she doesn't have early speed; jock F. Boyce passed on a trio of previous mounts in here (#5, #10 and #12) to stay on          
Race 13 is the $100k Skipat
 #9 – Clipthecouponsannie (9-5): Lightly race 4-year-old got black-type when she SHOWed in G3 Distaff at Aqu in '17 debut going 7 furlongs; that was her only defeat in five career starts; cut back to 6 furlongs should help step forward once again
#5 – Chanteline (7-2): Well-travelled sprinter appears to be in top form after spending winter at OP as speed figures have improved with every start this year; ITM 9 of 10 starts at this distance
#1 – Lovable Lady (10-1): Has home dirt advantage as she trains on this track every day and never OTB in 10 starts at this distance; can take advantage of her speedy rivals by dropping back, get covered up through the first half of what should be a suicidal pace and put in a nice late run to pick up the pieces
Race 14 is ON THE TURF
 #14 – West Coast Bias (9-2): *** BEST BET *** Two starts, two bad rides! In debut last year was bet early and often but jock rode rail and got stuck behind tiring horses, stopped then accelerated when hole opened and closed with a furious rush; in second start in March at FG encountered traffic from 5/16 to 1/4 pole, finally got clear to be runner-up; stretches out to two turns
#12 – She'slikethewind (5-1): Trainer M. Dickinson aka "The Mad Genius" takes his time sending runners back to the races who needed to mature, like this one and has been successful in getting to the Winners' Circle 38% coming off extended layoff
#11 – Fuerza (5-2): Three starts, three ITM finishes but late-blooming 4-year-old is still a maiden; runner-up in most recent when in with 3-year-olds; Matz/Castellano try to break 0 for 6 as a team
YESTERDAY'S NEWS  
On Thursday May 18th at Pimlico had just 5 winners from the 9-race card (2 Top Selections; payoff in BOLD) having $2 WIN pay-offs of $3.80 (1st race), $3.40 (2nd), $2.80 (5th), $5.60 (8th) and $10.00 (9th). Of the suggested multi-race wagers hit the R1-R2 $2 DOUBLE for $7.00 (cost: $8) and R8-R9 $2 DOUBLE for $23.80 (cost: $12). Top Selections in 2017 are 141 for 519 (27.17%). In 2016, Top Selections were 304 for 1,213 (25.02%).
BEST BET of the Day (58: 18-13-12; in 2016 127: 31-29-19) Celtic Moon (3rd race: 5-2 M/L; 2-1 PT)   saved ground on the turn, eased out a bit approaching the eighth pole and failed to menace while settling for the SHOW purse and returned $2.60 to SHOW.
LONGSHOT PLAY of the Day (50: 6-8-9; in 2016 124: 13-13-16) Nickos Red Star (6th race: 12-1 M/L; 11-1 PT) bumped and forced in at the break, recovered and raced well off the pace saving ground, stayed inside into the lane, angled out and had belated action to finish fourth.