The GQ Approach – Pimlico May 18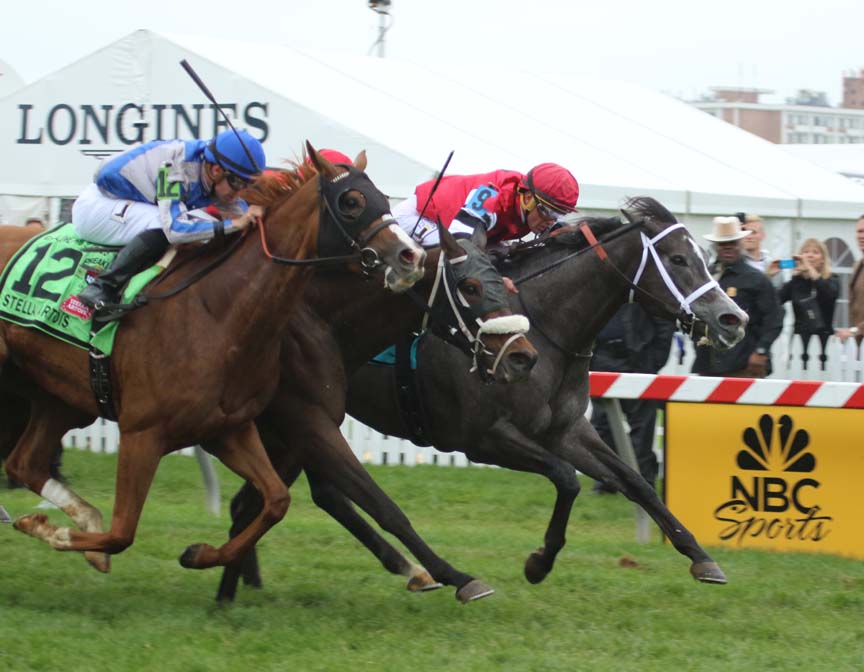 Mizz Money (#9) held off Vielsalm (in between) and Heath (#12) to win the Grade 3 Gallorette. Photo by Laurie Asseo.
The GQ Approach features full-card selections from Pimlico for the 12-day live racing meet, Post Time 1:10pm EDT including a daily Best Bet, Longshot Play, and multi-race wagers — including the 20 cent Rainbow Pick-6, 50 cent Early and Late Pick-5s, as well as Pick-4s and rolling Doubles, Pick-3s and the Super High-5.

[su_box title="
Today's Carryovers
" style="glass" box_color="#66ADCC"]
Rainbow Pick 6: $3,241
Super High 5: $3,053
Late Pick 5: no carryover[/su_box]
[su_box title="GQ's Handicapping Tip of the Day" style="glass" box_color="#66ADCC"][stray-random][/su_box]
[su_box title="Best Bet of the Day" style="glass" box_color="#66ADCC"]Race 3 / #3 – Celtic Moon (5-2)[/su_box]
[su_box title="Longshot Play of the Day" style="glass" box_color="#66ADCC"] Race 6 / #2 – Nickos Red Star (12-1)[/su_box]
[su_box title="
Multi-race Wagers
" style="glass" box_color="#66ADCC"]
Race 1: $2 DOUBLE  2, 8  w/ 1, 6 ($8)
Race 3: $0.50 Pick-3  3, 6, 8  w/ 6, 7, 11  w/ 2, 3, 7  ($13.50)
Race 5: $0.50 Pick-5  2, 3  w/ 2, 6 w/ 1, 2 w/ 2, 4, 5 w/ 2, 5 ($24)
Race 8: $2 Double  2, 5  w/ 2, 3, 5 ($12)
[/su_box]
[su_heading size="21″ align="left"]Analysis[/su_heading]
Weather: Partly Sunny; highs in the low-90s
Scheduled Turf races: 1st, 4th, 6th and 8th
Projected track conditions… Main: FAST; Turf: FIRM
Post Time for 1st race is 1:10pm EDT
Race 1 is ON THE TURF
#2 – Party Regent (7-2): Was game in turf debut at Lrl two back when in for $20kMCL, unable to hold off winner after blistering early fractions; gets 1/16th distance break at Pim and HOF rider E. Prado takes the reins
#8 – Jakesoutcaster (9-2): Away since last Sept. will reemerge at level where he missed graduating by a head-bob, but that was going two-turns; like that H. Karamanos signs on to ride for 21% trainer J. Reynolds
#6 – Olimpico (4-1): Early speed and tired in all 3 turf tries at GP going 5f; migrates north w/ trainer J. Cibelli; hoping she's built a tad more stamina in the three-year-old Spring At Last gelding
Race 2
#6 – Champagne Time (1-1): BRIS Prime Power# backs up her Morning Line odds as she's always found her way into the Exacta when in for a nickel but disappointed bettors as Post Time choice; twice a bridesmaid at this N3L condition should relish the extra 1/16th
#1 – My City (9-2): Beat the top pick and #5 when winning N2L condition three races back; excuse in latest as saddled slipped and before that caught a sloppy Pen oval
#5 – Ghetto Fabulous (3-1): Appears to be on the improve as speed figures have been on the rise; may have caught a weak N2L in latest but still a threat to top two       
Race 3
#3 – Celtic Moon (5-2): *** BEST BET *** Drops a level after being absent from the races for 3+ months but trainer A. Simoff does well (24%) in this scenario and when T. McCarthy is the pilot (27%)
#6 – Brothersofthetime (3-1): Interesting claim by trainer K. Cartagena when stepped up but didn't fair too well; waited until out of jail to drop back to level he could be successful
#8 – Fairy Cat (2-1): Been burning bettors money lately as beaten favorite in 3 of past 5 outings… at this level; troubled trip in latest but wasn't going to catch winner
Race 4 is ON THE TURF
 #6 – Painted Patchen (9-2): This guy typically gets attention due to being a rare white (not gray) horse, but he's a legit contender in this event, first race off trainer L. Gaudet claim (24%), adds blinkers (33%) and should relish added distance
#11 – Soup d'Coupe (3-1): Nine-year-old making 51st start still seeks first win on Pim lawn (9:0-4-2) and at 9f (4:0-1-1); maybe trainer K. Magee can cure a lifetime of Second-itis in first race after claim
 #7 – Our Emerald Forest (5-1): Only one of a few in here wanting to be close to the early pace; first start after 8-month layoff going 9f may have been asking too much   
Race 5
#2 – Holiday Prayer (4-1): Second start form trainer M. Trombetta runner who didn't take to sprinting on the turf in debut; blinkers go on and could be a threat to go gate-to-wire on the stretch-out to two turns
#3 – Grace Isabella (6-5): Those ML odds are due to how bad the other half dozen in here look on paper, not that she's poised to graduate; BRIS#s having been regressing in each start since she earned an 82 in debut, four races back
#7 – Paluxy Princess (5-2): Let's pretend she didn't care for the turf (9th) after she was fourth, 19-lengths behind the winner (Black-Eyed Susan contender Light of Medina) in her debut going one mile on the Lrl dirt                
Race 6 is ON THE TURF
#2 – Nickos Red Star (12-1): $$$ LONGSHOT $$$ Steadied multiple times during most recent at this level, surface and distance in first start of '17; a more aggressive ride may have earned second career win; this field is filled with early speed to give bug boy C. Carrasco a chance to stalk and pounce late
#6 – Tigers Bop (9-2): Should be the speed of the speed and discourage others early by clearing field into the turn; took a few tries to break maiden being able to last for 5½f at Lrl while at Pim only need to go 5f
#7 – Zapata (5-2): Boasts best turf BRIS# (89) among this assembled group; takes class drop in third race after layoff and exits "key" race (two back; most recent on turf) when fourth as the top three all came back to winner next out   
Race 7
#2 – Follow the Petals (3-1): Hard to get a bead on this filly's class level, but seems to run best on turf and/or synthetic but did break maiden at first asking at Lrl over a "good' track in Jan.; the early speed will come back to her if she's up for it on a fast track
#1/1A – Radiant Beam/Miss Swisher (9-5): "Beam" ships in from Prx following claim out of $10k restricted to 3 y.o. while "Miss" destroyed a $16kn2L field, earning personal best 81 BRIS#
#7 – Friesan Flyer (6-1): Seems to have turned it around or just found a very weak N2L group at Pen last time out; returns to MD in hopes of getting a Fast track unlike past two at Lrl  
Race 8 is ON THE TURF
#5 – Ballivor (7-2): Game 4-year-old ridgling has hit the board in 7 of 10 races; spent the winter on dirt at Aqu but first five races of career were on grass; broke maiden after being bridesmaid by a neck in only two turf tries in MD, albeit at Lrl; first start after trainer T. Keefe claim (15%) 
#2 – Enough is Enough (3-1): First time taking to the turf since trainer M. Eppler claimed him out of N2L turf event last Fall; should relish getting back on the grass but 3-1 a bit low to take
#4 – Coach Matthew (8-1): Lightly raced 4-year-old won debut on Lrl lawn going this distance; in the 3 races since he's beaten just one rival, all on dirt; finally returns to turf
Race 9
#5 – Seven Knots (8-1): Adds Blinkers and drops a couple class levels; two turns this time around might do the trick versus this crew
#2 – Apollo Eleven (4-1): Not shooting for the moon but dropping down trying to get diploma in 17th career outing; NY-bred couldn't handle his own in Big Apple nor at Pen; latest was encouraging
#3 – Horseshoe Harbour (9-5): Dances every dance at this maiden level but has a case of Second-itis (10:0-5-1); much the second best (10 in front of SHOW runner) in latest taken off the turf, earning personal best 72 BRIS# for new barn; first-time around two turns might help him graduate
YESTERDAY'S NEWS  
On Sunday May 14th at Pimlico had 6 winners from the 9-race card (4 Top Selections; payoff in BOLD) having $2 WIN pay-offs of $2.80 (1st race), $3.20 (2nd), $5.60 (4th), $13.00 (5th), $6.00 (6th) and $5.80 (8th). Of the suggested multi-race wagers hit the R1-R2 $2 DOUBLE for $4.80 (cost: $6). Top Selections in 2017 are 139 for 510 (27.25%). In 2016, Top Selections were 304 for 1,213 (25.02%).
BEST BET of the Day (57: 18-13-11; in 2016 127: 31-29-19) Emelina (3rd race: 7-2 M/L; 4-1 PT) set the pace and gave way grudgingly while being much the second best and returned $5.20 to PLACE and $4.20 to SHOW.
LONGSHOT PLAY of the Day (49: 6-8-9; in 2016 124: 13-13-16) Sarah's Whisper (5th race: 10-1 M/L; 5-1 PT) sent to the early lead, set the pace in the two path, was challenged by PRET SAY EYE approaching the eighth pole, dueled inside that one and prevailed by three-quarters of a length under energetic urging and returned $13.00 to WIN, $5.40 to PLACE and $5.20 to SHOW.