The GQ Approach – Pimlico May 14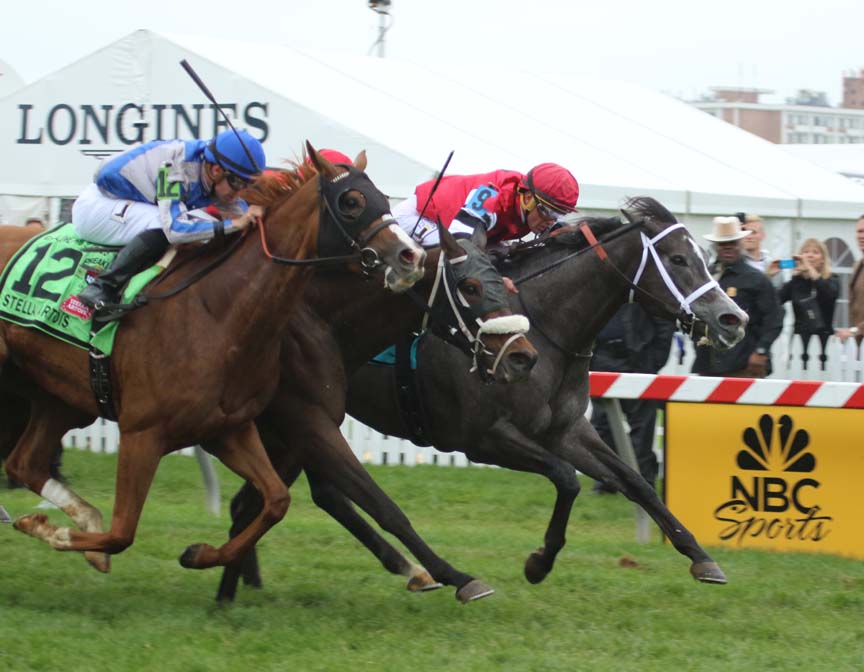 Mizz Money (#9) held off Vielsalm (in between) and Heath (#12) to win the Grade 3 Gallorette. Photo by Laurie Asseo.
The GQ Approach features full-card selections from Pimlico for the 12-day live racing meet, Post Time 1:10pm EDT including a daily Best Bet, Longshot Play, and multi-race wagers — including the 20 cent Rainbow Pick-6, 50 cent Early and Late Pick-5s, as well as Pick-4s and rolling Doubles, Pick-3s and the Super High-5.

[su_box title="
Today's Carryovers
" style="glass" box_color="#66ADCC"]
Rainbow Pick 6: $2,118
Super High 5: no carryover
Late Pick 5: no carryover[/su_box]
[su_box title="GQ's Handicapping Tip of the Day" style="glass" box_color="#66ADCC"][stray-random][/su_box]
[su_box title="Best Bet of the Day" style="glass" box_color="#66ADCC"]Race 3 / #3 – Emelina (7-2)[/su_box]
[su_box title="Longshot Play of the Day" style="glass" box_color="#66ADCC"] Race 5 / #5 – Sarah's Whisper (10-1)[/su_box]
[su_box title="
Multi-race Wagers
" style="glass" box_color="#66ADCC"]
Race 1: $2 DOUBLE  6  w/ 1, 3, 5 ($6)
Race 3: $0.50 Pick-3  3, 5, 6  w/ 2, 4, 5  w/ 2, 5, 8  ($13.50)
Race 5: $0.50 Pick-5  5, 8  w/ 1, 4, 5 w/ 9, 12 w/ 1, 5 w/ 3, 11 ($24)
Race 9: $2 Double  1, 5  w/ 3, 11 ($8)
[/su_box]
[su_heading size="21″ align="left"]Analysis[/su_heading]
Weather: Partly Sunny; highs in the low-70s
Scheduled Turf races: 1st, 3rd, 5th and 7th
Projected track conditions… Main: FAST; Turf: GOOD
Post Time for 1st race is 1:10pm EDT
Race 1 is ON THE TURF
#6 – Expect a Kitten (9-5): Will try to graduate on the sixth different turf course in her sixth turf try; her worst turf BRIS# from those six samplings is still better than any of her rivals today
#3 – Justa Scoch (4-1): Runner-up in turf debut two back at this level then ran admirably when stepped up to $40kMCL on grass; adds Blinkers
#4 – Annie Boo Boo (5-1): MD-bred FTS by Albert the Great out of a Haymaker mare is half-sister to MD Million turf stakes winner Talk Show Man; dirt works are OK but trainer "Ham" Smith gets 15% of runners who debut in maiden claimers to Winners Circle  
Race 2
#3 – Next Street (5-2): Draw a line through that turf try when in v. elders and she's the one to beat with a nice stalking trip to run down the trio of speedsters in deep stretch
#1 – Chips Included (9-2): Tough assignment from the rail with plenty of speed to her outside; beaten favorite can make amends if she outlasts others on the front end
#5 – Balharbour Miss (8-5): Trainer T. Kreiser (29% in '17) ships this gal in from Pen and brings along jock D. Whitney for lone mount; faded in both starts since claim v. AlwN1x at Pen but won lone MD (Lrl) start last Nov. for same tag as today     
Race 3 is ON THE TURF
#3 – Emelina (7-2): *** BEST BET *** Willing to forgive turf sprint in first start after layoff and dirt start going two turns never got early lead; third start after layoff with S. Russell back in the irons should sprint to the early lead as she's done in the past, setting slow fractions as there's no one to run with her early among this assembled group; we'll know early on the outcome
#5 – Doukas (5-1): Seems trainer R. Rodriguez brought this mare to MD hoping she'd get claimed as he left her here even after a nice late run in turf sprint; J. Pimentel stays on for substitute trainer J. Maldonado (23% in '17)
#6 – Kacy Lauren (9-2): HOF rider E. Prado could have spent this Mother's Day relaxing instead took this mount, his only one on the card; makes first start since last Aug. and leery of the "Previously trained by Chad Brown" comment as good trainers don't give up on good horses  
Race 4
#2 – Y'er Wan (7-2): Interesting that T. McCarthy bails on #6 (5-2 ML) to ride this gal who was a Vet scratch at Pen last month when entered for $5k; resurfaces here to try again to make first start since day after Christmas
#5 – Fleur de Force (2-1): Same comment as was for #5 in R3; not a bad effort in latest when in against elders for first time; she's a winner IF she can repeat last effort but yellow flags are waving
#4 – Ready It (8-1): Nice late run in slop going 6f in first start since last June; comes back in just 9 days and stretches out to preferable distance; will need the track to be kind to Closers   
Race 5 is ON THE TURF
#5 – Sarah's Whisper (10-1): $$$ LONGSHOT $$$ Speedy 7-year-old just got third career win in 30thd start but second on turf in just seventh career start; that was in third race after layoff and can repeat as she is the speed of the speed w/ A. Cortez up and gets a break in distance as Pim turf sprints are 5f not 5½f at Lrl
#8 – More Stormyweather (8-5): Logical choice as she got a great ride over a "good" Lrl turf course sprinting at this same $11k Claiming condition; nice turf record sprinting (4:2-0-1)
#2 – Dance N Denae (6-1): Early speed and led to the stretch going 8½f on Lrl turf in latest at this same level; expect more of a stalking trip in here          
Race 6
#1 – Never Stop Looking (4-1): Nice runner-up effort at one mile when in for $15k open tag earning a 94 BRIS#; needs to take advantage of probable speed duel
#4 – Any Court Inastorm (7-2): Been over a year since last trip to Winners' Circle but has been facing the best local talent short of stakes company; looking to get confidence back on this drop
#5 – Struth (5-2): Fifth in tough state-bred/sired stakes sprint in latest (Mar. 18) just 5-lengths behind winner; prior to that easily won $25k open claimer as even money choice 
Race 7 is ON THE TURF
#12 – Frasero (4-1): usually a day off for jock H. Karamanos, he has two mounts on card (in R6 and here); fact he was aboard in latest (Feb. 12) on dirt when last by 34-lengths indicates today's turf try will be more like the gate-to-wire win last Nov. v. similar
 #9 – Datamining (15-1): Nice late move in turf sprint at Lrl under 7lb. bug v. $16kN3L; X-Man gets the job to stretch gelding around two turns; could upset with slight improvement
 #6 – Put It Forward (9-2): Runner-up in MD turf debut at Lrl in latest when shipped in from NY by trainer R. Rodriguez, left locally for trainer J. Maldonado to condition  
Race 8
#5 – Parade of Nations (5-2): Ten races ago broke maiden in debut here last year; second start after trainer K. Magee claim (29%) and gets T. McCarthy in irons, fresh from getting his 1,000th career win on Saturday
#1 – It's a Journey (9-5): Breaks from rail for first time in 11-race career; runner-up twice in this condition… once sprinting and the other going a mile just 2 weeks ago earning 97 BRIS#
#3 – Martywiththeparty (8-1): Displayed early speed going long then weakened in the final furlongs; cut back to sprint here should yield a better effort in third start v. elders
Race 9
#11 – Jax (9-5): Trainer L. Rice looking to continue success from Lrl Spring meet; cut back to 5½f gives best shot to this City Zip filly to graduate
#3 – Page Too (12-1): No early speed in debut (Oct. 16) when sent off 5-1 but had traffic trouble yet ran on late under own encouragement; trainer M. Eppler does well with runners after long layoff (25%)
#1 – Dats Dares Gold (12-1): Not a bad debut after stumbling at the start, earning a 62 BRIS# should improve and could be enough to graduate with addition of blinkers
YESTERDAY'S NEWS  
On Saturday May 13th at Pimlico had 5 winners from the 9-race card (3 Top Selections; payoff in BOLD) having $2 WIN pay-offs of $5.00 (1st race), $3.20 (3rd), $6.00 (4th), $7.00 (5th) and $5.80 (6th). Of the suggested multi-race wagers hit the R3-R5 50 cent Pick-3 for $20.30 (cost: $13.50). Top Selections in 2017 are 135 for 501 (26.95%). In 2016, Top Selections were 304 for 1,213 (25.02%).
BEST BET of the Day (56: 18-12-11; in 2016 127: 31-29-19) Antietam Creek (2nd race: 2-1 M/L; 9-5 PT) came out at the break, corrected and settled off the pace, came under pressure four-wide mid-turn but failed to respond and finished 5th.
LONGSHOT PLAY of the Day (48: 5-8-9; in 2016 124: 13-13-16) Value Added (4th race: 6-1 M/L; 9-1 PT) settled off the early pace, crept closer between rivals near the half, dropped to the fence and continued a run into the lane, eased out for room in mid-stretch tightening a rival then straightened away to finish willingly to nab the place, just one-length behind the winner and returned $6.60 to PLACE and $3.20 to SHOW.