The GQ Approach – Pimlico May 13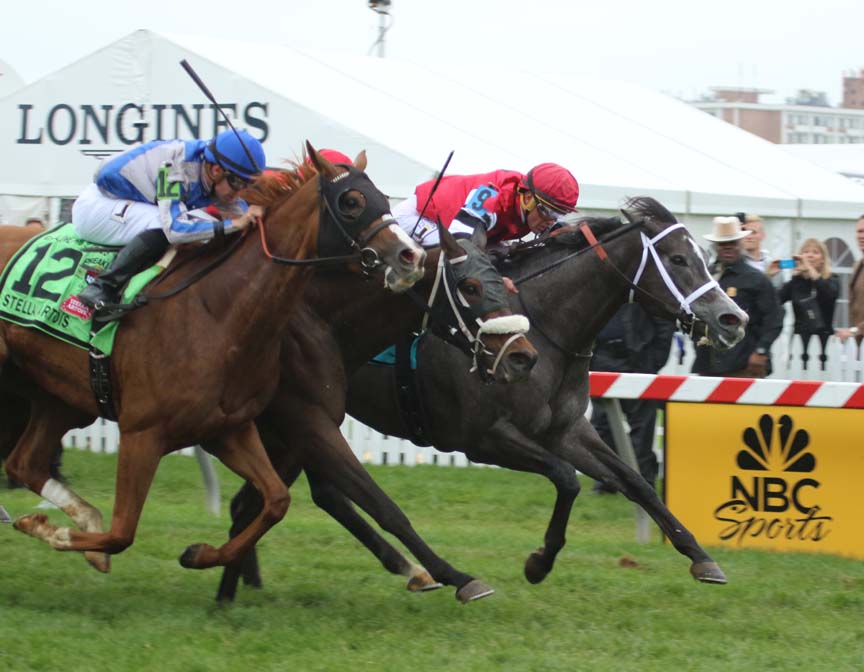 Mizz Money (#9) held off Vielsalm (in between) and Heath (#12) to win the Grade 3 Gallorette. Photo by Laurie Asseo.
The GQ Approach features full-card selections from Pimlico for the 12-day live racing meet, Post Time 1:10pm EDT including a daily Best Bet, Longshot Play, and multi-race wagers — including the 20 cent Rainbow Pick-6, 50 cent Early and Late Pick-5s, as well as Pick-4s and rolling Doubles, Pick-3s and the Super High-5.

[su_box title="
Today's Carryovers
" style="glass" box_color="#66ADCC"]
Rainbow Pick 6: $754.76
Super High 5: no carryover
Late Pick 5: no carryover[/su_box]
[su_box title="GQ's Handicapping Tip of the Day" style="glass" box_color="#66ADCC"][stray-random][/su_box]
[su_box title="Best Bet of the Day" style="glass" box_color="#66ADCC"]Race 2 / #3 – Antietam Creek (2-1)[/su_box]
[su_box title="Longshot Play of the Day" style="glass" box_color="#66ADCC"] Race 4 / #5 – Value Added (8-1)[/su_box]
[su_box title="
Multi-race Wagers
" style="glass" box_color="#66ADCC"]
Race 1: $2 DOUBLE  1, 5  w/ 3 ($4)
Race 3: $0.50 Pick-3  1, 2, 4  w/ 2, 5, 8  w/ 5, 6, 7  ($13.50)
Race 5: $0.50 Pick-5  7  w/ 1, 7 w/ 2, 3, 6 w/ 5, 8, 10 w/ 3, 8 ($18)
Race 9: $2 Double  5, 8, 10  w/ 3, 8 ($12)
[/su_box]
[su_heading size="21″ align="left"]Analysis[/su_heading]
Weather: Cloudy with rain all day; high temps near 50
Scheduled Turf races: 4th, 6th, and 8th
Projected track conditions… Main: SLOPPY to GOOD; Turf: OFF
Post Time for 1st race is 1:10pm EDT
Race 1
#1 – Hey Willie (2-1): This one was too obvious to pass on considering I'm part of the Wasabi Ventures Stables family who lost the star of our stable less than 48 hours ago; RIP sweet, Slick William
#5 – Zen Papa (3-1): Gets class relief and should get the jump on any others who wish to challenge for the early lead; need the X-Man to break out of his 2 for 67 in 2017 slump
#6 – Two Term Leader (9-5): Beaten favorite when claimed by trainer K. Magee at this level on Mar. 31st and hasn't raced since; vulnerable favorite being offered at $500 discount  
Race 2
#3 – Antietam Creek (2-1): *** BEST BET *** Foes in here have plenty of early speed to set it up nicely for him to come splashing home on the outside; just 2 for 28 lifetime but enjoys an off track (5:1-1-2)
#2 – Frecuencia (6-1): Last race was mid-Oct. but connections feel she's worth protecting by taking advantage of the Waiver Claiming Rule; usually gives a good account of herself every time out
#5 – Magic Cookie (5-1): Can draw a line through her latest (turf debut) v. much better first time v. N3L as well; gets back on main oval and can take this field gate-to-wire with an alert start       
Race 3
#4 – I Just Wanna Win (7-5): Drops down two class levels following two runner-up efforts; been part of Exacta in all five starts going 6f (5:3-2-0); will be tough to beat if she brings her "A" game
#2 – Stormy Salute (3-1): Last two victories came at this open $7,500 level, one on a muddy track; finished 3 lengths behind top pick going 6f w/ T. McCarthy up, today V. Carrasco in the irons
#1 – My Adeline (6-1): Has a win and runner-up finish from two starts over an off track; gate-to-wire winner two back in $16kN3L; makes first start for K. Magee barn (31% this angle)    
Race 4 is OFF THE TURF
#5 – Value Added (8-1): $$$ LONGSHOT $$$ Shortened field but foes who stuck around like to be among the early pace; second start for trainer C. Juarez barn looks to improve by making a late run
#8 – Claravoyant (3-1): Gets in courtesy of Mother Nature as MTO entry; will enjoy going two turns again and hopefully A. Cintron gives her a nice stalking trip
#2 – I Dream of Lois (2-1): Been in against tougher instead of N2L in last couple efforts; should find these gals a bit easier the hold off with a forwardly placed trip   
Race 5
#7 – Bound Bi Luck (3-1): FL-bred FTS by Lookin At Lucky who won Preakness on this track and Indiana Derby over a sloppy track; oldest of the babies in here being a Feb. foal; couple nice gate works
#6 – Kingdom Minded (7-2): One of two in here with a start under his belt; showed late interest after a tardy start; blinkers go on in hopes of rectifying that
#5 – No Lemon No Lime (4-1): No Lasix for debut; KY-bred son of Discreet Cat should be quick from the gate; trainer J. McCutchen wins w/ 20% of his babies                
Race 6 is OFF THE TURF
#1 – Make My Saturday (7-2): See nothing but bullets from his work tab; was game and all out to win in first race after 4-month layoff on a "good" Lrl turf; 1 for 2 on an off track
#7 – Ruth Less Blues (10-1): Stumbled in latest start out of the yet still rallied to win convincingly v. $11k open claimers; has the BRIS#s on an off track to compete here
#4 – Racy (10-1): Blowing the dust off this 10-year-old who took the winter off as he's been a turf specialist entire career; no starts on an off track but last year in same scenario won
Race 7
#2 – Dundalk (7-5): Can the third time be a charm after starting career with two third-place efforts? BRIS#s indicate he can and adding blinkers may make the difference… Bless his heart, Hon!
#3 – Mr. Smarty Pants (9-2): FL-bred Feb. foal by Congrats out of a Smarty Jones mare was worth holding onto for breeder/owner Live Oak Plantation; been working smartly in the A.M. at Fai and like the final drill from the gate
#6 –Spot On Frank (6-1): Second start after an impressive debut in that he was quick from the gate and clipped off fast early fractions and had every right to "give way" to fourth as final fractions for 6f was 12 2/5  
Race 8 is OFF THE TURF
#8 – Include Gold (6-5): Appears to be golden as a MTO entry; 2 for 2 on an off track and catches a group who'd rather be running on grass
#5 – Boosting (10-1): Been an Also-Ran in all three starts in 2017, behind both top pick and #1; should improve today since she's 2 for 3 on an off track
#10 – Head Games (4-1): Like the sprint on grass just 6 days ago showing late interest when she's more comfortable going longer; trainer G. Motion had an "Off the Turf" winner on Thursday
Race 9
#3 – Colony Strike (5-2): Got 10th victory in 30th career start in latest v. similar; four of those wins came on an off track in just 8 starts; reunited w/ V. Carrasco who knows this one well
#8 – Rumblin Kyle (9-2): Ultra-consistent runner who was second best behind top pick in last outing, first time v. open $5k claimers; tough outside post to turn tables but stranger things have happened
#4 – Goodbyeseeulater (6-1): Pretty much said that to $5kN1Y foes in latest, a gate-to-wire victory in the mud; will need to find his back class to prevail on step up and while going an extra 1/16th
YESTERDAY'S NEWS  
On Friday May 12th at Pimlico had 9 winners from the 9-race card (5 Top Selections; payoff in BOLD) having $2 WIN pay-offs of $13.40 (1st race), $5.80 (2nd), $3.00 (3rd), $5.60 (4th), $7.60 (5th), $7.80 (6th), $9.00 (7th), $7.20 (8th) and $3.20 (9th). Of the suggested multi-race wagers hit the R1-R2 $2 DOUBLE for $57.80 (cost: $8), the R3-R5 50 cent Pick-3 for $11.15 (cost: $9), R5-R9 50 cent Pick-5 for $161.05 (cost: $18) and R8-R9 $2 DOUBLE for $14.20 (cost: $8). Top Selections in 2017 are 132 for 492 (26.83%). In 2016, Top Selections were 304 for 1,213 (25.02%).
BEST BET of the Day (55: 18-12-11; in 2016 127: 31-29-19) Hug a Tree (7th race: 5-2 M/L; 7-2 PT) a forward factor racing in the two path leaving the backstretch, swung to the four path midway on the turn, closed steadily outside horses and was along in time to win by one and three-quarter lengths and returned $9.00 to WIN, $5.40 to PLACE and $4.00 to SHOW.
LONGSHOT PLAY of the Day (47: 5-7-9; in 2016 124: 13-13-16) Legal Precedent (8th race: 6-1 M/L; 5-1 PT) drifted in at the break and bumped with CHAMPIONS DINNER, came back out a bit and rushed with the winner, was urged along stalking three wide, bid between foes in mid-stretch and kept on gamely in a sharp effort to be runner-up and returned $4.20 to PLACE and $2.20 to SHOW.