The GQ Approach – Pimlico May 12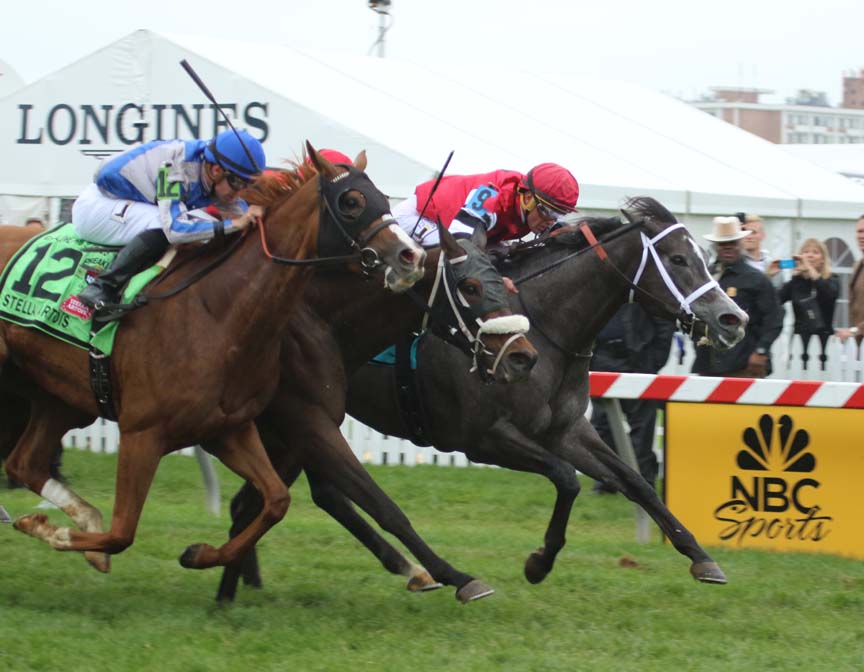 Mizz Money (#9) held off Vielsalm (in between) and Heath (#12) to win the Grade 3 Gallorette. Photo by Laurie Asseo.
The GQ Approach features full-card selections from Pimlico for the 12-day live racing meet, Post Time 1:10pm EDT including a daily Best Bet, Longshot Play, and multi-race wagers — including the 20 cent Rainbow Pick-6, 50 cent Early and Late Pick-5s, as well as Pick-4s and rolling Doubles, Pick-3s and the Super High-5.

[su_box title="
Today's Carryovers
" style="glass" box_color="#66ADCC"]
Rainbow Pick 6: no carryover
Super High 5: no carryover
Late Pick 5: no carryover[/su_box]
[su_box title="GQ's Handicapping Tip of the Day" style="glass" box_color="#66ADCC"][stray-random][/su_box]
[su_box title="Best Bet of the Day" style="glass" box_color="#66ADCC"]Race 7 / #4 – Hug a Tree (5-2)[/su_box]
[su_box title="Longshot Play of the Day" style="glass" box_color="#66ADCC"] Race 8 / #6 – Legal Precedent (6-1)[/su_box]
[su_box title="
Multi-race Wagers
" style="glass" box_color="#66ADCC"]
Race 1: $2 DOUBLE  1, 6  w/ 1, 5 ($8)
Race 3: $0.50 Pick-3  1, 4, 7  w/ 2, 3, 4  w/ 3, 8, 11  ($13.50)
Race 5: $0.50 Pick-5  8, 11 w/ 1, 3, 7 w/ 3, 4, 5 w/ 6, 7 w/ 3 ($18)
Race 9: $2 Double  6, 7  w/ 3, 4 ($8)
[/su_box]
[su_heading size="21″ align="left"]Analysis[/su_heading]
Weather: Mostly Cloudy; high in the upper-50s
Scheduled Turf races: 3rd, 5th, 7th, and 9th
Projected track conditions… Main: SLOPPY to GOOD; Turf: OFF
Apologizes for the brief analysis… lost a four-legged friend last night 
Race 1
#6 – All This Jazz (6-1): Looking for an upset in the lid-lifter as long as the main oval is indeed sloppy; best efforts have come at this distance
#1 – Important (5-2): Can turn the tables on the 1-1 favorite (#5) with the added distance and an off track
#5 – Beyond Forever (1-1): Every one of her races "Comment" section shows she's had an issue… all have been brought on by her own doing plus there's no guarantee she wants to go this far; good time to take a stand against the favorite  
Race 2
#1/1A – My Charming Clyde/It's a Bang (9-2): This duo sent out by trainer W. Potts has more wins at Pim then the entire field; take your pick… I like them both
#5 – Honor Commitment (8-5): Two strong runner-up efforts after trainer P. Magill claim for $5k; part of Exacta in 8 of 13 career starts
#6 – Ruby's Love (9-5): Beaten favorite at this level last outing; T. McCarthy keeps returning to ride, being persistent in trying to get fourth win from 38 starts         
Race 3 is OFF THE TURF
#4 – Runaway Mike (5-2): Second-time blinkers, first time on main oval; encouraged that he'll run and should try to take these foes gate-to-wire
#7 – Bourbon Commander (2-1): This 0 for 14 Curlin ridgling has best chance at graduating on drop and first main track start in MD since a year ago when he was a distant runner-up over a sloppy; trainer L. Gaudet 0 for 17 w/ runners making first start w/ her
#1 – Supero (15-1): Racing on the dirt may be a blessing in disguise (9:0-3-3); Al Cortez gets a rare afternoon mount but is 1 for 5 w/ trainer J. Hess             
Race 4
#4 – Greek God (9-5): Stretches out in typical trainer K. Magee move, dropping back to claiming price level after a solid effort against open company while in jail
#2 – Barnards Galaxy (8-1): Trainer S. Lake saw value in this 8-year-old gelding who was 0 for 19 on the dirt, until his last dirt outing first off Lake's claim; was in too deep in latest on turf and has better chance today to catch the speed late
#3 – Photogenic (6-1): Tough assignment trying to nurse his early speed going two turns but if track stays sloppy or good, he'll benefit   
Race 5 is OFF THE TURF
#8 – Hurricane Harold (9-2): Trainer G. Capuano gets 33% (from a large sampling) of his second-time starts to Winners' Circle; this ones' debut was on Independence Day '16
#11 – Speedy Slew (6-1): Lone non-turf try was a MSW in slop at Lrl finishing third… El Areeb was second that day     
#3 – Super Buddy (8-1): Second start w/ blinkers; NY shipper for trainer J. Toner gets E. Proda to ride                
Race 6
#7 – Good Save (8-5): Connections take advantage of the Waiver Claiming Rule as this 4-year-old gelding has been on the sidelines since last August
#1 – Go Bo Go (10-1): Steps up while in jail right after trainer C. Gonzalez claim but has competed against this level and higher in the past
#3 – Enduring Warrior (9-5): BRIS#s continue to climb and was a game runner-up first time v. winners & for trainer D. Barr as he claimed him off L. Rice out of $10k maiden victory
Race 7 is OFF THE TURF
#4 – Hug a Tree (5-2): *** BEST BET *** Though she's exclusively run on grass over the past year, her main track record isn't too shabby (26:5-4-2) and she handles an off track (5:1-2-1); plenty of rivals in here have early speed for her to catch at the wire
#5 – Charm City (8-1): Will need a pace meltdown, which is likely; just need F. Lynch to be patient and stalk
#3 – Anna May Our Queen (10-1): One of the many in here with early speed but has the best BRIS#s  
Race 8
#6 – Legal Precedent (6-1): $$$ LONGSHOT $$$ Picked a tough spot in latest for first start after 13-month layoff; should find this group a bit easier
#7 – Liberty Lane (3-1): Here's an old handicapping angle… when a trainer has an uncoupled entry, the lesser of the two (on paper) often prevails; the ML 6-5 favorite is this ones stablemate who is offered for the tag while this one isn't
#5 – Champions Dinner (8-1): After four starts at SA and needing to drop in for $20k to graduate, connections had little options other than to send this gelding to where he can compete
Race 9 is OFF THE TURF
#3 – Wonderman (3-1): Gets a gift with race being taken off the turf; trainer L. Rice, enough said!
#4 – Red Clay Road (8-1): Adds blinkers and takes big drop from $40k after going 9 furlongs on turf; was fourth of five in one mile dirt event two back
#2 – Regal Expectations (12-1): has been beaten by double-digits in all four career outings; first two-turn try should help her hit the board
YESTERDAY'S NEWS  
On Thursday May 11th at Pimlico had 6 winners from the 9-race card (2 Top Selections; payoff in BOLD) having $2 WIN pay-offs of $4.80 (2nd race), $9.20 (4th), $5.00 (5th), $8.00 (6th), $6.80 (8th) and $7.00 (9th). Of the suggested multi-race wagers hit the R8-R9 $2 DOUBLE for $42.00 (cost: $12). Top Selections in 2017 are 127 for 483 (26.29%). In 2016, Top Selections were 304 for 1,213 (25.02%).
BEST BET of the Day (54: 17-12-11; in 2016 127: 31-29-19) Grecian Prince (8th race: 3-1 M/L; 2-1 PT) had speed between foes then grabbed command to the inside of MAX CROWN leaving the half mile marker, was hounded by that one around the turn, kicked clear two wide into the lane, remained clear to mid-stretch, gave way grudgingly, saved the place and returned $3.20 to PLACE and $2.20 to SHOW.
LONGSHOT PLAY of the Day (46: 5-6-9; in 2016 124: 13-13-16) Reilly S (9th race: 6-1 M/L) was SCRATCHED when race was taken off the turf.