The GQ Approach – Pimlico May 11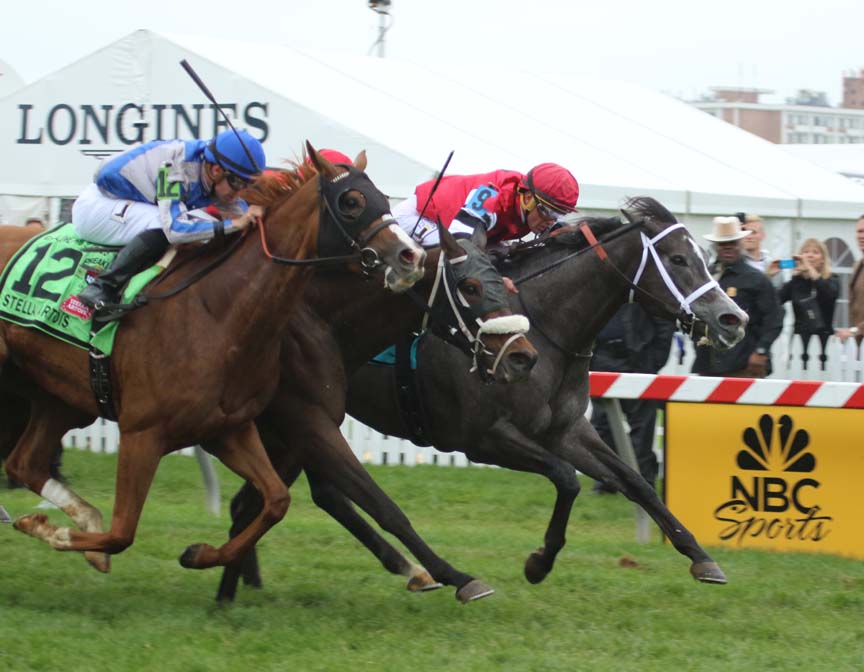 Mizz Money (#9) held off Vielsalm (in between) and Heath (#12) to win the Grade 3 Gallorette. Photo by Laurie Asseo.
The GQ Approach features full-card selections from Pimlico for the 12-day live racing meet, Post Time 1:10pm EDT including a daily Best Bet, Longshot Play, and multi-race wagers — including the 20 cent Rainbow Pick-6, 50 cent Early and Late Pick-5s, as well as Pick-4s and rolling Doubles, Pick-3s and the Super High-5.

[su_box title="
Today's Carryovers
" style="glass" box_color="#66ADCC"]
Rainbow Pick 6: no carryover
Super High 5: no carryover
Late Pick 5: no carryover[/su_box]
[su_box title="GQ's Handicapping Tip of the Day" style="glass" box_color="#66ADCC"][stray-random][/su_box]
[su_box title="Best Bet of the Day" style="glass" box_color="#66ADCC"]Race 8 / #4 – Grecian Prince (3-1)[/su_box]
[su_box title="Longshot Play of the Day" style="glass" box_color="#66ADCC"] Race 9 / #1 – Reilly S (6-1)[/su_box]
[su_box title="
Multi-race Wagers
" style="glass" box_color="#66ADCC"]
Race 1: $2 DOUBLE  5, 6, 7  w/ 3 ($6)
Race 3: $0.50 Pick-3  2, 7, 9  w/ 2, 3, 5  w/ 4, 7, 8  ($13.50)
Race 5: $0.50 Pick-5  4, 7 w/ 3, 4, 6 w/ 4, 5, 6 w/ 4, 5 w/ 1, 10 ($36)
Race 9: $2 Double  4, 5  w/ 1, 5, 10 ($12)
[/su_box]
[su_heading size="21″ align="left"]Analysis[/su_heading]
Weather: Mostly Cloudy w/ 70-80% chance of rain; high in the low-60s
Scheduled Turf races: 3rd, 5th, 7th, and 9th
Projected track conditions… Main: GOOD Turf: GOOD
Post Time for 1st race is 1:10pm EDT
Race 1
#7 – Francisca Spell (5-1): KY-bred FTS by Haynesfield out of a Tiznow mare was the most expensive of this bunch ($14k) who entered the auction ring; shows a trio of A.M. drills
#6 – She Runs Hot (4-1): She's just one of two in here who already have one race under their belts; had #1 Post and showed no interest; adds blinkers for trainer J. Salzman Jr. who gets 25% to Winners Circle in 2nd career race
#5 – Unkiss Me (3-1): No reason for this KY-bred daughter of Regal Ransom to be 3-1 ML favorite unless ML oddsmaker got the word from Clockers or just going by trainer J. McCutchen winning 21% w/ 2 y.o.; has the X-Man in the irons who just finished Lrl meet 2 for 161  
Race 2
#3 – Zipline (5-2): Lone Speed so let's test the "Pimlico is a speed favoring track" myth in the second race of the meet; disclaimer: "Zippy" is 0 for 7 going 6f and all three victories came at Pen; if she holds off Closers, then strongly consider using early speed
#7 – Macroeconomics (8-5): Has the back class and after earning minor awards in both races after C. Gonzalez claim for twice the claiming price, drop to this level is to get to Winners Circle
#6 – Northern Prancer (5-1): Didn't run a bad race in past eight outings since coming off 6-month layoff; will forgive 46 day layoff as this condition is tough to fill         
Race 3 is ON THE TURF
#9 – Beautiful Nite Sky (7-2): First turf race and it's anybody's guess how it will play; one thing for sure this one appears to have the edge in getting the lead without much pressure from rivals in this contest and it may not matter how the Pim sod is playing when it's a "lone speed" scenario
#2 – Cherished Prize (5-1): First mount since injury for V. Carrasco; he knows this R. Jenkins maiden well as he's been ITM with her 3 of 4 times at this $16k MCL level
#7 – Chamberlin Road (3-1): Has earned the top two turf BRIS#s in this group who have run on the grass; vulnerable favorite though as first race in 10-months didn't go well on dirt at Pen no less


note if race comes OFF THE TURF, consider using #9, #1, #7 instead



Race 4
#5 – Love to Prospect (6-1): Willing to forgive first start in 11-months because it was a sprint and this gelding does best work going two turns… as he will today and gets early lead without much pressure
#3 – Last Confession (2-1): Looks for first win in fifth try at Pim; third in latest as runner-up came back to win; an off track would enhance chances (4:1-1-2)
#2 – Let's Get It Going (15-1): Sneaky longshot if track comes up sloppy or muddy as the last two outings that resulted in hitting the board were on these surfaces at this same condition   
Race 5 is ON THE TURF
#7 – Cracking Good Pins (4-1):  Turf sprint 2 weeks ago was first start since New Years' Day; served as a nice paid workout at this level showing interest late; stretch out to one mile today steps up this 7-year-old mare for success and a rare "W" for trainer R. Sillaman
#4 – Workerbee (5-2): Keeps trying to run against AlwN1x but with same dull results; trainer switch to M. Trombetta (24% first-time) and drop to this level gives better chance of success
#8 – William'sluckygray (12-1): Just 1 for 13 on turf and 0 for 5 at distance last time she felt grass on her hoofs was '15 in NY v. much better, showing early speed; could be a sleeper


note if race comes OFF THE TURF, consider using #9, #4, #6 instead

                
Race 6
#3 – Hardwin (2-1): Had better results in two turf tries than in lone dirt effort which was in debut last July; addition of blinkers in turf races may be the reason for improvement not just turf
#6 – Slim (12-1): Made debut 3 weeks ago at Kee for $20k tag, showing speed for a half when 27-1 but couldn't keep pace; trainer J. McCutchen does well with runners in their second career race
#4 – Rarified Air (7-5): Three disappointing efforts after trainer C. Gonzalez claim returns to main track where he's competed v. better  
Race 7 is ON THE TURF
#4 – Not in Charge (4-1): Showed ability at GP in Feb. especially that 92 BRIS# jumps off page; second-time blinkers for this beaten favorite when in for $40k; Karamanos takes gets the mount
#5 – Cleave (12-1): $250k Kee Sept. '15 purchase made debut Labor day weekend at Sar. Going long on turf (8th beaten by 6); been away since and gelded; extensive work tab at Fai and gets A. Cruz whose 1 for 2 with trainer R. Ribaudo
#6 – Good Reasoning (12-1): Been on the bench since last Oct., this Scat Daddy colt gets Lasix for trainer G. Motion who'll give F. Lynch a leg up as combo has won at 39% clip; will be heard from in deep stretch; note: not using C. Clement's well-bred FTS and lone entry (#10) w/ T. McCarthy even though everyone else will
note if race comes OFF THE TURF, consider using #8, #7, #9 instead


Race 8
#4 – Grecian Prince (3-1): *** BEST BET *** Beaten favorite got caught up in quick pace and faded late whereas this group lacks early foot; two back had a rough trip yet only finished a neck behind ML favorite in here (#5)
#5 – Hickory Hill (2-1): Tough customer so far in '17 (4:2-1-1) tried to stretch out to 7 furlongs in latest and was a game runner-up; cut back to 6 furlongs makes him the one to beat
#2 – Demon Buster (5-2): House Horse retains services of HOF E. Prado after being third as beaten favorite just a half-length behind #5; has faced much better in the past
Race 9 is ON THE TURF
 #1 – Reilly S (6-1): $$$ LONGSHOT $$$ 4-year-old had a near tragic start to her career here in debut last June as she tried to jump rail in mid-stretch; next start was forgettable so trainer A. Merryman gave her time off; looking for a nice late run on the outside this time around
#10 – Love's Legend (7-2): Showed promise in turf debut last outing at this level racing with early leaders; turf sprints at Pim are a 1/16th shorter and could earn diploma w/ switch to V. Carrasco
  #5 – Gray Veil (6-1): 3-year-old of E Dubai flashed early speed in debut on dirt last Dec. when 26-1 but this sire's offspring have produced on turf at a big price (see Fly E Dubai); needs to overcome trainer D. Houghton 0 for 25 after extended layoff
note if race comes OFF THE TURF, consider using #12, #4, #5 instead

YESTERDAY'S NEWS  
On Sunday May 7th at Laurel had 7 winners from the 10-race card (2 Top Selections; payoff in BOLD) having $2 WIN pay-offs of $8.60 (1st race), $7.40 (2nd), $3.00 (3rd), $9.60 (4th), $5.60 (5th), $7.20 (7th) and $7.40 (8th). Of the suggested multi-race wagers hit the R1-R2 $2 DOUBLE for $36.40 (cost: $12) and R3-R5 $50 cent Pick-3 for $13.20 (cost: $13.50). Top Selections in 2017 are 125 for 474 (26.37%). In 2016, Top Selections were 304 for 1,213 (25.02%).
BEST BET of the Day (53: 17-11-11; in 2016 127: 31-29-19) Miss Swisher (8th race: 4-1 M/L; 5-2 PT) patiently handled behind horses for three furlongs, swung to the four path approaching the stretch, swept to command outside horses in upper stretch then eagerly pulled away under brisk urging to win by 6¾ lengths and returned $7.40 to WIN, $3.00 to PLACE and $2.40 to SHOW.
LONGSHOT PLAY of the Day (46: 5-6-9; in 2016 124: 13-13-16) Swamp Chilli (5th race: 10-1 M/L; 7-1 PT) Off a bit slow, moved forward into a stalking position in the 4-path on the turn, drew even with the early pacesetters entering the stretch but could not get past those two and settled for the minor award and returned $2.80 to SHOW.