The GQ Approach – Laurel May 7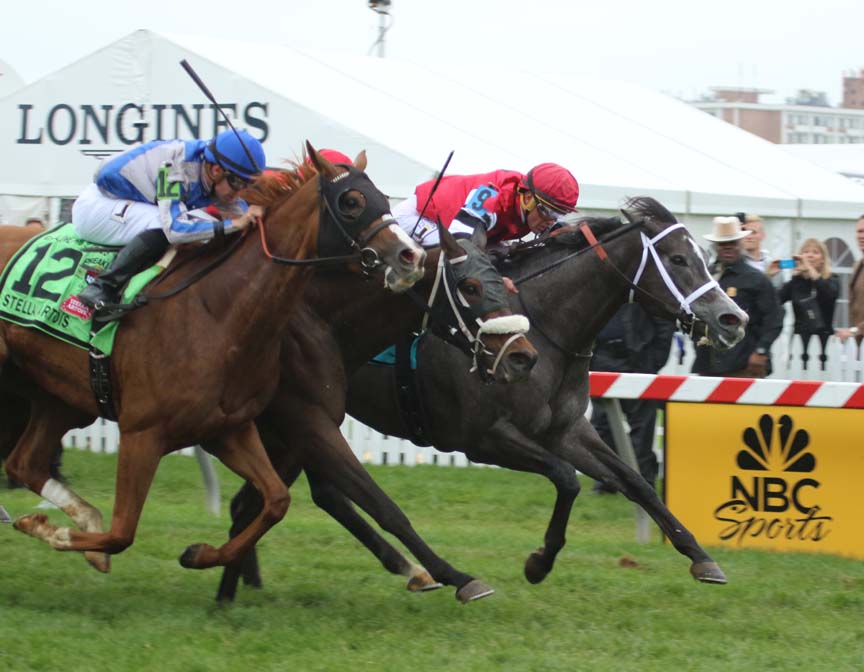 Mizz Money (#9) held off Vielsalm (in between) and Heath (#12) to win the Grade 3 Gallorette. Photo by Laurie Asseo.
The GQ Approach features full-card selections from Laurel Park (w/ live racing every Friday, Saturday and Sunday through May 7, 2017; Post Time 1:10pm EDT), including a daily Best Bet, Longshot Play, and multi-race wagers — including the 20 cent Rainbow Pick-6, 50 cent Jackpot Pick-5, as well as Pick-4s and rolling Doubles, Pick-3s and the Super High-5.

[su_box title="
Today's Carryovers
" style="glass" box_color="#66ADCC"]
Rainbow Pick 6: $10,895
Super High 5: no carryover
Late Pick 5: $3,596[/su_box]
[su_box title="GQ's Handicapping Tip of the Day" style="glass" box_color="#66ADCC"][stray-random][/su_box]
[su_box title="Best Bet of the Day" style="glass" box_color="#66ADCC"]Race 8 / #6 – Miss Swisher (4-1)[/su_box]
[su_box title="Longshot Play of the Day" style="glass" box_color="#66ADCC"] Race 5 / #7 – Swamp Chilli (10-1)[/su_box]
[su_box title="
Multi-race Wagers
" style="glass" box_color="#66ADCC"]
Race 1: $2 DOUBLE  2, 4  w/ 3, 5, 8 ($12)
Race 3: $0.50 Pick-3  6, 7, 8 w/ 4, 7, 9  w/ 3, 5, 7 ($13.50)
Race 5: $0.20 Pick-6  3, 5, 7 w/ 1, 5, 9 w/ 4, 6, 13 w/ 1, 3, 6 w/ 2, 3, 7 w/ 4, 5 10 ($145.80)
Race 6: $0.50 Pick-5  1, 5, 9 w/ 6, 13 w/ 3, 6 w/ 2, 3, 7 w/ 4, 5 ($36)
Race 9: $2 Double  2, 3, 7 w/ 4, 5, 10 ($18)
[/su_box]
[su_heading size="21″ align="left"]Analysis[/su_heading]
Weather: Mostly Cloudy, high in the upper 50s
Scheduled Turf races: 1st, 3rd, 4th, 6th, 7th, 9th, 10th
Projected track conditions… Main: FAST Turf: GOOD
CLOSING DAY at LAUREL – MANDATORY PAYOUTS on Late Pick-5 and Rainbow Pick-6
Race 1 is ON THE TURF
#2 – Leapt (9-2): Isn't this what Thunder Snow did shortly after exiting the Derby Starting Gate? WTF was that?! Well this filly can leap to the early lead and get her second career win
#4 – Northern Eclipse (5-2): Morning works seem to indicate this mare have been re-trained by K. Cartagena during her 5-month layoff to become a sprinter
#9 – Lady Forest (10-1): Another one coming off a 10-month vacation; like the work tab leading up to comeback and realistic placement  
Race 2
#3 – Vegas Appeal (9-2): Just one of two class droppers in this field of eight; took some action in debut w/ $25kMCL but couldn't keep up with those fractions which were more than a full second faster than the others in here have been struggling to compete in
#5 – Impressive Way (7-2): Should relish the additional furlong; showed nice, late interest at this level when fourth by less than 3-lengths at this level
#8 – Zimbabwe (2-1): Trainer G. Motion graciously rid himself of this 0 for 9 gelding after doing all he could to get to the Winners' Circle; this 4-year-old appears to lack the will to win be maybe second time blinkers will be the charm         
Race 3 is ON THE TURF
#7 – The Stranger (4-1): Will take a chance on this FTS by U S Ranger who fired a bullet in his final prep for debut; this Triple Crown series nominee obviously hasn't showed brilliance in the A.M. to even give it a go in MSW?
#6 – Loconotion (8-5): Early speed in all three career starts but tired in only two on dirt while staying on for runner-up on turf which came in first start after 6-month layoff
#8 – Radial Flyer (9-2): After 121 career starts, at GP and Aqu while his best finish was one third place showing, needed to be shipped to Lrl for more class relief             
Race 4 is ON THE TURF
#7 – Leroy Brown (4-1): House Horse ridden by HOF E. Prado typically adds up to a trip to the Winners' Circle; additional 1/16th will be the difference
#9 – Feel Proud (7-2): Broke maiden in most recent effort but that was on dirt after three straight turf tries; adding blinkers may have done the trick so we'll stick with him to make it two in a row
#4 – Resident Scholar (12-1): Showed some life on the turf last Fall when dropped in for $25kMCL tag; bug boy C. Carrasco handles himself well on the turf   
Race 5
#7 – Swamp Chilli (10-1): $$$ LONGSHOT $$$ Only 4-year-old in this $16kMCL with a group of 3-year-olds; best race of the 4 he's run was the only one on dirt whose speed figure matches up well in here; getting S. Russell in the irons should help
#3 – Spin Move (5-2): Outrun in his debut last July when sent off 5-2 second choice; been off since and got the ultimate equipment change… gelded; series of 5 works nicely spaced leading up to today
#5 – Desert Frontier (3-1): Much the second best when dropped to this level in latest; looked like a winner at the eighth pole but couldn't hold off winner                
Race 6 is ON THE TURF
#9 – Jensen (4-1): Could be a smart claim by trainer L. Gaudet (25% first race after claim); just out of jail this gelding should get a nice stalking trip to get first run on Closers in catching the Early Speed types
#1 – Tambourin (8-1): Love the turf sprint inn first race since late December; had to have been a freshener for the stretch out to two turns as he's raced in all previous turf starts
#5 – Forever Bernardini (10-1): Finally got back on turf in latest and broken thru the N2L condition; strong enough to improve off that effort to threaten to make it two in a row 
Race 7 is ON THE TURF
 #4 – Holiday Blues (6-1): Though 0 for 3 on the turf with 2 SHOW finishes, she's earned the highest BRIS turf speed figure (81) in this assembled group
 #6 – Le Weekend (3-1): Speed 3-year-old gives turf a try after runner-up v. state-bred/sired N1X allowance group when first time v. winners; not specifically bred for the turf but should handle it
#13 – Lucky in Malibu (6-1): Needs one defection to draw in from AE List; past turf tries were all v. maidens but had no problem competing recently in minor stakes restricted to 3-year-olds  
Race 8
#6 – Miss Swisher (4-1): *** BEST BET *** Just recently sent to trainer K. Magee after claimed two back for $16k at Aqu in N2L, finishing third; was no match v. $40kN2L when still in jail at Aqu; T. McCarthy takes mount who is 25% w/ Magee starters this meet
#3 – Picnic Party (3-1): Threat to go gate-to-wire as she got caught up in speed duel in latest in mud but held on for runner-up spot
#1 – Love You Back (7-2): Failed miserably as 4-5 favorite in Lrl debut after decent efforts in The Big Easy (aka FG); trainer L. Jones takes the blinkers off and gives A. Castrenze the call instead of M. Murrill
Race 9 is ON THE TURF
#7 – Not a Chance (5-1): That's what I was hearing the last few days from media colleagues at CD about my Derby pick (Hence); let's hope for better from this guy 5 and #9)who should get a perfect stalking trip right behind the early speedsters
#3 – Jockamo's Song (5-2): Nice 3 for 5 record on turf at this distance but all were against LA-breds; BRIS#s still indicate he can compete in open company up here
#2 – Lanier (8-1): 1 for 1 on grass albeit v. lesser but the speed figure (88) was good enough to indicate with just a tad bit improvement he'll be in the mix
Race 10 is ON THE TURF
#5 – Smash and Dash (4-1): Trainer M. Eppler takes over conditioning from a 12% Tam-based trainer; adds blinkers, gelded since latest effort and a bullet work in mud and jock upgrade to H. Karamanos can add up to graduation day 
#4 – Quick Buy (12-1): MD-bred, gelded son of Lemon Drop Kid out of a Devil's Bag mare fetched $55k at the Kee Sept. '15 yearling sale; distance will be no problem
#10 – Pik Em (5-1): Away since last Sept. showing no interest on the turf when sent off 3-1 earned him an appointing with the Vet to be gelded; adds blinkers and drops in for $25k tag       
YESTERDAY'S NEWS  
NOTE: Thanks to my ne'er do well cousin QG for providing Saturday's picks and analysis while I had my hands full at Churchill Downs covering the Kentucky Derby. Kudos to QG for scoring with his BEST BET ($4.80) in spite of 7 of his other 9 top picks having "Second-it is". Still a job well done. Below recaps GQ's Friday races…
On Thursday May 4th at Laurel had 6 winners from the 9-race card (2 Top Selections; payoff in BOLD) having $2 WIN pay-offs of $11.60 (1st race), $7.00 (2nd), $3.20 (4th), $3.80 (5th), $3.80 (8th) and $4.80 (9th). Of the suggested multi-race wagers hit the R1-R2 $2 DOUBLE for $67.60 (cost: $12) and the R8-R9 $2 DOUBLE for $13.60 (cost: $12). Top Selections in 2017 are 123 for 464 (26.21%). In 2016, Top Selections were 304 for 1,213 (25.02%).
BEST BET of the Day (51: 16-11-11; in 2016 127: 31-29-19) Big Slick (4th race: 9-2 M/L; 9-2 PT) saved ground on the turn, eased out in upper stretch and closed gamely outside of the winner to come up a nose short and returned $4.80 to PLACE and $3.20 to SHOW.
LONGSHOT PLAY of the Day (46: 5-6-8; in 2016 124: 13-13-16) All Fired Up (8th race: 12-1 M/L; 15-1 PT) Trailed the entire race to finish a well beaten 8th.