The GQ Approach – Laurel May 6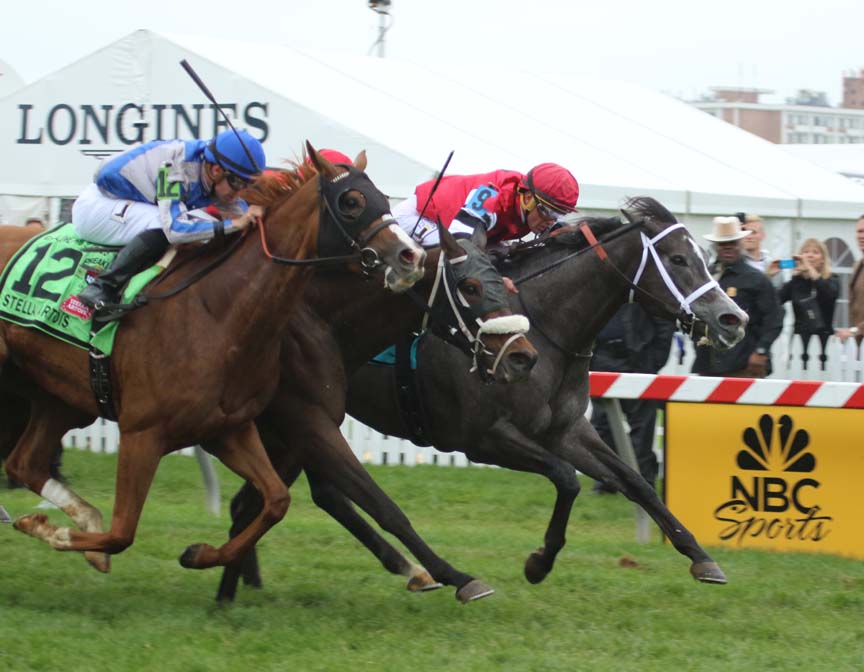 Mizz Money (#9) held off Vielsalm (in between) and Heath (#12) to win the Grade 3 Gallorette. Photo by Laurie Asseo.
The GQ Approach features full-card selections from Laurel Park (w/ live racing every Friday, Saturday and Sunday through May 7, 2017; Post Time 1:10pm EDT), including a daily Best Bet, Longshot Play, and multi-race wagers — including the 20 cent Rainbow Pick-6, 50 cent Jackpot Pick-5, as well as Pick-4s and rolling Doubles, Pick-3s and the Super High-5.

[su_box title="
Today's Carryovers
" style="glass" box_color="#66ADCC"]
Rainbow Pick 6: $9,404
Super High 5: $375
Late Pick 5: no carryover [/su_box]
[su_box title="GQ's Handicapping Tip of the Day" style="glass" box_color="#66ADCC"][stray-random][/su_box]
[su_box title="Best Bet of the Day" style="glass" box_color="#66ADCC"]Race 9 / #6 – Loki's Vengeance (2-1)[/su_box]
[su_box title="Longshot Play of the Day" style="glass" box_color="#66ADCC"] Race 5 / #9 – Hopehard (15-1)[/su_box]
[su_box title="
Multi-race Wagers
" style="glass" box_color="#66ADCC"]
Race 8: $0.50 Pick-3  6, 10 w/ 6 w/ 2, 4, 10 ($3)
Race 11: $2 Double  2, 7, 11 w/ 7, 9 ($12)
[/su_box]
[su_heading size="21″ align="left"]Analysis[/su_heading]
Weather: Rain showers early, high in the upper 50s
Scheduled Turf races: 1st, 4th, 5th, 7th, 8th, 10th, 11th
Projected track conditions… Main: MUDDY  Turf: GOOD
Race 1
#9 – Barney Rebel (9-2): Trainer Eppler has two logical contenders in here, legs go-to rider Karamanos up on this one; one-mile work two weeks back suggests she's serious about this one
#6 – Qeyaas (10-1): First time trainer Davidovich has made the long trek east from Mahoning to central Maryland; attracts top-quality local rider Pimentel   
#10 – Top Prospect (5-1): The other Eppler runner — this one was put up via DQ against slightly lesser last out, though the foul was not committed against him
Race 2
#4 – No Distortion (8-1): Useful return to the races when sixth after tiring late; connections know a good horse when they see one, have handled this guy like one, and likely lively pace scenario could play to this one's favor   
#3 – Seymourdini (3-5): Rice hitting at 50 percent at the track, and this guy couldn't have been more impressive in last – but will he get cooked up front by #6 Colonel Sharp?
#5 – Stolen Love (10-1): Gonzalez barn hitting on all cylinders at the meet; veteran owns four wins at the trip       
Race 3 
#4 – Ticker Tape Parade (5-2): Proctor trainee makes appropriate drop; two dirt tries produced four next-out winners, and added ground doesn't figure a problem
#7 – Little Tricks (6-1): Trainer Magee 30 percent first off the claim in MCL company; like that he keeps this guy at the same level though out of jail          
#6 – Celtic Ruler (3-1): Stretch-out may help this Louis Quatorze gelding, who's been second three straight against similar; repeated failures make expected short odds none too enticing
Race 4 is scheduled for the TURF
#5 – Rhythm Blues (5-1): Grasping at straws? Maybe – but runner has kept generally better company on the grass than this, though turf record remains unsullied by victory
#2 – Mr. Benz (5-2): Jenkins trainee in November running an indifferent fourth against better; finds lowest level yet, which could be the answer; starting season with one-mile trip a challenge
#8 – Brilliant Choice (20-1): Sire Brilliant Speed won over $1 million on turf and synthetic, and his offspring are hitting at 20 percent in turf starts; first time on the green for otherwise undistinguished runner   
Race 5 is scheduled for the TURF
#9 – Hopehard (15-1): Apt name for this longshot; messy start in last compromised any chance he had, which wasn't much in the face of local rocket ship Billy the Bull; might be lone speed here and finds easier spot         
#6 – Political Farce (4-1): Not inclined to judge last out — first of '17 — too harshly; has competed with the likes of these and should move forward off that
#11 – Merry's Honor (10-1): Recent form's not promising but this PA-bred stakes winner has back class to burn             
Race 6 
#7 – No Love Lost (10-1): This one's sibs are 0-for-17 on the turf, making grassy bow a bit of a surprise; Not for Love filly was green in the lane but didn't run badly, has a chance to move forward here
#3 – Sneaky Betty (9-5): Hasn't been overly impressive, but look who won her last two: G1 winner Dancing Rags and G2 winner Tequilita; hard to overstate the class relief she's getting here
#1 – Midday Prayer (2-1): Cutback to sprint distance and return to claiming company ought to help   
Race 7 is scheduled for the TURF
#4 – Andrasta (9-2): Both of runner's wins came around two turns; useful return to the races when third against better in '17 debut sprint, and a step forward here would make her a winner
#2 – Tracy Island (12-1): Return to route distance won't hurt this runner's chances; better efforts compete here; note she was less than two behind choice #4 two back
#6 – Zippity Gal (5-1): Lightly raced City Zip filly already has two wins for two different trainers; can make it three of each here  
Race 8 is scheduled for the TURF 
#10 – Dorothyfromdublin (8-1): Runner gave credible accounting of herself as a 2yo, has been away since October; got legged up for return to racing in South Carolina for a barn that can get 'em to fire off the bench
#6 – Kept (9-2): You can't fault this gal's recent tries sprinting; one of six to run back from last won next out
#3 – How (5-2): It's always something with this Galileo filly, who finds trouble everywhere — the talent is there, but that's an inauspicious quality in a turf sprinter
Race 9 
#6 – Loki's Vengeance (2-1): Just about any check here pushes this one past $500k earnings; has tactical ability to lead or stalk, depending on what develops; presence of NY bug boy to ride a bit of a surprise
#3 – Esposito (10-1): Followed up possibly useful return to races with bullet half-mile 4/22; class relief should help and this guy flashed talent in early career efforts
#4 – Aimed (5-1): Trappe Shot colt won two straight before apparent injury; has been working steadily the last month, and trainer Goldberg hits at 22 percent off long layoffs
Race 10 is scheduled for TURF
#10 – Versed (5-1): Made first turf try a winning one, and runner-up won next out against better; likely to find a good trip outside other speed types
#4 – Summer Spice (3-1): Stidham trainee burned a lot of good efforts before getting maiden score, has a shot at two straight here; not sure there's as much speed as he'd like but should be rolling late
#2 – My Own Lane (15-1): Expect this one to pick GRM spot over this – but love the Morris claim-back after losing this runner and then making first start not for a tag
Race 11 is scheduled for TURF
#11 – Sandy'z Slew (2-1): NY shipper has been keeping better company than this and has demonstrated ability to fire off the bench in a field full of question marks
#7 – Oak Bluffs (9-2): Seven-year-old opened campaign in style with a score against optional claiming/N2X types — second straight win and sixth straight in the exacta; old-timer and Cintron in the irons know where the wire is
#2 – Cyclogenesis (3-1): Nearly two years since this Stormy Atlantic gelding won a race, but he sure has seen some solid runners in the meantime; lone prior trip to LRL netted impressive win in '14 LRL Futurity
Race 12
#7 – Fifties Music (8-1): Trainer Decker's had some recent success with new arrivals to the barn; runner's only try at the trip yielded his only win
#9 – Don't Be Scared (5-2): Not sold that shortening up is the right answer for Lion Hearted gelding, but improving form puts him right there
#6 – Stilburnin (2-1): Other half of an uncoupled entry for trainer Magee with #9; arrives in his barn, coming north in search of greener pastures, easier company
YESTERDAY'S NEWS  
NOTE: GQ is on assignment at Churchill Downs today covering the Kentucky Derby. We'll return to your regularly scheduled programming Sunday. In the meantime, his ne'er do well cousin QG is here to mislead.
On Thursday May 4th at Laurel had just 4 winners from the 9-race card (2 Top Selections; payoff in BOLD) having $2 WIN pay-offs of $8.60 (1st race), $3.60 (3rd), $11.80 (7th), $4.80 (8th). Top Selections in 2017 are 121 for 455 (26.31%). In 2016, Top Selections were 304 for 1,213 (25.02%).
BEST BET of the Day (51: 16-11-11; in 2016 127: 31-29-19) Never Stop Looking (4th race: 7-2 M/L; 7-2 PT) runner-up  and returned $4.00 to PLACE and $2.40 to SHOW.
LONGSHOT PLAY of the Day (45: 5-6-8; in 2016 124: 13-13-16) Wolfie (3rd race: 10-1 M/L; 15-1 PT) sped to the early lead, hugged the inner rail and gave way the final furlong to finish 7th.