The GQ Approach – Laurel May 5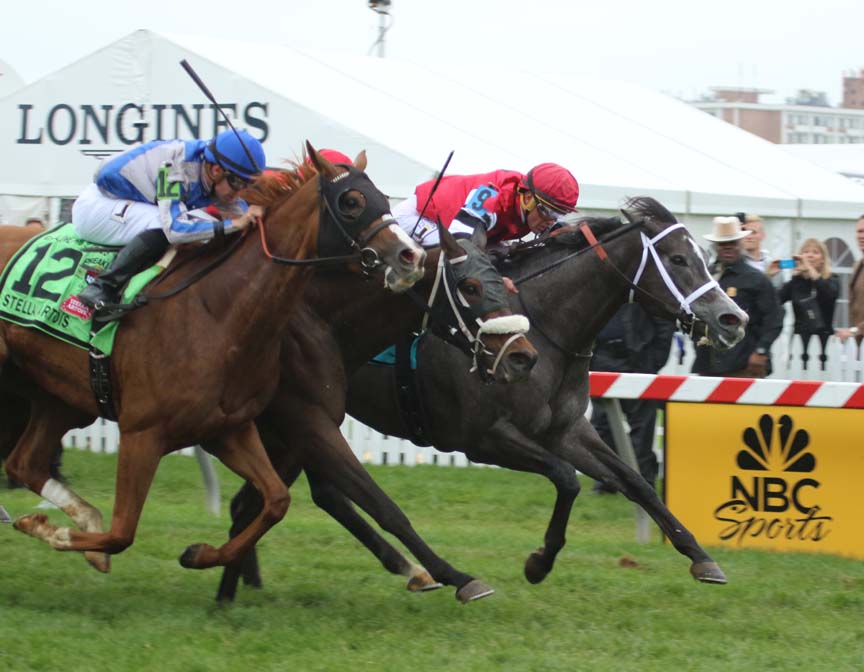 Mizz Money (#9) held off Vielsalm (in between) and Heath (#12) to win the Grade 3 Gallorette. Photo by Laurie Asseo.
The GQ Approach features full-card selections from Laurel Park (w/ live racing every Friday, Saturday and Sunday through May 7, 2017; Post Time 1:10pm EDT), including a daily Best Bet, Longshot Play, and multi-race wagers — including the 20 cent Rainbow Pick-6, 50 cent Jackpot Pick-5, as well as Pick-4s and rolling Doubles, Pick-3s and the Super High-5.

[su_box title="
Today's Carryovers
" style="glass" box_color="#66ADCC"]
Rainbow Pick 6: $8,365
Super High 5: $452
Late Pick 5: $4,090 [/su_box]
[su_box title="GQ's Handicapping Tip of the Day" style="glass" box_color="#66ADCC"][stray-random][/su_box]
[su_box title="Best Bet of the Day" style="glass" box_color="#66ADCC"]Race 4 / #1 – Big Slick (9-2)[/su_box]
[su_box title="Longshot Play of the Day" style="glass" box_color="#66ADCC"] Race 8 / #7 – All Fired Up (12-1)[/su_box]
[su_box title="
Multi-race Wagers
" style="glass" box_color="#66ADCC"]
Race 1: $2 Double  6, 7  w/ 5, 6, 7 ($12)
Race 3: $0.50 Pick-3  1, 10, 12  w/ 1, 2, 4  w/ 1, 3, 7 ($13.50)
Race 5: $0.50 Pick-5  1  w/ 8, 9, 10  w/ 5, 6  w/ 7, 12  w/ 1, 3, 9 ($18)
Race 8: $2 Double  7, 12  w/ 1, 3, 9 ($12)
[/su_box]
[su_heading size="21″ align="left"]Analysis[/su_heading]
Weather: Partly Sunny; highs in the mid-60s
Scheduled Turf races: 1st, 3rd, 5th, 7th, and 9th
Projected track conditions… Main: FAST  Turf: FIRM
Race 1
#7 – Nairet (9-5): Class dropper tried on being an Also-Ran; time to visit the Winners Circle for first time just under a year ago; nice work pattern since last race in Jan.         
#6 – Brook's On Fire (9-2): 3-year-old took on elders last race taking the runner-up spot when blinkers came off    
#4 – Ready It (8-1): Been away from races since last July due to passing of owner/trainer; first start for new connections who have taken their time getting her back to the track in the afternoon  
Race 2
#6 – Mo Light (5-2): 4-year-old faces a bunch of 3-year-olds in seventh attempt to earn diploma; runner-up in first try on main oval; might catch an off track today   
#7 – Vienna Melody (3-1): Connections typically go for turf runners but hard to ignore this FTS by Malibu Moon out of an Awesome Again mare; purchased as a yearling for $225k
#5 – Tweeting (2-1): The stronger of the two trainer T. Proctor uncoupled entries (the other is #2); failed miserably at Kee as betting favorite after 81 Bris# in debut at FG       
Race 3 is OFF THE TURF
#1 – Tradfest (5-2): Broke maiden two back on main track; pedigree suggests he'll handle a sloppy track just fine    
#10 – Collateral Damage (12-1): Nice auction pick-up at the F-T Tim Winter Mixed sale for $5k has two runner-up finishes since and stretch out today could propel him to first career win          
#12 – Open Petition (20-1): 0 for 15 maiden actually catches a break with race coming off turf; has a pair of SHOW efforts from three off track outings             
Race 4
#1 – Big Slick (9-2): *** BEST BET *** Trip to FL to take on NY-bred did not go well; can rebound in the slop as he's 2 for 2 over a not-so-fast track
#2 – Deal Driven (3-1): Makes third start for trainer P. Schoenthal after second was a bust when trying turf again; winner v. better on dirt in first start after claim
#4 – Animal Quiet (6-1): Appears to be the only one in here who needs the lead, so he'll get it and possibly could splash home without being headed   
Race 5 is OFF THE TURF
#1 – Tradfest (5-2): Broke maiden two back on main track; pedigree suggests he'll handle a sloppy track just fine        
#3 – A True Gentleman (20-1): Field has an abundance of speed except for him; Bris#s continue to climb
#7 – Tigers Bop (6-1): Knows only one way to win… gate-to-wire; he should beat the rest of the early speed to the first call and might have enough in the tank to get to the wire first              
Race 6 is OFF THE TURF
#9 – Christmas Dinner (9-2): Scratched yesterday to go here; beaten favorite last time out which was in Nov.; first shot on main oval albeit on a sloppy surface but pedigree gives thumbs-up
#8 – Graceful Light (5-1): Fai-based trainer J. Samaniego does well with the few runners he's brought to Lrl (4:1-1-1); drops back in for a tag which gives a better shot at graduating today
#10 – Fergie's Lady (10-1): Lone try on main track was in the slop here but prior to leading trainer candidate C. Gonzalez claim; expect speed from the gate and may never stop   
Race 7
#5 – Faze the Nation (7-5): Arguably one of the best 3-year-old fillies in the Mid-Atlantic; has beaten her elders so back in with others are own age should be a piece of cake 
#6 – Kissin Cassie (12-1): Trainer E. Barker shipps in from The Big A; he's come in twice before and exited with a win and a runner-up; hard to believe she'll be double-digit odds if "live"
#2 – Supertrend (7-2): Smart win in debut earning an 81 BRIS# in gate-to-wire fashion; any move forward can challenge the prohibitive favorite for the Winners' Circle photo  
Race 8 is OFF THE TURF
#7 – All Fired Up (12-1): $$$ LONGSHOT $$$ Been on the shelf since last Oct.; only shows one published work from the farm; no doubt this gelding has been working more than that… nice record on an off track (3:1-1-1)
#12 – The Great Provider (6-1): Speed from the far outside scored in first start off H. McMahon claim when put in v. state-bred allowance foes
#4 – Concordia's Way (10-1): Faced a very tough group last outing in the new OC$20n1x; jock V. Carrasco should be hungry for a win coming back from injury
Race 9 is OFF THE TURF
#3 – So Quiet (5-2): 4-year-old has been knocking on the door but continues to fail final exam; today should be a golden opportunity to put on that cap and gown
#9 – Colonel Argo (8-1): Troubled trips in last two can make noise late with a clean trip; second time blinkers angle    
#1 – Horseshoe Harbour (8-1): First start after trainer D. Worton claim; takes step up while in jail but has had horrific trips in last two
YESTERDAY'S NEWS  
On Thursday May 4th at Laurel had just 4 winners from the 9-race card (2 Top Selections; payoff in BOLD) having $2 WIN pay-offs of $8.60 (1st race), $3.60 (3rd), $11.80 (7th), $4.80 (8th). Top Selections in 2017 are 121 for 455 (26.31%). In 2016, Top Selections were 304 for 1,213 (25.02%).
BEST BET of the Day (51: 16-11-11; in 2016 127: 31-29-19) Never Stop Looking (4th race: 7-2 M/L; 7-2 PT) runner-up  and returned $4.00 to PLACE and $2.40 to SHOW.
LONGSHOT PLAY of the Day (45: 5-6-8; in 2016 124: 13-13-16) Wolfie (3rd race: 10-1 M/L; 15-1 PT) sped to the early lead, hugged the inner rail and gave way the final furlong to finish 7th.