The GQ Approach – Laurel May 4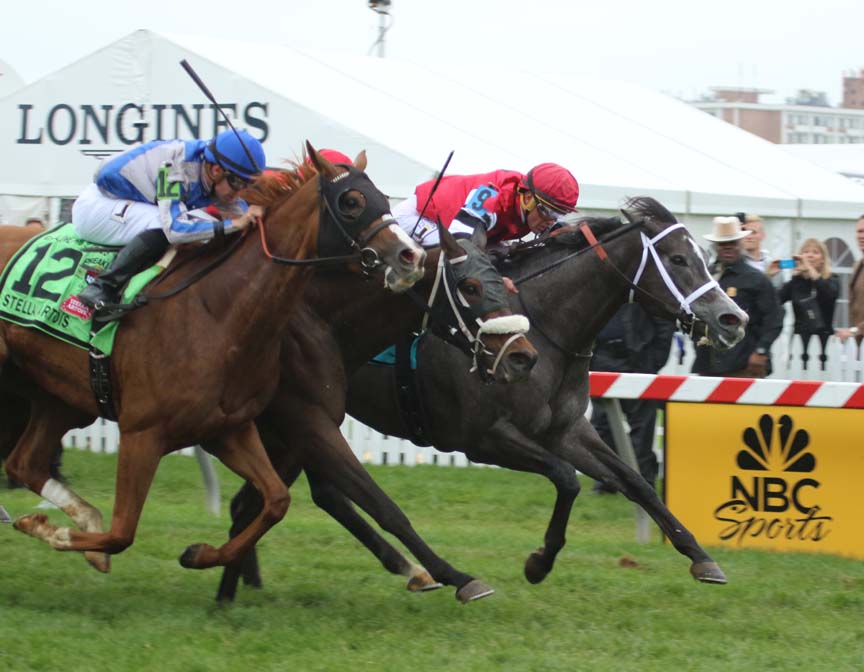 Mizz Money (#9) held off Vielsalm (in between) and Heath (#12) to win the Grade 3 Gallorette. Photo by Laurie Asseo.
The GQ Approach features full-card selections from Laurel Park (w/ live racing every Friday, Saturday and Sunday through May 7, 2017; Post Time 1:10pm EDT), including a daily Best Bet, Longshot Play, and multi-race wagers — including the 20 cent Rainbow Pick-6, 50 cent Jackpot Pick-5, as well as Pick-4s and rolling Doubles, Pick-3s and the Super High-5.

[su_box title="
Today's Carryovers
" style="glass" box_color="#66ADCC"]
Rainbow Pick 6: $7,485.34
Super High 5: no carryover
Late Pick 5: no carryover[/su_box]
[su_box title="GQ's Handicapping Tip of the Day" style="glass" box_color="#66ADCC"][stray-random][/su_box]
[su_box title="Best Bet of the Day" style="glass" box_color="#66ADCC"]Race 4 / #5 – Never Stop Looking (7-2)[/su_box]
[su_box title="Longshot Play of the Day" style="glass" box_color="#66ADCC"] Race 3 / #2 – Wolfie (10-1)[/su_box]
[su_box title="
Multi-race Wagers
" style="glass" box_color="#66ADCC"]
Race 1: $2 Double  3, 8, 11  w/ 4 ($6)
Race 3: $0.50 Pick-3  2, 4, 5  w/ 2, 4, 5  w/ 4, 5, 10 ($13.50)
Race 5: $0.50 Pick-5  4, 5, 10 w/ 2, 4  w/ 1, 4  w/ 6, 7  w/ 4, 8, 9 ($36)
Race 8: $2 Double  6, 7  w/ 4, 8, 9 ($12)
[/su_box]
[su_heading size="21″ align="left"]Analysis[/su_heading]
Weather: Partly Sunny; highs in the mid-60s
Scheduled Turf races: 1st, 3rd, 5th, 7th, and 9th
Projected track conditions… Main: FAST  Turf: FIRM
Race 1 is ON THE TURF
#3 – Bronx Sandman (4-1): Nice colt whose first two races were on this Lrl turf last Summer; running not far behind a coupe next out winners in both; gets back on turf in second start after 7-month layoff
#11 – Son of Mine (7-2): With Dynaformer being this colt's damsire, no wonder trainer L. Rice wanted to run him on turf in second career start, unfortunately the race was taken off the Lrl lawn and he SHOWed as 7-5 favorite going one mile; sprinting w/ far outside post could be a winner
#8 – Self Start (5-1): Only mount on the card for 26% jock J. Montano who rode this 4-year-old gelding in two starts (on dirt) behind a couple nice maiden winners; none with that type of talent in here but those were on dirt, this is on turf  
Race 2
#4 – Lead Us to the Bar (8-5): Seems to be a pretty special filly from the Rudy Rod barn; two wins following and a runner-up finish in debut makes this NY-bred the one to beat
#7 – A P Majetstic (10-1): Blinkers go on and cuts back to sprint after initial race under P. Schoenthal's conditioning; has back class as she won Weber City Miss last year
#3 – She Is Special (12-1): Appears to have been a great claim for trainer KTL who took her for $25k out of her maiden win or should we say romp (by nearly 6-lengths) then came back o easily handle OC$25kN2L
Race 3 is ON THE TURF
#2 – Wolfie (10-1): $$$ LONGSHOT $$$ Pen-based trainer E. Rojas (23% w/ turf starters) ships two runners in for this card; this is the one that's "live"; second-time blinkers, E. Flores in to ride, has early speed with but just one rival in here to challenge her early
#5 – Persnickity (2-1): Can boast best career turf Brisnet#; seems to be returning to old form that had her competing in minor stakes races
#4 – Doukas (7-2): Has beaten better in the past but going longer has only sprint from 14 career turf outings resulted in earning the SHOW purse             
Race 4
#5 – Never Stop Looking (7-2): *** BEST BET *** Problems at the start compromised placings in past two efforts; prior to those the 8-year-old gelding won two straight at this same level but sprinting v. one mile; trainer C. Gonzalez gives leg up to latest "go to' rider, J. Torres
#2 – Monoglion King (5-1): Hard to believe this guy was gelded immediately following K. Magee claim; was beaten favorite day of claim and steps up with just a couple days left in jail
#4 – Start Jumping (5-1): Makes second start for trainer J. Egan after rough start in first outing, jock rushed him into contention, dropped back on the turn and then rallied in deep   
Race 5 is ON THE TURF
 #4 – Full of Joy (6-1): FTS by Kitten's Joy out of a Rock Hard Ten mare means this filly should love the turf and that unusual 1 mile bullet work on turf jumps off the page; trainer T. Proctor having a productive '17 (25%)
#10 – Charged (6-1): Everything suggests this filly is the weaker of the two M. Stidham uncoupled entries in here as M. Murrill chose stablemate (#12) to ride but IMHO this one has the upside
 #5 – Anissa (12-1): While trainer D. Romans is at CD preparing J Boys Echo for the Derby, his brother Jerry may stay home as this gal has failed to graduate eleven times, settling for second five times                
Race 6
#2 – Asset Allocation (4-1): First time in v. winners following hard-fought maiden win for $16k, yet BRIS Prime Power# gives this L. Rice trainee the nod
#4 – Absolute Pinnacle (9-2): Trainer M. Eppler not only does well with runners in their second start for her barn (25%) but also hoovers around 25% switching from dirt to turf
#7 – R Lucifer (10-1): Deep Closer gets an extra eighth of a mile today in third start after layoff; speed figures don't add up against these rivals but they continue to climb closer
Race 7 is ON THE TURF
#1 – Shifra Magician (6-1): First turf start since last Nov. as '17 debut was washed off when in for $7,500 tag; F. Boyce gets back aboard who has done well on this gelding in the past
#4 – Aphrodite's Quest (3-1): NY shipper from Rudy Rod's barn exits N2L at this level on dirt after a brief layoff where he had a rough trip just previous to that for $20k at Prx
#7 – Follow the Petals (7-2): Best two of five career outings came on synthetic at TP which bodes well for this first timer on turf; a bit concerned though that he's in for tag after poor showing in minor stakes at Mvr    
Race 8
#6 – Two Charley's (5-2): Beaten favorite at Aqu was never able to get going early on and believe jock just saved him for another day; fourth straight start at this level and can rebound with S. Russell back in the irons
#7 – Bellows (6-1): Makes 3-year-old debut for trainer G. Motion; been working well in A.M.; reverts back to 6 furlongs after stretch out to one mile in final start of '17 did not go well
#2 – Dancing With Maude (3-1): He dances every dance; goes for natural Hat Trick at this distance which fits her like a glove; runner-up to Derby contender Irish War Cry when a maiden shows type of talent he's been facing
Race 9 is ON THE TURF
#4 – Perfect Party Girl (7-2): Showed early speed on the Lrl lawn last Fall; bred for turf racing finally gets back on that surface after dirt tries failing to pick up even minor awards on dirt
#9 – Rescue Cat (4-1): Second start with blinkers and first of '17; first time racing outside of the Empire State; showed talent on turf v. NY-breds but proved to be a cut below MSW
#8 – Egber (15-1): Has never hit the board in 7 career starts but best efforts came on turf; hasn't seen afternoon action since last July; could be good enough in here to fatten the exotic
YESTERDAY'S NEWS  
On Sunday April 30th at Laurel had 7 winners from the 10-race card (4 Top Selections; payoff in BOLD) having $2 WIN pay-offs of $5.20 (1st race), $16.60 (2nd), $7.00 (4th), $5.80 (6th), $8.20 (7th), $5.20 (9th) and $6.00 (10th). Of the suggested multi-race wagers hit the R1-R2 $2 DOUBLE for $65.40 (cost: $12) and the R9-R10 $2 DOUBLE for $15.20 (cost: $12). Top Selections in 2017 are 119 for 446 (26.38%). In 2016, Top Selections were 304 for 1,213 (25.02%).
BEST BET of the Day (50: 16-10-11; in 2016 127: 31-29-19) Believe in Angels (6th race: 9-2 M/L; 9-5 PT) was guided to the fence soon after the break and settled well off the early pace, awaited room near the far turn, advanced inside past the five sixteenths, maintained momentum into the lane, surged inside rivals leaving the eighth pole, kicked clear leaving the sixteenth marker and held firm under a drive to win by one length and returned $5.80 to WIN, $3.20 to PLACE and $2.80 to SHOW.
LONGSHOT PLAY of the Day (44: 5-6-8; in 2016 124: 13-13-16) Paper Moon (8th race: 12-1 M/L; 19-1 PT) gave early pursuit off the rail and faltered to finish a well beaten 9th.