The GQ Approach – Laurel April 30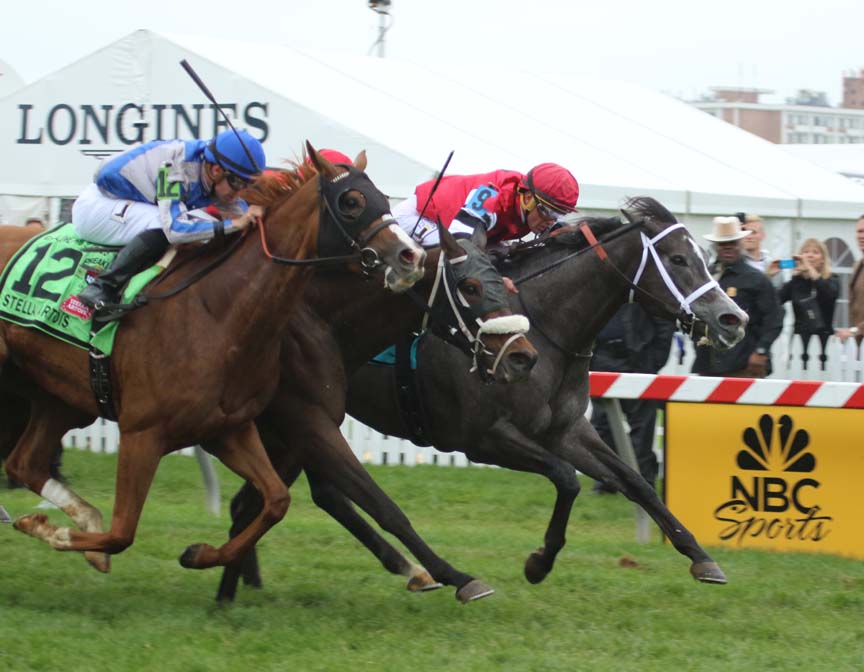 Mizz Money (#9) held off Vielsalm (in between) and Heath (#12) to win the Grade 3 Gallorette. Photo by Laurie Asseo.
The GQ Approach features full-card selections from Laurel Park (w/ live racing every Friday, Saturday and Sunday through May 7, 2017; Post Time 1:10pm EDT), including a daily Best Bet, Longshot Play, and multi-race wagers — including the 20 cent Rainbow Pick-6, 50 cent Jackpot Pick-5, as well as Pick-4s and rolling Doubles, Pick-3s and the Super High-5.

[su_box title="
Today's Carryovers
" style="glass" box_color="#66ADCC"]
Rainbow Pick 6: $4,961
Super High 5: $1,342
Late Pick 5: no carryover[/su_box]
[su_box title="GQ's Handicapping Tip of the Day" style="glass" box_color="#66ADCC"][stray-random][/su_box]
[su_box title="Best Bet of the Day" style="glass" box_color="#66ADCC"]Race 6 / #9 – Believe in Angels (9-2)[/su_box]
[su_box title="Longshot Play of the Day" style="glass" box_color="#66ADCC"] Race 8 / #2 – Paper Moon (12-1)[/su_box]
[su_box title="
Multi-race Wagers
" style="glass" box_color="#66ADCC"]
Race 1: $2 Double  1, 4, 6  w/ 2, 4, 5 ($18)
Race 3: $0.50 Pick-3  7, 10, 11  w/ 1, 2, 4  w/ 1, 3, 7 ($13.50)
Race 6: $0.50 Pick-5  4, 9  w/ 4, 6  w/ 2, 4, 7  w/ 2, 5, 8  w/ 2, 6 ($36)
Race 9: $2 Double  2, 5  w/ 2, 6, 8 ($12)
[/su_box]
[su_heading size="21″ align="left"]Analysis[/su_heading]
Weather: Mostly Cloudy; highs in the low-70s
Scheduled Turf races: 2nd, 3rd, 5th, 6th, 8th, and 9th
Projected track conditions… Main: FAST  Turf: FIRM
Race 1
#1 – Wonder How (7-2): It's the 2-year-olds guys turn today to debut at Lrl… tough assignment from the rail for WV-bred son of Jersey Town fetched $10k at Timonium Oct. yearling sale; like the work tab… should be quick from the gate
#6 – Kingdom Minded (4-1): Trainer P. Schoenthal does a good job with babies (17%) and might have this son of Our Entourage ready based on work pattern
#4 – Take Warning (9-2): My Timonium TV racing analyst partner (G. Rosenthal) is good with babies (15%) and yesterday had a filly run 4th; this MD-bred Sky Mesa gal is the oldest being a Feb. foal  
Race 2 is ON THE TURF
#2 – Royal Renege (9-2): 7-year-old mare takes long breaks between turf seasons but shows she will be ready in first start after layoff; never off-the-board at Lrl (5:1-3-1)
#5 – Daylight Ahead (5-2): Successfully passed N2x condition on Lrl lawn w/ 95 Bris# in first start since last July; no reason to believe she cannot duplicate that effort today
#4 – Giddy Up (8-1): Trainer/jock combo of A. Pecoraro and T. McCarthy win at 27% clip at meet; gets back on turf and capable of stealing it on front end         
Race 3 is ON THE TURF
#10 – Diana's Vendetta (8-1): These turf races are bringing out the turf specialists who did not go south for the winter; last race of '16 campaign finished one-length behind #11; having "Special K" in the irons will help turn the tables; just one of two in here to have won at this distance
#11 – Soup d' Coupe (9-2): Loves the Lrl lawn (19:4-5-3) and handles 9 furlongs just fine… hope the four works have built enough stamina in him for first race since last Nov.
#7 – Our Emerald Forest (3-1): Well-travelled gelding makes '17 debut w/ F. Boyce in irons for first time; not concerned about $11k offering price… if you want to claim an 8-year-old, go for it! 
Race 4
#2 – Saturday Sunshine (3-1): Has found best class level to compete… the bottom by hitting the board in all four starts at $5k level since J. Torres has taken the reins
#1 – Spirit of Freedom (8-1): Like the cut back in distance after being more forwardly placed going long; have faith that "Cowboy" can negotiate an off-the-pace trip and get there in time late
#4 – Honor Commitment (8-5): Speed of the speed makes second start after P. Magill claim and drops back to that level after nice runner-up finish while in jail   
Race 5 is ON THE TURF
#1 – Kadie'shorseplay (9-2): Latest turf effort was a winning one v. $16kN2L… last Dec.; happy it's turf season and has back class to pass this N3L condition at first try
#7 – Uknowfriends (6-1): Yeah, yeah that 2 for 35 lifetime record looks ugly but is 1 for 13 on turf; there's plenty of early speed in here to give this Closer a shot at catching all rivals at the wire
#3 – Tracy Island (5-2): Troubled trip on yielding Lrl lawn in first race since layoff a few weeks back v. N1x; gets class break and rider change… needs pace help                
Race 6 is ON THE TURF
#9 – Believe in Angels (9-2): *** BEST BET *** Can boast the best Bris# (85) of this group which came in a sixth-place effort at GP in latest; only 4-year-old among 3-year-olds gets the nod along with capable turf rider A. Cintron in irons for outfit (Augustin Stables) who prides itself on having nice turf runners; trainer C. Martin ships in "live" (10:2-2-1 at current meet)
#4 – Furiosa (3-1): Showed early speed in latest v. better after previous 6 races lagged far behind early and made one late run; change of tactics or jock error? We'll see today
#11 – Twelve Tricks (10-1): Nice turf debut making a furious late run to capture SHOW purse; may want this two turn mile and can save ground early as he won't be compromised by outside post     
Race 7
#4 – Stone Crazy (9-2): Hits the board at 67% clip; last start over Lrl main oval resulted in runner-up effort v. $25k open claimers; trainer S. Lake and "Cowboy" are 1 for 2 so far at meet
#6 – Racetrack Romance (5-2): Makes Lrl debut in 42nd career outing; 11 months ago this gelding easily won at this level,,, been facing better since
#5 – Danny My Boy (2-1): Great $5k reclaim on A. Eubanks part three races back; goes for another natural Hat Trick as he's won 5 of his last 6 outings… all 5 with Eubanks
Race 8 is ON THE TURF
#2 – Paper Moon (12-1): $$$ LONGSHOT $$$ Destroyed a $10kMCL field in debut at Prx on dirt giving A. Castrenze her first win coming back from injury; has the bloodlines on top and bottom to excel on turf; catches a mixed bag runners who have been struggling to get second career victory… so why not her?
#7 – Cap's Vow (9-2): Just missed v. $50kN2L last spring on Bel turf which was most recent outing; some concern on trainer switch and fact D. Houghton is 0 for 24 off an extended vacation; watch toteboard early for a good/bad indication of chances
#4 – Saida (6-1): Graduated in sixth career effort, first on turf by obliterating 9 rivals locally; S. Russell get the mount as he's now 1st call on all C. Lynch runners
Race 9 is ON THE TURF
 #2 – Kid Jeter (4-1): Retains services of HOF rider E. Prado who was aboard in last two at GP v. much tougher; first time racing at one mile which is shorter than usual; a nice stalking trip gets second career win
#5 – Tusk (3-1): G. Motion/F. Lynch combo winning at a 37% clip; this gelding is graded stakes placed via G3 El Camino Real Derby last year; newcomer to barn should be loving life at Fair Hill and run well on east coast
#8 – Hot and Heavy (6-1): Exits winter vacation at Tam with a win from three starts; will be on the front end trying to make every pole a winning one as there's a lack of early speed in here
Race 10
#2 – Fairy Cat (5-2): Pay no attention to that 0 for 15 on the Lrl main track… ugh! Change of scenery may be the winning formula for trainer B. McFarlane who got first career win on Friday; qualifies for this $5kN1Y as recent victories came at $4k level
#6 – Love to Prospect (4-1): First start since last May when facing $7,500 Starters has been speedy going long and is 0 for 1 at this sprint distance; bug boy C. Carrasco should have him on just off early pace
#8 – Hunger (7-5): Really?! Last raced on New Years Day… 2014!!! Has he been in a coma? Hard gauge intentions of owner/trainer K. Magee putting this 7-year-old in for $4,500 when he was runner-up for $30k first off $15k claim 3+ years ago; will anyone take the bait?       
YESTERDAY'S NEWS  
On Saturday April 29th at Laurel had 7 winners from the 11-race card (2 Top Selections; payoff in BOLD) having $2 WIN pay-offs of $5.40 (2nd race), $30.60 (3rd), $12.00 (4th), $4.00 (6th), $5.60 (7th), $8.00 (9th) and $8.80 (10th). Top Selections in 2017 are 115 for 436 (26.38%). In 2016, Top Selections were 304 for 1,213 (25.02%).
BEST BET of the Day (49: 15-10-11; in 2016 127: 31-29-19) Great Soul (8th race: 3-1 M/L; 9-2 PT) four deep early, remained well wide under urging mid-turn but lacked solid response settling for third and returned $2.60 to SHOW.
LONGSHOT PLAY of the Day (43: 5-6-8; in 2016 124: 13-13-16) Jose Sea View (5th race: 6-1 M/L; 3-1 PT) pinched back leaving the starting gate, saved ground on the turns, swung to the three path at the hhead of the stretch, secured command outside foes in upper stretch then drew away under urging to win by 4 1/2 lengths and returned $8.00 to WIN, $4.60 to PLACE and $3.40 to SHOW.