The GQ Approach – Laurel April 29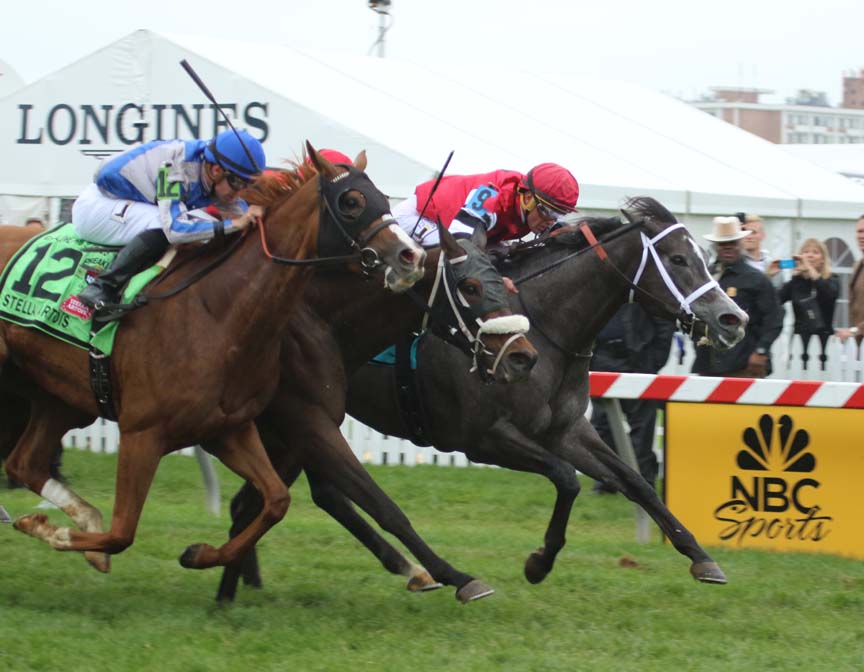 Mizz Money (#9) held off Vielsalm (in between) and Heath (#12) to win the Grade 3 Gallorette. Photo by Laurie Asseo.
The GQ Approach features full-card selections from Laurel Park (w/ live racing every Friday, Saturday and Sunday through May 7, 2017; Post Time 1:10pm EDT), including a daily Best Bet, Longshot Play, and multi-race wagers — including the 20 cent Rainbow Pick-6, 50 cent Jackpot Pick-5, as well as Pick-4s and rolling Doubles, Pick-3s and the Super High-5.

[su_box title="
Today's Carryovers
" style="glass" box_color="#66ADCC"]
Rainbow Pick 6: $3,227.58
Super High 5: no carryover
Late Pick 5: no carryover[/su_box]
[su_box title="GQ's Handicapping Tip of the Day" style="glass" box_color="#66ADCC"][stray-random][/su_box]
[su_box title="Best Bet of the Day" style="glass" box_color="#66ADCC"]Race 8 / #5 – Great Soul (3-1)[/su_box]
[su_box title="Longshot Play of the Day" style="glass" box_color="#66ADCC"] Race 9 / #2 – Jose Sea View (6-1)[/su_box]
[su_box title="
Multi-race Wagers
" style="glass" box_color="#66ADCC"]
Race 1: $2 Double  5, 6, 8  w/ 1, 8 ($12)
Race 3: $0.50 Pick-3  1, 4, 5  w/ 1, 2, 3  w/ 2, 6, 10 ($13.50)
Race 7: $0.50 Pick-5  4, 8  w/ 3, 5  w/ 2, 4, 10  w/ 1, 8, 10  w/ 2, 9 ($36)
Race 10: $2 Double  1, 8, 10  w/ 2, 9 ($12)
[/su_box]
[su_heading size="21″ align="left"]Analysis[/su_heading]
Weather: Partly Sunny; highs in the upper-80s
Scheduled Turf races: 2nd, 4th, 5th, 7th, 9th, and 10th
Projected track conditions… Main: FAST  Turf: FIRM
Race 1
#8 – Shape of You (7-5): First 2-year-old race of the year at Lrl features the fillies; this gal is the only one with a race under her belt, showing early speed at Kee and missing by a half-length when sent off 49-1, so of course she gets the nod
#5 – Pauline's Raven (9-2): Flip a coin in picking the other seven; go with her based on trainer J. Salzman, Jr. resume' w/ babies (13%); he has this MD-bred and the #1 but gets E. Prado to ride "Raven"; has seven evenly spaced works leading up to today
#6 – Sing Dixie Charge (8-1): Daughter of Take Charge Indy is only KY-bred and will race without Lasix… other than the favorite on both accounts; is the oldest in this field being a Jan. foal  
Race 2 is ON THE TURF
#1 – Golden Treasury (7-2): Spent an unproductive winter at GP failing to graduate; should improve after having a rough trip in latest when equipped with blinkers for the first time
#8 – Majestic Trick (7-5): Trainer M. Matz specialty is turf; this one has started eight times with plenty of time between those starts all on the sod; continues to drop in price; graduates with a clean trip
#9 – Bete Noir (5-1): 5-year-old mare shows up for every race but lacks killer instinct to pass all rivals (16:0-2-5) regardless of level; makes first start the year and may finally "get it"         
Race 3
#1 – Champagne Time (2-1): Oddly enough was 9-5 favorite when stepped up from being runner-up in $5kN3L to $16k, but ran evenly to be fourth; drops back and should make amends
#4 – Da'blues Dancer (10-1): Three consecutive third place finishes w/ L. Luzzi aboard at this level when double-digit odds; still seeks first win on a fast track as only two victories came when surface was "off"
#5 – Chapel Gap (15-1): Connections got a bit too confident after winning $5kN2L when 29-1 making next start at $16k level… and got buried; back where she belongs      
Race 4 is ON THE TURF
#2 – Conscription (7-2): Had a successful winter at Tam with a win v. N1x then two runner-up placings at this condition, closing late going one mile; extra 1/16th will prove to be the difference
#3 – Giovanna Blues (7-2): Turf specialist by Gio Ponti conquered N1x group in final race of her 3-year-old campaign last Nov.; she's won her past two thanks to the "Mad Genius" adding blinkers; been training on the turf at the farm since late Feb.; should be ready today
#1 – Speak Up Sailor (3-1): Trainer/jock team of M. Stidham & M. Murrill did well at FG and plan on making their mark on the Mid-Atlantic this spring and summer; this gal ran a winning race in latest here at this level but there was another who was better that day   
Race 5 is ON THE TURF
 #2 – Against the Win (7-2): Connections were definitely singing that Bob Seger tune when this gelding couldn't chase down the early, lone speed in '17 turf debut; will get pace help today
#6 – Where's Dominic (9-2): Turf speed figures don't measure up against many others but there will be plenty of leg weary foes in deep stretch if A. Cintron wisely stalks
#10 – Stevie's Wonder (10-1): Has been on the bench nearly a year, makes first turf start of career, shows three very quick works and has plenty of turf runners in his bloodlines to be a threat           
Race 6
#8 – It's the Journey (3-1): Jock J. Pimentel back quicker from injury would like to make up for lost time as he makes third start after layoff and stretches out to distance of past success (2:1-1-0)
#6 – Senor Quickie (6-1): Prudent claim by trainer A. Eubanks six races back in spite of not having been to Winners' Circle; thankfully North Ocean is nowhere to be found in this field as he's been second best to that one 3 consecutive races and then third when "Ocean" was runner-up but this field might be tougher
#7 – Winning Road (9-5): NY shipper for trainer M. Dilger who still seeks first win at Lrl meet (7:0-1-1); Bris Prime Power# indicates he's the best; runner-up when 2-5 to top pick way back in Nov. '15 in lone previous Lrl start     
Race 7 is ON THE TURF
#4 – Value Added (5-1): Trainer C. Juarez has done well first off the claim; had been knocking at the door while w/ Trombetta at this level; have faith in Y. Ortiz
#8 – Beaches N Bourbon (2-1): DQ'd two races back from a five-length victory at this level; will be heard from late but needs to get an honest pace scenario
#1 – Pardontori'sfrench (5-1): Nearly took field gate-to-wire in latest on a yielding Lrl turf; should be a bit firmer today to help her get the job done  
Race 8
#5 – Great Soul (3-1): *** BEST BET *** No worse than second in four lifetime races; been on the bench for 13 months but extensive work tab shows this race has been pointed to for herr comeback; gets a nice stalking trip and will relish the distance
#3 – Midnight On Oconee (7-2): Away since last June as her form went south quickly after being bridesmaid in G2 Rachel Alexandra at FG last year; nice work pattern shows she'll still be quick from the gate but will have company; wondering if this race is just a paid workout for a big prize and stretching out in next start?
#6 – Call Her Karma (5-2): Better than the top two per Morning Line and has advantage of having raced recently in minor stakes, hitting the board after winning open $6,250 Claimer… Really?!
Race 9 is ON THE TURF
 #2 – Jose Sea View (6-1): $$$ LONGSHOT $$$ First race after claim when beaten favorite in mud; though winless on turf in 8 starts, has run better figures on the grass than dirt; small barn gets HOF E. Prado to ride is a plus
 #4 – Annawon (6-1): This 10-year-old has always brought his "A Game" in first start after layoff; will need pace help and should get it to make that one-run from the clouds
#10 – Boppin Anda Weavin (8-5): In first turf start since last season was lone speed, lived up to his name entering the stretch and was taken down from win and placed third; drops to this level should attract a few to the Claiming Box; won't get easy lead today
Race 10 is ON THE TURF
#10 – Fly (4-1): Broke maiden at first asking last summer here on grass and showed she could compete against other babies sprinting; took winter off and makes 3-year-old debut in appropriate spot
#1 – Crystal Pier (5-2): Must be an idiot not putting a L. Rice runner on top (49% at meet); makes '17 debut against after a great try in lone turf start at Sar, placed second after a compromised in deep stretch; has age edge being a 4-year-old when top rivals are 3
 #8 – Contributing (5-1): Trainer T. Proctor is one of the best turf trainers in the business and knows how to manage runners in first off layoff (21%); needs to improve those two turf tries though       
Race 11
#9 – Jax (9-5): Beaten favorite at Aqu from L. Rice barn when facing better maidens, but near bottom for NY; needs to make trip to Lrl in hopes of graduating; expect even money or less
#2 – Platinum Bend (9-2): Blew a seven-length lead in a 5½ furlong race in latest after she lasted for 6½f in prior race… too bad the distance was 7f; second time w/ A. Serpa in saddle should help relax her
#1 – Redeeming Factor (6-1): Scratched on Friday to go here at same level but a furlong shorter; adds blinkers and retains bug boy; will need to be quicker from gate being on the rail
YESTERDAY'S NEWS  
On Friday April 28th at Laurel had 5 winners from the 10-race card (2 Top Selections; payoff in BOLD) having $2 WIN pay-offs of $6.20 (2nd race), $6.20 (4th race), $5.80 (5th), $12.00 (7th) and $3.80 (9th). Top Selections in 2017 are 113 for 425 (26.59%). In 2016, Top Selections were 304 for 1,213 (25.02%).
BEST BET of the Day (48: 15-10-10; in 2016 127: 31-29-19) Just Howard (8th race: 2-1 M/L; 4-5 PT) three wide between horses entering the turn, angled to the four path in upper stretch and flattened out while retaining the third and returned $2.40 to SHOW.
LONGSHOT PLAY of the Day (42: 4-6-8; in 2016 124: 13-13-16) Shine Bright (5th race: 5-1 M/L; 9-2 PT) tracked inside, angled out mid turn, rallied four wide to command in upper stretch, wandered outward while going clear, ducked out from the left stick nearing the sixteenth pole brushing the winner then gave way grudgingly securing the runner-up spot and returned $5.40 to PLACE and $4.00 to SHOW.