The GQ Approach – Laurel April 28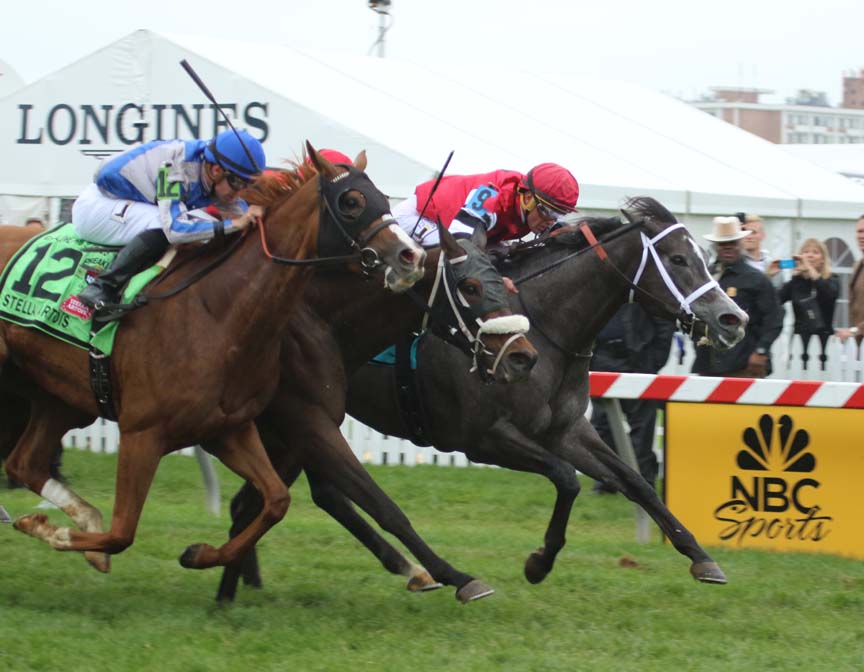 Mizz Money (#9) held off Vielsalm (in between) and Heath (#12) to win the Grade 3 Gallorette. Photo by Laurie Asseo.
The GQ Approach features full-card selections from Laurel Park (w/ live racing every Friday, Saturday and Sunday through May 7, 2017; Post Time 1:10pm EDT), including a daily Best Bet, Longshot Play, and multi-race wagers — including the 20 cent Rainbow Pick-6, 50 cent Jackpot Pick-5, as well as Pick-4s and rolling Doubles, Pick-3s and the Super High-5.

[su_box title="
Today's Carryovers
" style="glass" box_color="#66ADCC"]
Rainbow Pick 6: $2,671.83
Super High 5: no carryover
Late Pick 5: $4,898.10[/su_box]
[su_box title="GQ's Handicapping Tip of the Day" style="glass" box_color="#66ADCC"][stray-random][/su_box]
[su_box title="Best Bet of the Day" style="glass" box_color="#66ADCC"]Race 8 / #9 – Just Howard (2-1)[/su_box]
[su_box title="Longshot Play of the Day" style="glass" box_color="#66ADCC"] Race 5 / #6 – Shine Bright (5-1)[/su_box]
[su_box title="
Multi-race Wagers
" style="glass" box_color="#66ADCC"]
Race 1: $2 Double  1, 6  w/ 4, 5  ($8)
Race 3: $0.50 Pick-3  1, 5, 6  w/ 2, 3, 10  w/ 1, 6, 8  ($13.50)
Race 6: $0.50 Pick-4  1, 5, 6  w/ 5, 7  w/ 8, 9  w/ 1, 8  w/ 1, 2 ($24)
Race 9: $2 Double  1, 8  w/ 1, 2 ($8)
[/su_box]
[su_heading size="21″ align="left"]Analysis[/su_heading]
Weather: Mostly Sunny; highs in the low-70s
Scheduled Turf races: 4th, 6th, 8th, and 10th
Projected track conditions… Main: FAST  Turf: FIRM
Race 1
#6 – Mazzy Star (5-2): Appears to have figured it out; nice runner-up first time versus winner versus similar
#1 – Reward the Gypsy (2-1): Tried turf against $16kN2L immediately after breaking maiden for $10k; considering she was steadied and took the overland route going 8-wide at the quarter pole, these gals on dirt should be easier to handle
#8 – Fleur de Force (5-2): Trainer R. Rodriguez brings this 3-year-old back to Lrl, scene of her winning debut versus $16kMCL four races back; bit off more than she could chew in latest v. $25k at The Big A  
Race 2
#5 – Whiskey Sour (6-5): Could be a T. McCarthy early Double as this mare goes for the natural Hat Trick beating open $7,500 in latest… I'll drink the that!
#4 – Rumblin Kyle (6-1): Is an honest 5-year-old gelding whose Bris speed figures have been gradually ascending; has got minor share versus slightly better open claimers
#2 – Colony Strike (3-1): Second race after claim for owner/trainer M. Catalano, Jr. who looks for first win at Lrl meet but just sending out 6th starter; horse needs to break through too (5:0-3-0)     
Race 3
#1 – Beyond Forever (7-2): 4-year-old continues to drop seeking diploma and may get it here very a field with a majority being 3-year-olds; third start for trainer R. Bailes
#6 – Important (3-1): Ill-advised turf try v. elders after three consecutive runner-up finishes v. $25kMCL 3-year-olds
#5 – All This Jazz (10-1): May have finally found a race distance (7 furlongs) to her liking as a mile was a bit too far in latest as jock made move to early and she hung to be bridesmaid             
Race 4 is ON THE TURF
 #3 – Southern Peach (5-2): Probably insane for making this mare top pick as she's just 1 for 20 on the turf at this distance BUT she has the back class to prevail
#10 – Just Funnin' Ya (6-1): Has had traffic problems in the past when competing at this level and got a refreshener a few weeks ago v. better in first start since last July
  #2 – Sweet Sway (12-1): Makes first start of '17 now that it's turf season; trainer M. Salazar (21%) will give a leg up to his local "go to" rider, L. Glaser; duo are 4 for 16 at meet   
Race 5
#6 – Shine Bright (5-1): $$$ LONGSHOT $$$ Odd that trainer G. Motion is willing to part with this former $130k purchase, now 3-year-old Gemologist gelding, especially after 2 bad turf turfs v. MSW, keeping him all winter then adds Lasix for return but on dirt; then again might be a reason but willing to take a shot
#8 – Glory Hound (12-1): Trainer D. Dilodovico gave this one some time off the mature; brings him back at same level of his debut; like recent works
#1 – Stay Home (5-2): Normally don't care for a FTS being offered for $16k but when L. Rice is listed as the trainer (47%), it is a must use though why would Mike Repole risk losing a Stay Thirsty home-bred? Damned if you use… damned if you don't                
Race 6 is ON THE TURF
#1 – Indian Starlight (4-1): Turf specialist makes Lrl debut for trainer R. Handal who ships' em in from NY when they're ready to win (4:2-0-1) and one did previously with S. Russell in the irons
#5 – Stormy Salute (5-1): Ascending Bris speed figures since S. Lake claim for $7,500 but those have been on the main track while the latest was washed off the turf; has grass numbers to win
#6 – Moral High Ground (6-1): Can never count out this 8-year-old who always gives her best effort but more often than not shows up too late; like the stretch out after sprint for '17 debut  
Race 7
#7 – Happy Farm (9-2): FL-bred FTS by Ghostzapper out of a Holy Bull mare was purchased by Sagamore Farm at yearling sale for a modest $45k; has extensive work tab and seems ready to win at first asking
#5 – Clubman (3-1): Has been unfortunate in that he's been in against some nice 3-year-olds; failed miserably as PT favorite in last effort going one mile w/ blinkers added; they'll be off today
#9 – Victory Chimes (6-1): Lost debut by 12 lengths in mud when sent off as even money favorite; then was runner-up when ignored (34-1) in next outing; didn't take turf so back on the main track but first time it will be fast    
Race 8 is ON THE TURF
#9 – Just Howard (2-1): *** BEST BET *** Ran well enough in both two-turn turf starts at GP to be a winner here as long as he continues to progress; wanted turf in last outing but washed off and settled for second in a small field of 5
#8 – Croce d'Oro (9-2): Adds Lasix for third career start, first at Lrl after realizing at FG turf might be his best option as he showed early speed but weakened late while holding SHOW spot
#2 – King of Night (12-1): Live Oak Plantation doesn't keep duds that's why one should suspect a continued improvement; initial turf start was washed off; expect to see this one forwardly placed early
Race 9
#1 – Daisy Cutter (9-5): One of trainer L. Rice's rare loses as this mare came onto the scene a tad bit late when sent off 6-5 favorite… makes amends in here
#8 – Lady Terp (9-2): Nice winner of OC$25kn2x for trainer S. Lake in second race after claim; see no reason to think she'll regress off that effort 
#6 – Bawlmer Hon (3-1): Comes off three straight minor stakes races without a win but picked up minor awards; 3 for 5 at distance but will have plenty of company in the early stages, so a gate-to-wire win won't be easy
Race 10 is ON THE TURF
#1 – Happy Haunts (4-1): Outfit likes classy turf runners so looking at that debut in Feb. on dirt as premature; gets Lasix on drop from $25k to $16k in turf debut
#2 – Fleet Flame (9-2): First three career race, all sprints have the look of a runner wanting to going longer; adds Blinkers and swtiches to grass
#9 – Nancy R (3-1): 3-year-old makes first start off K. Magee claim as well as first on turf and first going two turns; catches a weak group           
YESTERDAY'S NEWS  
On Saturday April 22nd at Laurel had 8 winners from the 11-race card (4 Top Selections; payoff in BOLD) having $2 WIN pay-offs of $10.00 (2nd race), $7.80 (3rd race), $4.00 (4th), $12.60 (7th), $8.40 (8th), $5.40 (9th), $14.20 (10th) and $5.40 (11th). Of the suggested multi-race wagers hit the R9-R10 $2 DOUBLE for $61.60 (cost: $12). Top Selections in 2017 are 111 for 415 (26.75%). In 2016, Top Selections were 304 for 1,213 (25.02%).
BEST BET of the Day (47: 15-10-9; in 2016 127: 31-29-19) Cambodia (8th race: 5-2 M/L; 6-5 PT) rated four-wide outside rivals leaving the five-eighths pole, came under pressure at the far turn, circled five-wide into the lane and closed steadily missing the runner-up spot by a neck to return $2.60 to SHOW.
LONGSHOT PLAY of the Day (41: 4-5-8; in 2016 124: 13-13-16) Maziette (6th race: 10-1 M/L) was SCRATCHED.