The GQ Approach – Laurel April 23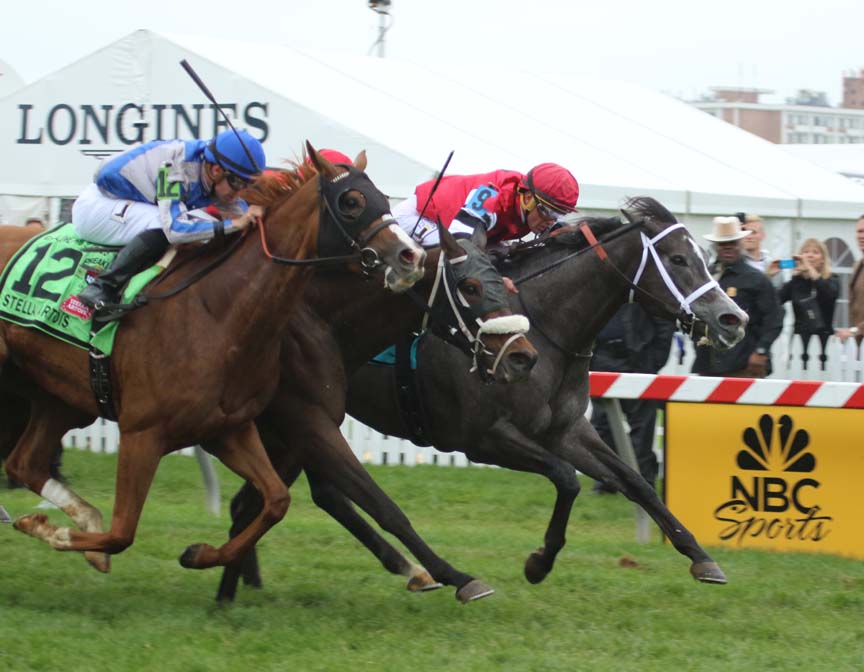 Mizz Money (#9) held off Vielsalm (in between) and Heath (#12) to win the Grade 3 Gallorette. Photo by Laurie Asseo.
The GQ Approach features full-card selections from Laurel Park (w/ live racing every Friday, Saturday and Sunday through May 7, 2017; Post Time 1:10pm EDT), including a daily Best Bet, Longshot Play, and multi-race wagers — including the 20 cent Rainbow Pick-6, 50 cent Jackpot Pick-5, as well as Pick-4s and rolling Doubles, Pick-3s and the Super High-5.

[su_box title="
Today's Carryovers
" style="glass" box_color="#66ADCC"]
Rainbow Pick 6: $1,814.64
Super High 5: $8,485.94
Late Pick 5: no carryover[/su_box]
[su_box title="GQ's Handicapping Tip of the Day" style="glass" box_color="#66ADCC"][stray-random][/su_box]
[su_box title="Best Bet of the Day" style="glass" box_color="#66ADCC"]Race 7 / #2 – Charlie Bravo (2-1)[/su_box]
[su_box title="Longshot Play of the Day" style="glass" box_color="#66ADCC"] Race 5 / #14 – Love You Much (10-1)[/su_box]
[su_box title="
Multi-race Wagers
" style="glass" box_color="#66ADCC"]
Race 1: $2 Double  1, 7  w/ 5, 6, 7 ($12)
Race 4: $0.50 Pick-4  3, 5  w/ 3, 5, 14  w/ 3, 5, 8 w/ 5 ($9)
Race 9: $2 Double  2, 3, 4 w/ 2, 3, 4 ($18)
[/su_box]
[su_heading size="21″ align="left"]Analysis[/su_heading]
Weather: Mostly Cloudy; highs in the low-60s
Scheduled Turf races: 3rd, 5th, 7th, 9th
Projected track conditions… Main: MUDDY  Turf: GOOD
Race 1
#7 – Goodbyeseeulater (2-1): Will appreciate the slightly shorter distance after puking up a big lead late in last and figures to sit the right trip here
#1 – Troubled Waters (9-2): This one's been devaluing himself faster than Trombetta can drop him, but maybe finding rock-bottom here will let him step forward; back class is there
#3 – Jose Sea View (9-5): Figs look strong, but 0fer record at the trip makes short odds none too enticing
Race 2
#6 – Sigmet (6-1): Off-track should help, and lightbulb theory in operation here; runner-up from last-out win broke maiden in follow-up
#5 – Jet Home (3-1): Rider Toledo picks this one over #6 in here; aggressive but appropriate drop to bottom level after messy try last out; two to run back from that one both finished second in follow-ups
#7 – Sunrise Sunset (9-2): Clearance sale in progress on this one; lone horse he beat in last made this same drop to bottom and scored in his next         
Race 3 is ON THE TURF
#11 – I Stand Alone (7-2): Formful now on the dirt and defeated similar in last Laurel turf sprint
#7 – Political Farce (5-1): Potts trainee working forwardly for return from three-month break; beaten three with a rugged trip in last turf sprint, and winner of that just won second-level allowance locally
#2 – Make My Saturday (5-1): Lake runner went off form at the end of last season, but has back class and is firing bullets in the morning — three straight in his last three works
Race 4
 #3 – Sommer Something (6-1): Figs don't say it, but this Etched filly is a runner and stretch-out to one-turn mile might hit her right between the eyes
#6 – Include Gold (6-5): Top jock McCarthy leaves #3 in here for the chalk; nothing wrong with this runner's recent form since Magee claim  
#5 – Bring Me Answers (9-5): Magee saddling a pair in here, and nothing wrong with what this miss has done to date
Race 5 is ON THE TURF
#14 – Love You Much (10-1) $$$Longshot Play$$$: Debut better than it looks after issues at the start; that was a plus group of horses, too, with winner going on to win a stake, whereas this group… not so much              
#5 – He's One Wild Dude (6-1): Sillaman trainee makes '17 debut here in first career turf sprint after some OK tries going a route of ground; sequence of five-furlong works means he should be ready but may have a lot of ground to make up in the lane       
#3 – Kopper Wired (3-1): Hard to get excited about short odds on longtime bridesmaid whose best work has come going long; veteran Prado struggled in Florida, looks for fountain of youth in Maryland            
Race 6 
#5 – Prevailing Party (10-1): You could get freezer burn betting ice-cold Ham Smith's horses these days, but the guy's been a consistent winner over time; he'll come out of it; well-bred runner has a lengthy work tab for a barn with a positive ROI on debut
#3 – She's Achance Too (7-2): Redeemed filly has done nothing but run good races that aren't good enough; winner and show horse from last won their next starts, so maybe her turn has arrived
#8 – Downtown Mama (3-1): You didn't think we'd leave Linda Rice off the ticket, did you? NY-based trainer scoring at 50% (!) in central Maryland    
Race 7 is ON THE TURF
#5 – Charlie Bravo (2-1) *** BEST BET***: From the "trainers outsmarting themselves department": runner broke his maiden sprinting on the grass in special weight company but hasn't done that since; gets back to best game and enters off a race that's produced four next-out winners
#2 – Gator Boy (6-1): Gators N Bears gelding's nothing special, but then again, so is this race; Dilodovico barn in good form now, and work tab suggests gradual tightening of the screws    
#3 – No Knock Raid (5-1): Makes season debut here and has run some decent races at this trip
Race 8 
#4 – Better Way (2-1): Gonzalez barn continues to churn out winners; tactical sort outstrips the non-winners in six months condition with a pair of recent scores not counted in eligibility         
#6 – Gethot Stayhot (10-1): Drops from open company, and trainer Sillaman scratched out of tougher spot yesterday for this one
#2 – Whatifiwaswilling (3-1): Smashing win last out, making him another who outsrips the condition; but note that rider from last picks #4 in here
Race 9 is ON THE TURF
#4 – Full of Zip (8-1): Motion trainee won locally at first asking last September; trip to TAM for turf wasn't hugely successful, though he was beaten both times by the same horse taking advantage of overpriced optional claiming condition; two next-out winners from last, and like to see McCarthy back aboard
#3 – Perdona (3-1): If trainer Rubley has this one ready to roll, she'll win here; good efforts in SoCal, with Beyers that tower over her rivals           
#2 – Future Show (9-2): Good news: DePaz trainee fits the condition snugly, ran well locally (three back winner Cambodia now stakes-placed three times), and trainer has good record off the layoff; Bad news: horses to run back from last are 0-for-7
Race 10 
 #4 – Prime Number (10-1): Might get the right trip in here with plenty of early types to set the stage; rallied while seven-wide on the turn in last    
#3 – Ganador (5-1): Major class relief here for NY-based runner, and McCarthy in the irons a positive sign            
#2 – Hadeea (9-2): Speaking of class relief… Magill trainee drops into low-end claiming after fruitless foray into starter company on the turf; improved effort would be good enough here
YESTERDAY'S NEWS  
GQ is on assignment today, and picks are being done by his ne'er do well cousin QG. GQ will update his stats for the next racing day.
On Friday April 21st at Laurel had just 4 winners from the 10-race card (3 Top Selections; payoff in BOLD) having $2 WIN pay-offs of $13.40 (6th race), $8.00 (8th), $9.40 (9th) and $6.00 (10th). Of the suggested multi-race wagers hit the R9-R10 $2 DOUBLE for $28.20 (cost: $12). Top Selections in 2017 are 107 for 404 (26.49%). In 2016, Top Selections were 304 for 1,213 (25.02%).
BEST BET of the Day (45: 15-10-8; in 2016 127: 31-29-19) Forever Bernardini (10th race: 3-1 M/L; 2-1 PT) settled off the contested pace and towards the fence, commenced a run leaving the far turn, never had his momentum stalled as he enjoyed a clear run along the rail into the lane, forged ahead of the dueling leaders leaving the three sixteenths, kicked clear and proved best under a drive, winning by 2¾ lengths and returned $6.00 to WIN, $3.20 to PLACE and $2.60 to SHOW.
LONGSHOT PLAY of the Day (41: 4-5-8; in 2016 124: 13-13-16) Red Romeo (8th race: 10-1 M/L; 6-1 PT) broke slowly, settled off the early pace, angled five wide to make headway into the lane, lugged in briefly near the three sixteenths, corrected with the left stick and churned on willingly to gain the place and returned $6.20 to PLACE and $4.80 to SHOW.