The GQ Approach – Laurel April 22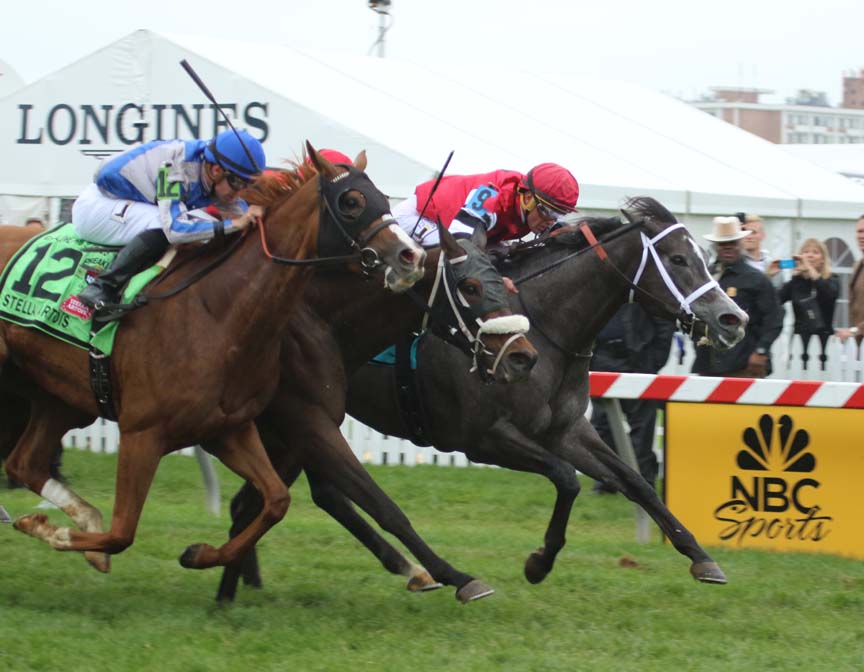 Mizz Money (#9) held off Vielsalm (in between) and Heath (#12) to win the Grade 3 Gallorette. Photo by Laurie Asseo.
The GQ Approach features full-card selections from Laurel Park (w/ live racing every Friday, Saturday and Sunday through May 7, 2017; Post Time 1:10pm EDT), including a daily Best Bet, Longshot Play, and multi-race wagers — including the 20 cent Rainbow Pick-6, 50 cent Jackpot Pick-5, as well as Pick-4s and rolling Doubles, Pick-3s and the Super High-5.

[su_box title="
Today's Carryovers
" style="glass" box_color="#66ADCC"]
Rainbow Pick 6: $463.66
Super High 5: no carryover
Late Pick 5: no carryover[/su_box]
[su_box title="GQ's Handicapping Tip of the Day" style="glass" box_color="#66ADCC"][stray-random][/su_box]
[su_box title="Best Bet of the Day" style="glass" box_color="#66ADCC"]Race 8 / #8 – Cambodia (5-2)[/su_box]
[su_box title="Longshot Play of the Day" style="glass" box_color="#66ADCC"] Race 6 / #2 – Maziette (10-1)[/su_box]
[su_box title="
Multi-race Wagers
" style="glass" box_color="#66ADCC"]
Race 1: $2 Double  2, 3, 6  w/ 4, 6, 7 ($18)
Race 3: $0.50 Pick-3  3, 6, 8  w/ 1, 3  w/ 5, 7, 11 ($9)
Race 7 $0.50 Pick-5  3, 5  w/ 1, 8, 12  w/ 6, 9  w/ 1, 7, 8, 9  w/ 2, 11  ($48)
Race 10: $2 Double  7, 8, 9  w/ 2, 11 ($12)
[/su_box]
[su_heading size="21″ align="left"]Analysis[/su_heading]
Weather: Mostly Cloudy w/ chance of showers; highs in the low-60s
Scheduled Turf races: 3rd, 5th, 8th, 9th, 10th, and 11th
Projected track conditions… Main: FAST  Turf: GOOD
Race 1
#2 – Great Smoke (8-1): Just one of three in this sprint not stepping up in class; seemed to meltdown at the gate in latest and prior to that faced tough OC$20n1x, which could explain so-so performances
#3 – American Progress (5-1): Regardless of level, has been consistently earning Brisnet#s in the 80s; drops in hopes of getting first win in '17
#6 – Kowboy King (3-1): Been popular in the claiming box of late; makes first start for fourth different barn but trainer J. Maldonado gets 24% of them to Winners Circle
Race 2
#4 – Vilma (8-5): Finally got first career win in 14th start going this one mile distance at Aqu, then promptly was buried in a Starter Alw$50ks last month; trainer L. Rice has been golden at Lrl (48%) with her NY shippers, so why not this one
#6 – Iredell (7-2): Been competing at this level in last three start (3:0-2-1) on different surfaces all at Lrl… fast, mud then turf; needs attitude adjustment to overcome "Second-itis" (21:1-8-2)
#7 – Three Beans (10-1): Tall order for 3-year-old first time v. winners after nose score for $25kMCL but trainer J. Robb has done a great job since claiming him out of a $10kMCL 3 back; should try to stalk this early speed heavy group         
Race 3 is ON THE TURF
#3 – Acoustic (9-5): This maiden has been the beaten favorite in his last 3 starts but they were all on a fast track; return to turf and having benefit of run three turf races further than this 9 furlong route makes him likely favorite again
#6 – Not in Charge (5-2): 3-year-old makes just third lifetime start and for the first time faces a group having a handful of elders; both starts have been on routes on the GP grass, earning a gaudy 92 Brisnet# yet finished 5thd nearly 7 lengths behind winner; adds blinkers
#8 – Threeohtwocassie (8-1): Only entry on the card for trainer A. Pecoraro (20% at Lrl meet); this one tried Tam turf in first two starts, had traffic issues when 4th in second start; handle slop at Pen in latest but ran out of real estate sprinting; that would be an excuse today going 9 panels
Race 4 is $125,000 Weber City Miss Stakes
 #3 – Jenda's Agenda (3-5): This undefeated daughter of Proud Citizen looked good winning her third start in the $100k Ceasar's Wish at Lrl when shipped in from New Orleans (FG), in spite of being unable to breeze for the 12 days leading up to that race, due to poor weather and track conditions; has never seen the back end of a rival at a call and may not after this event
 #1 – Lights of Medina (7-2): Hails from the Todd Pletcher barn and bred to be a good one, but didn't break her maiden until last/4th start at Lrl when shipped in from NY; runner-up to her came back to run third as 2-1 second choice; speed figures have improved with each start and her late pace numbers in both two turn efforts are the two best in here  
#4 – Forever Liesl (4-1): NY shipper for trainer Michelle Nevin has already made this trip down I-95 three times… game effort when runner-up to "Jenda" by 2 lengths in latest but that rival will carry 6 lbs. more today; first time going two turns should not be a problem but appears she'll have to engage the Morning Line favorite early in hopes of turning the tables
Race 5 is ON THE TURF
#7 – Sweet Curls (3-1): Draw a line through the last race over muddy main track, her first since last Nov. was a real April Fool's joke; gets back on preferred surface and will have plenty of leg weary foes to catch             
 #11 – Sligo Jane (5-1): Away since last August when breaking maiden in fifth start over the synthetic surface of WO at the bottom level ($8kMCL); transferring to turf will be transparent      
#5 – Neetee Rides Again (6-1): 3-year-old by Kitten's Joy makes first start after claim and on turf for trainer M. Reid; original connections try to debut him on turf at Sar but got washed off; might need more distance            
Race 6 is $75,000 Primonetta Stakes
#2 – Maziette (10-1): $$$ LONGSHOT $$$ Lone entry for K. Gorder and mount for C. Hill who have teamed up with this 5-year-old mare in past two starts after $25k claim at OP getting a win and runner-up on big class jumps; makes stakes debut but will need pace help for her typical stalking trip
#4 – Sweet On Smokey (5-1): Started '17 campaign winning the 6 furlong $75k What a Summer Stakes here over a good, sealed Lrl main oval, his 7ths victory from 11 starts at the distance, then was outclassed in G2 Barbara Fritchie, sent off 59-1 yet was less than 4 lengths behind winner; nice training pattern since with bullet in most recent work
#1 – Appealing Maggie (9-2): The speed of the speed as long as she gets a clean break, which were her excuses in only two races where she never got the lead and finished off-the-board; away since last September and out of training until late January; trainer M. Hushion's only entry on the card and first at current Lrl meet; serious threat to discourage foes trying to catch her     
Race 7 is the $125,000 Federico Tesio Stakes
#5 – Carradine (8-5): Trainer L. Rice shippers have been winning at a 47% clip (23 for 49) this entire Lrl meet; this NY-bred has been defying his distance challenged bloodlines by doing quite well going two turns in his last four (2-1-1); earned career best 100 Brisnet# when he destroyed N1x foes at Aqu, his first effort not against state breds; C. Velasquez has 7 mounts on the card but make no mistake, THIS ONE is the reason he made the trip
#3 – Twisted Tom (7-2): Winner of the $100k Private Terms when shipped in from the Big Apple by trainer Chad Brown (4:2-1-1 at Lrl); took advantage of contested pace to launch a furious rally in deep stretch to get up in the final jump, beating #4; will carry 4 lbs. more today, making it equal weight with that rival but appears will continue to improve with each effort as he goes for natural Hat Trick since adding blinkers; local rider F. Lynch gets rewarded and retains the mount    
#4 – O Dionysus (5-2): This MD-bred Bodemeister colt has been the local 3-year-old star whose connections have pointed to this race since he easily disposed of 7 rivals in the Miracle Wood stakes then got caught by a nose to Twisted Tom (#3) after dueling through the stretch with another rival; stretching out another 1/16th should not be but J. Toledo needs to get him to settle and not move too soon
Race 8 is the $75,000 Dahlia Stakes ON THE TURF
#8 – Cambodia (5-2): *** BEST BET *** Blossomed since breaking maiden in turf debut in her fourth career start; has only raced on turf since (5:3-0-2); got Show purse in two similar events at FG in latest efforts while winner in last came back to repeat; has a great post to get in stalking position early drafting behind pace setters then kick it into high gear entering the stretch          
#12 – Seeking Treasure (15-1): Upset winner ($26.20) of this event in '16 got in a nice prep at GP 3 weeks ago showing late energy going 7½ furlongs; Blinkers off and may be a horse for the Lrl turf course (3:1-2-0); owns best Brisnet# for this distance on turf
 #1 – Danilova (9-2): A winner in lone start at age 2 across the pond ventured to the U.S. nearly a year and 3 starts later, victorious first start on Bel turf then lost a G3 at SA by a nose then off-the-board (7th by 3) when earning best Brisnet# of career over "good" Aqu turf after Thanksgiving; took winter off but very nice work tab includes a trio at 6 furlongs prepping for this race
Race 9 is ON THE TURF
#6 – West Coast Bias (8-5): Makes third career start after being unlucky with traffic troubles in both starts while sent off as the Post Time favorite; top turf trainer T. Proctor turns to C. DeCarlo to get this gal her diploma
#9 – Isoclone (6-1): KY-bred FTS will absolutely love the turf as sire is Aussie turf star Lonhro and dam is by this Cappers favorite turf sire More Than Ready; built to score at first asking and the nicely spaced works indicate she'll be locked and loaded           
#3 – I'm So Munny (7-2): Has shown sprinter speed in all four starts and handled a sloppy track in latest to get a minor share when beaten favorite; with dam being by Rahy, she should shine on the turf
Race 10 is $75,000 Henry S. Clark Stakes ON THE TURF
 #8 – Ascend (5-1): One of 8 runners in this event making first start of the year, one of two for trainer G. Motion and the one F. Lynch chose to ride for him, as the other (#2) is 9-2 Morning Line; before winter vacation won in 12th career start but first with Lasix; makes first stakes appearance but has faced better competing at Kee, Sar and Bel against N2x and N3x talent and runs well first off the bench; will be heard from in deep stretch   
 #7 – Rose Brier (3-1): Certainly the one to beat as she's 4 for 4 on the Lrl lawn in addition to being a graded stakes winner; ultra-consistent runner has hit the board in 30 of 37 starts with worst placing being 5th; will have plenty of company setting early pace           
#9 – Marengo Road (20-1): Makes long awaited 4-year-old debut; last outing was on Preakness Day when he won similar turf stakes earning an eye-popping 104 Brisnet#, tops among this assembled group; has a bright future on the turf as evidence by two wins and a narrow loss from 3 career grass starts       
Race 11 is ON THE TURF
  #2 – Cursive (8-1): Lone turf win from 9 starts on the grass came here at this two-turn distance; like the stretch out, drops to lowest level of career and owns best turf speed figure in here    
 #11 – Workerbee (7-2): Have to think that 5½f race v. AlwN1x was just to get a race into her coming back from spending the winter on the FG turf; similar tactics used last Fall yielded a win on stretch out v. OC$10k rivals           
#8 – Vale Ridge (12-1): Wanted turf at this level 3 weeks ago but got washed off; just 2 for 23 on the grass but most have been at a higher level
YESTERDAY'S NEWS  
On Friday April 21st at Laurel had just 4 winners from the 10-race card (3 Top Selections; payoff in BOLD) having $2 WIN pay-offs of $13.40 (6th race), $8.00 (8th), $9.40 (9th) and $6.00 (10th). Of the suggested multi-race wagers hit the R9-R10 $2 DOUBLE for $28.20 (cost: $12). Top Selections in 2017 are 107 for 404 (26.49%). In 2016, Top Selections were 304 for 1,213 (25.02%).
BEST BET of the Day (45: 15-10-8; in 2016 127: 31-29-19) Forever Bernardini (10th race: 3-1 M/L; 2-1 PT) settled off the contested pace and towards the fence, commenced a run leaving the far turn, never had his momentum stalled as he enjoyed a clear run along the rail into the lane, forged ahead of the dueling leaders leaving the three sixteenths, kicked clear and proved best under a drive, winning by 2¾ lengths and returned $6.00 to WIN, $3.20 to PLACE and $2.60 to SHOW.
LONGSHOT PLAY of the Day (41: 4-5-8; in 2016 124: 13-13-16) Red Romeo (8th race: 10-1 M/L; 6-1 PT) broke slowly, settled off the early pace, angled five wide to make headway into the lane, lugged in briefly near the three sixteenths, corrected with the left stick and churned on willingly to gain the place and returned $6.20 to PLACE and $4.80 to SHOW.