The GQ Approach – Laurel April 21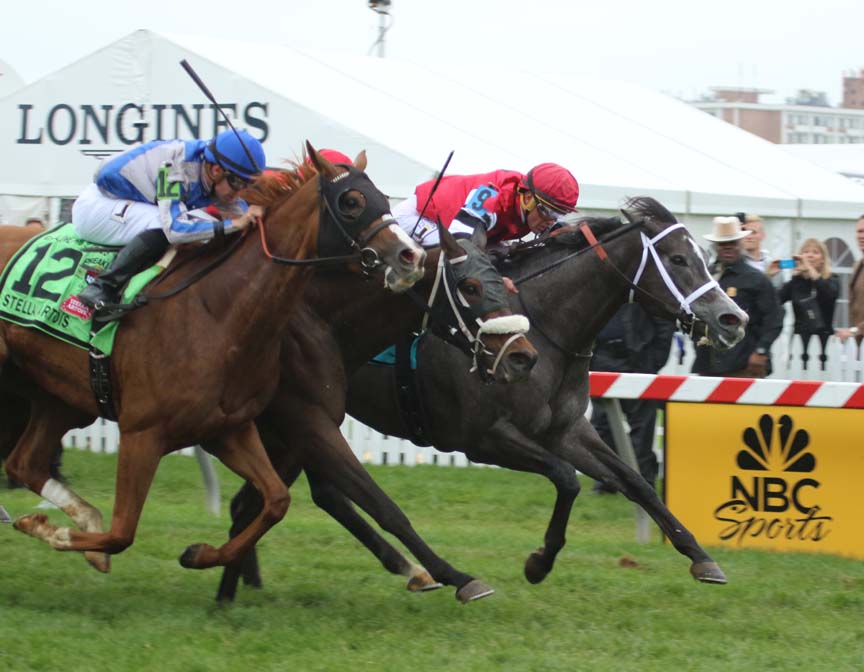 Mizz Money (#9) held off Vielsalm (in between) and Heath (#12) to win the Grade 3 Gallorette. Photo by Laurie Asseo.
The GQ Approach features full-card selections from Laurel Park (w/ live racing every Friday, Saturday and Sunday through May 7, 2017; Post Time 1:10pm EDT), including a daily Best Bet, Longshot Play, and multi-race wagers — including the 20 cent Rainbow Pick-6, 50 cent Jackpot Pick-5, as well as Pick-4s and rolling Doubles, Pick-3s and the Super High-5.

[su_box title="
Today's Carryovers
" style="glass" box_color="#66ADCC"]
Rainbow Pick 6: no carryover
Super High 5: $7,925.54
Late Pick 5: $8,511.36[/su_box]
[su_box title="GQ's Handicapping Tip of the Day" style="glass" box_color="#66ADCC"][stray-random][/su_box]
[su_box title="Best Bet of the Day" style="glass" box_color="#66ADCC"]Race 10 / #8 – Forever Bernardini (3-1)[/su_box]
[su_box title="Longshot Play of the Day" style="glass" box_color="#66ADCC"] Race 8 / #6 – Red Romeo (10-1)[/su_box]
[su_box title="
Multi-race Wagers
" style="glass" box_color="#66ADCC"]
Race 1: $2 Double  2, 4, 8  w/ 6, 7, 8 ($18)
Race 3: $0.50 Pick-3  4, 6, 7  w/ 1, 10, 13  w/ 2, 5, 9 ($13.50)
Race 6 $0.50 Pick-5  4, 9  w/ 2, 4  w/ 1, 6, 8  w/ 2, 3, 7  w/ 5, 8  ($36)
Race 9: $2 Double  2, 3, 7  w/ 5, 8 ($12)
[/su_box]
[su_heading size="21″ align="left"]Analysis[/su_heading]
Weather: Partly Sunny; highs in the low-80s
Scheduled Turf races: 1st, 4th, 6th, 8th, and 10th
Projected track conditions… Main: FAST  Turf: FIRM
Race 1 is ON THE TURF
#2 – Spoiled by God (5-1): Tried to earn some barn bill money on but couldn't so turf season is a welcome relief as he competes when sprinting on the Lrl lawn (9: 2-0-5); versatile running style bodes well v. this group
#4 – Uncle Chato (3-1): Just one ITM finish on turf in 6 starts but that was his maiden breaker at Dmr; all other turf outings were versus much better in So. Cal and is a threat to go gate-to-wire
#8 – Tambourin (5-2): Gotta think the K. Magee claim for a nickel the day after Christmas was all about getting an accomplished turf runner on the cheap; makes first start of '17
Race 2
#6 – Zimbabwe (4-5): Trainer G. Motion has been begging for this gelding to be claimed, further cutting the price to $8k in this geldings' fourth time at the $10kMCL level; adds blinkers (21%), bug girl A. Castrenze who has been working Motion runners at Fai and third race after layoff
#8 – Wing Fighter (6-1): Continues to slide down the class ladder seeking diploma but is now at the bottom; showed speed in only previous turf try, going 7½f at Del last summer v. MSW
#7 – Wilko's Goldeneye (6-1): This will mark his fourth race in a 28 day span; was closer to the pace in latest when stretching out but was checked at the quarter pole and gave up from there     
Race 3
#4 – Slick William (7-2): May have bounced in last outing off a monster effort two back v. OC$25kN2L yet his "late pace" numbers tower over today's rivals; should get a nice stalking trip
#7 – Bobcat (3-1): Will be on the lead at the first call but #1 and/or #3 should keep him company which could leave him looking for oxygen in the final furlong; 2 for 3 on Lrl dirt surface at 6f
#6 – Z Supreme (8-1): Even the reigning Lrl leading trainer finds it difficult claiming off NY-based trainer Rudy Rodriguez as this 3-year-old was badly beaten favorite in first start for K. Magee and now makes initial start v. elders; leave this one off your tickets at your own risk as the Morning Line odds seem generous
Race 4 is ON THE TURF
#10 – Leroy Brown (5-1): Back from spending another winter riding at GP, HOF E. Prado returns to ride for second straight Spring and Summer in MD, what a better way than to ride a House Horse on turf; draws a weak group of turf wannabes and those coming off winter break
  #1 – City Gold (2-1): Tough rail assignment for ML favorite who doesn't have natural speed; 0 for 9 on turf as lone win came over sloppy Lrl main track v. $16kMCL… yeah, that's how weak this $16kN2L is
#13 – Old Sport (5-2): Has best turf Brisnet# among those entered as he's competed with better at GP this winter but is on the outside looking in, needing a scratch or two to draw in; if he doesn't use KTL's #6 – Cute as a Button    
Race 5
#5 – Bird of Trey (6-1): Third race after layoff and seems to have developed a bad race-good race pattern since claim for $16k; if pattern holds then it's time for a good race; good sign they continue to protect her in these optional claiming events
#9 – Demon Buster (9-2): Second of the Stronach (aka house) horses on today's card with same pilot, E. Prado; drops to lowest claiming level of short 13 race career which could be a red flag
#2 – Whiskey Tree (10-1): Beaten favorite at CT v. AlwN1x returns to track where he was third in Private Terms last year and later runner-up in OC$50kN1x, with H. Karamanos in saddle both races as he is today            
Race 6 is ON THE TURF
#4 – Circle of Light (4-1): Exits Tampa an 0 for 5 maiden though showing talent but v. cheaper than this level all on dirt; adds Lasix and should take to turf which could be the winning combination
#9 – Flankenstein (9-2): Can't seem to put it all together as he's been runner-up in 3 of 9 starts while being heavily bet in 7 of those starts; return to turf and shortening up to 5½f gives best chance to be graduation day
#11 – Loconotion (6-1): Showed plenty of early speed on dirt at Del last year in both career outings while debut was in restricted stakes; leery of big drop from $40kMCL coming off 6-month hiatus even though he should like the grass
Race 7
#4 – She's Stunning (3-1): Yes she is as she's got 2 wins and 2 runner-up finishes from 4 starts in '17; second best to next out winner in latest after being steadied 3½ furlongs out; J. Toledo take over for Karmanos who is L. Rice's 1st call at Lrl
#2 – Hailey's Flip (8-1): Tries to regain her 2-year-old form after a disastrous 3-year-old debut as she clipped heels exiting the starting gate and lost rider; two works since indicate she's none the worse for wear    
#5 – Lil Habit of Mine (7-2): Adds blinkers in third career outings after being used early after bobble at the start; nice works indicate blinkers may help with getting win #2  
Race 8 is ON THE TURF
#6 – Red Romeo (10-1): $$$ LONGSHOT $$$ 4-year-old FTS by Shakespeare out of a Mutakddim mare means turf all through his bloodlines; should be fit for his debut as he's been working in earnest since mid-January especially the 5f gate work    
#8 – Looks Like Simon (10-1): "Ham" Smith had this 3-year-old debut v. elders going this same one mile over the main track which came up muddy, resulting in a non-threatening third; trainer wins with 25% going second time route              
#1 – Papa Pablo (5-2): Unable to graduate this winter in FL on the turf after three consecutive runner-up finishes last Fall in Mid-Atlantic, two of those on the Lrl lawn; sheds blinkers for first time in 9th turf try
Race 9
#7 – Just Call Kenny (9-2): Has run closely behind multiple stakes winners since making '17 debut 3 races back; sheds blinkers and needs to avoid that nasty 4-letter word in comments "hung"
#3 – No Distortion (4-1): Lrl will be 7th different venue in career start #15 for this L. Jones trainee; gelded since last start which was Thanksgiving at Zia; never been just one turn… until today; might be a freshener but need to respect a 44% trainer     
#2 – Blu Moon Ace (9-2): In last outing jock took an ill-advised trip along a dead rail yet still closed ground in first start for Cory Jensen in a restricted stakes; switches to T. McCarthy and stretches out an eighth
Race 10 is ON THE TURF
#8 – Forever Bernandini (3-1): *** BEST BET *** Struggled through the winter on the dirt against much better while plodding along to get minor shares; only win came on synthetic at Pid; third start since layoff; time for Forest to put on her big girl riding pants and boot this one home  
#5 – Pro Daddy (5-1): Banking on this Lrl lawn lover (4:1-2-1) to bounce back from very poor showings at FG this winter and the X-Man can get his 4thd win of the meet in his 146thd mount of the meet; keeping blinkers on after seeing result with them on in last two is a head-scratcher          
#7 – Absolute Pinnacle (12-1): Must respect M. Eppler/A. Cintron combo (20%) especially on the turf and first start for trainer after 6 failed attempts to win on the turf in FL       
YESTERDAY'S NEWS  
On Sunday April 15th at Laurel had 7 winners from the 9-race card (4 Top Selections; payoff in BOLD) having $2 WIN pay-offs of $4.40 (1st race), $12.80 (2nd), $4.00 (3rd), $6.40 (4th), $12.40 (5th), $13.00 (6th) and $17.80 (8th). Of the suggested multi-race wagers hit the R1-R2 $2 DOUBLE for $30.40 (cost: $12) and the R3-R5 50 cent Pick-3 for $22.90 (cost: $13.50). Top Selections in 2017 are 104 for 394 (26.40%). In 2016, Top Selections were 304 for 1,213 (25.02%).
BEST BET of the Day (44: 14-10-8; in 2016 127: 31-29-19) Shirleys Curls (3rd race: 5-2 M/L; 1-1 PT) taken to the inner rail soon after the break, remained along the rail there after, secured command inside the three sixteenths pole and drew off under urging to win by three and three-quarter lengths and returned $4.00 to WIN, $2.80 to PLACE and $2.20 to SHOW.
LONGSHOT PLAY of the Day (40: 4-4-8; in 2016 124: 13-13-16) Fellowship (8th race: 12-1 M/L; 7-1 PT) showing speed, steadied back from between rivals leaving the five eighths pole, regrouped to rate forwardly, took closer order three wide mid turn, angled out four wide for a clear run entering the lane, closed sharply under right handed rousing to make it three across heading to the eighth pole, took command soon after and eagerly kicked clear to win by two and a half lengths and returned $17.80 to WIN, $4.00 to PLACE and $3.20 to SHOW.