The GQ Approach – Laurel April 16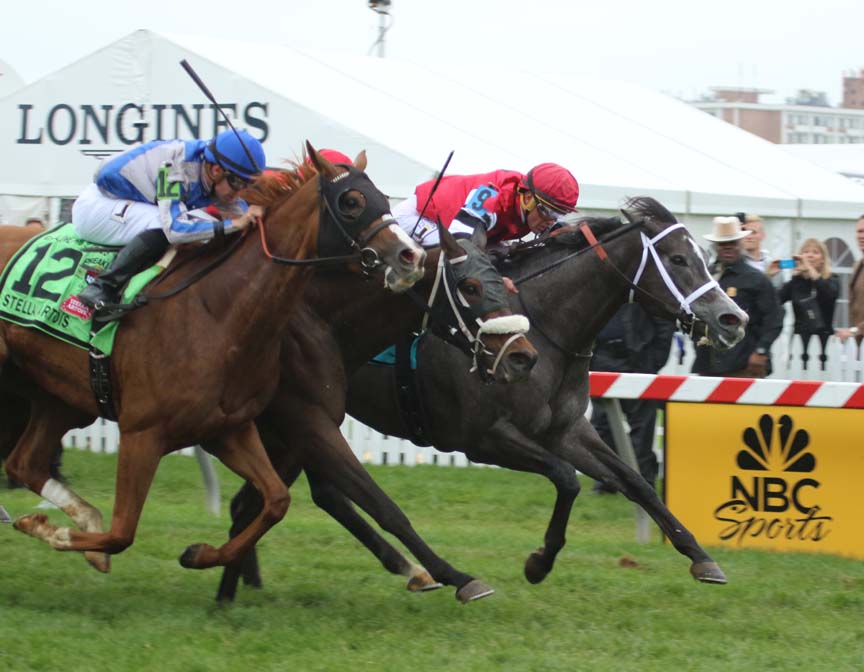 Mizz Money (#9) held off Vielsalm (in between) and Heath (#12) to win the Grade 3 Gallorette. Photo by Laurie Asseo.
The GQ Approach features full-card selections from Laurel Park (w/ live racing every Friday, Saturday and Sunday through May 7, 2017; Post Time 1:10pm EDT), including a daily Best Bet, Longshot Play, and multi-race wagers — including the 20 cent Rainbow Pick-6, 50 cent Jackpot Pick-5, as well as Pick-4s and rolling Doubles, Pick-3s and the Super High-5.

[su_box title="
Today's Carryovers
" style="glass" box_color="#66ADCC"]
Rainbow Pick 6: $9,886.06
Super High 5: $1,044.93
Late Pick 5: no carryover[/su_box]
[su_box title="GQ's Handicapping Tip of the Day" style="glass" box_color="#66ADCC"][stray-random][/su_box]
[su_box title="Best Bet of the Day" style="glass" box_color="#66ADCC"]Race 3 / #6 – Shirleys Curls (5-2)[/su_box]
[su_box title="Longshot Play of the Day" style="glass" box_color="#66ADCC"] Race 8 / #4 – Fellowship (12-1)[/su_box]
[su_box title="
Multi-race Wagers
" style="glass" box_color="#66ADCC"]
Race 1: $2 Double  3, 4  w/ 1, 2, 7 ($12)
Race 3: $0.50 Pick-3  2, 5, 6  w/ 3, 7, 8  w/ 2, 4, 5 ($13.50)
Race 5 $0.50 Pick-5  2, 5  w/ 1, 2, 3  w/ 3, 4, 5  w/ 3, 4  w/ 7, 9 ($36)
Race 8: $2 Double  3, 4, 9  w/ 1, 7, 9 ($18)
[/su_box]
[su_heading size="21″ align="left"]Analysis[/su_heading]
Weather: Mostly Sunny; highs in the upper-70s
Scheduled Turf races: 3rd, 5th, 7th and 9th
Projected track conditions… Main: FAST  Turf: FIRM
Race 1
#4 – Magic Cookie (2-1): This 4-year-old as the early speed to fend-off a couple 3-year-olds who face their elders for the first time; cut back from 6f to 5½f is key
#3 – Hanalei Sunset (3-1): Went toe-to-toe or would that be hoof-to-hoof, with a very nice 3-year-old filly (Next Street) twice before giving way late; will challenge top pick every step of the way
#2 – Brook's On Fire (10-1): First time facing elders but the most experienced 3-year-old (12:1-0-3) sheds blinkers after past two less than stellar starts with them
Race 2
#2/2X – Hurler/Seve (5-2): One of these entrymates will likely scratch; both are nice candidates as they always hit the board but prefer #2 as he drops from open $7,500 company
#7 – Cho Time (6-1): Disaster in latest when broke in air then bug boy lost irons then never engaged rivals, giving up at the start in open $8k claimer at Pen; 5 of 9 lifetime at distance
#1/1A – Jacapo/Baby Cat (9-5): #1 makes first start after claim out of a N2Y at Prx while entrymate drops back to this level after failing three times against $11k open claimers       
Race 3 is ON THE TURF
#6 – Shirleys Curls (5-2): *** BEST BET *** Been away since late January supposedly waiting for turf season; last win came on Lrl lawn v. better earning her best career Brisnet# which is tops in this event; needs an honest pace to get up in deep stretch
#2 – Goldies Tale (5-1): Used up early in 7f dirt race at this level after bad start; should contribute to early pace with clean start seeking first turf win in sixth try
#5 – Street Miz (10-1): Showed some turf talent last Fall but only managed Also Ran status when double-digit longshot in all six outings on grass; maturity and M. Salazar/L. Glaser combo (31%) should help her compete here             
Race 4
#3 – All Blinged Out (5-2): Second time blinkers and start for trainer L. Gaudet (3 for 8 on multi-level class drop) who got this one after he went south, form-wise coming off 5-month layoff and failed to threaten on synthetic at TP
#8 – Some Promises (3-1): Have to think he participated in OC$25k just to help fill race as the last place showing was no shock; back to spot where he came up a neck short two back as favorite
#7 – Don't Be Scared (5-1): Fresh off $10kMCL score in fifth career effort; connections are being realistic in placing him at Lrl bottom claiming level  
Race 5 is ON THE TURF
#5 – Oak Bluffs (5-1): 7-year-old turf specialist can win in first start of '17; ultra-consistent runner is always right there in the final strides regardless of class level; loves distance (12:7-3-0) and Lrl lawn (7:3-2-0)
#2 – Theycallhimthekid (5-2): Lone entry and mount on the card for trainer M. Stidham and jockey M. Murrill as this gelding overcame in race issues at FG in latest to prevail; third race after layoff
#4 – Easy River (8-1): Will be heard from late in '17 debut; runner-up in minor turf sprint stakes at Mth last spring; dirt few dirt tries were far from clean trips            
Race 6
#3 – Never Stop Looking (4-1): Compromised at the start in latest when sent off as 7-5 favorite; beaten favorite; jock switch and an extra 1/16th should help this 8-year-old get back to the Winners Circle
#2 – D C Dancer (7-2): Tough luck runner-up in last two seems to have regained old form but still lacks killer instinct to win (4 wins, 13 runner-up finishes) but makes first start for trainer D. Dilodovico who turns to H. Karamanos to turn tables as these two have won with 8 of 9 starters
#1 – Classic Salsa (5-1): TP shipper seeks natural dirt and easier competition in second start after trainer J. O'Dwyer claim who has won with 1 of 3 previous shippers to Lrl this meet 
Race 7 is ON THE TURF
#3 – Triple Burner (7-2): A group of 6 foes have entered to ruin the unofficial Ben's Cat Invitational as the 11-year-old fan favorite makes his '17 debut; call this Capper a Doubting Thomas but "The Cat" ain't the horse he used to be; both Jordan and Favre couldn't recapture their glory days when they came back, and it's hard to believe that at age 11 he'll be able to pull a Lazarus… even on Easter Sunday… so give the nod to the #3 who can get it done in first start since Nov., hoping Y. Ortiz takes advantage of the lack of early speed and tries a gate-to-wire performance
#5 – Sonny Inspired (5-1): This amazing 6-year-old can and does win at any distance and surface; runner-up to local buzz saw Laki two back, made short work of similar at Prx on April Fools Day
#4 – Elusive Joni (8-1): This late runner made first start of '17 at GP going 5f on speed favoring turf; been part of Exacta in all races on Lrl lawn (3:2-1-0)  
Race 8
#4 – Fellowship (12-1): $$$ LONGSHOT $$$ Will need some pace help as this '16 Preakness participant makes first start since that race; may not be totally cranked up for this one but on natural talent alone, his resume' with three SHOW placings in graded stakes should be able to make him a threat to upset
#3 – West Hills Giant (9-2): Classy runner has made over $600k from 38 career starts and at age 7 is as good as ever; though 0 for 9 at this middle distance, catches a group whose best top out at 6f
#9 – Laki (5-2): Modestly bred 4-year-old gelding has yet to taste defeat on the Lrl main track (4 for 4); earned an eye-popping 101 Brisnet# in state bred stakes last month; only question is can he carry his speed an additional furlong
Race 9 is ON THE TURF
#9 – La Murette (4-1): Going against handicapping logic in that this gal has lost more races than her competitors in here combined, so why not pick a FTS? Reason: KTL; the octogenarian has been patience with this one all winter and must have figured out how to get her to the Winners Circle, right?!
#7 – No Love Lost (6-1): MD-bred FTS by Not for Love out of a Valley Crossing mare sows a nice work tab that indicates she'll be quick from the gate; trainer J. Egan has had a debut claiming winner from three such starters over the past year, though she's protected based on condition of race
#1/#1A – Holiday Prayer/Whenallelsefails (7-2): The ultimate hunch play for Easter Sunday as #1A is on Also Eligible, post #14 and likely scratch; both are bred for the turf and sent out by trainer M. Trombetta who is 11% with firsters on turf
YESTERDAY'S NEWS  
On Saturday April 15th at Laurel had 7 winners from the 10-race card (3 Top Selections; payoff in BOLD) having $2 WIN pay-offs of $3.80 (1st race), $3.00 (2nd), $9.60 (3rd), $4.80 (7th), $4.20 (8th), $5.00 (9th) and $5.80 (10th). Of the suggested multi-race wagers hit the R9-R10 $2 DOUBLE for $19.60 (cost: $8). Top Selections in 2017 are 100 for 385 (25.97%). In 2016, Top Selections were 304 for 1,213 (25.02%).
BEST BET of the Day (43: 13-10-8; in 2016 127: 31-29-19) Indebted (7th race: 4-1 M/L; 3-1 PT) saved ground both turns, advanced inside horses to gain the lead in mid-stretch then flattened out and got the worse of a 3-way photo for the win to return $2.20 to SHOW.
LONGSHOT PLAY of the Day (39: 3-4-8; in 2016 124: 13-13-16) Cousin Stephen (5th race: 6-1 M/L) was a late scratch during the Post Parade.