The GQ Approach – Laurel April 15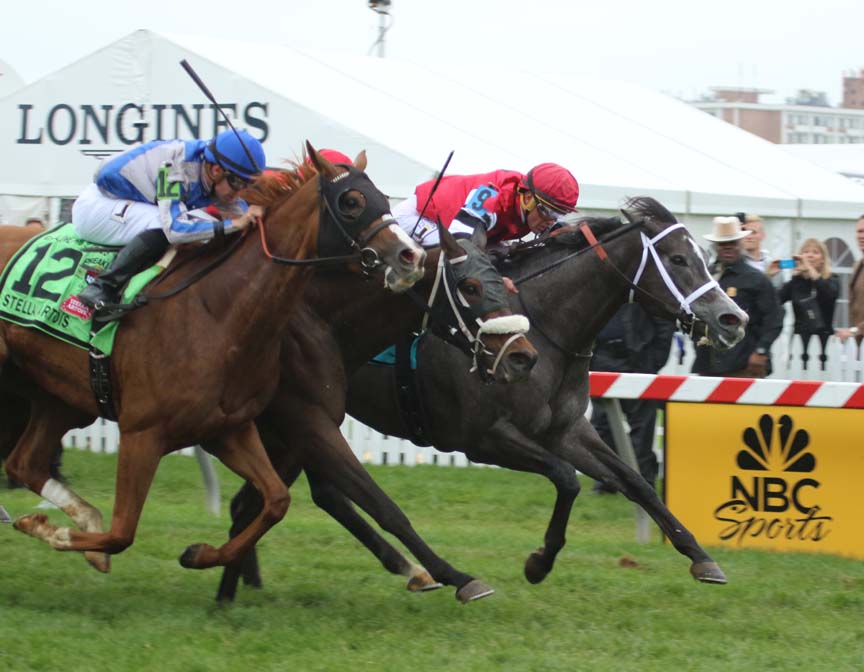 Mizz Money (#9) held off Vielsalm (in between) and Heath (#12) to win the Grade 3 Gallorette. Photo by Laurie Asseo.
The GQ Approach features full-card selections from Laurel Park (w/ live racing every Friday, Saturday and Sunday through May 7, 2017; Post Time 1:10pm EDT), including a daily Best Bet, Longshot Play, and multi-race wagers — including the 20 cent Rainbow Pick-6, 50 cent Jackpot Pick-5, as well as Pick-4s and rolling Doubles, Pick-3s and the Super High-5.

[su_box title="
Today's Carryovers
" style="glass" box_color="#66ADCC"]
Rainbow Pick 6: $8,218
Super High 5: no carryover
Late Pick 5: no carryover[/su_box]
[su_box title="GQ's Handicapping Tip of the Day" style="glass" box_color="#66ADCC"][stray-random][/su_box]
[su_box title="Best Bet of the Day" style="glass" box_color="#66ADCC"]Race 7 / #5 – Indebted (4-1)[/su_box]
[su_box title="Longshot Play of the Day" style="glass" box_color="#66ADCC"] Race 5 / #5 – Cousin Stephen (6-1)[/su_box]
[su_box title="
Multi-race Wagers
" style="glass" box_color="#66ADCC"]
Race 1: $2 Double  2, 4  w/ 4, 5, 7 ($12)
Race 3: $0.50 Pick-3  2, 6, 9  w/ 2, 3, 5  w/ 1, 5, 10 ($13.50)
Race 6 $0.50 Pick-5  1, 2  w/ 3, 5  w/ 1, 8  w/ 7, 8  w/ 2, 4, 6, 11 ($32)
Race 9: $2 Double  7, 8  w/ 2, 4, 11 ($12)
[/su_box]
[su_heading size="21″ align="left"]Analysis[/su_heading]
Weather: Partly Cloudy; highs in the mid-70s
Scheduled Turf races: 3rd, 5th, 7th, 9th, and 10th
Projected track conditions… Main: FAST  Turf: FIRM
Race 1
#4 – Aggressive Driver (5-1): This field of seven lacks a true "need the lead" type but this fella has shown early foot in the past and most recent outing was filled with speed, hence he was close to the pace; never been off the board going 6f (3:1-0-2)
#2 – Big Brother Bubba (2-1): Toss that last one when in jail and over his head plus going longer than accustomed; appears trainer A. Farrior used that race as a conditioner; back at level where his consistently is in the money
#3 – Stone Crab (8-5): Vulnerable favorite as he cuts back to sprint for first time in over a year but hard to toss a K. Magee runner first time after claim (21%) regardless of how illogical they seem placed
Race 2
#7 – Lunar Rock (9-5): Hoping new barn (A. Farrior, 25% first race after claim) cured case of Seconditis as the 7-year-old "Rock" has been runner-up in past four starts at this level
#5 – Dustin (3-1): Doubt that this one fell down a flight of stairs like his namesake but hasn't raced since Oct. '15! Shows a nice pattern of 6 workouts and is protected via Waiver Claiming rule
#4 – D N A Approved (9-2): 5 of his 6 foes are coming off a layoff and this gelding has the most recent trip to the Winners Circle which was July '16; apprentice A. Castrenze back from injury looks to return to her winning ways         
Race 3 is ON THE TURF
#2 – Linda Nin (3-1): Makes fifth career start, first on turf for trainer G. Capuano who wins at 24% clip with turf debuters; bred to handle the turf and adds blinkers
#9 – Mysideofthestreet (12-1): Interesting path to Lrl turf as this NY-bred races at CT in her last 3 after two miserable outings in her home state; debut got washed off turf so have faith trainer J. Lawrence believes she'll make a living on the lawn
#6 – So Refreshing (10-1): Trainer M. Trombetta calls on A. Cintron who is among the better turf riders on the MD circuit; this filly should be on or near the early lead, so if she takes to the turf it could be bombs away           
Race 4
#3 – Horseshoe Harbour (3-1): Much the second best in latest over a sloppy, sealed Lrl surface; trainer M. Reid having a rough meet (1 for 28) but runners have been ITM over 50% and A. Castrenze has gotten 26% of his runners to Winners Circle the past year
#5 – Giermo (9-5): One of many trainer M. Stidham's runners who spent the winter at FG; nice third in debut going long in mud while 5-7 wide the entire trip
#2 – Wilko's Goldeneye (12-1): Sprinted in all three starts with the look of a runner who wants more ground; gets it today as his last pace numbers are tops in this group  
Race 5 is ON THE TURF
#5 – Cousin Stephen (6-1): $$$ LONGSHOT $$$ Lone turf try came 2½ years ago at Bel in OC$80N1x; though 10th and 7 behind winner when 6-1 earned a respectable Brisnet# to compete in here; 2 for 2 on an off track usually translates to a liking for the grass
#1 – Boppin Anda Weapin (7-2): By far the speed of this event and should face next to no pressure early, allowing A. Cintron to walk the dog early on; Lrl lawn seems to be firm enough as not to tire out the pace setters
#10 – Young Dude (8-1): This 8-year-old gelding has averaged won over 20% of his starts but winless in last 9, so is the dude due or over-the-hill? He fits at this level on turf has best two races since last win were runner-up efforts here on grass at this level and distance            
Race 6
#2 – Unassuming (5-1): Trainer T. Proctor better own for his turf runners but this one graduated when moved to dirt after two failed turf attempts at start of career; though maiden win came v. $16kMCL, the Brisent# (85) was impressive and SHOW finisher came back to win next outing
#1 – Good Boy Lucas (5-2): Must respect any runner trainer L. Jones ships in from northern home (Del) to Lrl (22:11-3-4); runner-up v. $30kN2L when beaten favorite at FG; runner-up in lone Lrl start last Sept.
#8 – One Proud Wildcat (12-1): Fresh off maiden score v. $25kMCL when equipped with blinkers; third race after layoff and should get perfect setup to chase down leg weary speed late  
Race 7 is ON THE TURF
#5 – Indebted (4-1): *** BEST BET *** Unsuccessful in two outings versus much better during winter vacation at GP, returns north at a level where he regularly did well; boasts best Brisnet turf number (93) for trainer R. Handal who has won with 2 of 3 shippers at current meet
#3 – Forever in Love (3-1): Three-time winner, all on grass but against fellow NY-breds; skips condition as he's eligible for N1x in first start of '17 but tough to question trainer L. Rice (46% at meet)
#4 – Foxhill Drive (5-1): Used to having more ground as last win came her going 9f which happens to be the last time B. Pedroza was in the irons prior to testing the turf at Tam  
Race 8
#1 – Proud Commander (5-2): 0 for 5 in career with three SHOW finishes continues to drop down the maiden claiming ranks after encouraging debut here last Sept. in MSW; trainer L. Jones will give A. Cintron a leg up who recently won first time together
#8 – Notable Game (15-1): Something obviously went amiss in second start (Dec. 31) when stretching out to one mile after being runner-up when 58-1 to one of the best fillies at Lrl; returns today at that level and attracts leading rider T. McCarthy who typically would ride for L. Jones… Hmmm
#3 – Llamme (12-1): Away since last Sept. after three career starts, all resulting in eighth place finishes; adds Lasix and tries natural dirt for first time trying to forget the past; string of works at Fai indicates trainer G. Motion has her ready
Race 9 is ON THE TURF
#7 – Tempt Me Twice (3-1): Can boast best career turf Brisnet# (90) of this assemble group; has proven he runs well fresh as he makes first start since last Nov.; Lrl turf has been kind to those close to the pace
#8 – Uncle Youdge (9-5): Away since July '16 all five starts have been on the grass; lone win came on this turf course and this 5½f distance fits his front-running style like a glove
#2 – Mount Coronet (6-1): Turf specialist has been away since last June, missing most of '16 turf season; trust that trainer "Ham" Smith has this gelding ready to compete here as J. Pimentel has gotten the most out of him in the past
Race 10 is ON THE TURF
#11 – West Coast Bias (9-5): Also Eligible needs just one scratch to draw in; makes third career start after being unlucky with traffic troubles in both starts; top turf trainer T. Proctor turns to top Lrl rider T. McCarthy to get this gal her diploma
#2 – Lift Up (2-1): Bred to like the turf finally gets her chance after three dirt tries, runner-up in twice; should enjoy stretch out to two turns as well; the Mad Genius, trainer M. Dickinson seeks first win of '17 albeit after having just four previous starters
#4 – I Got the Boy (5-2): Last Fall started career on turf with two winning races but settled for minor awards after unleashing furious rallies in deep stretch; those were w/o Lasix, today she gets it and jock F. Lynch who has gotten 38% of trainer G. Motion runners to Winners Circle 
YESTERDAY'S NEWS  
On Friday April 14th at Laurel had 8 winners from the 9-race card (5 Top Selections; payoff in BOLD) having $2 WIN pay-offs of $4.60 (1st race), $6.40 (2nd), $5.80 (3rd), $3.80 (4th), $3.80 (5th), $3.40 (6th), $13.80 (7th) and $4.60 (8th). Of the suggested multi-race wagers hit the R1-R2 $2 DOUBLE for $21.60 (cost: $12) and R3-R5 50 cent Pick-3 for $11.10 (cost: $13.50). Top Selections in 2017 are 97 for 375 (25.87%). In 2016, Top Selections were 304 for 1,213 (25.02%).
BEST BET of the Day (42: 13-10-7; in 2016 127: 31-29-19) Bust (1st race: 5-2 M/L; 6-5 PT) sprinted to the early lead, set the pace slightly off the rail on the turn, was two wide entering the stretch, was challenged on her outside by two rivals the final furlong, battled back and narrowly prevailed to return $4.60 to WIN, $2.40 to PLACE and $2.20 to SHOW.
LONGSHOT PLAY of the Day (39: 3-4-8; in 2016 124: 13-13-16) Dancing With Maude (7th race: 8-1 M/L; 5-1 PT) bumped with rival leaving the starting gate, hugged the inner rail around the turn, gained the lead inside horses in upper stretch, drifted out near the sixteenth pole and lasted by a half-length to return $13.80 to WIN, $7.00 to PLACE and $4.40 to SHOW.