The GQ Approach – Laurel April 14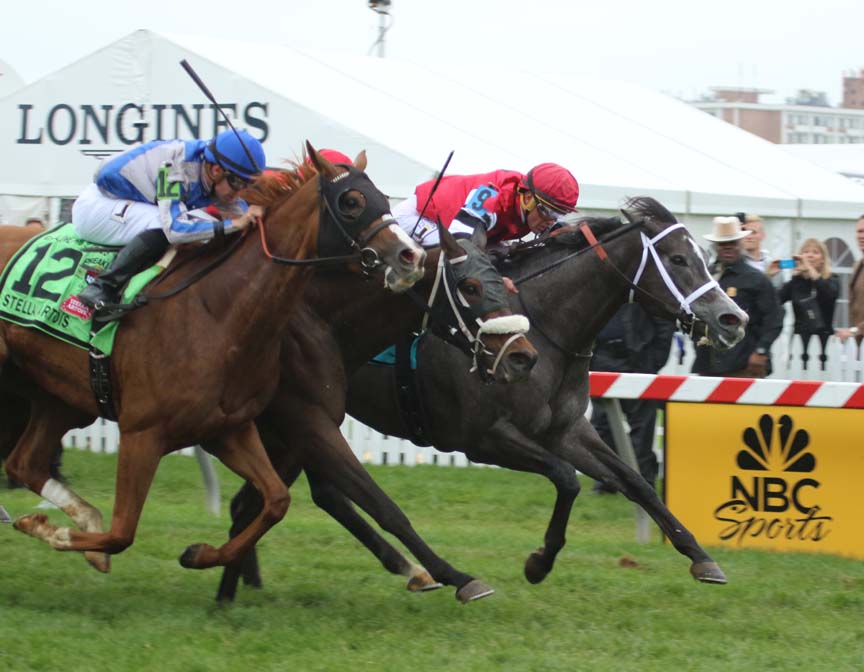 Mizz Money (#9) held off Vielsalm (in between) and Heath (#12) to win the Grade 3 Gallorette. Photo by Laurie Asseo.
The GQ Approach features full-card selections from Laurel Park (w/ live racing every Friday, Saturday and Sunday through May 7, 2017; Post Time 1:10pm EDT), including a daily Best Bet, Longshot Play, and multi-race wagers — including the 20 cent Rainbow Pick-6, 50 cent Jackpot Pick-5, as well as Pick-4s and rolling Doubles, Pick-3s and the Super High-5.

[su_box title="
Today's Carryovers
" style="glass" box_color="#66ADCC"]
Rainbow Pick 6: $6,640.85
Super High 5: $7,053.49
Late Pick 5: $3,213.78[/su_box]
[su_box title="GQ's Handicapping Tip of the Day" style="glass" box_color="#66ADCC"][stray-random][/su_box]
[su_box title="Best Bet of the Day" style="glass" box_color="#66ADCC"]Race 1 / #5 – Bust (5-2)[/su_box]
[su_box title="Longshot Play of the Day" style="glass" box_color="#66ADCC"] Race 7 / #1 – Dancing With Maude (8-1)[/su_box]
[su_box title="
Multi-race Wagers
" style="glass" box_color="#66ADCC"]
Race 1: $2 Double  5, 6 w/ 1, 5, 7  ($12)
Race 3: $0.50 Pick-3  1, 3, 5  w/ 4, 5, 11  w/ 2, 4, 7 ($13.50)
Race 5 $0.50 Pick-5  2, 4, 7  w/ 5, 6  w/ 1, 10  w/ 4, 5, 7  w/ 6, 8 ($36)
Race 8: $2 Double  4, 5, 7 w/ 6, 8, 9  ($18)
[/su_box]
[su_heading size="21″ align="left"]Analysis[/su_heading]
Weather: Partly Cloudy; highs in the upper-60s
Scheduled Turf races: 4th, 6th, 8th, and 9th
Projected track conditions… Main: FAST  Turf: FIRM
Race 1
#5 – Bust (5-2): *** BEST BET *** Won N2L in latest when transferred to A. Aguirre from T. Morley barn; this NY-bred is a cut below any conditions in her home state but fits well in MD and can repeat v. this group in a gate-to-wire score as there's not much to threaten her early
#6 – Lockupthebourbon (5-1): Is just one of three in here to have won both career outings on a fast track (others are #2 and #5); won't be able to keep up with top pick early but appears to be best of the rest
#4 – Antietam Creek (2-1): Has yet to visit Lrl Winners Circle in 17 tries on a fast track; beaten favorite when runner-up to next out winner with bug boy up; KTL switches back to J. Toledo who has gaudy win pct. (31%) with HOF trainer
Race 2
#7 – Lemon Lover (6-1): Won at this level two races back but usual move coming off trainer K. Magee $20k claim to offer her for less than full price just to get 4 lbs. in a sprint? Owner does like winning though
#1 – Charm City (6-1): First race off trainer P. Schoenthal claim (32%) wastes no time stepping this 7-year-old mare up in class but needs to overcome the 0 for 13 on fast track
#5 – Macroeconomics (10-1): Simply on a gut feeling as trainer C. Gonzalez also has #3 who is supposedly the better of the two uncoupled entries in here and he's golden with second race after claim starters (24%); took rail route when behind #1 and #6 last time; gets go to rider         
Race 3
#1 – Heaven's Creation (7-5): Looks the best on paper and it hasn't been wise trying to beat L. Jones/T. McCarthy duo (4 for 7 at meet); other than #2 who stretches out, her foes lack early speed so expect to see her number prompt on the screen throughout
#3 – Indian Paint (5-2): This 4-year-old has the "age edge" on top pick and has hit the board in all three starts (3:0-2-1) and recorded a nice 99 late pace Brisnet# when stretched out to a mile in latest
#5 – Mo Light (9-2): Trainer M. Eppler takes over for G. Contessa who raced this 4-year-old daughter of Uncle Mo of turf at GP this winter without sniffing a top 4 finish; blinkers come off and makes dirt debut in hopes of a better result             
Race 4 is ON THE TURF
#11 – Flyingtobechilders (9-2): This old gelding loves the grass but got a few preps in on dirt showing he hasn't lost a step; there's plenty of early speed in here to for him to make a late run from the outside as he's used to facing better open claimers on the lawn
#4 – Billy the Bull (7-5): Record at distance is deceiving because it includes 5f races along with today's distance of 5½f; no doubt he'll be on the lead early but might be asking too much to prevail going the extra 1/16th with plenty of pressure on both sides
#5 – Against the Win (7-2): Trainer H. McMahon jumped on this geldings $7,500 claiming price in January just to have him for turf season as he's competed against and has beaten better; nice work pattern leading up to this race  
Race 5
#4 – Gold Braid (3-1): There's an abundance of early speed in this one mile contest which should set it up nicely for this gelding who's been part of the Exacta in all 5 starts this year (5:2-3-0)
#2 – No More Talk (5-1): After 4 career races a pattern is emerging as he's run bad then good… time to run good after two turn debut in Private Terms stakes proved to be more than he could handle; previous third place effort in Miracle Wood at this distance indicates he has talent
#7 – Honor the Fleet (9-5): Had it all his way in the front end in second start earning diploma after a gutty neck loss in debut when much the second best; speed figures put him in the favoritism role, but will require a smart ride by the "Cowboy" to prove he is the best in here           
Race 6 is ON THE TURF
#5 – Freudie Anne (7-5): Just 9 passed the entry box for this N2X turf event and this speedball got lucky as foes lack the early kick to go with her; has already had the benefit of two turf races this year at FG, both victories; also won only previous Lrl start but was DQ'd and placed third
#2 – Kentucky Road (6-1): Someone really wanted this filly bad because a claim was voided two back when she was pulled up and vanned off, then was claimed in last outing when offered for half the price ($20k), yet won that day; can boast best Brisnet# on grass at this one mile distance
#9 – Janine Melnitz (8-1): Plenty of gaps between races of this turf specialist who comes off runner-up effort in a N3L at GP to a next out winner; F. Abbott/T. McCarthy don't team up often but do well when they do (5 for 13)  
Race 7
 #1 – Dancing With Maude (8-1): $$$ LONGSHOT $$$ First time this 3-year-old faces his elders and has yet to beat winners but has the early foot to break on top and never know he's in with more experienced guys; only 6f outing worse than second came on an off track in debut; he's faced the best of the 3-year-old crop in the Mid-Atlantic including a runner-up finish behind Fountain of Youth and Wood Memorial winner Irish War Cry
#10 – Grecian Prince (7-2): Ultra-consistent and versatile runner, this 4-year-old gelding had a troubled trip in latest while recording a nice speed figure, those of which have been climbing since '17 debut
#11 – Willie B Mine (6-1): Third race after layoff and second start with blinkers angle both in play along with traffic trouble in latest could result in a nice pay-off but needs to change attitude as he's winless in last 19 starts        
Race 8 is ON THE TURF
#7 – Highly Prized (5-2): Makes third start after layoff, both previous races came at FG on turf; no stranger to Lrl lawn as he was runner-up in this condition a year ago; M. Stidham/M. Murrill are a lethal combo (20% past year)
#4 – Kabang (8-1): Though a N2L coming off a maiden score at GP in 14th career start, like the deep closing running style as not many win coming off the pace at GP and this race will provide an adequate pace to catch leg weary runners late
#5 – Silver Romeo (4-1): Toss that last race on Jan. 2nd at Prx on the slop; gelding loves the grass and Lrl in particular (7:2-1-3); needs a clean stalking trip and patient ride from J. Torres
Race 9 is ON THE TURF
#6 – Fergie's Lady (4-1): Connections take advantage of Waiver option as she's been away from the races since last Oct. when claimed for $16k; second start with blinkers and has pedigree to like the grass
#8 – Mesmerize (2-1): Tries to graduate in eighth career outing, returns to turf and level where she made career debut just missing to a next out winner; trainer L. Gaudet gives L. Luzzi leg up for first time this meet yet they've gotten 2 of 9 to Winners Circle over the past year
#9 – Averil's Dream (20-1): 8-year-old maiden is 0 for 18 and has never hit the board yet the speed figures in 5 turf tries are good enough to be a threat against these gals; if she wins, it will be a very Good Friday  
YESTERDAY'S NEWS  
On Sunday April 9th at Laurel had 4 winners from the 9-race card (3 Top Selections; payoff in BOLD) having $2 WIN pay-offs of $4.40 (1st race), $11.20 (4th), $5.80 (5th) and $4.60 (7th). Top Selections in 2017 are 92 for 366 (25.14%). In 2016, Top Selections were 304 for 1,213 (25.02%).
BEST BET of the Day (41: 12-10-7; in 2016 127: 31-29-19) Nicardalic Rocks (8th race: 5-2 M/L; 3-1 PT) vied outside rivals under rating, emerged in a tussle to the outside of the leader into the lane, had that one edge away slightly then came back to challenge inside the three-sixteenths, steadied and was forced out by the one with a furlong to go, recovered and came back gamely on his left lead to just miss by a neck to return $4.00 to PLACE and $2.60 to SHOW.
LONGSHOT PLAY of the Day (38: 2-4-8; in 2016 124: 13-13-16) Broken Bridle (5th race: 5-1 M/L; 4-1 PT) two wide on the turn, was taken to the four path in mid-stretch, raced on her left lead and rallied to claim the runner-up spot to return $6.20 to PLACE and $3.80 to SHOW.