The GQ Approach – Laurel April 9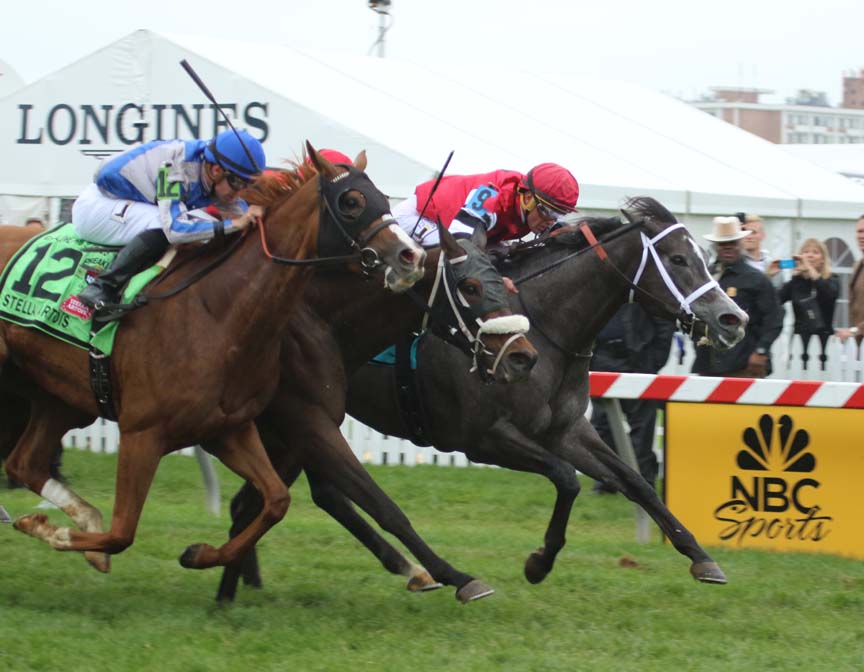 Mizz Money (#9) held off Vielsalm (in between) and Heath (#12) to win the Grade 3 Gallorette. Photo by Laurie Asseo.
The GQ Approach features full-card selections from Laurel Park (w/ live racing every Friday, Saturday and Sunday through May 7, 2017; Post Time 1:10pm EDT), including a daily Best Bet, Longshot Play, and multi-race wagers — including the 20 cent Rainbow Pick-6, 50 cent Jackpot Pick-5, as well as Pick-4s and rolling Doubles, Pick-3s and the Super High-5.

[su_box title="
Today's Carryovers
" style="glass" box_color="#66ADCC"]
Rainbow Pick 6: $5,494
Super High 5: no carryover
Late Pick 5: no carryover[/su_box]
[su_box title="GQ's Handicapping Tip of the Day" style="glass" box_color="#66ADCC"][stray-random][/su_box]
[su_box title="Best Bet of the Day" style="glass" box_color="#66ADCC"]Race 8 / #6 – Nicaradalic Rocks (5-2)[/su_box]
[su_box title="Longshot Play of the Day" style="glass" box_color="#66ADCC"] Race 5 / #2 – Broken Bridle (5-1)[/su_box]
[su_box title="
Multi-race Wagers
" style="glass" box_color="#66ADCC"]
Race 1: $2 Double  2, 4, 7  w/ 1, 3, 4  ($18)
Race 3: $0.50 Pick-3  4, 5, 7  w/ 1, 3, 5  w/ 2, 4, 7  ($13.50)
Race 5 $0.50 Pick-5  2, 4, 7  w/ 1  w/ 1, 6  w/ 3, 6, 8  w/ 1, 4, 11 ($27)
Race 8: $2 Double  3, 6, 8  w/ 1, 4, 11 ($18)
[/su_box]
[su_heading size="21″ align="left"]Analysis[/su_heading]
Weather: Mostly Sunny; highs in the upper-60s
Scheduled Turf races: 5th, 7th and 9th
Projected track conditions… Main: FAST  Turf: FIRM
Post Time for 1st race is 1:10pm EDT
Race 1
#2 – Gimme Kimmy (9-5): Different trainer and jock but same result though versus better while in jail making it three straight races being the bridesmaid; trainer H. McMahon is 22% "second race after claim" 
#7 – Wazzala (8-5): Adds Blinkers, gets 5 lb. bug J. Torres and cuts back a 1/16th in hopes that this trio of changes can turn the tables on top pick
#4 – Quickasaflash (6-1): Beaten favorite at this level over a muddy Lrl track in latest and with T. McCarthy opting not to ride back, this one will carry value
Race 2
#3 – Pleiadian (9-5): Can repeat in second time back for connections who simply spot their horses to be in a position to win, hence winning last outing off claim on class drop 
#1 – Rumblin Kyle (10-1): Gave good account of himself hitting the board on step up and first time against open claimers; is capable of taking necessary leap in speed figure to prevail stalking what should be a solid pace
#4 – Noble Kent (9-2): Bit off more than this 8-year-old could chew in first race after H. Wolfendale claim; runs for cheapest tag ever and did beat Morning Line favorite (#3) back in Dec.         
Race 3
#5 – Platinum Bend (7-2): Yeah, this isn't Delta Downs but at least this filly is quick from the gate, so barring any of these FTS willingness to beat her to the first call, she should relish the cut back and hang on late to earn her diploma  
#4 – Redeeming Factor (6-1): MD-bred FTS by Redeemed whose runners have proven to be precocious (argh, can't believe I used that word); has been working well over a PIM dirt surface which has been yielding some ultra-slow times; like the bullet gate work
#7 – Nancy R (9-2): Have to like the progress she has made in her first three starts, albeit at this bottom level; speed figures have ascended and just a slight improvement again gets her to Winners Circle             
Race 4
#3 – Slews Love (9-2): Logical drop after being no match for $10kN4L with no pace to catch; should be a different story today v. this $5k group; both wins at Lrl have come at this distance from just 5 tries
#1/1A – Yo Soy El Lobo/Triple Net (8-5): Expecting one of these to scratch as A. Wolfsont listed on both; #1A is stronger of the two and cut back from one mile when third where winner came back to win yesterday bodes well for chances here
#5 – Slide by You (15-1): Second race off claim and now he's out of jail, drops back to same level where he was runner-up when 3-1; hard to keep off Trifecta ticket as he's never been OTB at this distance (3:1-1-1); has beaten three least others in here who are lower ML odds  
Race 5 is ON THE TURF
#2 – Broken Bridle (5-1): $$$ LONGSHOT $$$ Tough spot on the rail and this sprint might be a tune-up longer distances on turf as this filly vacationed in FL while just working in the A.M.; returns north for what hopes to be another successful turf campaign
#7 – Persnickity (6-1): Used to facing much better on turf while being an Also Ran; not worried that this 7-year-old mare is offered for the $20k tag since there were no takers at $15k in latest outing on dirt
#4 – Zippity Zoom (3-1): Lightly race but successful (17:5-4-2) 6-year-old makes turf debut; the question is, "What took so long IF she should like it?"; guess when the trainer is L. Rice (18 for 33 in '17 at Lrl) you don't question it and don't use the horse at your own risk; should be on or near the lead early            
Race 6
#1/1A – Karaoke Queen/Tizsomethingroyal (1-1): Appears to be a Free Space in the horizontal wagers as either one could take this event in gate-to-wire fashion; all other foes lack the early speed to threaten early; regardless if either scratches
#3 – Lady Terp (7-2): Scratched out of sprint at $20k level yesterday as entrymate SHOWed; this distance better suits her but McCarthy may need to press prohibitive favorite early if none of the others do
#4 – Shinkansen (7-2): Two turns doesn't seem to be her best distance so the cut back makes her a threat as both career victories came going one mile
Race 7 is ON THE TURF
#1/1A – More Stormyweather/Honor N Grace (3-1): This trainer S. Lake duo have competed on turf at a higher level than others in here; "Stormy" is the preferable pick though "Grace" is the turf specialist making first start since Nov.
#6 – Cursive (8-1): Just 1 for 8 in turf efforts but that's when facing the likes of open $25k claimers; the fact trainer "Ham" Smith looks to more than capable turf rider A. Cintron here is a positive sign; makes third start after layoff
#10 – Take It Inside (5-1): Handled Lrl lawn last Fall in open $7,500 claimers; took winter off as this 8-year-old makes her living on grass; just a couple published works to prepare for '17 debut  
Race 8
#6 – Nicaradalic Rocks (5-2): *** BEST BET *** Faced a real buzzsaw in Laki the last two efforts while runner-up in lastest (Sonny Inspired) came back to win; stretches back out to one mile (1 for 5) and hope A. Serpa gives him a nice stalking trip
#3 – Bronze Bull (6-1): Away since last Oct. has run/won in first race after layoff in the past; 4-year-old is still eligible for N2L but matured nicely late last year being part of Exacta in last 4 efforts
#8 – Really Big Bird (5-1): Sound like a broken record but one doesn't have to be Einstein to respect any/all L. Rice NY-based shippers; adds blinkers after a pair of fourth place outings at Aqu v. Alw50k starters
Race 9 is ON THE TURF
#11 – Golden Treasury (2-1): Needs just one scratch to draw into field; valiant efforts winter at GP tiring to graduate but wasn't in the cards with unlucky trip in latest when blinkers were added; would a Best Bet if in
#1/1A – White Rock Lake/Chamberlain Road (5-2): "Lake" has early speed to take lead and be a threat to go gate-to-wire; "Road" drew 15 post and is a likely scratch
#4 – Justa Scoch (10-1): Unbeknownst to Equibase Chart Callers, this one's bridle broke in latest effort. MSW on dirt (thanks to Dottie Miller's post-race photo); not sure when it broke but replay appeared it may have happened at 5/16th; regardless, trainer C. Doran gets 27% to Winners Circle on stretch out and has positive ROI with dirt-to-turf runners
YESTERDAY'S NEWS  
On Saturday April 8th at Laurel had 8 winners from the 10-race card (1 Top Selection; payoff in BOLD) having $2 WIN pay-offs of $6.20 (2nd race), $4.60 (3rd), $8.00 (4th), Dead Heat $4.40 & $4.40 (5th), $19.00 (7th) $8.60 (8th) $6.00 (9th) and $4.40 (10th). Of the suggested multi-race wagers hit the R3-R5 50 cent Pick-3 for $57.80 (cost: $13.50) and R9-R10 $2 DOUBLE for $13.00 (cost: $18). Top Selections in 2017 are 89 for 357 (24.93%). In 2016, Top Selections were 304 for 1,213 (25.02%).
BEST BET of the Day (41: 12-9-7; in 2016 127: 31-29-19) Molly O'Shea (9th race: 3-1 M/L; 8-5 PT) prompted the pace outside of a rivalaround the turn, bid for the lead in upper stretch and weakened in the drive to miss the SHOW purse by a neck.
LONGSHOT PLAY of the Day (38: 2-3-8; in 2016 124: 13-13-16) Archarella (7th race: 6-1 M/L; 3-1 PT) five wide leaving the turn failed to rally and finished 5th.