The GQ Approach – Laurel April 8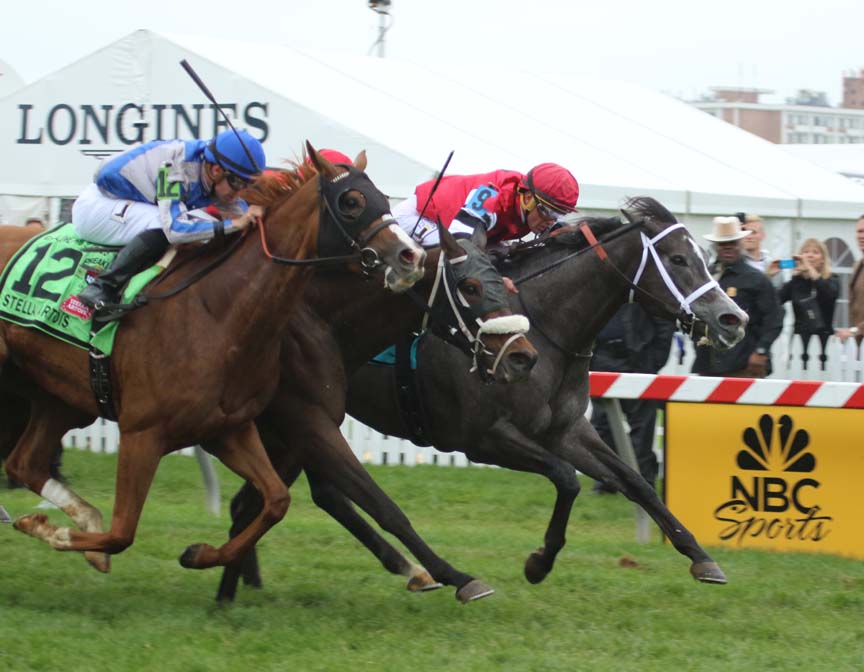 Mizz Money (#9) held off Vielsalm (in between) and Heath (#12) to win the Grade 3 Gallorette. Photo by Laurie Asseo.
The GQ Approach features full-card selections from Laurel Park (w/ live racing every Friday, Saturday and Sunday through May 7, 2017; Post Time 1:10pm EDT), including a daily Best Bet, Longshot Play, and multi-race wagers — including the 20 cent Rainbow Pick-6, 50 cent Jackpot Pick-5, as well as Pick-4s and rolling Doubles, Pick-3s and the Super High-5.

[su_box title="
Today's Carryovers
" style="glass" box_color="#66ADCC"]
Rainbow Pick 6: $3,852.81
Super High 5: $1,357.04
Late Pick 5: no carryover[/su_box]
[su_box title="GQ's Handicapping Tip of the Day" style="glass" box_color="#66ADCC"][stray-random][/su_box]
[su_box title="Best Bet of the Day" style="glass" box_color="#66ADCC"]Race 9 / #12 – Molly O'Shea (3-1)[/su_box]
[su_box title="Longshot Play of the Day" style="glass" box_color="#66ADCC"] Race 7 / #9 – Archarella (6-1)[/su_box]
[su_box title="
Multi-race Wagers
" style="glass" box_color="#66ADCC"]
Race 1: $2 Double  2, 6, 7 w/ 2, 3, 6  ($18)
Race 3: $0.50 Pick-3  3, 5, 7  w/ 1, 3, 4  w/ 1, 2, 4    ($13.50)
Race 6: $0.50 Pick-5  5, 6, 7  w/ 8, 9, 12  w/ 1, 5 w/ 12 w/ 1, 7, 9 ($27)
Race 9: $2 Double  6, 7, 12 w/ 1, 7, 9  ($18)
[/su_box]
[su_heading size="21″ align="left"]Analysis[/su_heading]
Weather: Mostly Sunny; highs in the low-60s
Scheduled Turf races: 3rd, 5th, 7th, 9th and 10th
Projected track conditions… Main: FAST  Turf: FIRM
Post Time for 1st race is 1:10pm EDT
Race 1
#6 – Mongolian King (3-1): Hoping there was anything more to that poor showing the last time he ran v. open $15k claimers than just not ready for that level v. something physically wrong; the nearly 2-month layoff makes one wonder but confident knowing he should have it all his own way on the lead early
#2 – Huntin'theholidays (5-1): Welcome back trainer W. Potts from suspension; runner makes second start for barn in a better spot where he can be successful; should get a nice stalking trip if #3 decides to pressure top pick
#7 – Theyallcomehome (9-2): New barn off $5kn4L claim where he romped finds a modest step up while in jail; going against better judgment in backing a 1 for 33 trainer at meet who claimed off leading trainer  
Race 2
#3 – Bronx Sandman (7-2): Away since last Sept. ending 2-year-old campaign that started on turf sprinting, then stretched out on dirt and finally cut back to sprints; spent winter at GP training well on dirt; excepting J. Toledo to gun for lead
#2 – Metallic (9-5): This $340k yearling purchase looked ready to win at first asking for Centennial, but got squeezed back between stronger rivals at 1/8th pool; appeared to be a bit timid when challenged just prior to that incident; winner is a good one and runner-up (who got taken down) came back to win next outing, albeit in 9th start when dropped from MSW
#6 – Dundalk (2-1): Hey Hon, he tried hard in debut… bless his heart; came up a length short in a fast race that earned him an 83 Brisnet#; F. Boyce (0 for 13 w/ trainer) takes over for H. Karamanos     
Race 3 is ON THE TURF
#7 – Zapata (3-1): Surprisingly a short field of turf runners as 3 of the 9 entered are MTO; on the slidelines since Jan. but working in A.M. waiting for turf season; should get early lead in this sprint as turf may be kind to speed… we'll soon find out 
#5 – Best Yes (9-5): Been underachieving in last two can forgive this gelding for last which came just 7 days after a hard-fought runner-up effort; lone win came on this Lrl lawn sprinting
#1 – Tradfest (2-1): Impossible to completely toss any L. Rice (46% at meet) runner, especially one that figures and has nice turf pedigree; previous connections tried this one long (10th by 19); based on speed shown on dirt in latest might indicate a gate-to-wire try
Race 4
#4 – Shimmering Aspen (3-1): A rare sighting… a Hillwood Stables purchase that actually panned out but obviously had some issues after maiden win last Sept.; out of training until beginning of March but WOW! Fired bullets in 3 of 4 works leading up to today's return
#1/1A – Boheme de Lavi/Lady Terp (2-1): Trainerr S. Lake duo are 1-2 in the Brisnet Prime Power rating; cannot see "Lady" sprinting as well as she routes but "Lavi" was getting old form back prior to claim and now drops back winning level
#3 – Clare's Dowery (5-1): Seems to be a fragile filly who needs time off after a few races; returns after 2+ month break and to sprint, the distance which she is most successful
Race 5 is ON THE TURF
#4 – Great Captain (7-2): A word to the wise, always use runners sired by Aussie turf champ Lonhro, especially when sprinting; career debut going long at FG was washed off turf, showed early speed for about 5f then faded; gets same jock (M. Murill) who moved tack to MD for the time being and has gotten 20% of trainer M. Stidham's runners to Winners Circle the past year
#2 – Totaled the Benz (9-2): KY-bred FTS by Tiz Wonderful out of a Tapit mare being offered for the $40k tag hails from the always dangerous L. Rice though she only gets these types to Winners Circle at a 9% clip
#1 – A True Gentleman (9-2): Started career last August on Lrl lawn missing by a length and a half sprinting, stretched out to two turns in next four turf starts without getting desired results; after two dirt tune-ups in '17, appears poise to graduate on the grass    
Race 6
#7 – Cotton Eye Gem (3-1): Refuse to give up on this gal who couldn't handle stretch out to one mile in short fields; turn back to 5½ furlongs should help as her fitness will be put to task since she just raced 7 days ago
#6 – Neymani (5-2): Disappointed when sent off a short-priced second choice and failed to hit the board; makes second straight class drop following claim as Trainer H. McMahon continues to search for answers
#5 – Twist 'n Shout (7-2): Took a 2-month break after being beaten favorite which followed a strong runner-up effort behind top pick; maybe trainer G. Weaver figured out want went wrong
Race 7 is ON THE TURF
 #9 – Archarella (6-1): $$$ LONGSHOT $$$ Trainer A. Pecoraro (21% second race after layoff) blew the dust off this 4-year-old filly when she was entered at Tam in Feb., her first start in over 16 months and ran like it; now that the cob-webs have been shaken loose, expect to see a hint of her 2-year-old form
#12 – Eyerish Inspired (6-1): Decent efforts with A. Cintron board last year competing on Lrl turf course at today's distance; banking on being able to draw line through latest w/ different pilot
 #8 – Pardontori'sfrench (12-1): Has three previous turf outings with one runner-up finish versus similar last Fall on Lrl lawn, earning respectable speed figures in each; may try to take this group from gate-to-wire  
Race 8
#1 – Love You Back (9-5): Heads this mediocre field of fillies and will need to be sent from the rail post to establish herself early on while facing pressure from her immediate outside; needs to remedy those "off slow" comments as not to use too much energy to get position
#5 – She Is Special (5-2): She certainly looked it in romping to maiden win when dropped in for tag, which trainer King T. Leatherbury (28% after claim) was happy to drop the claim slip
#4 – Heaven's Door (7-2): Has been bridesmaid 3x to a nice filly (Faze the Nation)but hasn't been able to handle step up since being claimed; drops back a level to try to get confidence back
Race 9 is ON THE TURF
#12 – Molly O'Shea (3-1): *** BEST BET *** Has advantage over the rest of the field in that she's been running on the turf the past 2 months at FG, being bridesmaid twice before graduating in last outing; trainer L. Jones gets 27% right to Winners Circle after maiden win
#6 – J La Teche (8-5): Certainly has the class and turf Brisnet#'s but those have been going two turns; prepped last month in dirt sprint after 8-month layoff, was an unlucky second as favorite
#7 – Baltimore Street (15-1): Makes turf debut and not specifically bred for the grass but it's surprising that this field lacks early speed; this 3-year-old has been quick from gate in all 3 start, adds blinkers and could steal it
Race 10 is ON THE TURF
#1 – Freemark (7-2): First and only mount on Lrl card for J. Davis as Prx-based trainer M. Aro ships this 0 for 14 maiden down I-95 in hopes of earning diploma; needs to be quick from the gate and hope this first day of turf season at Lrl is kind to early speed
#7 – City Traveler (8-5): Idle since last August not being able to get it done on Del turf; is in the right barn as trainer L. Rice (48% at Lrl) is spotting her runners with precision as this one drops from MSW to $40kMCL
#9 – Thornado (10-1): Nicely bred gelded son of Scat Daddy made forgettable debut across the pond in July '15, didn't resurface until May '16 at Bel to finish last; giving him a look thanks to trainer R. Ribuado having won and showed with his only two Lrl starters       
YESTERDAY'S NEWS  
On Friday April 7th at Laurel had 7 winners from the 9-race card (3 Top Selections; payoff in BOLD) having $2 WIN pay-offs of $9.60 (3rd race), $5.00 (4th), $4.20 (5th), $4.40 (6th), $6.40 (7th), $4.80 (8th) and $7.60 (9th). Of the suggested multi-race wagers hit the R3-R5 50 cent PICK-3 for $16.95 (cost: $13.50), the R5-R9 50 cent PICK-5 for $281.95 (cost: $36) and the R8-R9 $2 DOUBLE for $39.00 (cost: $12). Top Selections in 2017 are 88 for 348 (25.29%). In 2016, Top Selections were 304 for 1,213 (25.02%).
BEST BET of the Day (40: 12-9-7; in 2016 127: 31-29-19) Feudal (4th race: 5-2 M/L; 2-1 PT) between rivals early, chased two wide leaving the far turn, took closer measure of the winner mid turn, failed to seriously quicken leaving the three sixteenths and faded in the final seventy yards to settle for 4th.
LONGSHOT PLAY of the Day (37: 2-3-8; in 2016 124: 13-13-16) I O Ines (2nd race: 6-1 M/L; 6-1 PT) well this half of the C. Gonzalez uncoupled entry was used uncharacteristically used as a "rabbit" to soften up Wildcat Gaze on the front early, to allow stablemate Better Way to catch the leg weary pacesetter in the final strides, as I O Ines predictably faded into the lane to finish 6th.