The GQ Approach – Laurel April 7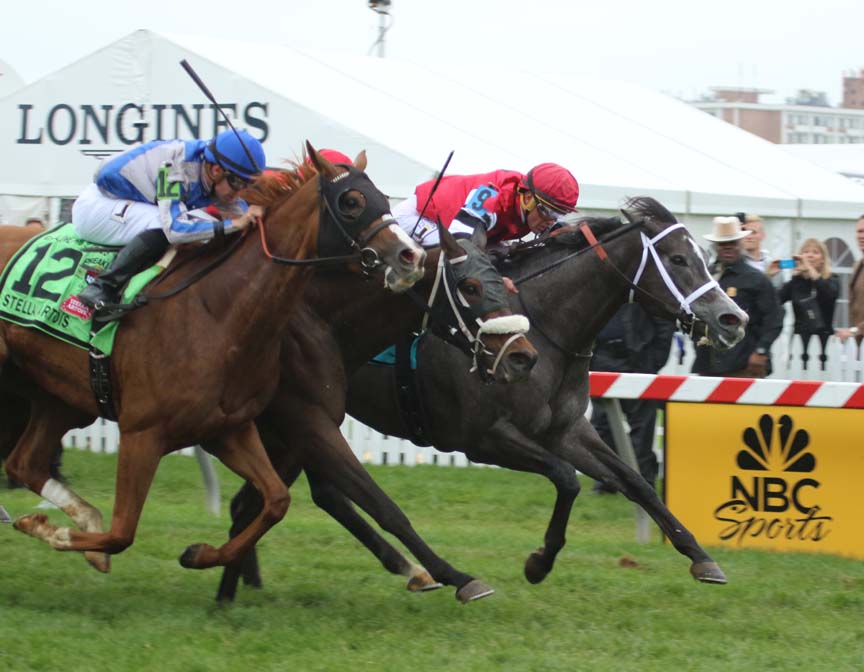 Mizz Money (#9) held off Vielsalm (in between) and Heath (#12) to win the Grade 3 Gallorette. Photo by Laurie Asseo.
The GQ Approach features full-card selections from Laurel Park (w/ live racing every Friday, Saturday and Sunday through May 7, 2017; Post Time 1:10pm EDT), including a daily Best Bet, Longshot Play, and multi-race wagers — including the 20 cent Rainbow Pick-6, 50 cent Jackpot Pick-5, as well as Pick-4s and rolling Doubles, Pick-3s and the Super High-5.

[su_box title="
Today's Carryovers
" style="glass" box_color="#66ADCC"]
Rainbow Pick 6: $2,662.39
Super High 5: $1,597.01
Late Pick 5: $5,855.62[/su_box]
[su_box title="GQ's Handicapping Tip of the Day" style="glass" box_color="#66ADCC"][stray-random][/su_box]
[su_box title="Best Bet of the Day" style="glass" box_color="#66ADCC"]Race 4 / #5 – Feudal (5-2)[/su_box]
[su_box title="Longshot Play of the Day" style="glass" box_color="#66ADCC"] Race 2 / #1 – I O Ines (6-1)[/su_box]
[su_box title="
Multi-race Wagers
" style="glass" box_color="#66ADCC"]
Race 1: $2 Double  3, 4  w/ 1, 2, 4  ($12)
Race 3: $0.50 Pick-3  1, 6, 9  w/ 2, 5, 7  w/ 2, 3, 10  ($13.50)
Race 5: $0.50 Pick-5  2, 3, 10  w/ 4, 5  w/ 4, 6, 9  w/ 3, 8  w/ 1, 4 ($36)
Race 8: $2 Double  3, 8  w/ 1, 4, 6 ($12)
[/su_box]
[su_heading size="21″ align="left"]Analysis[/su_heading]
Weather: Mostly Cloudy and windy; highs in the mid-40s
Scheduled Turf races: 3rd, 5th and 7th
Projected track conditions… Main: GOOD to FAST  Turf: OFF
Post Time for 1st race is 1:10pm EDT
Race 1
#4 – Goodbyeseeulater (3-1): Takes second straight class drop after in third start after C. Gonzalez claim; form may have gone south or has been caught up in early pressure while facing decent runners; appears he'll have the early lead to himself and not tire
#3 – Vision of Green (9-5): Speed figures have been ascending since trainer D. Dilodovico claim last August and didn't race again until Dec.; looks for first win since Nov. '15
#1 – Two Punch Too (5-1): Barn is giving up quickly on this 6-year-old gelding in just third start after claim for $10k by offering for $4,500; an off track would help (2 for 8) v. fast (1 for 23)
Race 2
#1 – I O Ines (6-1): $$$ LONGSHOT $$$ Strictly an off track play as this 6-year-old mare is 2 for 2 while just 1 for 15 on a fast dirt track; jock gave up in stretch when he had nowhere to run; he's back in the irons today
#4 – Balabusta (3-1): Draw a line through latest when in jail after trainer O. Figgins claim who gets 20% of his second start after claim runners to Winners' Circle
#2 – Wildcat Gaze (9-5): Gate to wire winner in past two conditional $5k claimers; got swallowed up in only other race v. open claimers; won't get an easy lead in here with 3 foes who are quick from the gate as well         
Race 3 is OFF THE TURF
#9 – Son of Mine (3-1): NY shipper for trainer L. Rice (18 for 29 at meet) makes second start after uninspiring debut at Aqu when sent off 6-1; top regardless of turf or dirt as Rice is good on stretch out and second time starters          
#1 – Shortlist (8-1): Makes second career start as debut was over 3 months ago; connections didn't back him then (42-1) and ran as if he wasn't ready; nice work pattern and attracts T. McCarthy   
#6 – Lapochka (2-1): Might get a better price here as debut was a nice two turn effort on turf… over a year ago, but this 4-year-old gelding should be able to take to dirt as he did to grass   
Race 4
#5 – Feudal (5-2): *** BEST BET *** Trainer M. Stidham seems to be sending his stable from FG meet to Lrl to compete this Spring; so far he's 1 for 1; this colt still races w/o Lasix in third career start after failing on turf in MSW last outing, drops back in for similar tag as debut when he got the SHOW purse
#2 – Liberty Lane (7-5): Trainer L. Jones said he wasn't going to Kee because he didn't have that caliber talent in his barn; they are obviously good enough for Lrl since his starters are 10 for 18; brings jock Mitchell Murill to ride as T. McCarthy opted for #5… or did he?
#7 – Celtic Ruler (9-2): Been knocking the door in various levels of maiden claimers, all at Lrl; two straight runner-up efforts, the latest at this level, makes him a threat to the top two  
Race 5 is OFF THE TURF
 #3 – American Road (3-1): MTO entry will go for trainer L. Rice after earning just second lifetime win in 20th start in latest on stretch locally; could get early lead with versatile running style and never look back
#10 – Jump Jive an Wail (10-1): First attempt on the turf got washed off but might be a blessing in disguise because he's faced tougher foes than those in here; runner-up in last as SHOW horse came back to win
 #2 – Jensen (2-1): Curious that trainer L. Jones calls on T. McCarthy (4 of 6 w/ him in irons) here but not in previous race; like chances better now that race is off turf; has faced better            
Race 6
#5 – Mazzy Star (9-5): Lightbulb theory is an effect here as it took a positive jock switch to finally get diploma in 12th try; connections doing the right thing by putting her where she'll keep her new found confidence
#4 – Weatherurnot (8-5): Vulnerable favorite has two turns has proven to be 1/16th too far and 7 lb. bug still hasn't developed that clock in his head to be effective in route races; speed figures have been rising
#8 – Thirst for Diamond (9-2): The rest of this field is woeful so rolling with this one who broke maiden on drop to bottom level two back then was aggressively placed in $15k event; back to two turns should help as well
Race 7 is OFF THE TURF
#9 – Super Dude (4-1): Hard to imagine this FL-bred FTS by First Dude who cost $200k at OBS March '16 2-year-old in training sale, won't go off the Post Time favorite, especially since his trainer is L. Rice (46% at Lrl) for deep pocket ownership group Lady Sheila Stable
#4 – King of Night (15-1): Mineshaft gelding beat no one in debut at GP in $50kMCL sprinting; added distance and lesser talent might be the right combination to graduate for Live Oak Plantation
#6 – Collination (10-1): Would have been a nice price on turf for career debut as this gelding shipped to Tam for winter in hopes of turf; main track works are nothing to sneeze at though  
Race 8
#3 – Faze the Nation (9-5): Nearly beat her elders when facing them for first time in latest outing, also her first for K. Magee outfit who gets 29% of runners to Winners' Circle second time after claim; she's a tough cookie as most 3-year-olds can't compete v. older this time of year
#8 – Thissongisaboutyou (8-1): Gets F. Boyce in irons due to F. Lunch opting for mount on #1; this 4-year-old is a gamer and has always bounced back after being OTB in most recent effort
#1 – Le Weekend (5-2): Romped to maiden score in second career start when dropped in for $40k tag; Brisnet speed figure (88) in that one is second best in this group; tough assignment from rail
Race 9
#1 – All This Jazz (4-1): Speed figures continue to climb since being dropped to bottom of the maiden claiming barrel; trainer "Ham" Smith gives 7 lb. bug C. Carrasco a shot to make this underachiever a winner
#6 – Friesan Gal (3-1): Gave higher level a shot while in jail, finishing 4th after a troubled start; drops back to level where "The Snake" claimed her when runner-up by a nose
#4 – African Wildcat (9-2): Seems that this level is where she'll eventually win without having to race elsewhere for cheaper; third race after layoff when first two were far from the best of trips
YESTERDAY'S NEWS  
On Sunday April 2nd at Laurel had 7 winners from the 8-race card but No Top Selections; payoff in BOLD) having $2 WIN pay-offs of $12.40 (1st race), $6.60 (2nd), $12.40 (3rd), $8.40 (4th), $8.40 (5th), $5.00 (6th) and $12.80 (7th). Of the suggested multi-race wagers hit the R3-R5 50 cent PICK-3 for $46.60 (cost: $13.50). Top Selections in 2017 are 85 for 339 (25.07%). In 2016, Top Selections were 304 for 1,213 (25.02%).
BEST BET of the Day (39: 12-9-7; in 2016 127: 31-29-19) Miss Nosy (5th race: 7-2 M/L; 7-2 PT) set the pace along the rail, weakened in the final furlong and held the place spot to return $4.60 to PLACE and $3.00 to SHOW.
LONGSHOT PLAY of the Day (36: 2-3-8; in 2016 124: 13-13-16) Carolina Dreams (6th race: 8-1 M/L; 6-5 PT) edged up between rivals near the turn, dropped in to make a run at the winner nearing the lane, failed to threaten that one but kept on willingly to be well clear of the rest to be runner-up and return $2.40 to PLACE and $2.10 to SHOW.